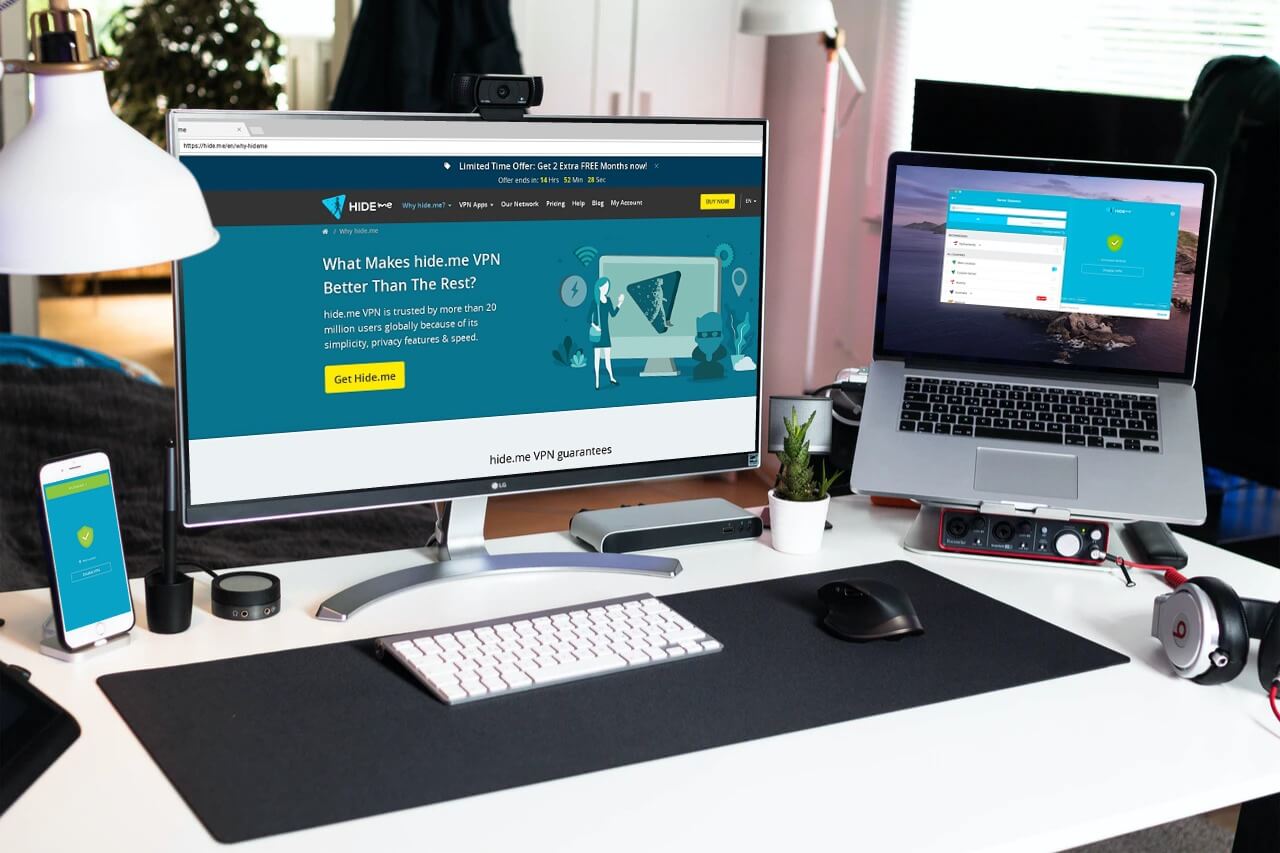 Founded only in 2012, the company can be considered as one of the newer players in the VPN industry. However, since it was created by IT experts who're well experienced, most people are of the opinion that the service is not as good as it could be. To find out what birthed that perception, we have created this comprehensive Hide.me review and test.
First of all, we advise you to never believe the advertising claims of VPNs without taking look at them keenly. While every VPN provider promises top-level security and unbeatable performance on the outside, things are considerably different in reality.
Nevertheless, this service certainly has a lot of upsides, with the biggest of them all being its VPN-friendly location.
Having said that, we are going to take a plunge into the comprehensive review of Hide.me. With its decently large customer base, the brand is one of the most known names in the industry. However, can it deliver all its promises and marketing claims? Well, you will find out everything in this detailed 2020 review and test.
STRENGTHS:
Offers a free plan
Good client support
Keeps no logs
WEAKNESSES:
Poor streaming performance
Average speeds
Very limited network coverage
Doesn't reliably bypass the Great firewall of China
Short refund window
Hide Me ranks #17 out of 104 VPNs tested. Here are the best alternatives :
The overall best in 2020 which you can get starting at only $6.67/month.
Read our Review.
Very good option for people looking for high level of security starting at $3.99/month.
Read our Review.
---
Is it a paid or a free VPN?
Hide.me offers both a paid plan and a free plan. However, a lot of people are even unaware that this provider has a paid version. The service is widely popular largely because of its free version, and it's understandable.
Nonetheless, its free version is extremely limited compared to the paid version, so we don't really encourage you to go for the free version.

Performance
To be honest, Hide.me is not likely to impress you with its performance, based on our 2020 test. While trying to evaluate or review its performance, we used its speed and stability, and below are our results.
Speed
Speed is an essential cog of any VPN provider, as it will determine what you can do with the service on daily basis. With that in mind, we tested the speeds of Hide.me, using a scientific-server based approach. In the end, we came to the conclusion that this provider is average at best when it comes to speed.

While the speeds were quite good when we connected to nearby servers, they were below average on distant servers. We don't recommend this provider if speed is a super-important factor for you. You better go to the side of the fastest VPN right now, ExpressVPN.
Without VPN (we were located in London) :

EU Server (France) :


US Server :

Asia Server (Hong Kong) :


Stability
For any VPN that's worth its weight in gold, stability is always the number one factor. The provider promises an uptime of 99.9 percent, which means it's likely to always be available whenever you need it. Even if you experience a downtime, it's probably for maintenance, which shouldn't last for too long.
Streaming
You can't properly evaluate a VPN without accounting for its streaming capabilities. With that in mind, we tested the provider with some of the leading streaming services in the world. We will detail our results in this part of the review.
Netflix
Being one of the most popular streaming services in the world, Netflix is always the go-to website for people who are keen on streaming. Knowing that fully, we attempted to unblock Netflix geo-restricted content during our test. Unfortunately, Hide.me couldn't unblock Netflix with any of the servers we used.
However, the provider isn't the only victim of Netflix's ongoing crackdown on VPNs. Netflix has implemented effective anti-VPN systems, designed to automatically detect IPs used by VPN providers and subsequently block them. If you consider this as a deal-breaker, then we advise you to look elsewhere.
BBC iPlayer

Another streaming site that is hugely popular is BBC iPlayer, and we also tested it while writing this review. We connected to the Manchester and London servers during our test to see if we could access BBC iPlayer.
Sadly, we were unable to unblock BBC iPlayer on either servers. To be honest, this is a huge drawback and it will come as a huge blow to people who love streaming BBC iPlayer.
Others?
Generally, Hide.me has a terrible streaming performance. Apart from not unblocking Netflix and BBC iPlayer, it also couldn't unblock Amazon Prime Video during our test.
However, we were able to unblock other streaming sites like Hulu, HBO, and YouTube. Of course, we know that's not enough, but you can at least get some reprieve from that.
Security
High security levels is always the core of any VPN that's worth its salt. Knowing that, we have done a thorough evaluation of the encryption and protocols, and we will talk about it in this segment of the review.
Where is it based ?
Hide.me is a company that is based in Malaysia. First of all, it's worth nothing that Malaysia is renowned for its dictatorial regime. In fact, it is one of the nations with the most severe laws, with hefty fines for different offenses.
While this is helping the nation to combat crime and keep illegal activities to the minimum on one hand, on the other hand, it enables the Malaysian government to impose strict censorship policies.
A while ago, the Malaysian authorities began a serious battle against online piracy. Obviously, this is one of the reasons VPNs have become tremendously popular in the Asian country. However, while it's accompanied by strict regulations, VPNs are legal in Malaysia, as we discovered during our test and review.
Additionally, there are no reports of VPNs being demanded to give up their users' personal data or datacenters being raided. More reassuringly, the country is not a member of the Five Eyes or the Fourteen Eyes.
Log policy
Thanks to the fact that it's based in Malaysia, Hide.me has a strict zero-logging policy, as our test revealed. Since the country has no compulsory data retention laws, this provider is one of the few providers that hold a true no-logging policy. Keep in mind that this is vital, particularly when considering the amount of personal data collected by other VPNs.

While a lot of people are always quick to claim that they don't have anything to hide about their online activity, this statement is always a lie. In reality, nobody wants another person to spy on their emails, having access to their personal data, banking information, or listen on their personal conversations.
In a bid to prevent any legal liability, the provider states that they don't keep any personal data or information of their users, nor do they keep any logs on their servers. Furthermore, Hide.me declares that they don't keep a tab on the online activity of their users in any way.
In fact, they've taken the fairly unusual step of getting certified by an independent security analyst. At the end of the analysis and test, the security analyst declared that the VPN provider does not keep logs of its users in truth.
According to the publications of the company, they don't even log the genuine IPs or the connection times. Since privacy is obviously one of the biggest motivations for using a Virtual Private Network, the no-logging policy is very much in the favor of the company.
Choose a provider that won't keep your data >
Protocols
Hide.me is also big when it comes to protocols, using OpenVPN, which is the protocol of choice for a lot of people due to its open source nature. Most people tend to prefer an open source protocol because it has been examined thoroughly than relative protocols for vulnerabilities. However, while the service offers OpenVPN, it does support other protocols like SSTP, PPTP, and IKEv2.
Nevertheless, bear in mind that that PPTP and SSTP are outdated protocols. So, they don't offer the same encryption level that's expected from OpenVPN and IKEv2. Thus, we recommend you in this review to use them with caution.
Additionally, Hide.me also comes with the SoftEther protocol, which is rarely found on most other VPNs. The purpose of the technology is to make it even harder to detect Internet traffic. Nonetheless, many other VPN services are equipped with other features that are engineered to make it nearly impossible to track a user's online activity, so this alone may not be a solid reason to choose this provider.
When it comes to encryption, Hide.me provides AES-256 bit or AES 128-bit encryption, depending on the platform you are using. Both encryptions are currently the strongest in the world of online security, so you can be confident that no third party will be able to read your data on the internet.
Protection against leaks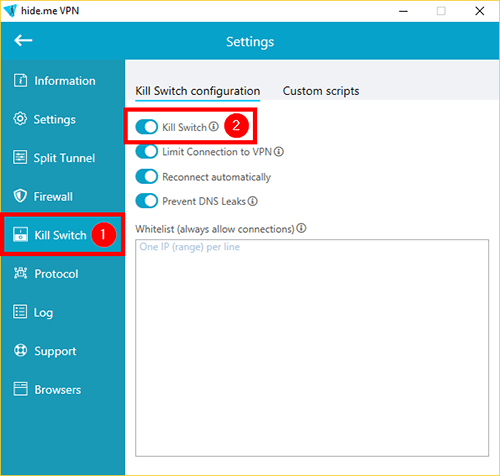 For maximum protection of your data against leaks, Hide.me features a DNS leak protection. Nevertheless, its servers don't support IPv6, which is the that is designed to take the place of IPv4.
Of course, we consider this to be a minor drawback as you can just disable IPv6 for protection, as recommended by the provider. This leak protection was surely effective against leaks during our test.
Torrenting
Despite the best efforts of many governments and copyright owners, torrenting continues to go from strength to strength. That said, checking the torrenting capabilities is an important part of the evaluation or test of any VPN.
Is torrenting allowed ?
In terms of torrenting, Hide.me offers a quite decent performance. Although not all their servers are optimized for peer-to-peer traffic, most of them are. As soon as you install the app, you will clearly see the servers that don't have P2P capabilities, so you can quickly avoid them.
Safely download torrents with Hide.me >
Those servers are marked with "NOP2P" which means you shouldn't even bother to use them for file sharing and torrenting. However, no information is provided for other servers. We think the provider could add a separate list for servers that are optimized for P2P, which would make things a bit easier for people who wish to engage in file sharing.
Is there a Kill Switch?
A Kill Switch allows you to remain protected, even when you lose your VPN connection. While it's easy to regard this as a great extra feature, it is absolutely vital. If you lose your VPN connection at any time, your browsing device will attempt to automatically reconnect to another network (through your mobile's cell data or a known Wi-Fi).
Normally, that is a great thing. It means you can quickly get back online without a fuss, so you can continue streaming, downloading, or browsing. The issue now is that all of your data and IP address are now exposed.
However, a Kill Switch automatically cuts your internet connection in order to prevent the occurrence of this. This is another feature we found to be very effective during our test.
Bypassing Censorship
Bypassing censorship is a key functionality of the biggest VPNs in 2020, with many countries coming up with stringent censorship policies nowadays. Having said that, below is a review of Hide.me's ability to bypass censorship.
In censored countries
Despite China's crackdown on VPN providers in recent times, Hide.me may still be capable of bypassing the Great Firewall of China. While this provider doesn't have a large network of servers, its list of locations include Hong Kong, and also some near countries like Korea, Japan, and India.

Moreover, it supports TCP and UDP SoftEther connections, which is especially crucial as SoftEther is a multiple-protocol solution designed especially to bypass firewalls, masking your VPN connection with HTTPS. This is the primary reason why Hide.me is still managing to circumvent the Great Firewall of China.
However, not every user knows how to configure SoftEther and how it works. Fortunately, the provider provides detailed instructions on how to configure it, so you are not likely to encounter too much problem using it.
Besides, you can contact the tech support of the company, as we did while writing this review and test. It is worth mentioning that Hide.me encourages you to get in touch with its client support before even trying to use the VPN in China. This is because it can't promise that all servers and protocols will work, so you may need some professional help.
In restricted networks
Some organizations or schools often restrict their networks, for maximum productivity of either their employees or their students. However, Hide.me doesn't like anything that obstructs total freedom on the internet, so it allows you to bypass these restrictions.
Get past restricted networks with optimum ease >
Countries and servers
The number of servers a VPN provider has and their locations can have a significant impact on the performance of the service.
Countries covered
The provider has a fairly few server, when compared with other rivals like ExpressVPN and NordVPN. Overall, they have 1400 servers only, dispersed across 56 locations. Other leading VPN providers have thousands of servers spread across dozens of countries around the world, providing users with more options.
Since Hide.me has a small number of servers, more users will be getting congesting the same server. Every user gets a small amount of bandwidth when they hop on the service, and this will surely affect performance. In fact, this may be one of the reasons why this provider doesn't perform in our speed test as well as other providers.
Another factor that may be critical to performance is the diversity of server locations. In general, the rates of data transfer are faster when customers can connect to a server that is near their real geographic locations.

Whereas, a lack of multiple servers in diverse locations may lead to crowded servers, which may cause slow transfer speeds. It may also force users to select a VPN server on another continent to just get connected, which may cause constant frustration for consistent users.
In terms of location, Hide.me guarantees diversity, as we found out while writing our review. It boasts six Canadian and US servers, one in Brazil and one in Mexico.
Most of its servers are located in the United Kingdom and Europe with extra locations in Iceland and Morocco. The company also has servers in Sidney, Melbourne, India, Australia, and Singapore, South Korea, Japan, and Hong Kong.
While they don't have any server in Russia at the moment, they have servers in Turkey and Ukraine.
Servers
Hide.me does offer specialized servers for peer-to-peer sharing, but that's the only activity that enjoys special servers. It would have been probably better had it been there were specialized severs for streaming as this provider has a terrible streaming performance. Unfortunately, there are no designated servers for streaming, the negative effect of which we found in our test.
Compatible devices and simultaneous connections
Not every VPN offers support for every platform in the world. While some VPNs only provide support for a couple of platforms, some provide support for only the most popular ones. So, what category does Hide.me fall under? We will talk about it in-detail in this part of the review.
Get protection for any device >
What device can I use with Hide.me?
This provider has an impressive platform support, offering compatible clients for every major platform. Some of the platforms it offers support for are :
Windows
Android
iOS
MacOS
Chrome extensions
Firefox extensions
Hide.me offers the regular range of apps for different popular devices. Also, there are manual installation guides on the site, which include manual installation guides for devices like Kodi, Sony Playsation, and Apple TV, and guides for configuring compatible routers.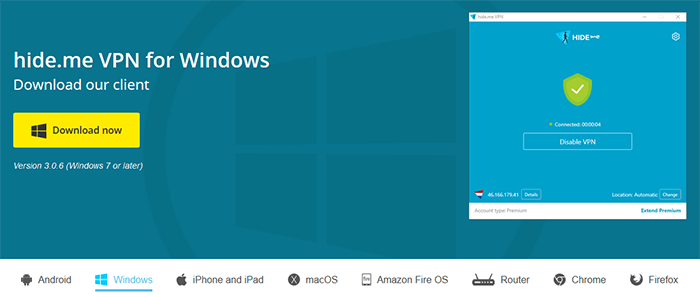 These are, however, SOCKS proxy extensions instead of real VPN connections. This means that they will not encrypt traffic – they will only spoof your location. We recommend you to use them along with the full-featured apps for desktop to encrypt all of the internet traffic of your device.
How many simultaneous connections ?
Hide.me offers two plans – Free and Premium. While the free package allows only one simultaneous connection, the Premium package allows five simultaneous connections. We will talk more about the two packages later on in this review and test.
So, if you have subscribed to the Premium plan, then you can establish five VPN connections on your mobile devices and desktop at the same time.
For every device you wish to connect to the service, however, you need to create a login on their site first. While it is not time-consuming or difficult to create the login, it makes the process excessively complicated in our opinion.
According to the company's claims, they adopted this system to improve security and improve bandwidth planning.
Client support
A good client support speaks volume about how much a VPN cares about its users. That's why we made sure to test the client support of this provider and we will break our findings down in this review.
How to contact it ?
Like the leading providers such as ExpressVPN and NordVPN, Hide.me also offers two primary support channels. You can use either the traditional email system or the more modern 24/7 live chat, both of which we used during our test. While we only had to wait for about 5 minutes for a response on the live chat, it took them about 24 hours to respond to us on the email.
Enjoy Hide.me's superb client support >
Is it good ?
Based on their performance during our test, the client support is decent. Like we mentioned previously in the review, we only had to wait for about 5 minutes on the live chat. While it took a day for us to get a response via the email system, we weren't overly surprised.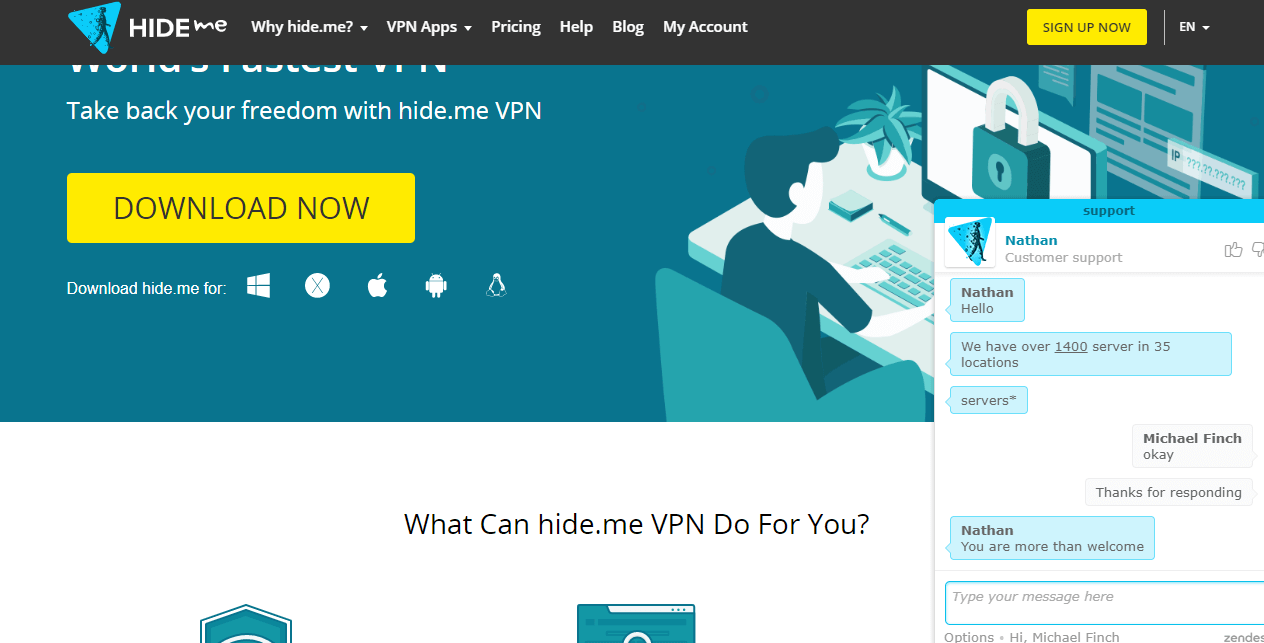 However, even though the 5 minute waiting time for the live chat wasn't too bad, it would make sense if they could respond even faster. In fact, they had initially sent a message that we could leave our question and email address. We were just about to close the window when an agent joined, and to be honest, we were satisfied with his support.
FAQ / tutorials
In addition to the support channels, you can also find other tools on the website's support section. Apart from the great support guides, the provider has a FAQ section, which provides brief answers to some common questions. While the FAQ section is not really extensive, it will answer basic questions like "is account sharing allowed?"
For more comprehensive answers, you may refer to the forums. While the provider has forums in German and English, the German section seems to be a lot more active. Even so, both sections have a decent number of users, so it is a great tool to have, as we found out in our test for this review.
Value for money
This is often a super-important question every buyer asks when looking to buy any product. There is no exception with VPN buyers, which brings us to the question – does Hide.me offer real value for money? Well, let's review their plans and pricing below.
Price comparison
As we already mentioned in the review, this provider offers two primary plans – Free and Premium. However, even though the Free version looks very enticing, it comes with a lot of limitations.
The Premium version, on the other hand, comes with many excellent features, despite being priced at $5.41 per month. To give you a better idea, we will summarize the two plans and their features below.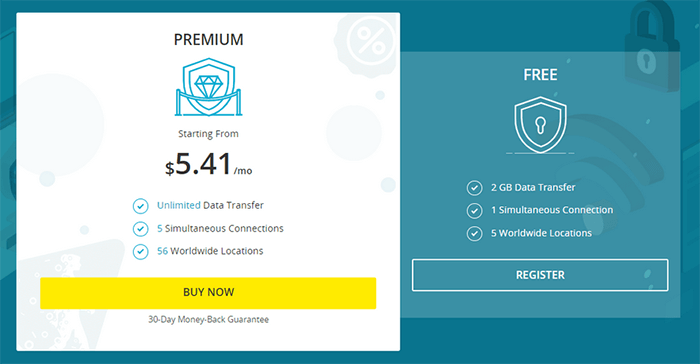 Free Plan
2 GB Data Transfer
1 Simultaneous Connection
5 Worldwide Locations
Premium Plan
Unlimited Data Transfer
5 Simultaneous Connections
56 Worldwide Locations
Means of payment
A VPN provider with a few means of payment is as good as useless. Take it this way, who will continue to buy a product that is difficult to pay for? That is why we think multiple payment methods are extremely important for any VPN provider that wants people to take it seriously.
Choose a payment method that is convenient for you >
To their credit, Hide.me offers a wide range of payment means. In fact, they even accept Bitcoins in case you want your payment to be fully anonymous. While the provider offers over 160 payment methods, below are the most popular ones:
Credit Card
PayPal
Bitcoin
SOFORT
GiroPay
CashU
Bank Transfer
Electronic Cash
Money back guarantee
Alongside a lifetime free plan, Hide.me also offers a 14-day money-back guarantee, with conditions. The catch is that you can only request a refund if you haven't exceeded the 500MB bandwidth usage. While the 500MB bandwidth limit is limiting, it allows you to test the service without risk.
As an alternative, you can use the Free plan instead. However, bear in mind that you will have to deal with a lot of limitations when it comes to speed and features. These limitations mean you won't even be able to get a genuine feel of what this provider is all about.
Any extra?
Most users are interested in knowing if the service offers anything unique that may compel them to choose it ahead of others. To help answer their question, we will review its extra features in this section.
Split Tunnel
The first extra feature we will mention is the Split Tunnel. This feature enables you to choose the apps or sites you want the VPN to cover. For instance, you can select your torrent client to conceal your peer-to-peer traffic.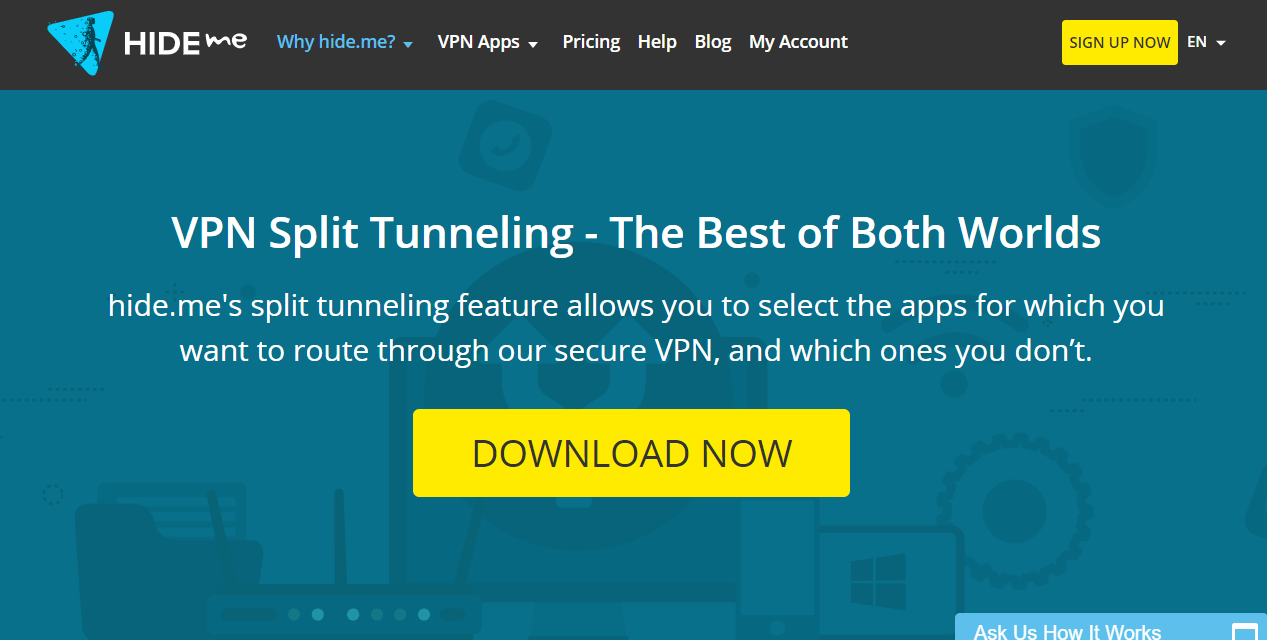 You can either select apps that use the VPN only and not your normal Internet connection, or choose apps that must be left out from the VPN connection. This feature worked brilliantly during our test and a lot of customers review it excellently.
Automatic Wi-Fi protection
Another excellent feature we will include in this review is Automatic Wi-Fi protection. This feature automatically senses when your device connects to an unsecured Wi-Fi network and instantly offers to protect you with the VPN. It is especially excellent for protecting you from cybercriminals when connected to public Wi-Fi networks.
Don't be caught off-guard with Hide.me >
Static IPs
It is a nice feature to be able to choose a static IP address, but it is worth mentioning that these static IP addresses are shared IPs and not dedicated.
While this is great for privacy, it is not as helpful for escaping website VPN restrictions. However, it is helpful for getting past NAT firewalls, and it fully supports Universal Plug and Play (UPnP).
Final Thoughts
While Hide.me only came into the scene a few years ago, they have constantly grown their network due to their unparalleled commitment to security and privacy. However, while the service is a great option for security and privacy, we can't say the same for streaming.
If this provider wants to be mentioned in the same breath as the likes of ExpressVPN, CyberGhost and NordVPN, it needs to improve its streaming capabilities significantly.
Apart from streaming, the provider also comes short when it comes the numbers of servers and diversity. Like we already mentioned in the review and test, this may result in many things, and ultimately slow speeds.
In general, while Hide.me has potentials to be a great VPN, we can't take it seriously for now. It may be a prospect for the future, but for now, it's only ideal for users with basic needs.

Michael is a talented writer who has dedicated a lot of time into making sure that everyone around the world can use the internet securely. Being an avid traveler, he has acquired a lot of experience while using different VPNs on his travels. When it comes to doing comprehensive "how to tutorials" or testing some VPN functionalities, he's always the best pick ! He's here to help you solve your VPN-related issues.