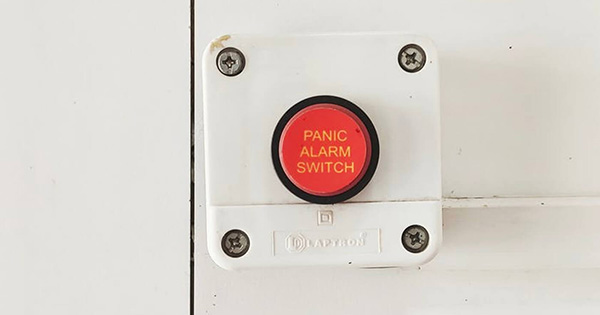 A VPN's quality always depends on its ability to protect you online. Every provider does, more or less, the same thing. It encrypts your connection, preventing hackers and ISPs to intercept your traffic and spy on you. When the VPN connection breaks, though, that protection disappears. That is if you don't have a Kill Switch. A Kill Switch is a must-have for every provider, and if you're not sure why, keep reading. Here's everything you need to know about this special feature.
What Is a Kill Switch?

In this section of the article, we're going to explain what a Kill Switch is as if you don't know what is a VPN. To start, when you connect to a VPN server, you get a new IP and your connection is encrypted.
This encryption allows you to surf the web anonymously, without anyone tracking your online activity. In other words, you have all the online protection you can get. For the reasons we're going to discuss later on, a VPN connection might break.
When you lose the connection, you disconnect from the server and you're using your real IP again. In that case, your identity is exposed, leaving space for anyone to monitor your online activity.
A Kill Switch will prevent that from happening by shutting down your internet connection as soon as the VPN connection breaks. It's like putting a lid on the bottle before it starts leaking fluid inside.
This is very important for censored countries with excessive government surveillance, such as China, Vietnam, Venezuela, Russia, UAE, and many more. A Kill Switch is, simply put, one of the most important features for reliability.
And yet, in 2023, some providers don't include it, which is for us, a crucial downside.
Is a Kill Switch Always "Automatic"?
When we talk about the VPN features on our website, we often mention an automatic Kill Switch. An automatic Kill Switch is not the same as a "normal" Kill Switch. Logically, one type of it is activated by the user, while the other one activates as soon as the VPN connection is established.
A prime example of the second type would be ExpressVPN's Kill Switch. This provider calls it Network Lock and it activates as soon as you connect to the VPN. If the connection breaks, it automatically triggers itself and disables your internet connection.
Stay Safe All the Time With ExpressVPN >
On the contrary, pretty much every other provider offers a version that you need to turn off from the Settings menu. CyberGhost offers an automatic Kill Switch, while VyprVPN doesn't.
In that case, you have to turn it on automatically, where some providers allow you to customize it further. For example, you can set it to work on the system or application level. In the first case, it will work even if the VPN app is shut down, and in the second case, it will only work when the app is running.
Furthermore, you can make it work either for the apps or the network in general. If the VPN connections break, a Kill Switch can restrict internet access ONLY to that app or apps you've chosen.
Or you can go for a more traditional way and prohibit internet access for both the apps and browsers.
Beware that not every provider will give you these customization options. Sometimes, you can just turn it on and off, which is the most basic implementation of it.
Why Does My VPN Connection Break?
Generally speaking, the VPNs we talk about on our website are more or less, reliable. Reliability means stable connections in this case. This means that the provider will rarely if ever disconnect accidentally.
However, there are a few things that will impact the connection negatively, that you need to be aware of.
VPN Protocols
There are a few basic VPN protocols – OpenVPN (TCP & UDP), IKEv2, PPTP, L2TP/IPSec, and SSTP. These protocols all offer different levels of protection and speeds, that will have an impact on your connection stability.
In our numerous tests, our VPNs disconnected due to the choice of the wrong protocol. For instance, when testing SaferVPN, we couldn't get IKEv2 to work properly, as our connection constantly dropped.
But, as soon as we tested OpenVPN TCP, everything was fine. With the inclusion of new protocols such as WireGuard, for instance, these problems can appear as the protocol is still in its development phase.
Simply put, if your connection breaks constantly, try switching up the protocols. Or maybe change the server you're connected to 😉
Firewall Settings
Firewall settings could badly damage your connection with a Virtual Private Network. Not only that but also antivirus and anti-malware programs that will, for some reason, interfere with your connection.
Try opening the Control Panel and then visiting the Firewall Settings. Here, you can add an exception in the firewall for the VPN app and try to connect again.
Wi-Fi Signal
Not all users use this software on the PC. Some like to stream or browse the Darkweb in complete safety on a phone or a laptop. In that case, you're probably using your, or someone else's Wi-Fi network.
A Wi-Fi connection might be weak, depending on the position and distance of the router. If the Wi-Fi connection is unstable, it will affect your VPN's reliability. And if your Wi-Fi signal is very, very weak, chances are that the VPN will disconnect.
If you have the possibility, move closer to the router or use your mobile data. When using mobile data, the connection is much more stable, although it depends on the coverage of your carrier.
Best VPNs With a Kill Switch Feature
To wrap things up, here are the providers that offer a reliable VPN Kill Switch:
1. ExpressVPN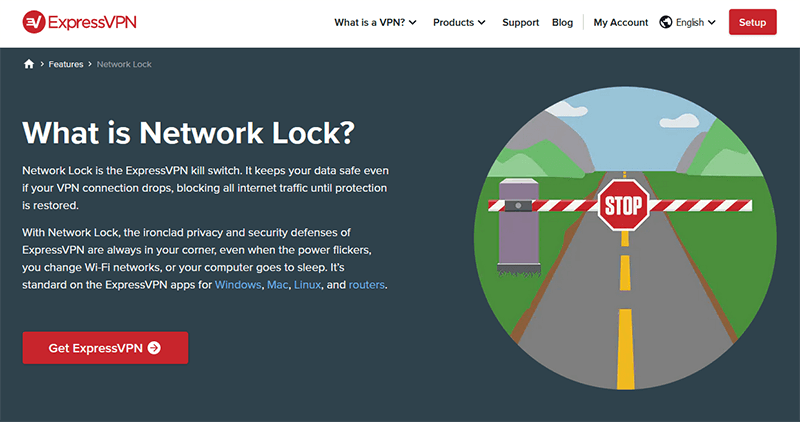 ExpressVPN is your best bet if you want a quality Kill Switch that will provide superb IP/DNS leak protection. As we said, the VPN provider calls it Network Lock and it works flawlessly, on both the system and the app level.
This feature is accompanied by 256-bit encryption, which will make your connection 100% protected. ExpressVPN also has 3,000+ servers in 94 countries worldwide, letting you connect to less congested servers, for more stable connections.
Right now, it offers a 49% discount and 3 months free for a 12-month subscription plan. Needless to say, this is a great time to get it for an affordable price.
Enjoy the Kill Switch feature from ExpressVPN >
2. NordVPN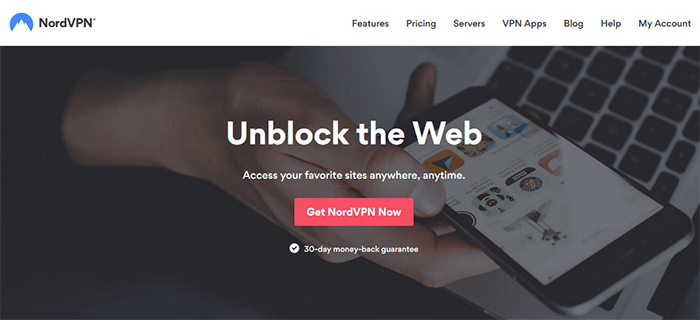 NordVPN's Kill Switch is one of the best in the business. To turn it on, just visit the Settings menu, where you can customize its functionality further. The customizations include the internet and the app level.
You can choose to activate it to prevent internet access to the whole system or just the particular apps you choose. To accompany this amazing feature, NordVPN included military-grade encryption and Double VPN, where a Kill Switch still works.
With 5,600+ servers in 60 countries, it's easy to find a stable and reliable server with no frequent connection drops.
Use a Kill Switch on NordVPN >
3. CyberGhost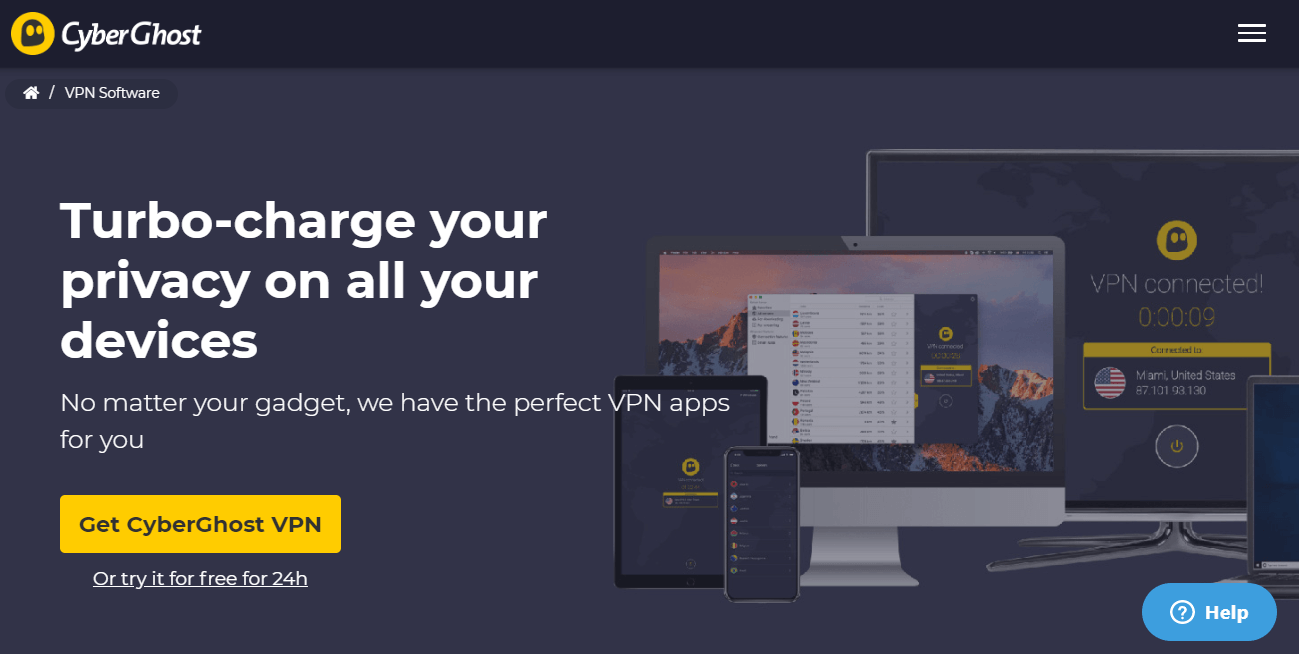 Lastly, we mentioned that CyberGhost also includes this feature, with very smart implementation. It's an automatic Kill Switch that will react as soon as the connection breaks. No customization methods or anything similar.
Although it's bad for some advanced users, we think it's pretty good. Because, let's be honest, not many users tweak these settings. The main thing is that it always works and provides excellent IP/DNS leak protection.
CyberGhost has 7,000 servers in 90+ countries, as well. These servers are fast and stable, so you'll rarely use a Kill Switch.
Get an Automatic Kill Switch CyberGhost >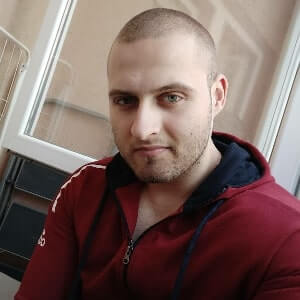 A professional writer with a Master's degree in Mechanical Engineering. Since his youngest age, he loves everything related to internet, technology, fitness, games, and dogs! He joined our team in order to bring his deep knowledge in security services, among which VPN is of course a key component.