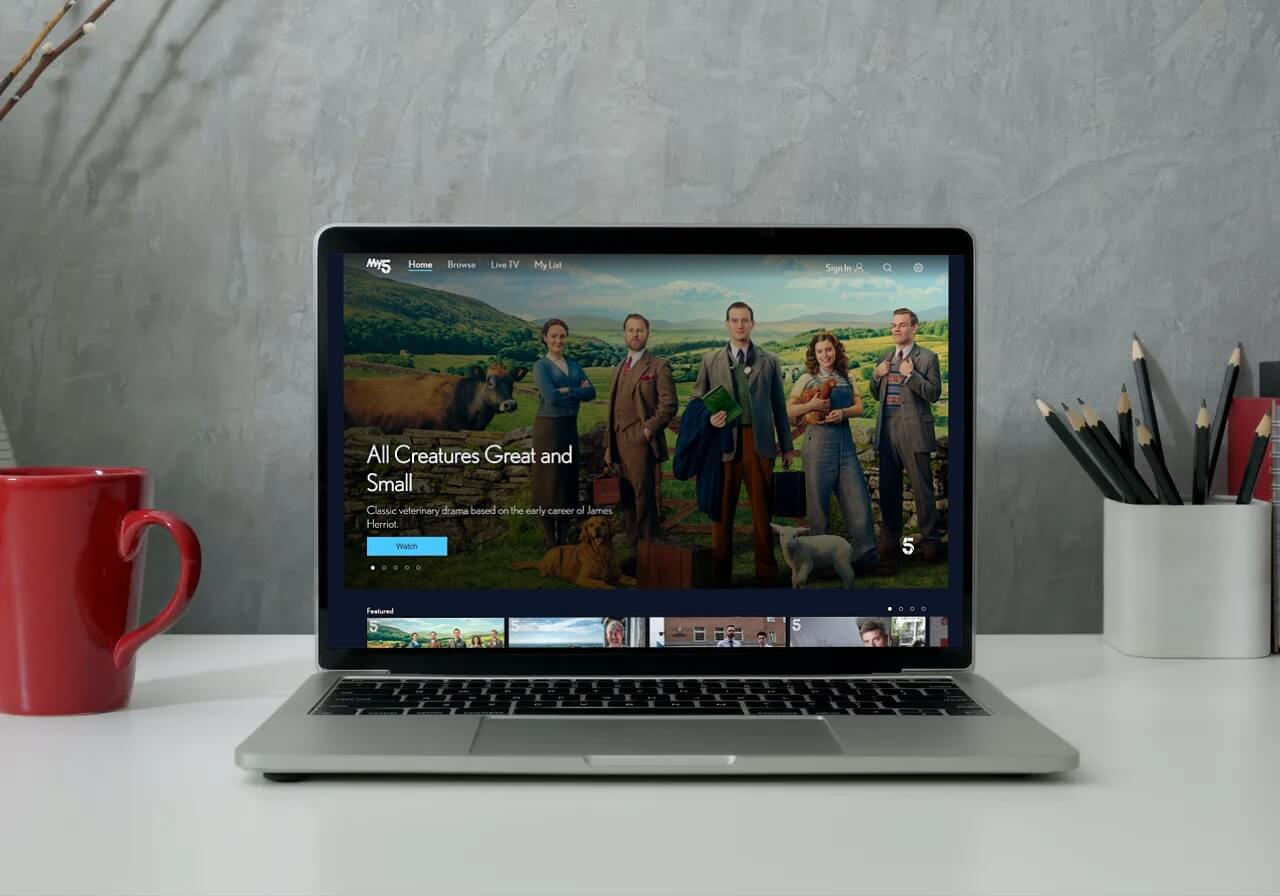 Channel Five is a popular UK channel offering high-quality entertainment, movies, and TV shows. Content can be streamed by accessing the My5 portal or app. However, venture abroad and you'll find yourself blocked. If this applies to you, you may be left wondering how can I unblock and access Five (My5) abroad. Well, we are going to show you how today.
Before we get into the details of unblocking restricted content, you might be wondering what you have done in order to be blocked? Everyone trying to access My5 outside of the United Kingdom will see the same message we showed in the next section.
What is Geo-Blocking?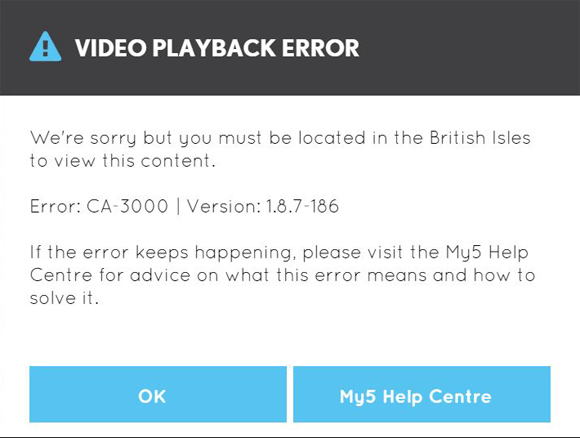 If you see the message displayed in the image above, My5 has geo-blocked you. This means they have detected that you are outside the UK. Now, you need to know how to stream My5 abroad.
Channel Five's on-demand service is only visible in the United Kingdom. When you visit the website or app, it recognizes the IP address you are using is not one that falls within the bracket of IPs from the UK.
If you can get around this issue, you will avoid the block. However, to get around it, you need a United Kingdom IP address instead of a foreign one.
The good news is that this is possible and the answer to how can I access Five outside of the United Kingdom is simple. Change your IP address, and therefore, remove the restriction.
It would be great if we could simply go into the settings somewhere on the computer, find the IP address and then type in a number representing the United Kingdom. Sadly, this is not feasible and a helping hand is needed in the form of a VPN.
ExpressVPN is one company offering such a service. They help you overcome the geo-restrictions by providing you with a UK IP address.
We've already seen this in our guide to help you unblock Now TV abroad. Yet, we'll explain all this again in this article, to make sure you understand how to unblock and stream Five (My5) abroad.
Avoid geo-restrictions with ExpressVPN >
How A VPN Works

We are not going too deep into how ExpressVPN works in regards to how to stream My5 outside of the UK. However, we will attempt to answer your question and present a solution in an easy-to-understand approach.
The sole use of a Virtual Private Network is not just to remove restrictions from blocked content, but it does do this extremely well.
It achieves this by providing you with a new IP address after connecting to one of its servers in the United Kingdom. So, what is the key to learning how to stream Five abroad? Connecting to ExpressVPN servers.
ExpressVPN not only provides you with the IP address you need, but it also provides a link or tunnel, if you like (see the screenshot above), between you and the internet. Before information passes from your computer onto the internet, it is encrypted.
This means that not only do they think you are in the UK, but they also cannot read any information coming from your computer.
Now, we will move onto the steps required to answer the question that led to you wondering how can I access My5 abroad.
Steps to stream abroad?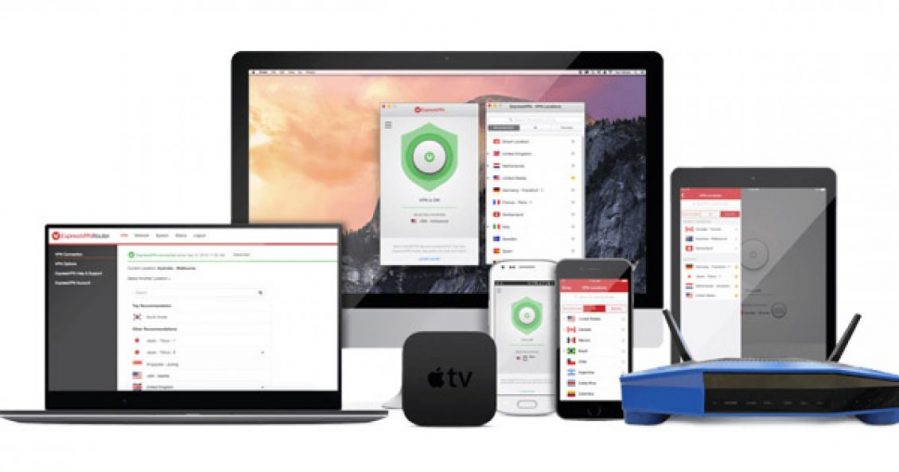 Here, you can follow instructions to watch Five (My5) when traveling to different countries.
The first thing to do is sign up with ExpressVPN. You can pay monthly, but if you pay for a yearly subscription you can save 49% and get 15-months.
Software is available for a huge range of devices. So, choose the type you want to download. Bear in mind, you can install software on different devices you own. These include Android, macOS, Linux, Windows, and iOS devices.
To continue with our tutorial on how to stream Five (My5) outside on the UK, go ahead and install the software, then open it up.
The dashboard is where you get to change your IP address to make My5 believe you are still in the United Kingdom. This is what it looks like once you're connected with a UK IP address.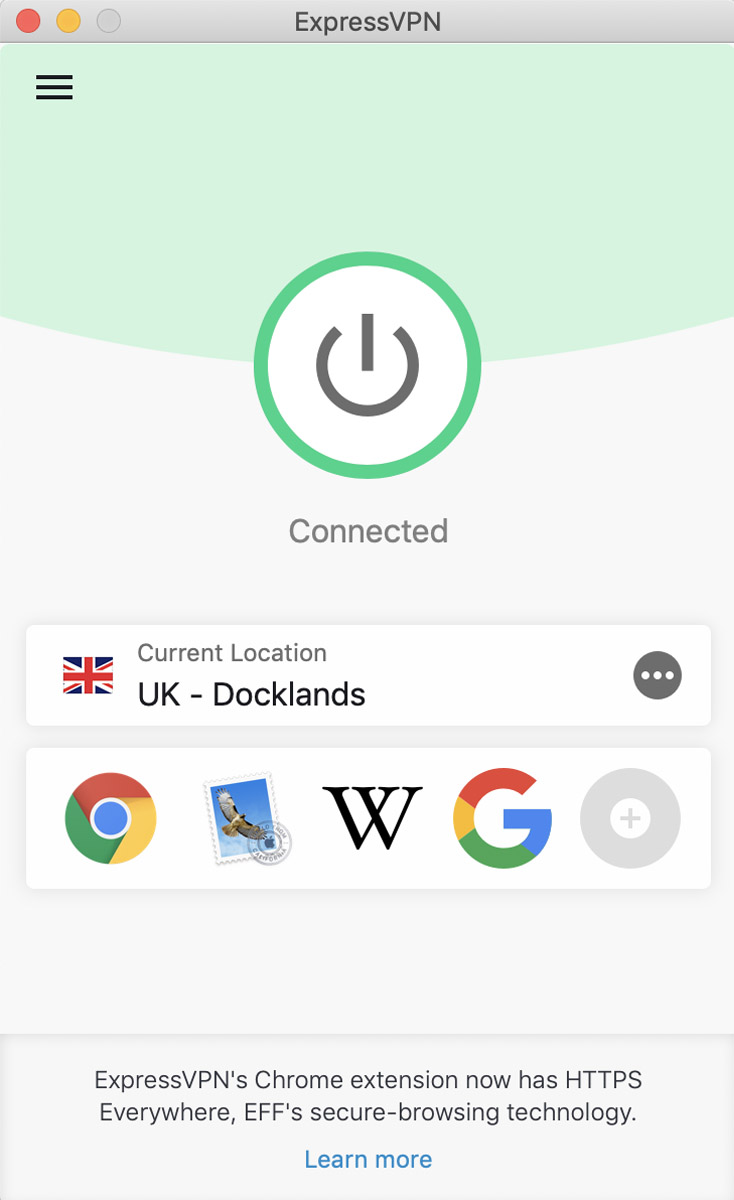 To do this, just choose a UK-based server and click Connect.
Now, when you log into the My5 app or website, you should be able to stream content.
With that out of the way, let's move on because along with providing the answer to how can I unblock and access Five (My5) abroad, there are many reasons why you might choose ExpressVPN.
Unblock My5 now with ExpressVPN >
Why Choose ExpressVPN?
ExpressVPN is a premium provider. While the pricing of the plans may be a little higher than with other providers, they do offer a great deal. For instance:
It offers lightning-fast speeds suitable for HD streaming.
3,000+ servers in 94 locations around the world, including in the UK.
Up to 49% discount on yearly plans.
3-months free with 12-month plans.
Superb 256-bit AES  encryption and a kill switch for peace of mind and security.
A 30-day no-condition money-back guarantee.
Now, you have the answer to the question of how can I unblock and access Five (My5) abroad. So go ahead and sign up before you leave for your trip abroad and you will be in a position to access all the shows you follow, without missing a single episode.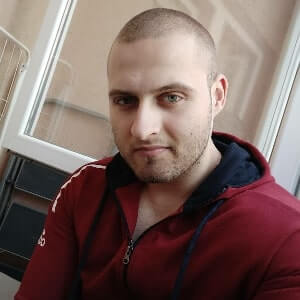 A professional writer with a Master's degree in Mechanical Engineering. Since his youngest age, he loves everything related to internet, technology, fitness, games, and dogs! He joined our team in order to bring his deep knowledge in security services, among which VPN is of course a key component.