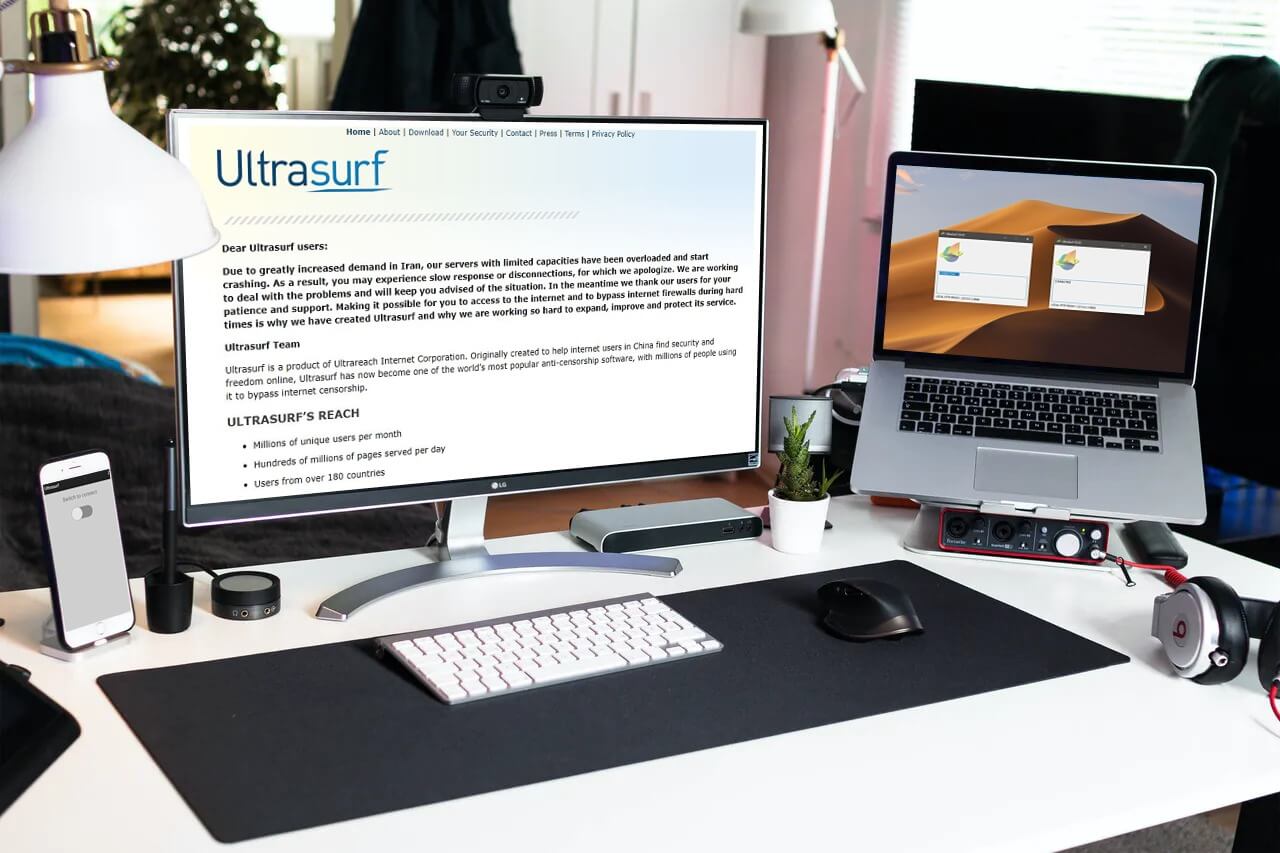 Free VPNs overcrowded the VPN marketplace in the past couple of years. They try to compete with the paid options, but as expected, the competition is very unfair. Some free offers make it, such as Windscribe and ProtonVPN, while the others are left in the dust. One of them is Ultrasurf VPN, which is one of the worst free providers we tested recently. If you're interested in finding out why, we recommend staying with us through the whole review. 
WEAKNESSES:
Very slow speeds
Unstable connections
Only 2 countries and servers
No kill switch
5 Eyes jurisdiction
Suspicious privacy policy
---
Here are the best alternatives for Ultrasurf VPN :
Is it a free or paid VPN?
Let's kick off our review with a brief introduction to what Ultrasurf VPN is.
As mentioned at the beginning, Ultrasurf is a free VPN provider that doesn't offer any paid plans. This means that you don't have any options but to download the app for free and use it like that.
Ultrasurf VPN is really a textbook example of why we don't recommend free providers. It has no features (literally!) and offers poor performance, even for its "Free" image. Nevertheless, since we got that out of the way, let's see how well Ultrasurf VPN really performed during our review and tests.
Performance
If you're an average VPN user, you'll probably be most concerned with performance. Nobody likes snail-slow speeds and unstable connections that beat the purpose of this service. For that reason, we conducted a speed test and a stability test, to make sure that our analysis is as accurate as possible.
Speed
There's one thing that free offers are notorious for – slow speeds. Pretty much EVERY free provider offers speeds so slow, that you'll find it hard to even browse through your Facebook feed.
Now, before we move on to the test, it's important to stress out that all providers will reduce your speed to some extent. However, there's a big difference in a 10% and 90% reduction that many providers of this caliber provide.
For paid providers, this is just a small price to pay for rock-solid security. But sometimes, the price is so high, that we refuse to pay it. That was the case in this scenario.
Without VPN (we were located in London) :

EU Server (Netherlands) :


US Server :

We don't know if we should put any comments after the speed test but let's do it nonetheless. Our native speed is pretty fast and we have pretty low ping. Ultrasurf VPN managed to squander it completely, making our browsing experience a complete chore.
Seriously, though. Don't expect Ultrasurf VPN to perform like a champ because it's far from it.
Without a doubt, this is one of the slowest VPN you can get. A much better alternative would be ExpressVPN, with the fastest speeds on the market.
Stability
Do you want to enjoy MotoGP streaming live or downloading torrents? Well, you can say 'goodbye' to these activities. Ultrasurf VPN isn't only painfully slow but also unstable – oh, yeah! Every provider promises 99.99% of uptime, which is the best case in theory.
But, in practice, that's not always the case. Establishing the connection with Ultrasurf VPN is easy but you can bet your ass that something's gonna snap quickly. Our connections were rarely stable while doing this review, which may be due to the smaller server count.
When many users connect to the same server, it becomes congested, resulting in unstable connections and slower speeds. And before you ask – yes, we tested it day and night, with no avail.
Streaming
Just 20 or 30 years ago, we needed to visit our local VHS rental club to get a taste of our favorite movies and shows. Nowadays, with streaming platforms like Netflix and Prime Video, this is a thing of the past.
With the rising popularity of streaming platforms, people use VPNs to bypass numerous geo-restrictions. This is, after all, one of the main functions of this service. Let's see how well Ultrasurf VPN performs in our test.
Netflix
Unblocking Netflix with this provider is impossible and here's why. Ultrasurf VPN isn't exactly a true VPN, so to say. It functions more like a proxy that opens a new browser window once you click on it.
Then, you need to visit the Netflix site from there to gain access to the catalog. As we can see, Netflix doesn't detect that we're using it. Instead, it lets us enter the site but doesn't unblock the catalog we want.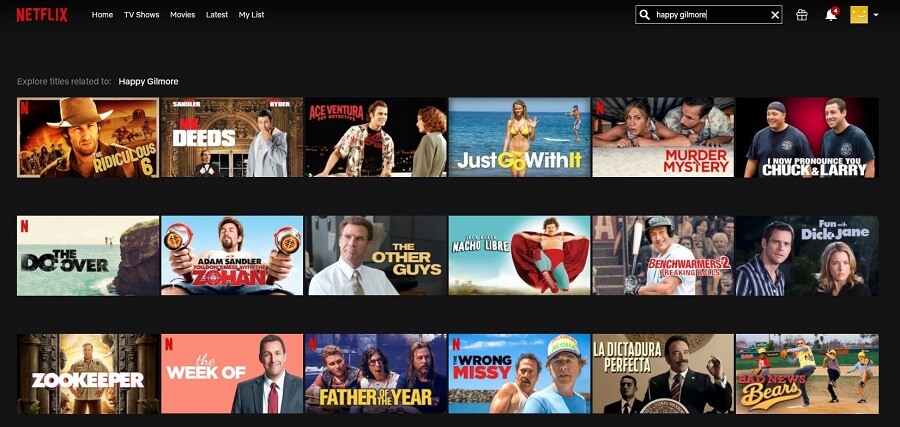 We connected to the Dutch server (not by our will) and tried to search for some shows available on that platform. That didn't take any effect and we were still on our native UK catalog.
Once again, a free provider shows why it's free. If you're wondering is it a good VPN for the US Netflix catalog – it's not. When doing this Ultrasurf VPN review, we tried unblocking the US catalog, but with no luck.
Other streaming services
What about other streaming services? Well, Ultrasurf VPN managed to nail a few surprises. Here are the platforms we managed to unblock:
HBO GO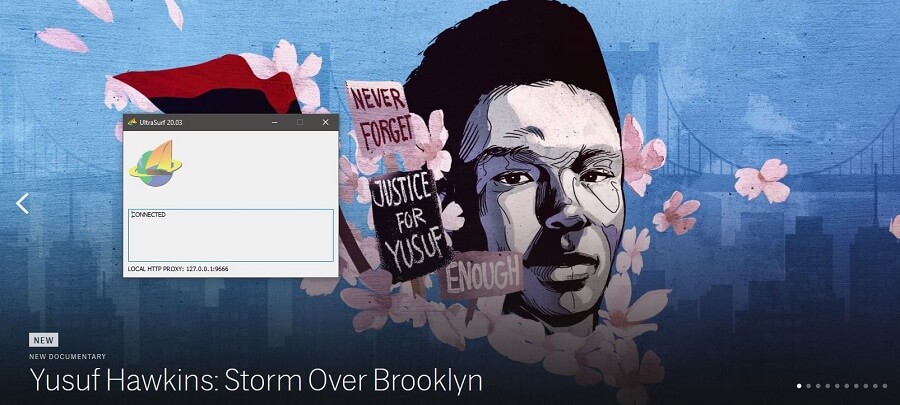 Amazon Prime Video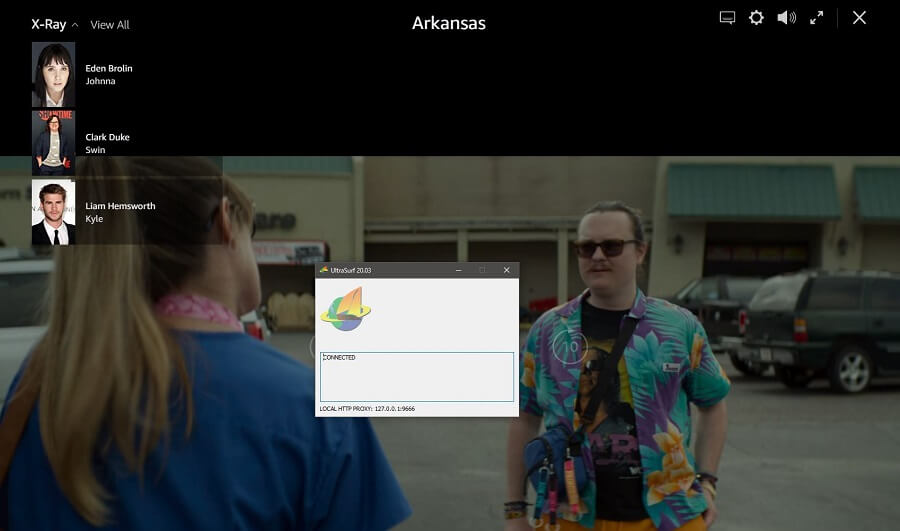 The platform we didn't manage to unblock were:
To conclude this section, Ultrasurf VPN is a really bad provider for streaming. Sure, you'll unblock Prime Video and HBO GO, but even then, don't expect your streaming experience to be marvelous.
The main reason for that lies in speeds. It's obnoxiously slow, and with unstable connections, you're going to cut out from your stream often. For a free provider, it's quite impressive that it can bypass Amazon Prime Video's anti-VPN check, however.
Other than that, it's not gonna cut it. A much better choice for this purpose is CyberGhost, with 7,000+ servers that can easily bypass geo-restrictions.
Security offered by Ultrasurf VPN
Security is another important factor we looked at while doing this Ultrasurf VPN review. For us, this is actually THE most important factor, as it's the main purpose of a VPN. A rock-solid provider will give you impeccable security, combined with complete privacy, for a 100% anonymous web browsing.
Being a free offer, Ultrasurf VPN doesn't give us many hopes. And the truth be told, even our low expectations sometimes lead us to great disappointments.
Where is Ultrasurf VPN based?
Let's review the security by examining the place of Ultrasurf VPN's inception. This company started out in 2001, so it's on the market for 2 decades, depending on the time of you reading this review.
That's quite a lot of years spent with little to no improvements. Ultrasurf VPN is based in the USA, as we can see, which is the worst jurisdiction for this service. Why? Because this country is a part of the 5 Eyes alliance.
5 Eyes countries are known for excessive government surveillance that violates your privacy and can put you in jeopardy if you violate copyrights or download torrents.
If the government requests the provider to hand out users' data, chances are that it'll comply with the laws.
And when that happens, the government can easily see through your browsing history and personal information. You want to avoid free providers from the USA at all costs because of this!
Log policy
Logically, a provider that doesn't collect any data wouldn't be able to give out any. Right? Of course! ExpressVPN upheld its zero-logging policy, even receiving an audit from PwC. Let's see if Ultrasurf VPN takes care of your privacy as it should.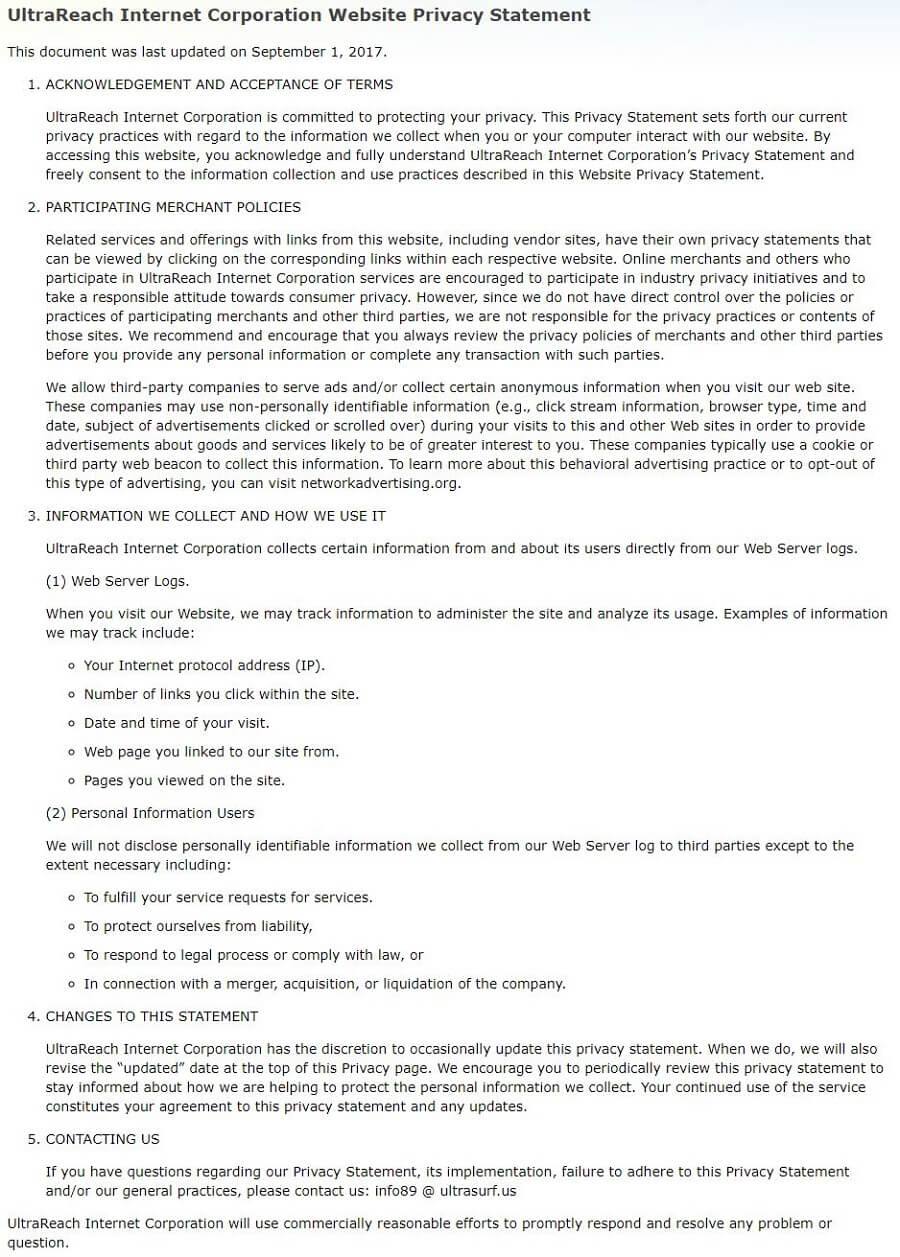 First off for this part of our Ultrasurf VPN review, we can see that this policy's been last updated in 2017, which is far from now. Take a look at chapter 2 of this policy, at the beginning of the second paragraph.
Ultrasurf VPN says that it allows third parties to "serve ads" and collect anonymous information about the visitors of its site.
When you visit the site, however, you'll see that there are no ads and that it's a bare-bones platform. Still, they'll collect your IP, the number of links you click, timestamps, what pages you're seeing, and so forth.
They claim to do this only when you're visiting the Ultrasurf VPN's site, but we don't think that's the case. Being inside the 5 Eyes, within the US jurisdiction, the provider surely collects a lot more than it displays here.
Protocols
Protocols… wait – which protocols? Ultrasurf VPN's applications are so simple that they don't have any features. You just open it, connect to a random server, and off you go.
By default, the provider uses OpenVPN, which is currently the best protocol alongside WireGuard and its variations. Unfortunately, there's no option to change it up, so you can't do anything if you can't bypass censorship or geo-restrictions.
Sometimes, IKEv2 is a solid alternative, but we don't get that here.
Leak protection
IP/DNS leak protection is a must-have these days. Even cheaper VPN options like Surfshark and CyberGhost have it, and it works wonderfully. Certain VPNs provide only IPv4 leak protection, while some will protect even your IPv6.
This provider functions as a proxy, so it doesn't provide complete protection. Instead, you get protection only within the selected browser, which must be Chrome, by the way, if you're on the PC.
Our test showed that there are no IP and DNS leaks, surprisingly…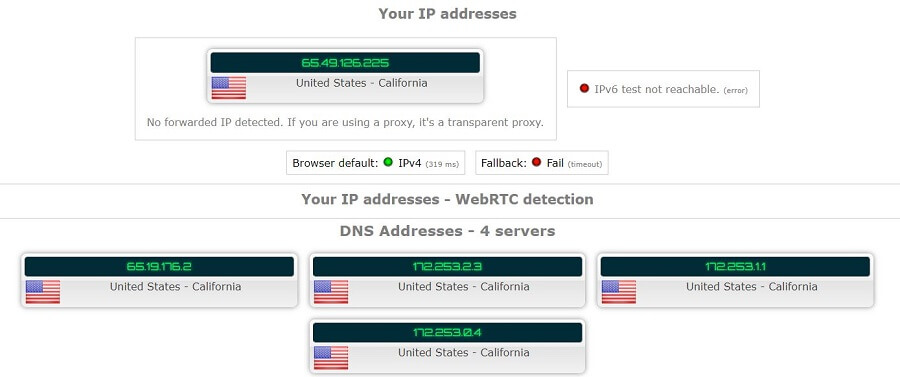 But don't let that fool you. Ultrasurf VPN won't protect anything outside of your browser. Your IP and DNS will still leak in your apps and games, doing nothing for your privacy.
Torrenting
Now that we touched on the apps in this complete review of Ultrasurf VPN, we need to see if you can use torrent clients like uTorrent or BitTorrent to engage in P2P activities.
When encrypting your connection through the browser, you can safely visit any torrent website and download the file you want. After that, you open the torrent file via your client, and that's where the problems start.
Since this is not a browser, your in-client connection isn't encrypted, leaving you exposed to the prying eyes of your ISP. Technically, it allows you to download torrents but only because it has nothing to do with it.
What happens inside your uTorrent or BitTorrent has nothing to do with the protection provided for your browser. In other words, you're open to getting caught by DMCA, which is something you want to avoid at all costs.
You can do so by getting ExpressVPN instead of Ultrasurf VPN.
Bypassing censorship
The initial purpose of this provider was to bypass censorship. In 2023, nothing's different. The provider still claims to be a universal tool that lets you bypass the Great Firewall of China and other strong firewalls.
If that was the truth, Ultrasurf VPN would get a lot of points in our review. Sadly, that's not the case.
Our tests showed that the Firewall constantly blocked access to the internet and due to the app's limitations, we couldn't do a thing about it. Connecting to a different server is possible only when the app says so, making it hard to change a damn thing!
We advise you to avoid this provider for censored countries like Russia, UAE, Iran, Iraq, and China. Use NordVPN's obfuscated servers that will always work!
Countries and servers covered by Ultrasurf
Ultrasurf VPN's server coverage is pretty poor. As mentioned previously in our Ultrasurf review for 2023, you can't switch up servers on your own. The provider automatically connects you to the random server in a random country, giving you zero control over your connections.
In our testing, we constantly switched between the Dutch and the US servers – unwillingly, of course. No matter how hard we tried to connect to other servers, the app wouldn't let us do so.
This means that the provider offers 2 countries (at least for us), with only a few servers – 2 or more. Needless to say, this number isn't going to impress even the lowest-demanding users, let alone our harsh review criteria.
Compatible devices and connections
Ultrasurf VPN is going "strong" with its limitations and will probably disappoint you even in this department. Let's see how good is the provider's device support and if it allows for simultaneous connections.
Devices supported by Ultrasurf VPN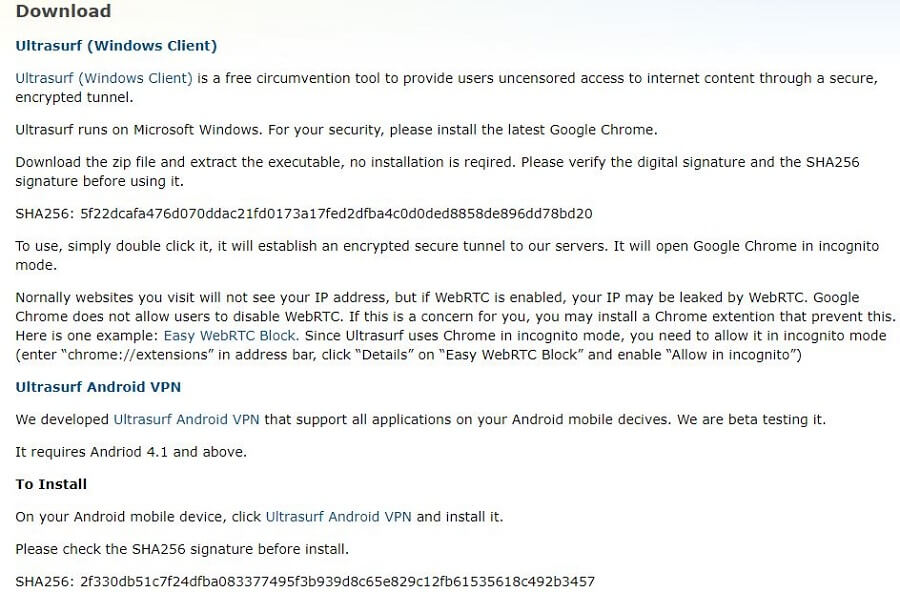 Users who want to download this VPN will have to come to terms with its limited functionality. It's available only for Windows and Android devices, with both apps looking pretty much the same. Here's how the Windows app looks like: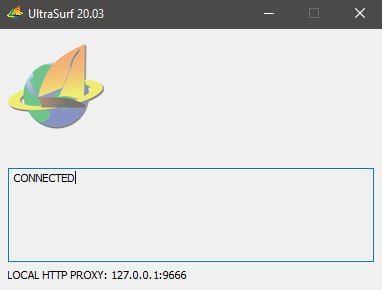 When you open the app, this screen appears, signaling that it established a connection. Then, a new Chrome window opens, where the provider applies all of its protection and leak-prevention measures.
If you happen to close the window, you have to close the app and run it again to connect – very unintuitive!
On the smartphone, Ultrasurf VPN looks very similar.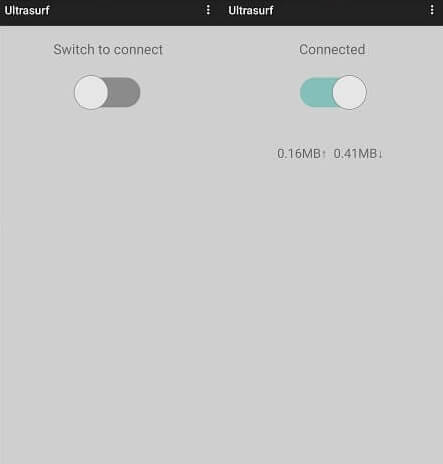 When you run the app, you need to tap the button to connect, which is the only difference. We like simple VPN apps but this one is so simple, that it's beyond the limits of functionality.
Simultaneous connections
To use this provider, you don't even have to sign up or sign in. Just download it, run it, and boom – it works. That's why you can install it on every Android and Windows device in your home, without any problems.
Basically, it offers unlimited simultaneous connections but given its low quality, that's nothing to brag about.
Ultrasurf VPN : how is the client support?
A proper VPN is always going to provide a solid support for its customers. Should the potential problems arise, the provider needs to be there to solve them in an easy manner, with as little effort as possible from the user.
To be honest, the website looks quite abandoned, as if the developers gave up on this Virtual Private Network. We decided to test this theory by sending them an email with a basic question.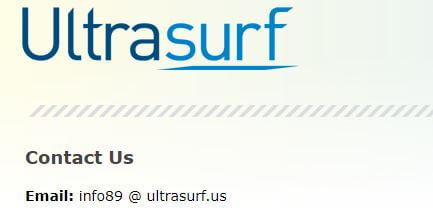 This is, by the way, the only means of contacting the provider. Believe it or not, we prepared the material for our review a few days prior to writing it, and at the time of writing, we still didn't get an answer.
It looks like Ultrasurf's staff just abandoned the thing altogether and said "screw you!" to their userbase, which probably isn't very large. Customer support was all we needed to put a final nail in the coffin of this provider.
Final thoughts about Ultrasurf VPN
With everything said and done, it's time to put a conclusion to our review.
Or is it?
Well, it's easy to see why this provider isn't worth your time. It has nothing going for it, except for the fact that it's free and that you won't have to pay a single dime for it. Other than that, it does very few things right.
Its apps are feature-less, it has a few servers, and everything else just refuses to function properly. Our recommended alternatives are any premium providers that you can get your hands on.
Or, if you want a more accurate recommendation, we suggest ExpressVPN. It's currently the best VPN on the market, offering a 49% discount and 3 months free for an annual plan.
Even if you don't like it, you can use its 30-day money-back guarantee to get money back in your wallet.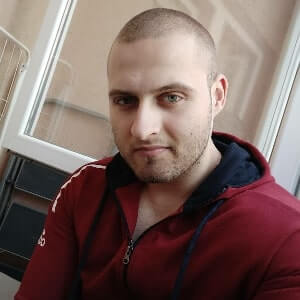 A professional writer with a Master's degree in Mechanical Engineering. Since his youngest age, he loves everything related to internet, technology, fitness, games, and dogs! He joined our team in order to bring his deep knowledge in security services, among which VPN is of course a key component.