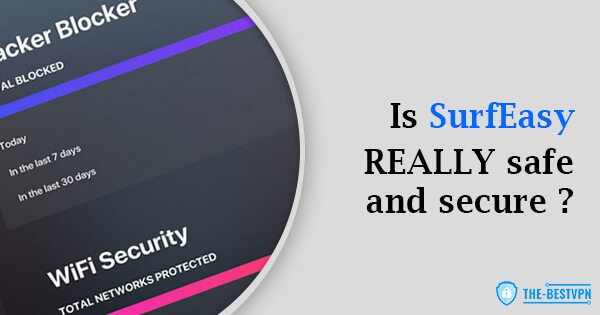 SurfEasy is an affordable VPN provider that promises a lot for the price. While not the most popular option, its cheap prices will surely attract new customers easily. But, before buying a certain provider, it's always important to see whether it's safe to use or not. Our task today is exactly that – to examine SurfEasy and see if it's as safe and secure as it promises to be. Read the article carefully before buying it!
Security: what are the security tools in the apps?
For a Virtual Private Network to be safe and secure, it must have a decent array of security-oriented features. Given how cheap this provider is, expecting much from it would be pointless. Still, let's see what it offers for the start:
Military-Grade Encryption
One thing that's quite important for this service is encryption. Security online is impossible without it, and if your data is encrypted, it can easily fall into the wrong hands. Whether it's your government, ISP, or hackers, you want to stay off the grid and undetectable.
SurfEasy claims to have 256-bit AES encryption, which is also known as military-grade or bank-grade encryption. Some providers offer 128-bit encryption and that's pretty safe. However, in this scenario, your privacy will never be compromised due to the weakness of this encryption.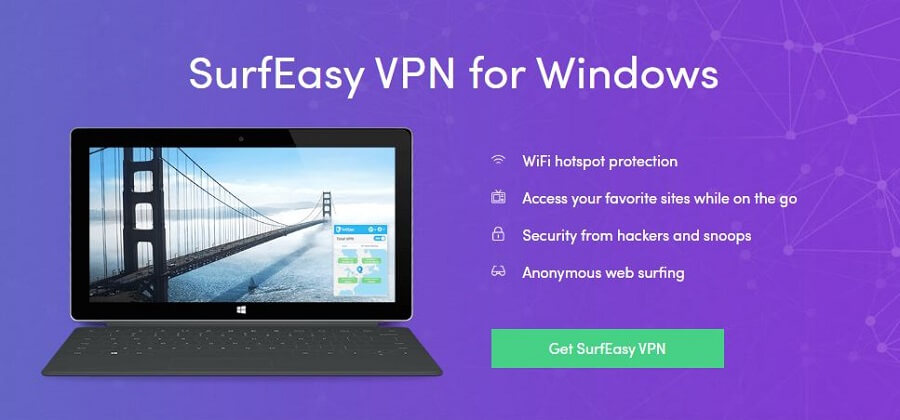 Enhanced Tracker Blocker
Surfing the internet can be a hell of a fun. Instagram, Facebook, and YouTube are perhaps the most popular online destinations out there. But, little do you know, all of these websites have trackers that track your online activity and adapt ads and other site features to your "needs."
Advertisers do that, and on many sites, they're more than abundant. SurfEasy takes that into consideration and tries to fix it. Its solution is Enhanced Tracker Blocker. This feature blocks all the trackers behind your tail, leaving you invulnerable and secure online.
99.9% Server Uptime
Why is server uptime important? Server uptime is essentially the time in which the server is active. If a server works 100 minutes, it's active 99.9 minutes, for example. Basically, SurfEasy's servers are active 24/7/365, so it's highly unlikely that you'll encounter shutdowns.
If you encounter them, though, the bad news is that the provider doesn't offer a kill switch. This is, therefore, far from a good solution to browse the Darknet safely.
OpenVPN Support
OpenVPN is the best security protocol you can use today. IKEv2 is on the second spot, but bear in mind that SurfEasy doesn't support it. The good thing is that OpenVPN works great in terms of security and speed.
But, it can't bypass the Great Firewall of China sometimes, for example. And in that case, you might want to switch to another protocol, which isn't available here.
SurfEasy Privacy Policy: the most important security criterion
Usually, when you use different sites online, you don't read privacy policies, right? Well, when using VPNs, you should definitely read them. This is because your bandwidth goes through the provider's network and as such, it can monitor your internet activity.
SurfEasy claims to have a zero-log policy with no data retention. Is that true? Let's find out in its privacy policy: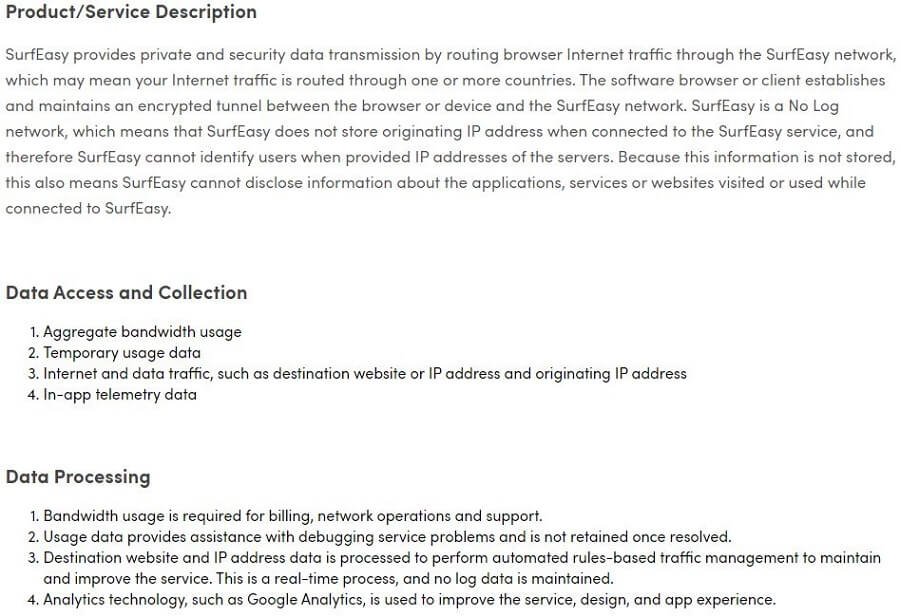 In the first paragraph, SurfEasy reassures us that it's a no-log service. The interesting part is where they mention that they don't store originating IP addresses, therefore, not being able to identify its users. Hold on tightly.
The next paragraph is about data access and collection. They collect aggregate bandwidth usage. As they claim, it's required for billing, support, and network operation. Temporary usage data is here, in-app telemetry data, and guess what – originating IP addresses and destination websites.
While they claim that they don't log originating IP addresses, they also mention the "rule-based" traffic management. Essentially, they control what you're browsing online. If something's not to their liking, the intervene.
Sure, they might not store logs, but they see what you're doing online, which is no better. And to be honest, we think that they store these logs, after all. Interestingly, they allow for torrenting and Onion Over VPN, but we wouldn't suggest doing that for the reasons mentioned above.
External audit: is SurfEasy safe?
External audits are very rare in the VPN world. There are dozens of safe and secure providers, yet not many of them got an external audit. A prime example of that would be CyberGhost. This Romanian provider is one of our favorite providers without an external audit.
On the other side, ExpressVPN, a top choice on the market, has got their network/service audited by PwC. Its servers are manually checked for possible loopholes, making sure that it's safe and secure. The same applies to VyprVPN, with an external audit from Leviathan Security.
Unfortunately, SurfEasy didn't enjoy this treatment. And quite frankly, why would it? It's nowhere near as popular as the providers we mentioned. Plus, its quality is subpar, which you can read more about in our SurfEasy review linked above.
Issue(s) and scandal the company has faced in the past
SurfEasy is a relatively new provider, so it didn't have any particular issues in the past. We don't know if that is going to change, but there's one issue that the company can't change – its jurisdiction. The provider is from the United Kingdom, which is a part of the 5 Eyes Alliance.
Countries from the 5 Eyes are known for extensive government surveillance, and that's not good for privacy. If the government wants the provider to hand over certain data, they'll do it, and given that they see the websites you visit, you can get into some problems – for torrenting or watching porn, for example.
Conclusion: SurfEasy can't be trusted
To conclude this article, SurfEasy can't be trusted as it is not that safe.
Despite claiming that it has a zero-log policy, we simply find it untrue. They're from the United Kingdom and they store websites you visit, alongside your IP address. For us, that's enough to discard it as an untrustworthy provider.
If privacy and security are your main concerns, your best best is ExpressVPN.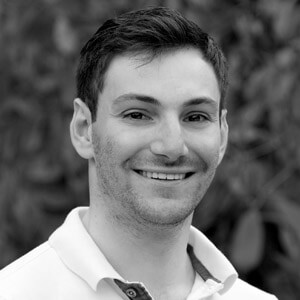 Flo is the founder of the-bestvpn.com. Really concerned about security on internet, he decided to create this website in order to help everyone find the best VPN. He's got a Business School background and now is 100% dedicated to keeping his website alive.