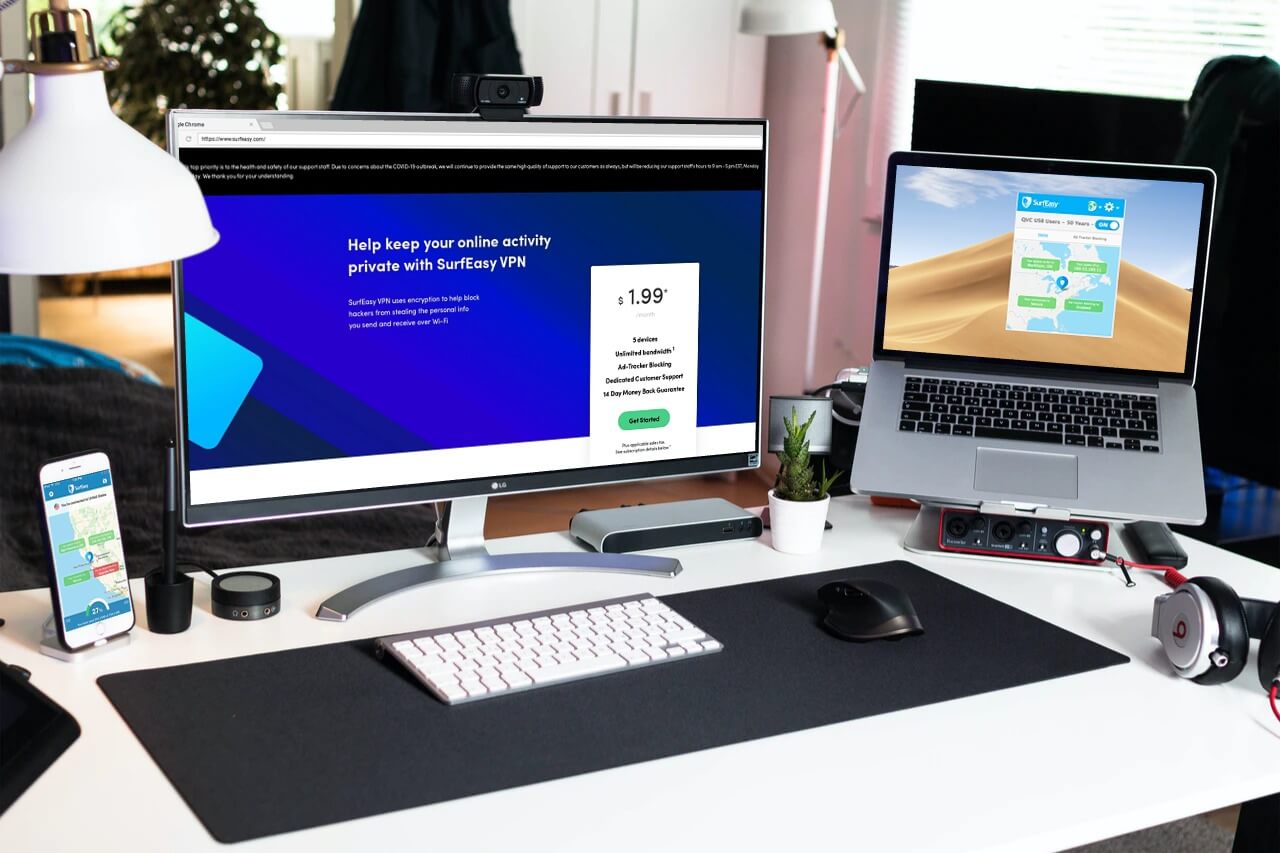 Recently, internet security has been one of the most debated subjects among internet users. With the increasing rates of cybercrimes, it's understandable that these are worrying times for internet users. To combat this, internet users have turned to VPNs. That said, we bring you the 2023 review and test for one of the most popular VPNs on the market – SurfEasy.
While VPNs are capable of protecting you against cybercriminals and hackers, it's worth noting that they can do much more. Cybercriminals apart, government agencies have also gone on a rampage nowadays, invading people's privacy and accessing their personal data.
To protect yourself from all these potentials, you need a powerful VPN.
However, the question on the lips of most prospective buyers is whether SurfEasy is really the right choice for them. Well, that's why we have created this detailed review and test.
Of course, this Canadian-based provider is a top 50 names in the VPN scene. Nonetheless, we're not sure it's really equipped enough to compete with the biggest names in the business – ExpressVPN, NordVPN, and CyberGhost.
On the evidence of our review and test, we'd advise you to look further if a provider with advanced features is what you're looking for. It will keep you anonymous online but doesn't do much more than that.
Nevertheless, if you can make do with only the basic features, you may continue reading.
PROS:
Unblocks Netflix
Decent speeds
Uses the strongest encryption protocols
CONS:
Doesn't have a Kill Switch
Ineffective in high-censorship countries
Small server network
Located in a location with anti-privacy laws
Expensively priced
Poor client support
SurfEasy ranks #106 out of 104 VPNs tested. Here are the best alternatives :
---
Is it a paid or a free VPN?

While this provider offers a free plan, which is known as the Starter plan, it offers two paid plans. We must not forget to note that the free plan is hugely limited, so it's primarily a paid VPN. Some of the limitations you'll find on the Starter plan include a bandwidth data cap and limited server access.
Performance
In order to determine the performance of any VPN in 2023, you must test and review its speed and stability. Does SurfEasy perform well on both fronts? Well, let's find out below.
Speed
SurfEasy provides decent speeds when you connect to local servers and doesn't even drop excessively when connecting to international servers. Of course, this is impressive considering that this is a pretty average service, as you'll also find out later in this review.
While it's not as fast as the likes of ExpressVPN and NordVPN, its local speeds are sufficiently fast to handle a couple of HD streams simultaneously. During our test, upload speeds were also remarkable, which is ideal for torrenting, but its high latencies will probably put gamers off.
Without VPN (we were located in London) :

EU Server (France) :


US Server :

Asia Server :


Stability
In terms of stability, SurfEasy offers decent performance. While their client support is not really reliable, at least, they promise an uptime of 99.9 percent.
This is surely enough, and it means there won't be many downtimes on this network. Even if you encounter a downtime, it is likely to be for maintenance, and of course, maintenance doesn't take much time.
Streaming
With streaming being one of the most important functions of a VPN, we decided to review the streaming performance of SurfEasy. We got mixed results, but we'll show you our test results first.
Netflix
When it comes to unblocking Netflix's geo-restricted content, SurfEasy is an impressive performer in 2023. In fact, the ability of the service to unblock Netflix has drawn plaudits from across the scene of VPN.
Although we tested only the US servers, they worked excellently.
However, you must note that even though the current situation is rosy, this provider had been blocked by Netflix on multiple occasions in the past. While we would trust the ability of the Canadian company to quickly provide new servers to bypass Netflix's efforts at the moment, we advise you to expect the situation to be volatile.
Netflix works, but we advise you to cautiously set expectations.
BBC iPlayer
Like Netflix, BBC iPlayer is another important streaming service that any worthy VPN must be able to unblock. While SurfEasy used to unblock BBC iPlayer with ease in the past, it failed completely in our recent test.
Although it didn't come as a surprise to us at all as BBC iPlayer is a platform that is quite notorious when it comes to VPN-blocking.
Others?
SurfEasy performed disappointingly when we tested the service with BBC iPlayer, but we had better luck for other streaming sites. We couldn't access Amazon Prime Video US after multiple attempts. However, we at least got access to other streaming sites like Hulu, YouTube, and HBO.
But, we'd like to note that gaining access to these sites is never guaranteed. Therefore, don't be surprised if you fail to unblock any of them with this service in the future.
Security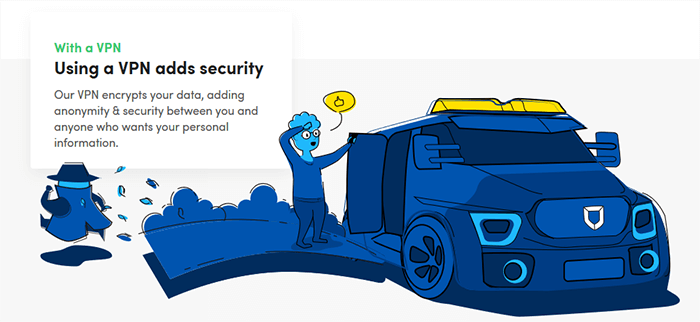 There's absolutely no point paying for a VPN that can't provide security. Obviously, security is the biggest function of a VPN in the first place. While SurfEasy is probably not the best option around in terms of security, it's not the worst either.
Let's quickly review our test findings in the subsequent paragraphs.
Where is it based?
The location of a VPN makes a huge difference in 2023. Being a legal entity, a VPN provider is subject to the regulations and laws of the country in which it is based, just as you're subject to the laws of your country.
Privacy concerns arise when those regulations include compulsory data retention, or allow the transfer of user's data to third parties.
Thankfully, SurfEasy is based in Canada, which is a country with no such anti-privacy laws, as our test revealed. The location, however, provides a cause of concern for privacy-conscious users as Canada is a member of the Five Eyes.
The Five Eyes is an alliance of countries that have agreed to work together in collecting and sharing intelligence.
In fact, the coalition has grown to 14 countries, so all these 14 countries can prey on your private data. Furthermore, SurfEasy has some affiliations with the United States, which is a country renowned for its anti-privacy laws.
The provider is owned by Symantec Corporation, which is an American cybersecurity company.
Therefore, SurfEasy will be subject to some anti-privacy laws in the US, and also the United States' invasive intelligence agencies.
You might just look away and review your options if you're a privacy-conscious person. Invasive intelligence agencies are definitely creeping around, and local laws might not be sufficiently strong to stop them from accessing your personal data.
Besides, your private data could be transferred across the world in a universal intelligence network.
Log policy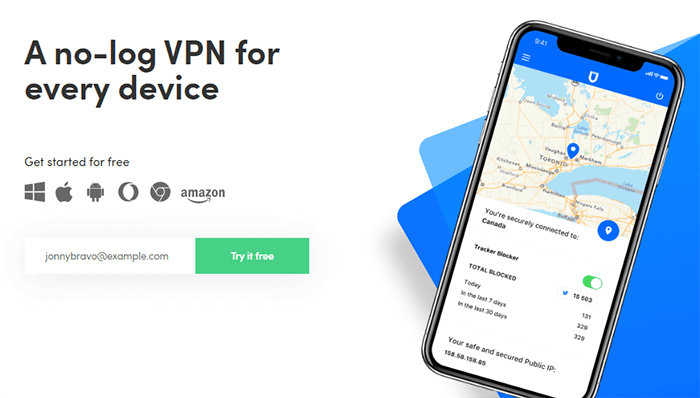 For all intents, SurfEasy could pass as a zero-logging provider. It doesn't store or collect your genuine IP, the server you are connecting to, or any websites, services, or apps you use while connecting to the service.
For support and troubleshooting purposes, it does log total bandwidth usage.
However, this is kept only on a temporary basis and not linked directly to users, which is the most important thing. For effective management of its network, the provider will sometimes carry out "real-time analysis of Internet and data traffic including destination websites or IP addresses, originating IP addresses."
While this may seem intrusive at first glance, it is not really anything to be concerned about as this data is not kept at all, which is the most crucial thing. It is an excellent example of a service that wishes to maximize its performance without trading off its users' privacy.
Protocols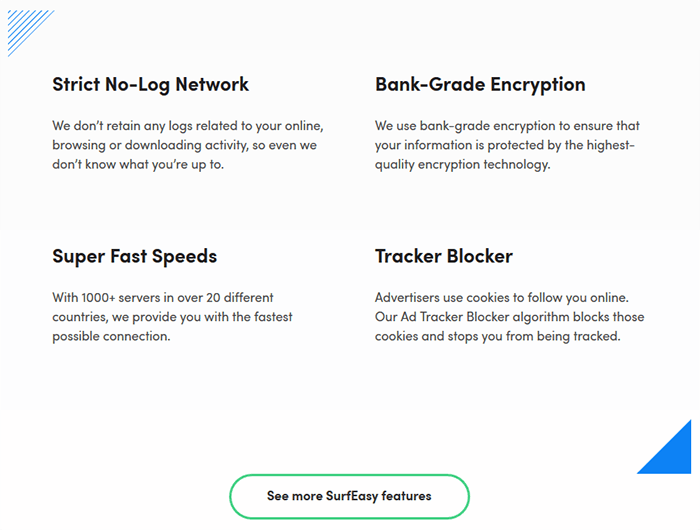 In terms of protocols and encryption, the provider offers great performance, which we will detail in this SurfEasy review. First of all, it uses AES 256-bit encryption, which is bank-grade security encryption.
In fact, it is the highest level of encryption on the market today. Most leading providers like ExpressVPN and CyberGhost also use this encryption, so you can be confident that you are in good hands.
When it comes to VPN protocols, this provider is also similar to the big players. It uses OpenVPN on Windows, Mac, and Android clients, while it uses IPSec for its Mac and iOS apps.
We recommend you to always stick with the default setups.
OpenVPN is the best protocol around, so the only reason you might want to switch to another protocol is if your connection or device is outdated. Just bear in mind that these alternatives are usually unsecured in the modern world of today.
Therefore, while they are great for anonymity, they are not so good for security. For instance, even amateur developers can hack PPTP in about three minutes or less. So, just imagine what a professional could do in that period.
Protection against leaks
Most providers offer an option to toggle on or off DNS leak protection, but SurfEasy has no option like that. That isn't because the provider doesn't have DNS leak protection – it's because the feature is effected at the server level.
However, we think it is nice that the leaks protection is automatically turned on as these security leaks (like IPv6 leaks, WebRTC leaks, and DNS leaks) can give out your real location. Therefore, it is important that they are turned on at all times.
Of course, we carried out a test for this review to know if SurfEasy will really prevent these leaks. Thankfully, they effectively blocked every leak, including DNS leaks, WebRTC leaks, and IPv6 leaks.
Torrenting
While torrenting is widely considered as an illegal practice, it's not technically illegal. Even though most activities that users engage in while torrenting are illegal, that doesn't make the whole act illegal. That said, we checked the torrenting performance of SurfEasy in our test and review, so below are our results.
Is torrenting allowed?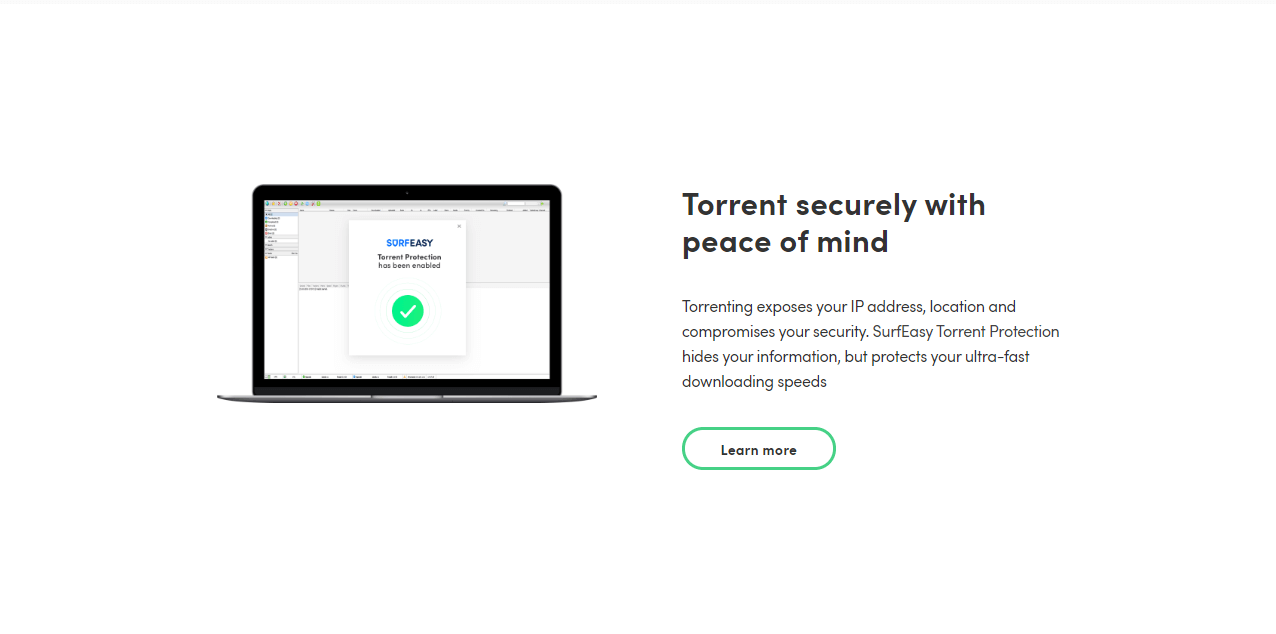 SurfEasy allows users the use of torrenting on its networks, offering specialized P2P servers for peer-to-peer sharing. However, only users subscribed to the Ultra plan can use these servers, which means not every user can engage in torrenting.
Nevertheless, the provider conceals all your P2P traffic from the peering eyes, with no limitations whatsoever. This way, torrenting is both secure and safe with SurfEasy.
However, while SurfEasy allows the use of torrenting and even offers specialized servers for it, the fact that it doesn't come with a Kill Switch may be a cause of concern for torrenting users. We will talk about this in the next paragraph of this review.
Is there a Kill switch?
As we mentioned earlier in this review, SurfEasy boasts a remarkable 99.9 percent uptime. Apparently, no VPN can better this, so you can be confident that this service is a very reliable service.
Nevertheless, the provider doesn't promise a 100 percent uptime, which means it could still be down.
When this happens while you're surfing, your protection is lost. Your data traffic alongside your genuine location will be exposed to the prying eyes.
To prevent that, VPNs usually come with a Kill Switch to make sure that users stay protected at all times. What this feature does is that it shuts down your Internet connection when the VPN connection drops.
This ensures that you don't continue browsing without the protection of a VPN.
Sadly, SurfEsy doesn't come with this feature, as we noted earlier. Undoubtedly, they guarantee an uptime of 99.9 percent, but the little seconds that their downtime will permit will be sufficient for prying eyes to access your private data and genuine location.
Besides, your anonymity will be thrown outside. If you're really concerned about privacy, the fact that the app doesn't have a Kill Switch means it may not be ideal for you.
We were really concerned about the fact that this feature was missing while writing this review and test of SurfEasy.
Bypassing Censorship
If you are a resident of a repressive country like China, Russia, or Iran, you may need to pay special attention to this section.
With the increasing numbers of governments implementing censorship policies around the world, we felt compelled to test the ability of this VPN to bypass censorship.
In censored countries
If you'll be primarily connecting from China or another high-censorship country, SurfEasy isn't a VPN we would recommend for you.
In recent years, there has been a crackdown on VPN traffic in China, which makes it almost impossible to get around the Great Firewall of China except if you use extra obfuscation tools to conceal your VPN traffic.
Normally, firewalls utilize Deep Packet Inspection to sense and block VPN connections, and since OpenVPN is a common protocol, it is super easy to detect. If you're in such a country, find a provider offering stealth protocols to stand any chance of bypassing the censorship.
Otherwise, you will just find out that you can't access the unrestricted internet, as we found out during our test. If you're looking for a VPN that will work in China, it would be better to opt for a better alternative like ExpressVPN or NordVPN.
Furthermore, this applies to countries like Turkey, Saudi Arabia, and the UAE, all of which are countries with strict internet laws. Since SurfEasy has a very small server network, you are likely to struggle to get to a decent performance level even if you are able to connect successfully.
Apparently, it is not an ideal option if you wish to do more than just normal browsing. Thus, we advise you to go for a more reliable option since there are many of them.
In restricted networks
If you have ever attempted to access Snapchat or Facebook in class only to be blocked by the firewall of your school or organization, then you will know how frustrating restrictions can be. That sort of firewall is engineered to prevent access to a couple of sites while still opening the internet to be utilized for academic purposes.
This means that websites like Twitter, Facebook, Snapchat, and Instagram are usually blocked.
Of course, that is no fun at all. Fortunately, it is not hard to get around the firewall of a school or an organization. In fact, SurfEasy allows you to access blocked websites on your tablet, phone, or computer. Regardless of the device you are using, the provider supports it.
This ability actually impressed us during the compilation of this review for SurfEasy.
The service hides your IP and creates an encrypted passage between the internet and your device. This way, it enables you to get around filters and firewalls and utilize the internet freely without restrictions.
This means that you can Facebook your way through a boring class if you want to.
However, bear in mind that we don't encourage that, but we believe adults should do whatever they want. We enjoyed bypassing restricted networks during our test for this review and we're sure you'll also enjoy it.
Countries and servers
The number of servers a provider has and the location of the servers is also important. With that in mind, thought including this information in this review would make it very detailed.
Countries covered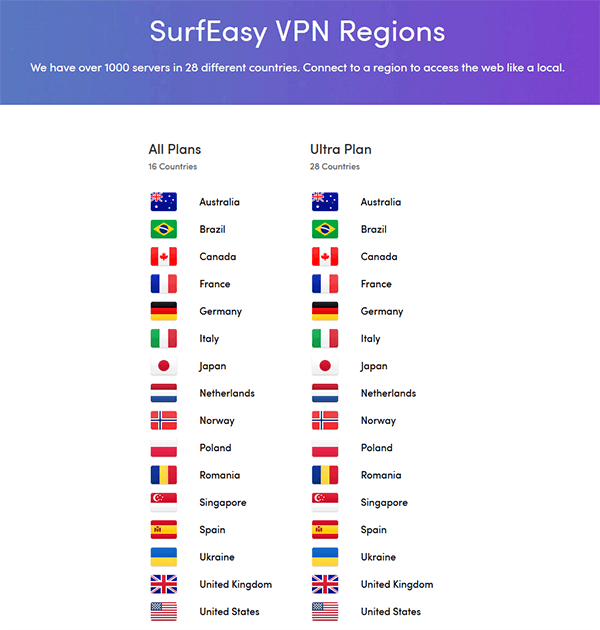 With only 28 countries on offer, the server network of SurfEasy is one of the smallest we have seen. While it's an excellent choice if your focus is Europe, you may be better off with another service if your focus is outside of Europe.
We recommend you to check their server list out on their website to ensure that it covers you before you sign up.
In case you are not covered, you may turn to better alternatives like ExpressVPN or NordVPN. Unsurprisingly, we found out that SurfEasy has a quite low number of servers at just 1,000+ in total.
This means that you may experience server congestion, which may result in reduced performance at peak times.
Besides, there is no option to narrow down your selection to city-level servers, as we found in our test. This could be especially annoying if you are in the United States and need to pinpoint a particular state. Of course, most of their focus is on Europe and North America, taking 20 out of the total 28 countries.
With only Japan and Singapore being its only representatives, Asia is especially poorly represented.
However, Africa and South America are even worse, with both continents shaving only a single location each. You can visit their website to see the complete list of the provider's server locations by countries and purposes.
Servers
While SurfEasy doesn't offer specialized servers for many activities, it offers designated servers for torrenting. However, the specialized servers are available to only people who are subscribed to the Ultra plan.
Meanwhile, it's worth mentioning that the Ultra plan is quite expensive, but we will discuss this expansively later on in the review.
Compatible devices and simultaneous connections
Probably the first thing you need to do before buying a VPN is ensuring that it's compatible with your device. Having said that, we accounted for this in our research for this review of SurfEasy, so we'll list all the devices you can and can't use with this service.
What device can I use with SurfEasy?

The provider supports not a lot of devices and operating systems. They include:
Windows
Mac (desktop)
Android
iOS
However, they also provide extensions for popular browsers like Chrome and Opera. With that, you don't need to download the native desktop app. Moreover, they have a mobile client for Amazon phones as well.
But this is quite rare, so it's a great perk if you are one of the few individuals with an Amazon phone.
Sadly, the service doesn't support routers at the moment, as we found out in our test and review. This means that you don't have a choice but to stick with the 5 simultaneous connections limit.
How many simultaneous connections?
You can install the service on 5 devices at the same time, which makes it ideal for protecting all your devices. In fact, you can even protect your friends or family members. However, it allows for just a single connection on the Mobile plan.
Client support
Client support is always one of the number one factors you must take into consideration. Apparently, it doesn't make sense to put your trust in a company that doesn't provide convenient ways to get in touch with it.
How to contact it?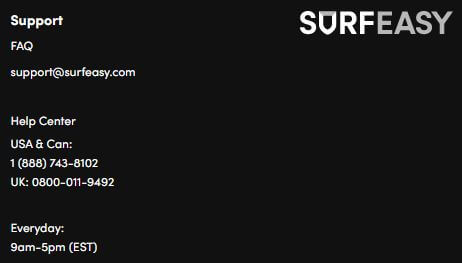 The first option is the email system, which enables you to send an email to the provider's support team. Besides, there are two telephone numbers from the United Kingdom and the United States, and they are available every day from 9 am to 5 pm.
Finally, there is a live chat feature with the support team of this VPN. Nonetheless, the live chat option is concealed within the support pages of this VPN and is not always available.
Is it good?
SurfEasy has poor client support, as we found out while writing this review. First of all, they don't respond quickly when you contact them through the email ticketing system, as it took more than a day before they responded during our test.
While they have a live chat feature, it's as good as useless as it's almost never available. In general, we didn't like their website and support. Information is difficult to find, and when you eventually find it, it often lacks clarity.
FAQ/tutorials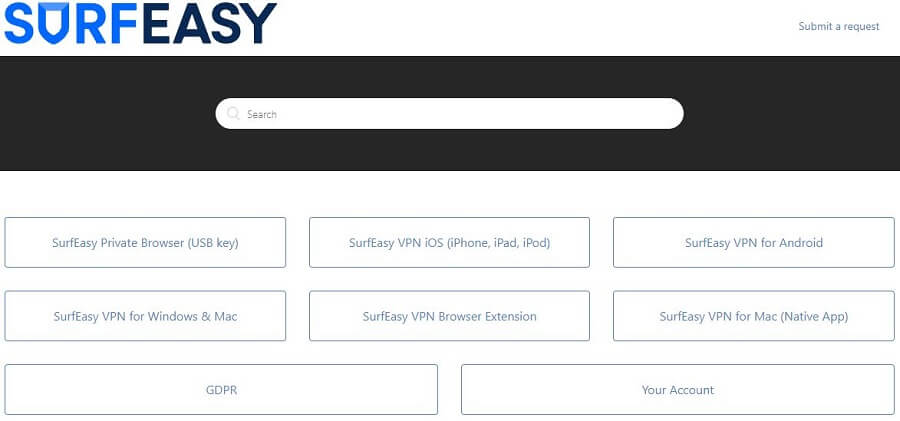 In addition to the support channels we listed, there are FAQs and how-to guides on the website. While the guides aren't really polished and definitely incomparable to what companies like ExpressVPN and NordVPN offer, they are above average.
There are also tutorial videos, which are excellently created and well-voiced. We also found a TED talk in our test, and we really liked it, as it's a sign of the company's commitment to this cause.
Value for money
Nobody wants to pay for something and not get enough value in return for the money. With that in mind, we decided to include this part in our review for SurfEasy as well to let you know what you'll be getting.
Price comparison
The provider offers two different packages – annual and monthly. Obviously, the annual plan is the one on the left, which is a bit cheaper – but only in the long run.
Upon examining both plans, we can see that they offer the same set of features. Limitless data, torrent compatibility, ad-blocker, and so forth.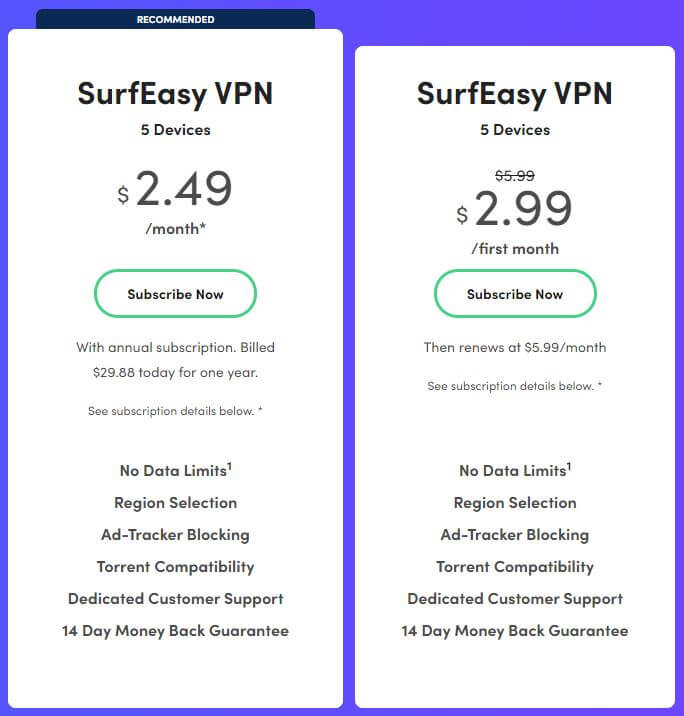 The annual plan here costs $2.49 a month and it's generally very cheap given that the whole year will cost you just $29.88. However, the monthly plan is $2.99 but only in the FIRST month. Later on, it's $5.99.
Of course, the premium plan is the plan you need to choose if you want the full package. Generally, it's a costly service, and it's even more expensive than Surfshark that's way better in terms of performance.
Means of payment
SurfEasy accepts all major cards (debit cards and credit cards) and PayPal, so payment is quite convenient. However, there is a downside with such convenience – your privacy is compromised with the billing operations as you need to submit personal info.
While most providers have conformed to the changing times by offering anonymous payment means like cryptocurrencies, SurfEasy doesn't allow such payment methods.
Therefore, you may need to look elsewhere if you want the complete anonymity that anonymous payment methods offer.
Money-back guarantee
The provider provides both a free trial and a 14-day money-back guarantee. The free trial doesn't have a time limit, so you can actually enjoy it for as long as you desire.
However, it comes with a 500MB bandwidth limit, which means you won't actually be able to do a lot than running a couple of speed tests and streaming a few shows.
While it's an excellent way to test the software out, we wouldn't mention it as a long-term VPN solution. As soon as you have signed up for the service, you have a 14-day window to change your mind.
In fact, the guarantee is really no-questions-asked and it doesn't have any restriction or data caps.
Just email client support and inform them about your decision to terminate your subscription. Kindly keep in mind that if you bought the software via the App Store, you will need to directly go to them to get a refund.
Any extra?
In general, th service looks like a very basic service, in terms of features at least. However, while it doesn't come with many features, it offers some features that we'd like to include in this review of SurfEasy.
Ad-tracker blocker
The ad-tracker blocker is the only unique extra feature we found during our test. It uses a special algorithm to block the tracking cookies that advertisers utilize to follow you up. If you turn on this feature in the desktop client, it will show you the total ad-trackers that the service has blocked in the last 30 days.
While it's difficult to know the accuracy of this feature, it's an excellent feature to have. On the evidence of our test, it works well.
Final Thoughts
Do we recommend SurfEasy? The straight answer is NO. With everything you must have read before getting here, we're not sure you'd argue with us. Despite competing with industry leaders in terms of pricing, it's not close to them in terms of performance.
The service is weak, isn't completely trustworthy, and comes with plenty of problems.
While we won't deny that it has its upsides, as you can save money on your flight tickets with this VPN, its downsides are just too overwhelming. It's not a worthy service at all in our opinion.
So you can simply avoid it by turning to a better alternative like ExpressVPN.
Opt for the best VPN on the market : ExpressVPN
SurfEasy Review and Test
Apart from its rather convincing speed, we were not impressed by SurfEasy. Especially when you know that by opting for this provider, your anonymity will not be fully guaranteed.
Add your review
|
Read reviews and comments

Michael is a talented writer who has dedicated a lot of time into making sure that everyone around the world can use the internet securely. Being an avid traveler, he has acquired a lot of experience while using different VPNs on his travels. When it comes to doing comprehensive "how to tutorials" or testing some VPN functionalities, he's always the best pick ! He's here to help you solve your VPN-related issues.