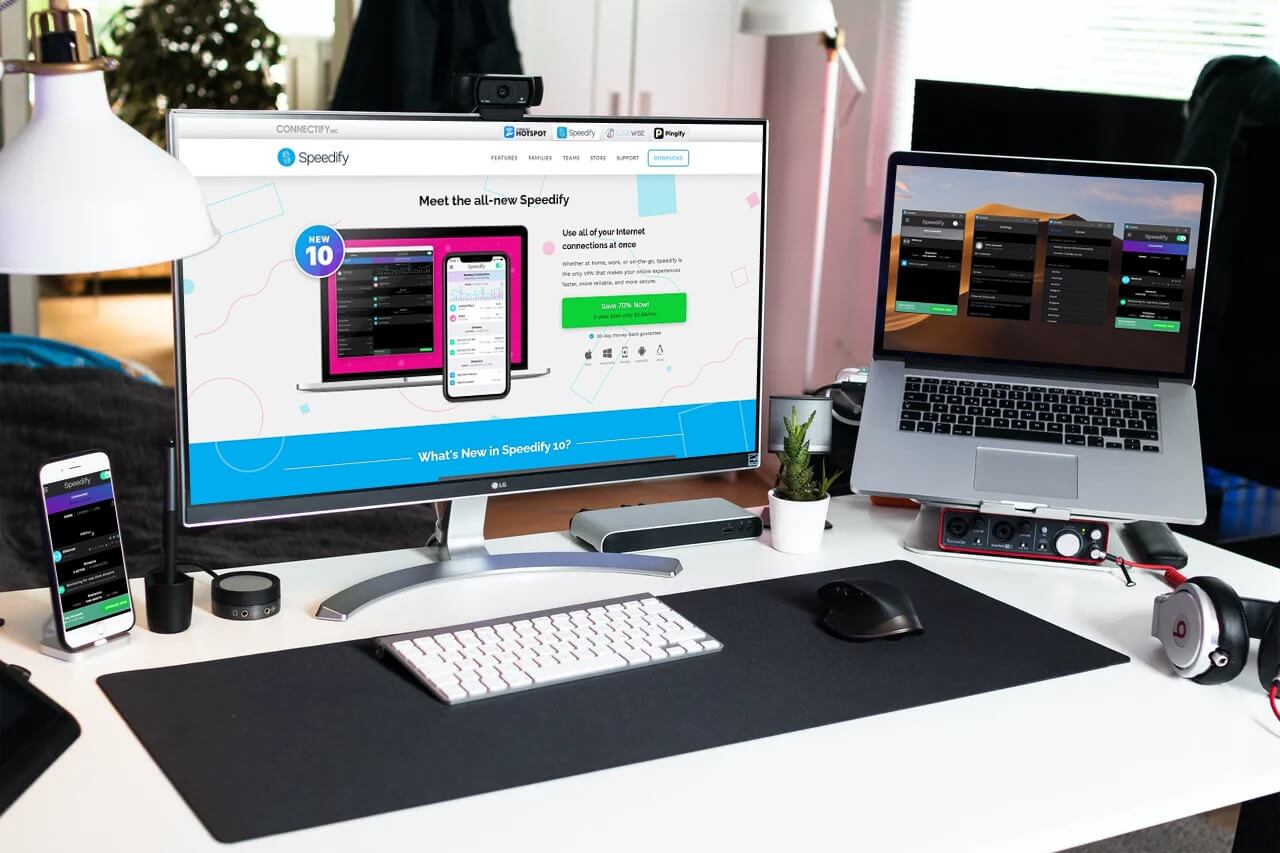 Speedify VPN is a provider that progressed significantly in the past few years. With merely 200 severs and its questionable functionalities, it grew to be a full-fledged, premium provider. Today, it offers a large server network and promises superb performance both in terms of security and speeds. However, we put everything to the test, and Speedify VPN is yet to pass our trial by fire. Is it any good? Should you use it? Find out in our Speedify VPN review for 2023!
STRENGTHS:
Free option available
Decent server network
Intuitive apps
WEAKNESSES:
Slow speeds
US jurisdiction
No router support
Not able to unblock Netflix
Malware detected with Malwarebytes
---
Here are the best alternatives to Speedify VPN :
Is it a free or paid VPN?
Starting off our review, we need to talk about the ways to get Speedify VPN. As soon as you visit the website, you can see that the provider doesn't play around. It looks gorgeous, has many articles and pages, implying that we're talking about a premium provider.
Of course, Speedify VPN is a paid provider and offers multiple subscription plans. Moreover, its plans are divided into several categories. You can buy this VPN as an individual, as a family, and as a team (business).
Our review will be focused on the first plan – the individual one. The other two plans are slightly more expensive and we think that the individual plan will be the most popular option. After all, it still allows for several simultaneous connections.
Performance
Performance is very important for a VPN to function properly. Apart from giving you impenetrable security, this service should also be able to keep up with your day-to-day tasks. These tasks include streaming, torrenting, browsing the web, and so forth.
In this category of our review, Speedify VPN has some strong promises, which made us wonder if they're genuine. Being a less popular option when compared to ExpressVPN, for example, it's interesting to see how well it stacks up against giants.
Speed
Before we move on to our speed test, we need to mention a few things in regards to VPN speeds. First of all, every VPN will reduce your speed to some extent and that's a small price to pay for the impeccable security you get.
Usually, this reduction is minor if we're talking about top providers in the industry. But, when using less-quality providers that aren't very popular, a reduction can reach 80 or even 90 percent.
Needless to say, this is unacceptable and brings a drastic performance decrease. Let's see how fast Speedify VPN is.
Without VPN (we were located in London) :

UK Server:


US Server:


Asia Server (Japan):


As you can see, our native internet speed is vastly different from the results we got with this provider. Our upload/download speeds go well above 200 Mb/s, and with Speedify VPN, they're below 100 Mb/s. The UK server was usable, while the Japanese server was a complete disaster.
With single-digit speeds, streaming and web browsing was a chore. Despite its alleged efforts to bring superfast speeds, the provider simply fails to do so, making it inferior to the likes of ExpressVPN, the fastest provider around.
Stability
In terms of stability, we honestly never had any problems with Speedify VPN. Every provider promises a 99% uptime, which is the case here, but luckily, it stays true to the promises. Connections are almost instantaneous and once you connect, you won't experience any lags and disconnects.
Sure, speeds are on the lower end of the spectrum, but that's a completely different issue. At least, you get stable connections and that's important for streaming or downloading big files.
Streaming
Now that we touched on performances, it's time for our streaming test. In theory, Speedify VPN should allow you to watch YouTube videos even when they are censored. Or perhaps, watch Disney+ freely from abroad.
The main question is – does it unblock Netflix?
Speedify VPN comes with a plethora of servers, some of which are dedicated. This means that they're "specialized" for streaming and unblocking different platforms. Let's see if they are really efficient.
Netflix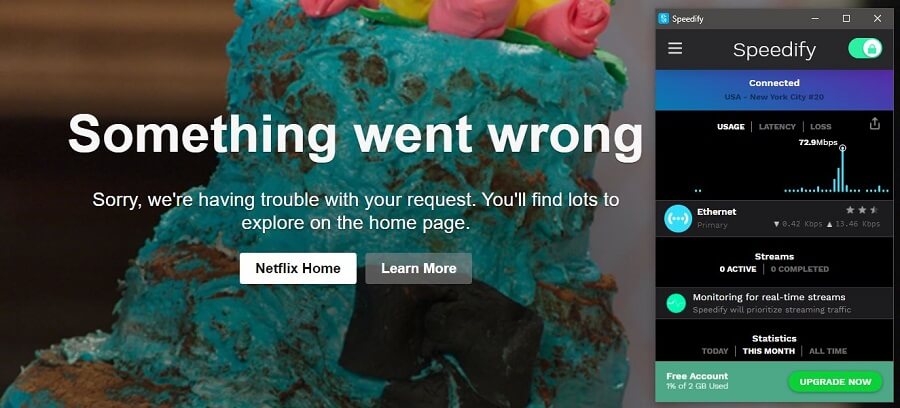 Right off the bat, we can see some bad news. For our Speedify VPN review, we connected to the server in the United States, to see if Netflix US will work. For those who don't know, this is the largest database of movies and shows.
Sadly, Speedify VPN doesn't work with this Netflix catalog. After this test, we connected to the Austrian server, where we managed to unblock this site. Also, we tested the UK server as well, but with no avail.
Generally speaking, the provider probably won't work with Netflix. And when it does, it usually unblocks minor catalogs where you can't find a lot of movies and shows.
Other streaming services
Our testing doesn't stop on Netflix. We try to include as many platforms as we can in this Speedify VPN review and test to make sure that you know exactly what you're paying for. For that reason, we decided to test a few other platforms, starting with HBO.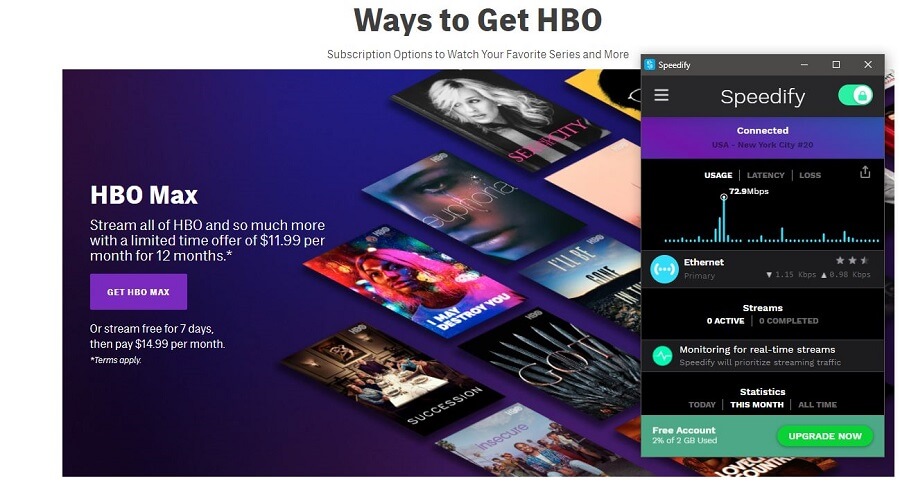 HBO GO works, as we can see, but that's nothing surprising. Even free providers manage to unblock this service, so let's go with a harder test this time.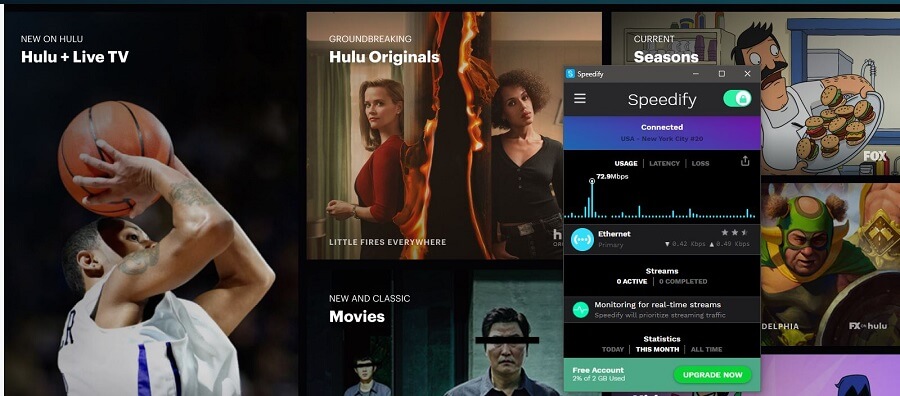 At first, Hulu seems to work and that's great news, right? Well, not exactly. As soon as you click on a movie or show, Hulu gives you the famous proxy error. In other words, it detects that you're using a VPN and locks you out.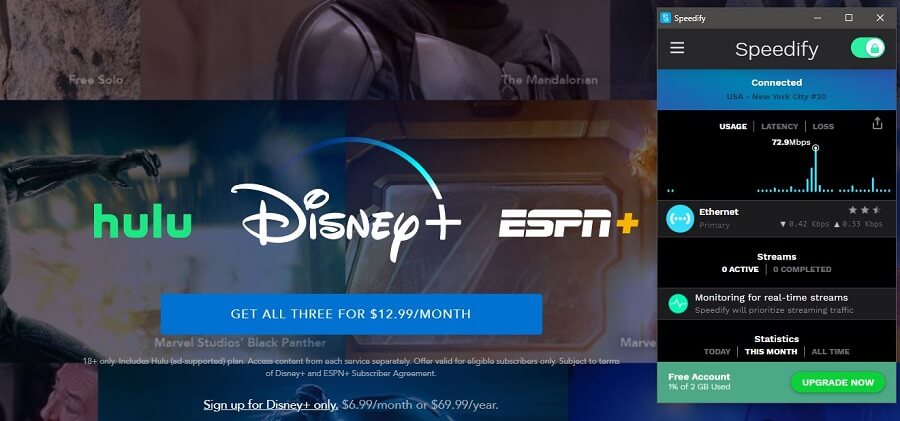 Disney+ also seems to work as long as you don't try to log in. Clicking on the sign-in button leads you into an infinite loading screen, making it impossible to access this streaming platform.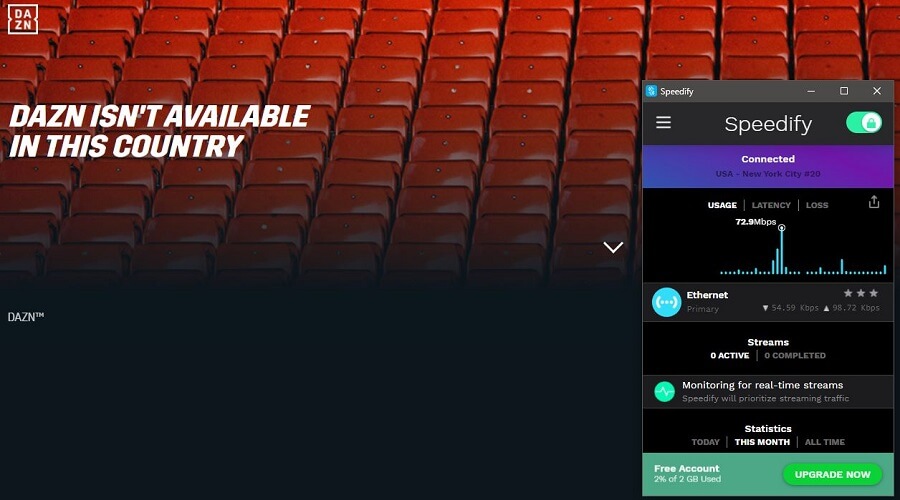 DAZN doesn't work either. It says that it's not available in our country and we're using the USA server. Of course, that's not true, as DAZN works perfectly fine in the USA, Brazil, Japan, and a few other countries.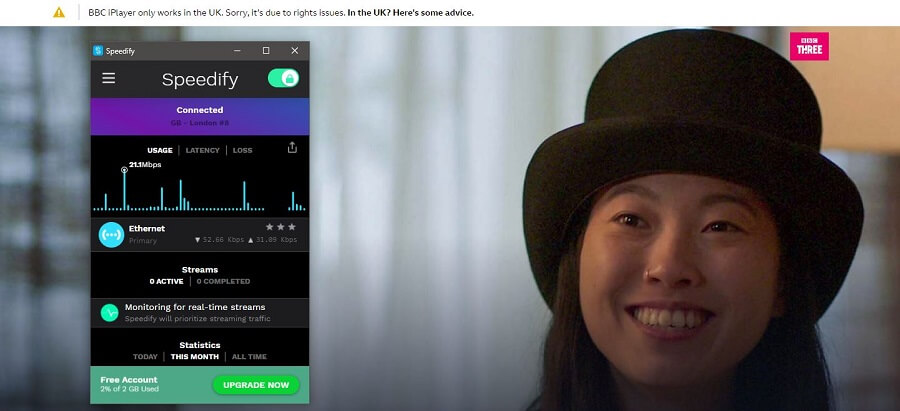 Our last test included BBC iPlayer, which doesn't work. Speedify VPN allowed us to browse through the site, but when we try to stream anything, the message from the image pops up.
We nearly forgot to mention Prime Video. The provider is a bad VPN Amazon Prime Video choice because it can't unblock any of the catalogs.
All in all, streaming with Speedify VPN will be a very unpleasant experience. You'll unblock HBO GO, but you can't watch Netflix, Hulu, or any other platform. With very slow speeds, recommending this provider for streaming would be a foolish thing to do.
Security offered by Speedify VPN
Some of our readers don't even watch any movies or TV shows. And that's completely okay. What many users want is security, and as you might've guessed, it's a mandatory section in our review.
Given the provider's name, it is, theoretically, focused on speeds. We saw that it isn't. Now, the word "security" isn't in the name. Does that mean that it's completely out of the way?
We've yet to find out in our Speedify VPN review.
Where is Speedify VPN based?
Users worried about security and privacy will probably write off Speedify VPN immediately. It's based in California, United States, which is probably the worst location for a VPN service.
We can talk about many cases to prove our points, such as IPVanish and its violation of the zero-log policy. It cooperated with the officials to help and arrest the suspect which the police managed to find thanks to his exposed IP address.
IPVanish basically handed out every bit of information because the government required it to do so. 5 Eyes countries (USA, UK, Singapore, …) are all but friendly to your privacy.
They employ heavy-duty government surveillance, making it impossible to slide under the government's radar. Will Speedify VPN ever comply with the laws? Probably, because it can have tremendous implications later on.
Log policy
Glancing over to the privacy policy, we don't see anything too alarming.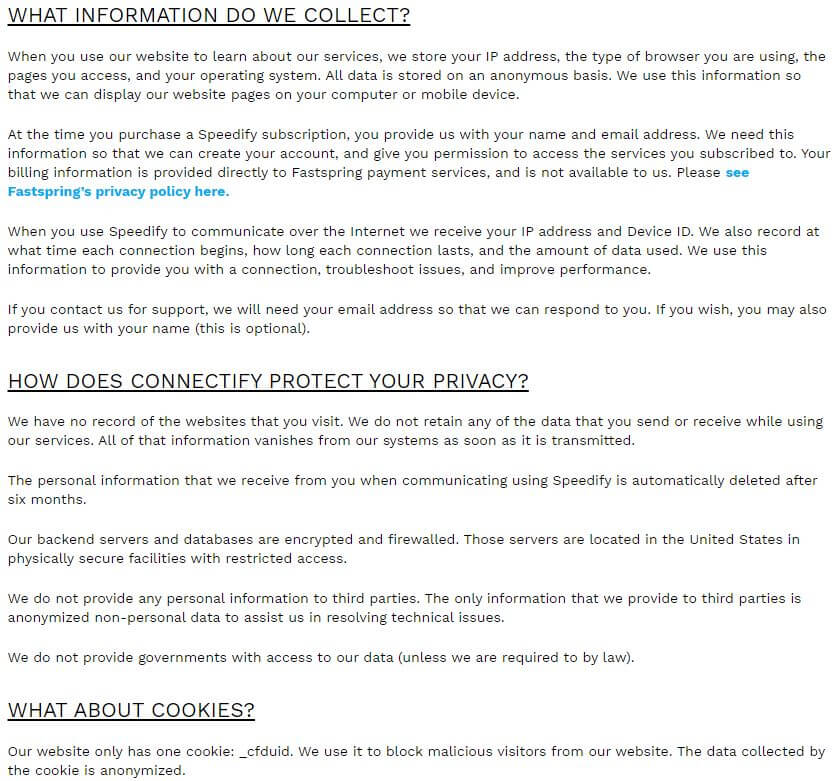 Or do we? Actually, we do. Speedify VPN collects enough information to make you question its privacy policy. For instance, when you use the site, it collects info about your IP address, type of browser you're using, your operating system, and pages you access.
Furthermore, they collect timestamps, the length of each connection, and the amount of data you consume. As they say, however, this information is anonymized, which shouldn't give you any reasons for concern.
What gives reasons for concern is the fact that servers on which this info is kept are located in the USA.
Interestingly, the site doesn't use cookies, except the one called "_cfduid." The provider claims that it serves as protection against malicious visitors. We aren't exactly sure how it works, though.
Protocols
Unlike many other VPNs on the market, Speedify VPN separates itself by creating its own, proprietary protocol. This protocol is called Channel Bonding and is a default protocol in the app, accompanied by 256-bit ChaCha encryption.
Channel Bonding lets you use several connections simultaneously. For example, you can combine your mobile data, WiFi, wired connections, and Bluetooth to increase speeds and performance.
This is very beneficial if your internet connection is unstable, as the protocol doesn't allow for any disconnections. Instead, you can freely browse the web uninterrupted.
One thing we didn't like is that it doesn't do anything speeds-wise. As we saw previously in our review, Speedify VPN is still very slow. Also, we want to mention a single Malwarebytes detection during the installation process.
Malwarebytes detected and blocked a malicious file which doesn't seem to affect how Speedify VPN works.
Leak protection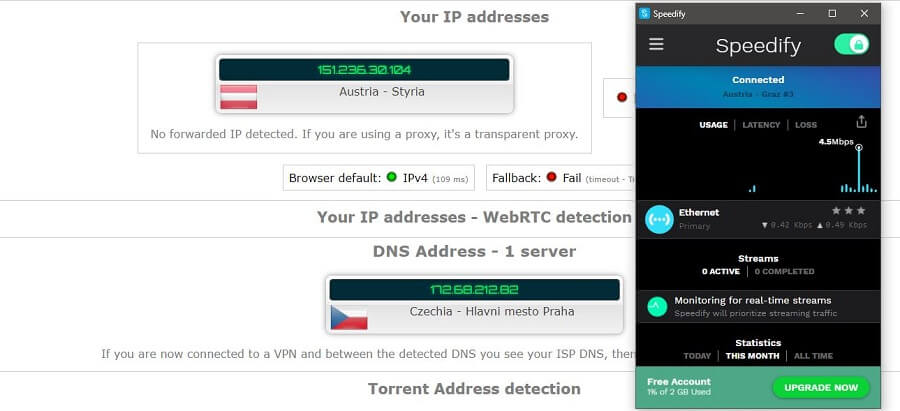 To make sure you're always safe and secure online, Speedify VPN included IP and DNS leak protection. Its presence can be seen in the image above, as we didn't encounter any IP or DNS leaks during our testing.
An automatic kill switch is here, as well, preventing any accidental IP or DNS leaks, should the VPN connection breaks. Security-wise, the provider fulfills every criterion, but when it comes to privacy, we wouldn't trust it too much.
A much better alternative is ExpressVPN, with its audited zero-logging policy.
Torrenting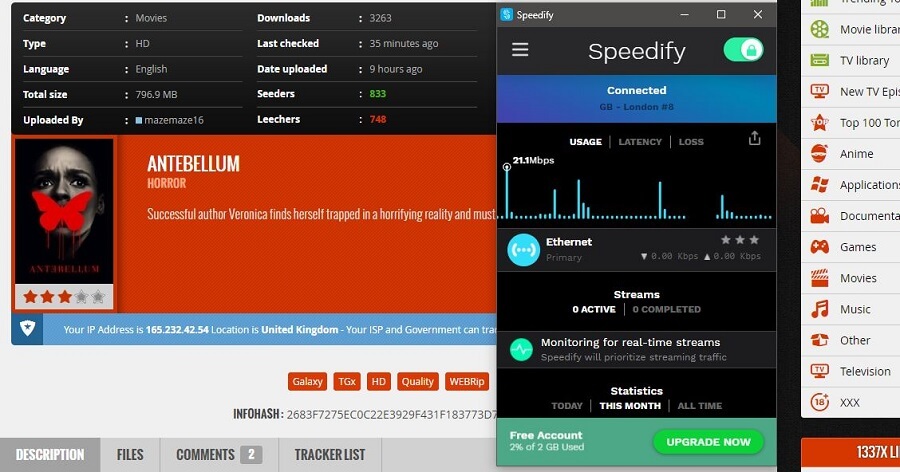 A few years back, Speedify VPN wasn't very torrent-friendly. And rightfully so. This US provider shares the country with DMCA, a regulatory body that forbids and punishes any copyright violation attempt.
Torrenting and piracy almost always go hand to hand, but it's not always like that. People use torrenting sites for P2P activities and sharing files, and not just downloading movies and games.
The provider, thankfully, has torrent-friendly servers and there are lots of them. We put them to the test and so far, we haven't got any problems downloading content from 1337x, TPB, or Yifi.
Our only complaint is the lackluster performance that will make you wait a bit more for downloads.
Bypassing censorship
Moving on with our review of Speedify VPN, we need to talk about censorship. If you're from China or UAE, you know what we're talking about. Censorship is a way of restricting internet access, making it impossible for users to visit certain sites and platforms.
In China, you can't access Facebook, YouTube, and Instagram, as an example. Here, a VPN can come in handy and bypass the Great Firewall. And if you're interested which is the best pick for this purpose, read our ExpressVPN vs NordVPN article.
Speedify VPN, obviously, can't bypass censorship and we've seen it coming given the overall performance.
Countries and servers covered by Speedify VPN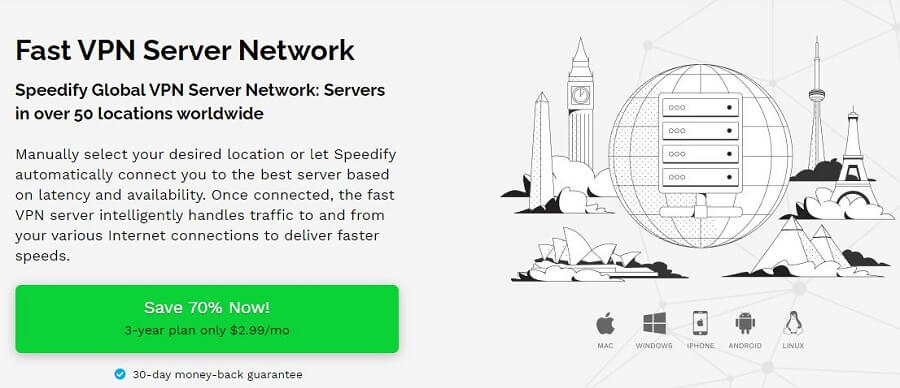 For a provider of this magnitude, it's quite impressive that it offers servers in more than 50 locations worldwide. For comparison, NordVPN and Surfshark offer around 60 countries.
The server network itself isn't the largest and we think that's the reason why Speedify VPN doesn't mention it. We found out that it has 1,000+ servers in total, which is okay if you're not a very demanding user.
Remember – Speedify VPN started back in 2014, so this is a solid result. In two or three years, it could be much better and have a wider server coverage.
Compatible devices and connections
A VPN should always support as many devices as it can, to allow for better connectivity and usability. Many times, premium VPN providers include devices such as Fire TV and routers, which is great for expanding your possibilities.
However, one of the main drawbacks of Speedify is exactly this – poor device support.
Devices supported by Speedify VPN

You can download the apps for Windows, Mac, Linux, iOS, and Android. The apps look, more or less, the same, which is great if you often switch back and forth. We don't like that there aren't routers on the list that would allow you to protect up to 32 devices in your home.
As for the apps, they look decent, but they're not the simplest VPN apps we tested.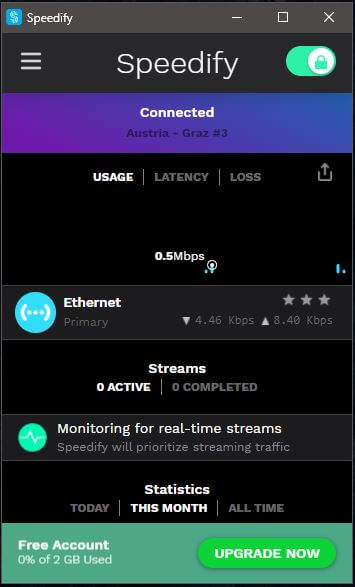 Here's how the PC app looks when it's connected. To connect, though, you have to click on three horizontal lines in the upper-left corner, open the server list, and choose the server you want.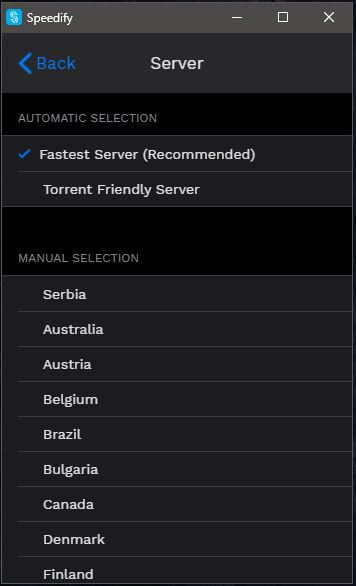 There's no connection button here. You just choose the server and return to the home screen to see if the connection is established. The dark theme looks amazing and we always praise it in our review.
It will conserve your eyes even if you use the app for just a split second.
Simultaneous connections

On a single account, you can connect 5 devices simultaneously and that's fine for the price. ExpressVPN offers the same, while CyberGhost, a cheaper option, gives you 7 simultaneous connections.
Speedify VPN Client Support

Contacting the support team is possible using only your email. There's no live chat, phone support, and other "fancy" stuff. We'll say it right away – we hate it when live chat is unavailable. You can say we're spoiled, but hey, when the problem arises, we don't want to wait for an eternity to fix it!
Speedify VPN surprised us pleasantly with support. Even though we contacted them via email, we didn't have to wait for an hour to get a response. Instead, they returned back to us in around 20 minutes, which is really fast.
Support is helpful, knowledgeable, and will be able to solve your VPN-related issues effectively.
Value for money
And now, we come to a very important part of our review – pricing. Speedify VPN is indeed a premium provider but we haven't mentioned anything about its cost. Let's see now if it's worth your hard-earned money.
Speedify VPN Price table

Once again, this is an individual plan, or better said, set of plans. We have 4 of them – a monthly, annual, biannual, and 3-year plan. The 3-year plan is the cheapest one on a monthly basis and costs just $2.99 a month.
You can see the rest of the plans and make a judgment for yourself. For us, the VPN isn't very expensive overall. However, if we take into account its overall performance and quality, it isn't worth the money.
CyberGhost costs $2.75 for a 3-year subscription while Surfshark costs just $1.99 for a 2-year plan. Both of these are a better choice than Speedify VPN.
Payment methods

If you're going to buy Speedify VPN, there are two payment methods you can use – PayPal and credit/debit cards. Arguably, these are the most popular payment methods, albeit, they could've included a few more.
For example, cryptocurrencies that would allow for anonymous purchases.
Speedify VPN Money-back guarantee
Checking out the provider's refund policy, we can see that a 30-day money-back guarantee is available for all plans. Moreover, it doesn't come with any special conditions, so you can get a refund if you feel like it's not worth the cash.
Extras
Speedify VPN has a few more features to complement its basic VPN offerings. One of them is a classic speed test where you can test a particular server for speeds, ping, and performance overall.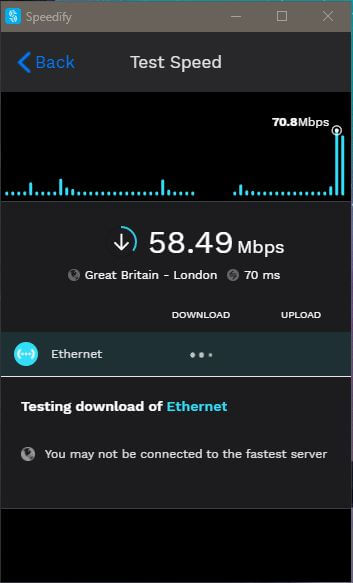 We don't like that you can't test all the servers simultaneously like you can with ExpressVPN. Here, you can test the one you're connected to, which is quite limited.
Another feature we like is called "Bypass":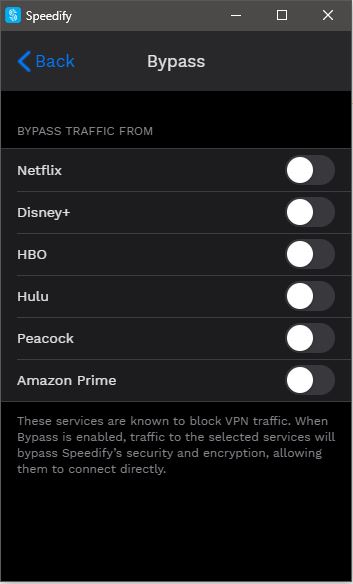 Bypass is essentially split tunneling, but not to a full extent. You can choose which website from the list will block VPN traffic, allowing you to connect directly. Why would you actually do that? If you want to unblock Netflix, you want that VPN connection to do so.
It looks like Speedify VPN is aware that it probably won't work with these sites, hence it offers this Bypass option. In our streaming test, we confirmed this theory. It doesn't work with Netflix, Disney+, Hulu, and Prime Video.
Final thoughts about Speedify VPN
Speedify VPN is a provider that does its best to separate from the bunch – in a positive way, of course. To be perfectly honest, we enjoyed its app, its security features, and the premise of the whole service.
The company definitely put a lot of work into it, and if a few things were a bit better, this would be an excellent VPN. What we disliked was performance, very slow speeds, inability to unblock streaming platforms, and its suspicious logging policy.
Being from the USA also doesn't help, as it's a country inside the 5 Eyes jurisdiction.
For the price, we'd say that Speedify VPN isn't worth buying, so we can't recommend it.
Its annual plan is priced at 6 bucks, and if you spend just $0.67 more, you can get ExpressVPN. ExpressVPN is a MUCH better solution, and with its 49% discount and 3 months free for a 1-year plan, this is our recommended option instead.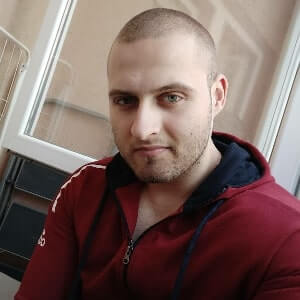 A professional writer with a Master's degree in Mechanical Engineering. Since his youngest age, he loves everything related to internet, technology, fitness, games, and dogs! He joined our team in order to bring his deep knowledge in security services, among which VPN is of course a key component.