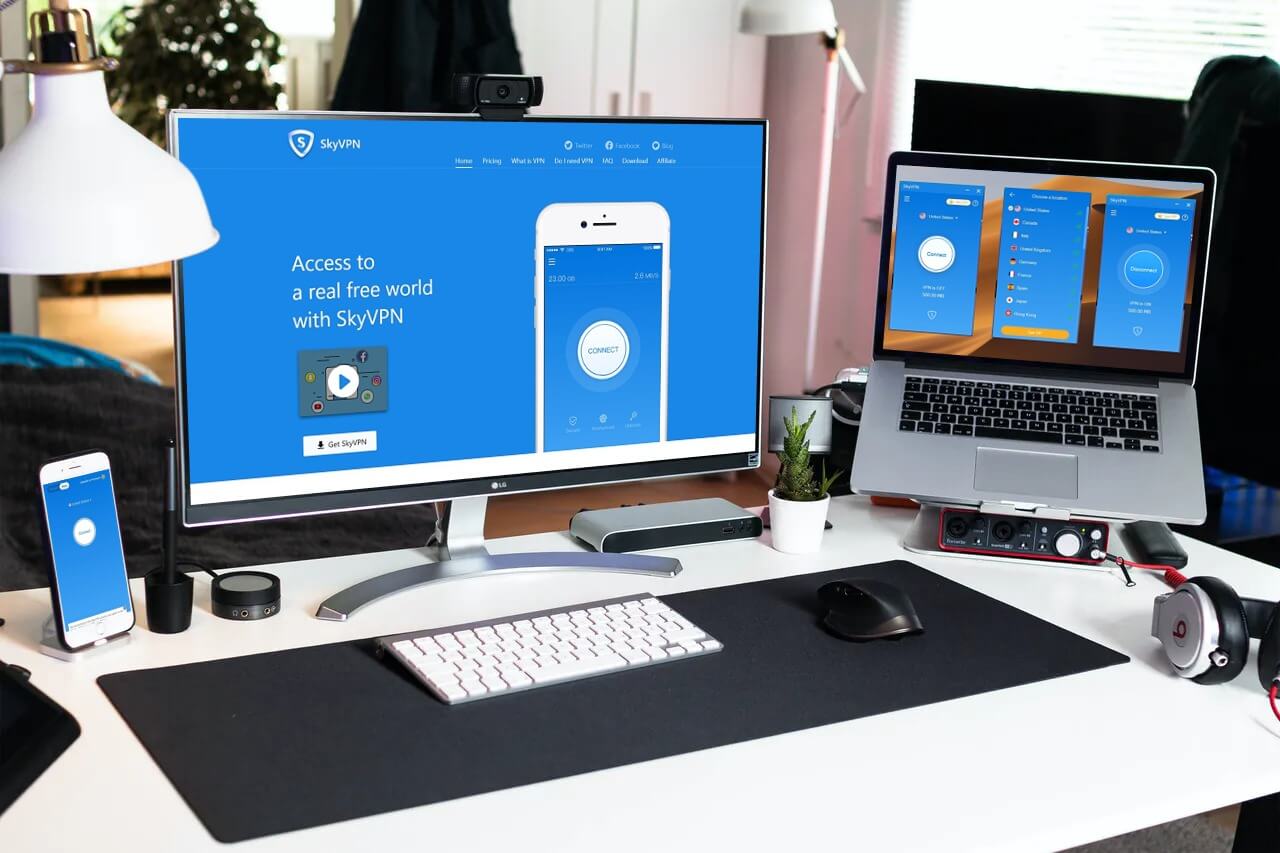 SkyVPN is a well-known free provider that amassed a huge subscriber base on mobile platforms. As of recently, however, the provider introduced paid plans, placing it a notch above its free competition. With that in mind, this VPN will surely raise expectations from both new and existing subscribers base. But, is it worth the money? How good it actually is? Let's find out in our in-depth review of SkyVPN.
STRENGTHS:
Free option available
256-bit encryption
WEAKNESSES:
Very slow speeds
Hong Kong jurisdiction
No ability to change protocols
Doesn't work with Netflix
No kill switch
Lack of router support
---
Here are the best alternatives for SkyVPN:
Is it a free or paid VPN?
Starting off our SkyVPN review, we need to answer the question that many potential users are interested in. Is it a paid or a free VPN? And the answer to that question is – both. Up until recently, SkyVPN was a free provider mainly focused on bringing free bandwidth to mobile users.
Coming from the mobile platforms, SkyVPN introduced some paid plans that should, in theory, provide better performance and give more servers. Today, we're talking about a paid version, to make sure that we're testing the best edition of this VPN.
A free version is very limited and you get only a few servers to work with. Would we recommend it? Well, as a short-term solution, yes. But, in the long run, paid VPNs are always superior.
Let's see if this one follows this template.
Performance
On the market, the fastest VPNs are usually the best ones. We can give you many examples, such as NordVPN, ExpressVPN, CyberGhost, and many others. Performance is indeed very important, but only if it's accompanied by other features that make this service great.
Speed
When it comes to speeds, not many providers out there can give you buttery-smooth browsing experience. Being a less-popular option with a small server count, we had very low expectations of SkyVPN even before doing this review and test.
And yet, we were right. Here are our speed test results.
Without VPN (we were located in London) :

UK Server :

US Server :

Asia Server (Japan) :

As you can see, our native internet speed is quite fast, allowing us to enjoy every online activity with no hassle. When connecting to the US, UK, and Asian servers respectively, we got pretty bad results.
For instance, the UK server, the one in our country, showed a drastic speed reduction, lowering our speeds to the 40-ish Mb/s threshold. Japanese server was the worst-performing one, with our speeds reaching single digits.
Needless to say, this is one of the slowest VPNs we tested. Even servers in your own country won't be enough for a smooth browsing experience, especially if you have a slower internet connection.
Those who want the fastest possible experience should get ExpressVPN instead.
Stability
What about stability? Is it at least ok? To be honest, it's not. Every provider claims to give a 99.99% server uptime, but not many of them can uphold this claim, and neither can SkyVPN.
The app itself works fine, it's very simple to use, and connection speeds are fast. On the other side, when you establish a connection, you'll experience some instability, with the app disconnecting you from the server randomly.
This doesn't happen a lot but it's enough to make you feel insecure online. And you know what? There's no kill switch – come on!
Streaming
Unblocking geo-restrictions is one of the main functions of every VPN. You can use it to unblock your online bookmaker when abroad, or watch Netflix. Is SkyVPN up to the task in this regard? Let's find out in the following section of our SkyVPN review.
Netflix
When we think about streaming, we usually think about different US-based platforms. The most popular one is Netflix, with a huge movie and TV shows catalog, which is available worldwide.
If it's available worldwide, why are we trying to unblock it with a VPN? Simply put, because every catalog is different, and depending on your location, you'll get different content.
In our SkyVPN test and review, we saw that the provider isn't detected by Netflix. However, it doesn't unblock it either. Instead, you'll get the catalog that corresponds to your location, despite the VPN app working in the background.
This makes SkyVPN completely useless for this platform, whether it's the UK, US, Australian, or any other catalog.
Other streaming services
Netflix isn't the only streaming platform, you'll agree. That's why we went and tested a few more, to see if SkyVPN can bring some A-game. The screenshots you see below are all the platforms we managed to unblock during our review of SkyVPN:
Disney+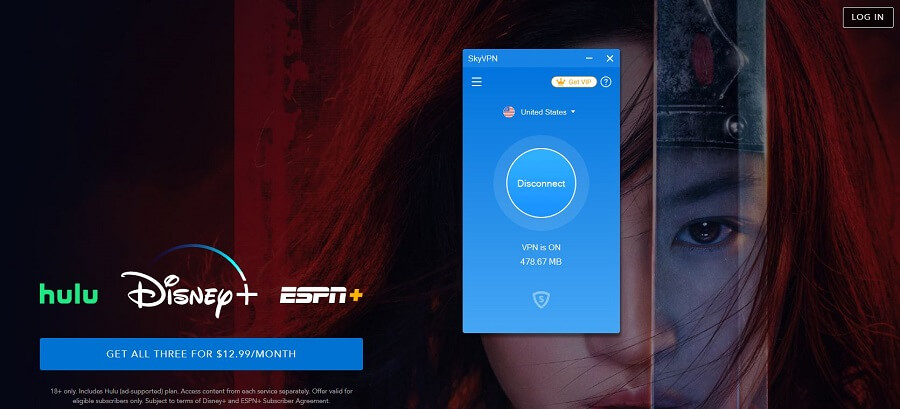 HBO GO

Amazon Prime Video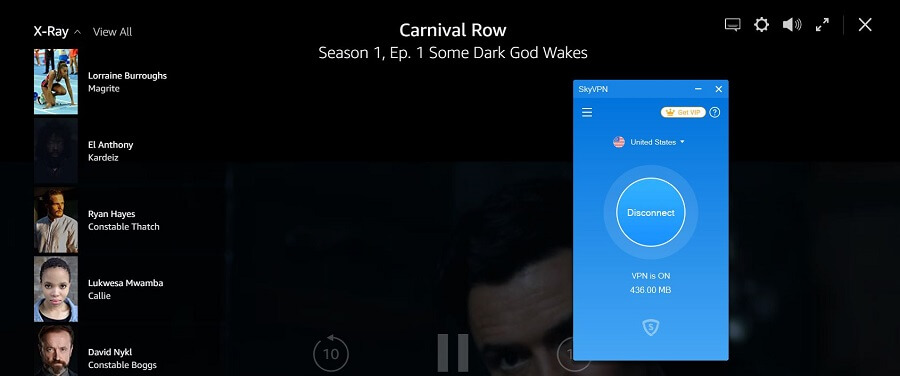 Surprisingly, SkyVPN unblocks Amazon Prime Video, a platform known to detect pretty much every VPN on the market. We also unblocked HBO GO and Disney but failed to unblock Hulu and DAZN.
Even the unblocked platforms didn't work quite well due to very slow speeds and poor performance. That being said, don't expect SkyVPN to be great for streaming because it's far from it.
Security offered by SkyVPN
SkyVPN started off as a free VPN provider, which immediately puts a cloud of doubt over its head. Free VPNs are the ones collecting your data and violating your privacy, all while providing lackluster security.
Let's see if this provider is an exception to the rule, as it claims to be.
Where is SkyVPN based?
Right of the bat, we have some bad news for those planning to buy this VPN. SkyVPN is based in Hong Kong, which is a part of China. China is known for excessive government surveillance and Hong Kong, as an independent area, isn't (or wasn't) very dangerous in this regard.
However, the Chinese political scene is ever-changing and the situation takes a turn for the worse. Hong Kong is speculated to go the Chinese way, slowly introducing surveillance and data-retention laws.
For this service, that's devastating news. It means that, if the government requests the provider to hand over the information for surveillance purposes, it MUST succumb. And there goes your privacy – bye!
Log policy
The logging policy of this provider is an interesting one, we must admit. At first, they claim not to store logs, they're different, blah, blah, blah… But once you start reading through this policy, you see that there's a boatload of info that the provider knows about you.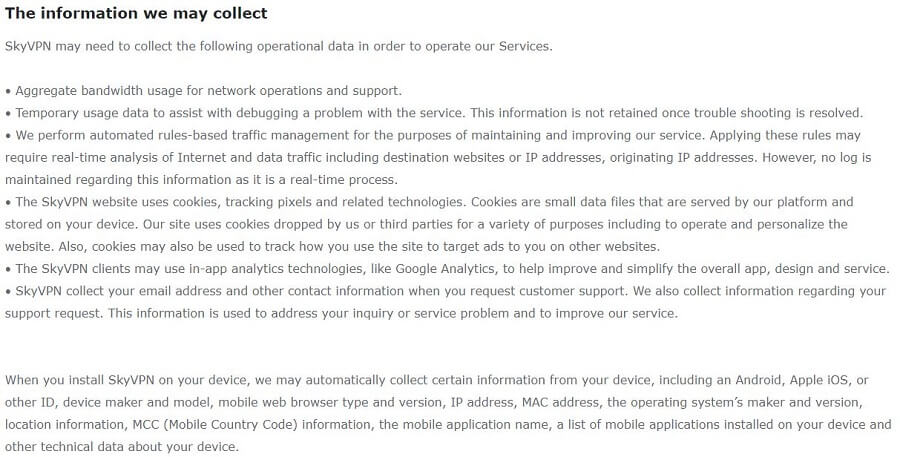 This is the first part of the policy, which is also the most important one. SkyVPN collects aggregate bandwidth, third-party cookies (very important!), info about your device, apps you have installed on your phone, MCC, operating system, and so on and so forth.
Basically, there's not a single thing that SkyVPN won't log if you start using it. We're mostly concerned about the second paragraph that really shows which level of privacy we have here. Why do they store info about the apps on your phone?
Or perhaps, why is it important for them to know technical data about your device? Oh, and these third-party cookies are just crazy. This means that they allow third parties to monitor and collect data from you, which is the opposite of what a Virtual Private Network should do.
Judging by this privacy policy alone, it's already enough not to recommend SkyVPN to anyone. Except if you want to endanger your privacy for some reason. In that case, go for it.
Protocols
Given the lack of features in its apps, the provider won't allow you to change protocols. You can just connect, disconnect, and that's all. SkyVPN mentions that it's using OpenVPN as a default protocol, and that's all great.
What's not great is that you can't change between UDP and TCP, and you can't use the IKEv2 protocol as an alternative. Sure, OpenVPN is almost always better, but it's great to have something in reserve, should OpenVPN stops working.
Leak protection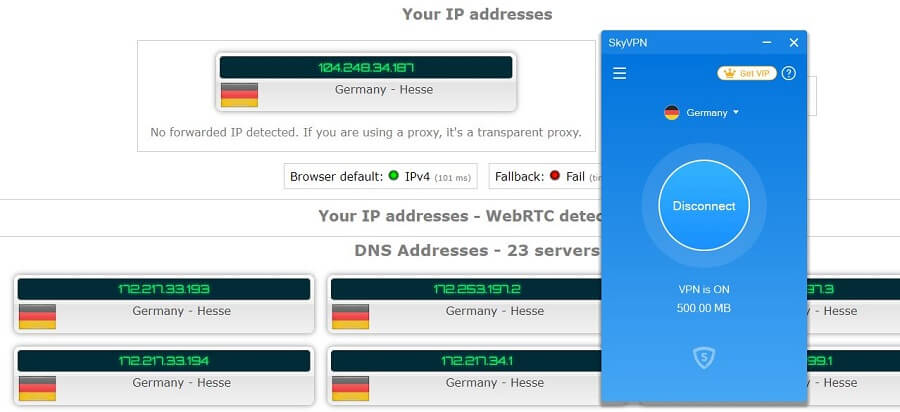 The good news for SkyVPN is that it's good at preventing leak protection. No matter the server we tested during our review, we never had a single issue. During your connection, your IP probably won't leak, but only because the connection is still active.
Given that there's no kill switch, in case the connection breaks, IP and DNS leaks will occur, exposing your true identity online. For us, this is an unforgivable downside that instantly makes the provider unsafe to use.
256-bit encryption does its job of protecting your connection, but as we said, that's all in vain when the kill switch isn't there.
Torrenting
For a provider to be decent for torrenting, it must fulfill two criteria. First, it must have rock-solid security, and second, it must have fast speeds. During our in-depth review, we saw that SkyVPN doesn't exceed at any of these, instantly making it unsafe for torrenting.
Nevertheless, we visited The Pirate Bay and tried to download a movie. Much to our surprise, it worked, but we put ourselves at a risk. Remember – SkyVPN does collect logs, which doesn't exactly scream privacy.
All in all, a torrenting experience is pretty bad with this provider. For this case, we recommend ExpressVPN, with the fastest speeds around and impeccable security.
Bypassing censorship
Being from China (Hong Kong), SkyVPN knows how the laws in this country function. The reason we mentioned China is that it's the epicenter of censorship. This country blocks all the popular websites, including YouTube, Facebook, Twitter, and even Google in some cases.
As soon as we bought SkyVPN, we gave it to our testers in China that unfortunately, didn't manage to bypass the Great Firewall. No matter how many times they tested it, the provider simply wouldn't work in this country.
This trend transfers over to other censored countries as well. Therefore, it's not recommended for Russia, UAE, Iran, Iraq, Belarus, and other countries that suffer from censorship.
You can instead try NordVPN's obfuscated servers that work flawlessly even in 2023.
Countries and servers covered by SkyVPN
For bypassing geo-restrictions and enjoying stable connections, a VPN should always have as many servers as possible. Surprisingly, SkyVPN claims that it has 3,000+ servers worldwide, which is… well, impressive!

The problem with this claim is that it's highly likely that it's not genuine. In the app, you can count all the countries that the provider covers, and it's just 26. If we divide 3,000 with 26, it means that the provider has approximately 115 servers in each country.
Of course, that's not true, as some countries have more servers than others. But just think about it – how can this provider rival ExpressVPN in this regard?
We don't want to judge the book by its cover, albeit, if it's true, SkyVPN could do much more with its server network to become better performance-wise.
Compatible devices and connections
One of the main benefits of this service is that you can get an iPhone application or use it on all your internet-capable devices at home. VPNs have gotten so good, that they provide all-around protection for your beloved devices.
Unfortunately, SkyVPN's mediocrity continues even in this regard, as its device support isn't great.
Devices supported by SkyVPN

If you visit the provider's site, you'll see that it supports a total of 4 platforms – Windows, Android, macOS, and iOS. This is basic support that almost all VPNs on the market have, so we can't act impressed when we aren't.
Sadly, there's no router support, which many premium providers offer. Speaking of routers, you can check our list of best VPNs for these devices here https://the-bestvpn.com/best-vpn-routers/.
Simultaneous connections
As we said earlier in this review, SkyVPN comes in two versions – free and paid. A free version doesn't require registration, meaning that you can use it on as many devices as you want, but with certain limitations. A paid version, however, lets you protect up to 5 devices simultaneously.
Support
Support on this website is brain-dead. We sound a bit harsh but this is one of the main problems that the provider needs to solve. First off, there's no live chat, so if you encounter some problems, getting help immediately is an impossible mission.
And if you want a contact form, SkyVPN will just ignore you and give you its email address. You need to contact it in an old-school way. Copy the email, go to your email account, and send a message.
That would all be okay if it wasn't for the ignorant customer support team. Once you send an email, getting an answer will be a painful, long wait. In some cases, a response will wait for you, while in a majority of cases, your message will slide under the VPN's radar.
We're not the only ones with this problem, though. There are many reviews online that reinforce our claims.
Value for money
A provider with this level of performance is paid… yes. You've read that well – you need to pay for ALL of the features we mentioned above. Is there any value for the money that would make it a justifiable purchase? Let's see…
Price comparison

Obviously, the cheapest plan here is a 36-month one, with just $1.99 per month. The annual plan is quite expensive for what you get and is priced at $4.99. What we found absurd is the monthly plan, costing a whopping $10.99 a month.
We must admit that this 3-year plan is very cheap, but for a slightly higher price, you can get CyberGhost and enjoy much better performance and security. Or if you want, you can buy Surfshark for the same price, but in a 2-year plan.
Either way, buying this VPN is a waste of money. It's better to donate it to charity – you'll at least feel much better about yourself!
Payment methods

If you still want to buy it, SkyVPN will offer you lots of ways to pay for the service. You can use your credit card, Bitcoin, PayPal, TOP, and a few other methods. The great thing is that there aren't any payment fees, but even then, you'll overpay it, so…
SkyVPN Money-back guarantee
In the pricing image in our review, we can see that every plan comes with a 30-day money-back guarantee. That's great. The thing is that SkyVPN never mentions anything related to refunds in any of its policies.
This begs a question – does SkyVPN really offers a money-back guarantee? And if it does, how would you get it when the customer support team is unresponsive? Well, if you get lucky and get a response, the provider might give you a refund – who knows?!
Final thoughts about SkyVPN
To wrap up our review of SkyVPN, we need to answer one crucial question – should you buy it?
The answer to that question is pretty obvious – you should NOT buy it.
SkyVPN is a very popular mobile VPN mainly because it offers a free plan. Even then, there are many users complaining about its decline in quality, which will probably reduce its user base in the following years.
Honestly, there's not much to like in regard to this provider. It's poor speed-wise, the security is weak, and you don't even get a kill switch. Not to mention its logging habits that will violate your privacy in a blink of an eye.
With so unremarkable results, recommending SkyVPN would be foolish. Instead, you should buy ExpressVPN and enjoy its blazing-fast speeds, lots of servers, and top-grade security.
Right now, it offers a 49% discount and 3 months free for an annual plan, making it a great cash-saving option!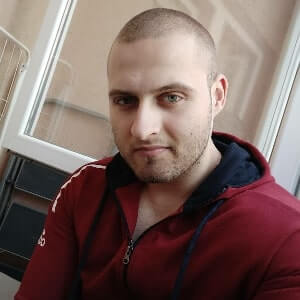 A professional writer with a Master's degree in Mechanical Engineering. Since his youngest age, he loves everything related to internet, technology, fitness, games, and dogs! He joined our team in order to bring his deep knowledge in security services, among which VPN is of course a key component.