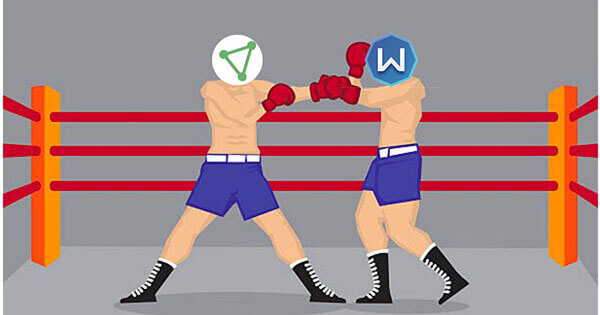 Choosing a VPN can be difficult as there are numerous factors to consider. Is the provider secure, do they log, are they fast? These are just a few of the things you need to think about. This time around, we are putting two popular providers up against each to find out which comes out at the top. So, if you are trying to decide between ProtonVPN or Windscribe read on to find out which wins.
The Applications and Ease of Use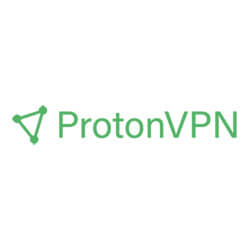 ProtonVPN offers support for many devices.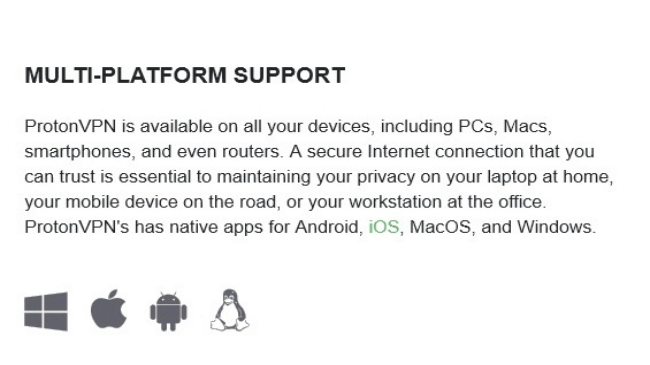 Windows, macOS, Linux, Android, and iOS are all covered by apps that are easy to install. Routers are also supported so you can connect any device to the router to benefit from the VPN.
However, it does lack is in offering support for web browsers. There are no apps for game consoles or media streaming devices, but you can install them on a router and benefit that way.
To learn all pros and cons of ProtonVPN, read our review to find out more.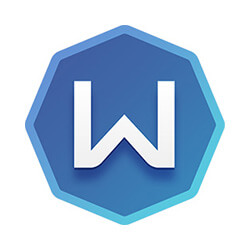 Windscribe also covers a large list of devices.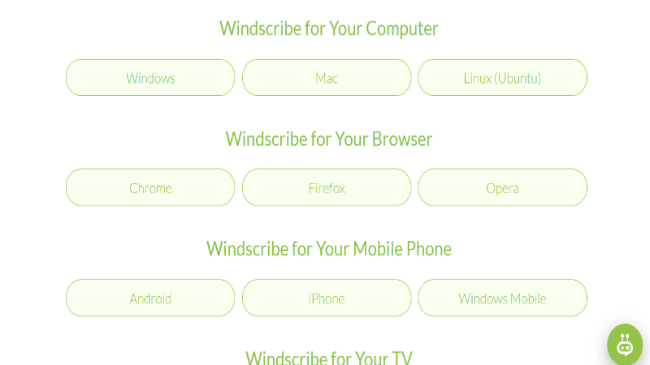 Apps are available for Windows, macOS, and Linux, plus Android and iOS are covered. Windscribe also supports Windows Mobile devices, SmartTVs, and installation on a router.
You can also use browser extensions for the most popular web browsers and these include Google Chrome, Firefox, and Opera browsers. As router installation is possible any device not covered via an app can still use the VPN.
To find out more you can also read our review of Windscribe right here.

In this first round of ProtonVPN or Windscribe, Windscribe comes out ahead as it does support more devices.
---
ProtonVPN or Windscribe: Which One Is the Fastest?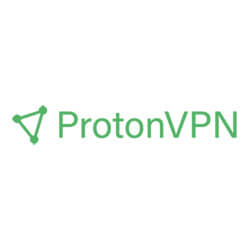 First, let's talk about the speed associated with the free version of ProtonVPN. As expected the speed is not going to be impressive and it is below average.
If you pay for a plan, the speed is going to improve. You can check our speed tests below.
Without VPN (we were located in London) :

EU Server (Paris) :


US Server (New York) :

Asia Server (Hong Kong) :


For browsing, you might not notice the slight drop in speed, but if you want to stream in HD, it is going to make a difference.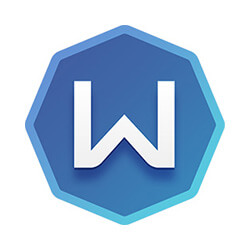 Again, if you choose to use the free version of Windscribe, you are not going to enjoy the fastest speeds out there and it will be below average.
On the other hand, if you choose a paid plan, the speeds are above average.
Without VPN (we were located in London) :

EU Server (Paris) :

US Server (New York) :

Asia Server (Hong Kong) :

The speeds are not blazing-fast, however, they are more than adequate enough for streaming and downloading at reasonable speed.

In this section of our ProtonVPN or Windscribe battle, ProtonVPN takes the win as it does offer slightly better speeds.
---
Streaming: Which One Should You Choose?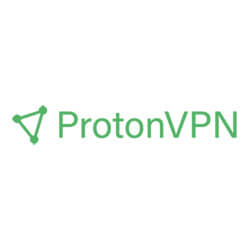 If you are looking for a VPN to stream from US Netflix and other streaming services, ProtonVPN is a good choice.
However, you cannot stream using all servers, so it might be hit or miss finding the right one. You can go to Support and find a list of servers compatible with Netflix. On the downside, only a desktop PC is supported.
Another let-down is that all the optimized servers for Netflix are in the US, so you cannot stream Netflix from other regions.
We did find ourselves unable to stream BBC iPlayer but we managed to stream Hulu and Amazon Prime Video.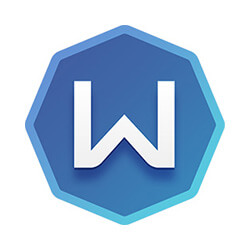 Windscribe allows you to stream Netflix if you use a paid plan. Also, the provider offers specialized servers.
These servers go under the name of 'Windflix' and are specifically aimed at unblocking the streaming platform. Along with this, regular servers can be used and the one we tried managed to unblock Netflix.
We turned our attention to unlocking BBC iPlayer using Windscribe but came across issues even when using specialized servers.
We had better luck when unblocking and streaming Hulu, Amazon Prime and HBO among others.

Thanks to the provider offering specialist servers, Windscribe takes this round in our ProtonVPN or Windscribe battle for the best provider.
---
Torrenting: ProtonVPN or Windscribe?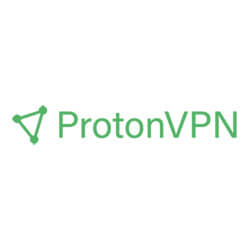 To be able to use ProtonVPN for torrenting, you have to use the paid version.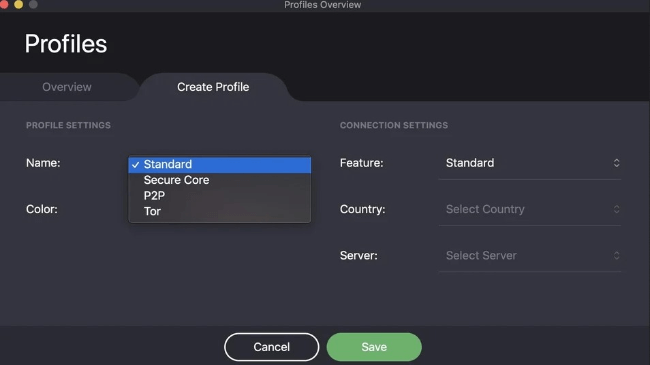 The Basic, Plus, and Visionary plan all allow you to torrent, however, there are only a couple of servers for use when torrenting. As you can imagine, the speed is going to drop significantly if many users are connecting to those few servers.
So, while you can use the provider to torrent, this is not one of the best providers out there, as there are many limitations.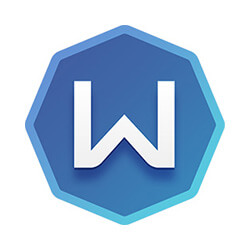 Windscribe also supports torrenting when using the paid version.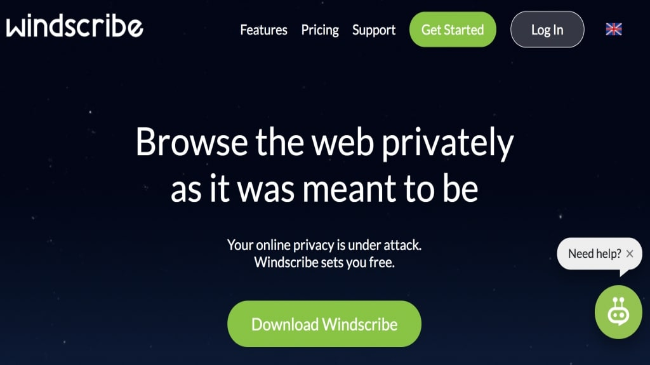 You can use any of the paid plans for P2P file-sharing. However, there are no specialist servers specifically for doing so. The provider does offer a help page to get you started, providing information on how to use the service with clients.
We found the tips for getting started a great help and also liked the fact that we did not have to rely on just a few specialist servers.

In this round of ProtonVPN vs Windscribe, Windscribe takes the round because every server can be used for P2P/torrenting activities.
---
Bypassing Censorship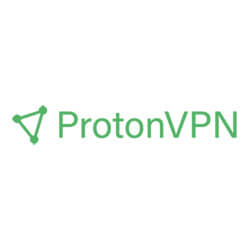 ProtonVPN servers do work in countries with high censorship, and this includes in China to help people bypass the Great Firewall.
The downside is that finding a server that works in the country is a bit hit or miss as not all work.
Of course, the government in China is continually working to block VPN servers, so we have no idea how long the service will continue to work.
At the moment, the servers also work in countries such as Saudi Arabia, North Korea, and Russia.
The servers of ProtonVPN also work to overcome censorship closer to home in the workplace, schools, and colleges blocking websites.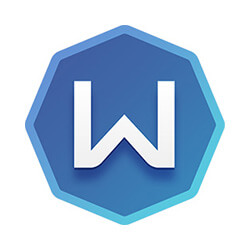 Windscribe is a very impressive choice of Virtual Private Network for overcoming censorship, even managing to work in China.
Using this VPN, you can overcome the restrictions in China and visit sites such as Facebook, Google Apps, YouTube, and more.
One of the main reasons the servers can beat censorship is Stealth Mode. This brings complete anonymity, taking users under the radar.
However, if you want to use the VPN in China, you do need to sign up and download and install the app before venturing abroad.
As the provider can be used in China, it is safe to say that you can also use it to overcome censorship in colleges and the workplace at home.

Windscribe is well ahead in the censorship round thanks to it having a Stealth Mode that easily allows users to beat censorship in even the strictest countries.
---
Security: Which One Is the Safest?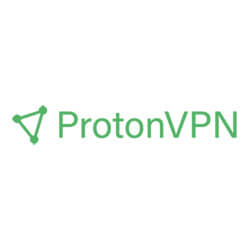 ProtonVPN has its base in Switzerland, which is good news for those worried about anonymity, as the country is not a part of the intelligence-sharing alliances (5/9/14 Eyes).
Even more assuring is the fact that the provider offers a no-log policy. No personal information is logged and kept and the policy is transparent after recently being updated.
For security, AES-256 bit encryption is used and this is the same encryption used by the military. OpenVPN and IKEv2 protocols are the main security solutions, which are the most secure, and they're used across all supported devices.
Additional security measures include IPv4 and DNS leak protection.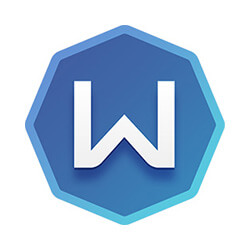 Windscribe has its base in Canada, which means it does come under the 14-Eyes intelligence agency scrutiny. Not good for anonymity.
This means if asked the company has to hand over any data collected. However, Windscribe is open about their privacy policy and state they do collect some data.
Windscribe is known for offering excellent security and does rely on AES-256 bit encryption along with OpenVPN, IKEv2, SOCKS5, and more protocols. Of course, OpenVPN is the most secure choice.
Finally, the provider offers protection against DNS and IPv6 leaks.

ProtonVPN takes the win in the security round of ProtonVPN vs Windscribe as it does not fall under the eyes of intelligence agencies and has a strong no-log policy.
---
Servers and Countries Coverage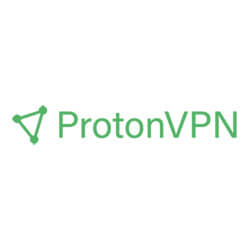 ProtonVPN paid plans offer access to 1,057 servers spread out in 54 countries around the world.

All of the servers are physical, meaning they are located in the actual country. However, when you consider many providers offer thousands of servers, the count is low.
Some of the most popular countries are covered by the provider and these include the US, UK, Asia, and Europe.
Africa and South America are lacking in a choice of servers but there are a few in South Africa and Brazil.
Special servers for torrenting are available but not for streaming.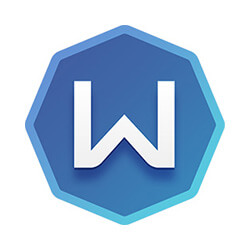 Windscribe offers access to around 500 servers in more than 60 countries around the globe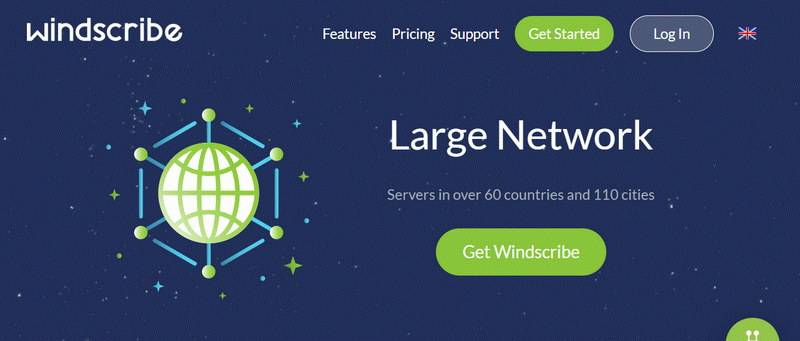 If you choose the free account you are limited to just a couple of servers. Paid accounts of course offer access to servers in many countries.
These include the US, UK, Canada, Europe, and many more. What is surprising is that servers are even offered in Russia.
South America, Africa, and the Middle East also have a basic cover. Asia, Australia, Indonesia, and New Zealand are also covered.
Windscribe offer specialised servers for streaming Netflix, but none for torrenting.

The servers round of our ProtonVPN vs Windscribe was a hard fought battle and in the end, there is nothing to choose between the two, so it has to be a draw.
---
Client Support: Which One Is the Best?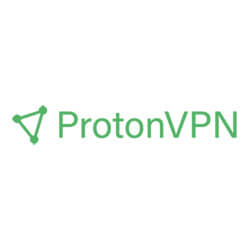 One area of customer support where ProtonVPN is lacking is live chat. Sadly, this means that if you need support fast you are not going to get it.
There is a ticket support system on the website, however, this is not going to be instantaneous. It is faster than the email method though, which is the other option. You can also message it via social media.
A knowledge base is also available for self-help. This includes installation and set-up guides.
While the provider does its best to get back to people promptly, it doesn't make up for the lack of live chat.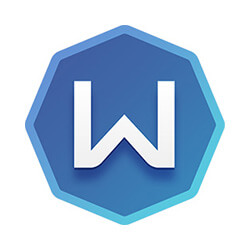 Windscribe is also let down by the lack of offering live chat on the homepage of the website, so again, no fast support is available. So, what other options are available?
Well, not a great deal actually, as the policy of the provider is that they do such a good job to make products easy to use that users are not going to need much by way of help. Whether this is justified remains to be seen.
There is a bot available, however, it only offers answers to questions commonly asked and isn't an alternative to live chat.
On top of that, there is a ticket system, knowledge base, FAQs page, and setup guides available on the homepage with screenshots.

This round of our ProtonVPN vs Windscribe battle is another close call as neither of the providers offer a good level of customer support, so again, it is a draw.
---
Pricing of ProtonVPN and Windscribe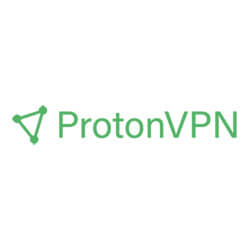 ProtonVPN is both a free and paid provider, however, we are only going to concentrate on the paid versions offered by the provider.
Three paid plans are offered, the Basic, Plus, and the Visionary.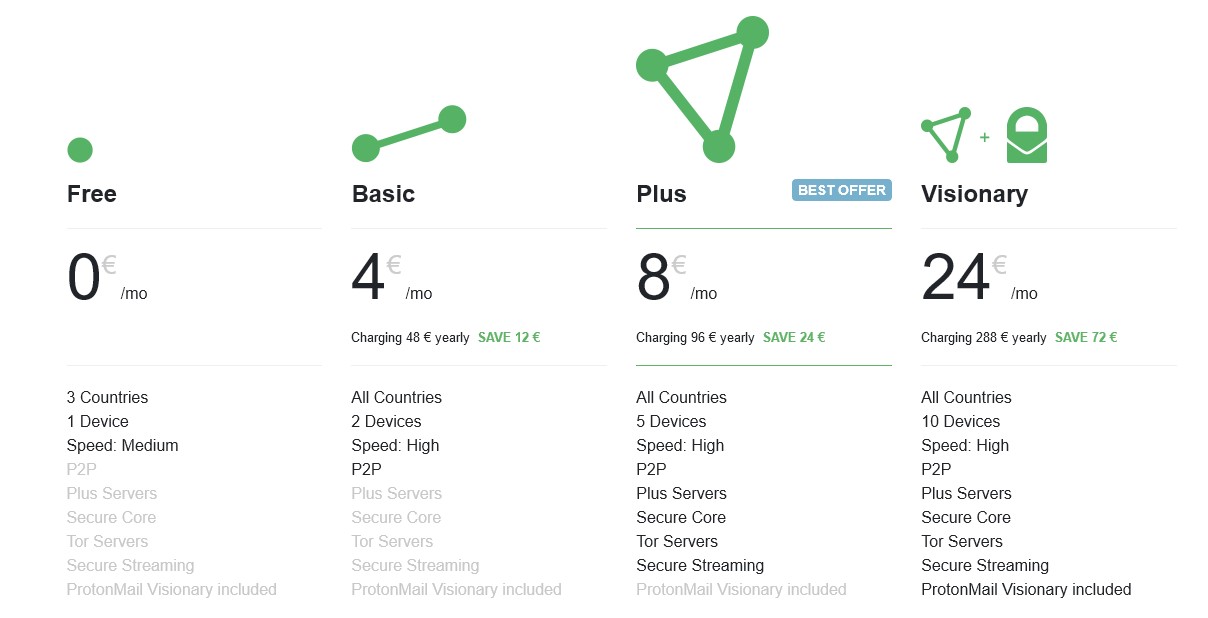 The basic plan is the equivalent of $4 per month billed at $48 yearly. For this, you get access to servers in all countries, can use it on up to two devices, and torrent in safety.
The Plus plan is the equivalent of $8 per month, billed at $96 per year. You can access all servers, use the Plus and Tor servers, use the plan on up to five devices, torrent, enjoy secure streaming, and more.
The Visionary plan is the equivalent of $24 per month, billed at $288 per year. It offers servers in all countries, Plus servers, torrenting, up to ten devices, secure streaming, and ProtonMail Visionary.
Payment options include PayPal, credit/debit card, and Bitcoin.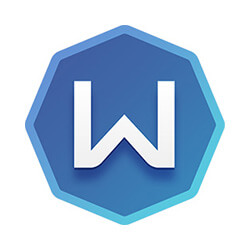 Windscribe is also available in both a free and paid version. However, we are only looking into the paid plans.
There are three paid plans, monthly, yearly, and Build a plan.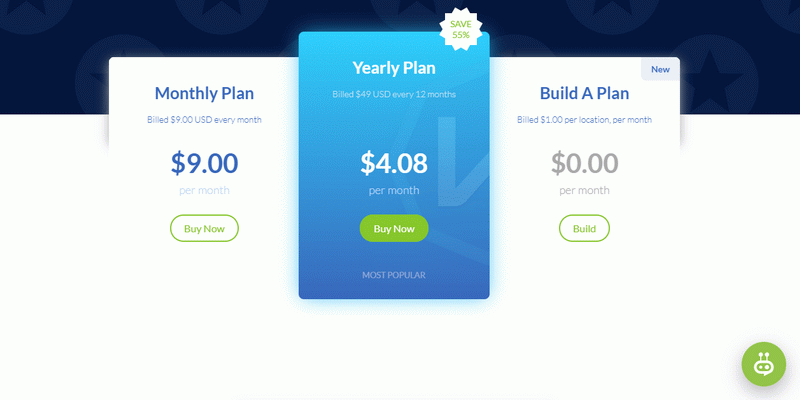 All of the paid plans unlock more features than the free plan. This includes unlimited data, plus, access to 60 countries spread out in 110 cities and much more.
The first plan is the paid monthly option and this is billed at $9 per month. You gain access to everything listed above and much more.
The yearly plan is the equivalent of $4.08 per month and this is billed at $49 every year. Of course, the full range of features is included.
Finally, Windscribe offers what they call Build A Plan. This is billed at $1.00 per location each month.
Payment options include Bitcoin, PayPal, Credit/Debit card and Paymentwall.

There is not much to choose from between ProtonVPN or Windscribe in this round so again, we will call it a draw.
---
Conclusion : Windscribe Wins Against ProtonVPN
Both ProtonVPN and Windscribe are good choices of free and paid providers offering numerous features, including offering many VPN servers in the USA and the UK.
Of course, you are not going to get a full-fledged VPN free, so you might want to consider the free versions more as trials.
In any battle, there can only be one winner. In the ProtonVPN or Windscribe battle, Windscribe wins by taking five rounds. Its competitor took two rounds and the rest ended in draws.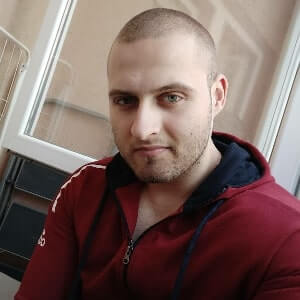 A professional writer with a Master's degree in Mechanical Engineering. Since his youngest age, he loves everything related to internet, technology, fitness, games, and dogs! He joined our team in order to bring his deep knowledge in security services, among which VPN is of course a key component.