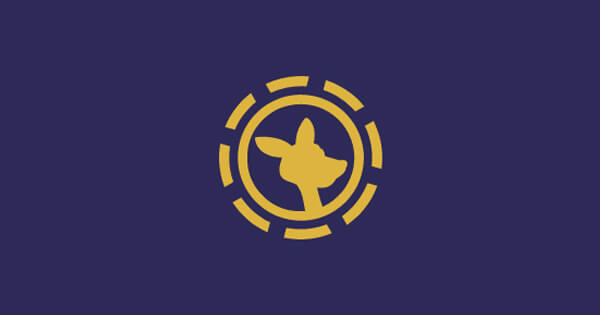 If you're into online gambling, you've probably heard about Roobet. Roobet is a fast-growing crypto (online) casino that functions pretty much the same as traditional casinos. Except, here, you're playing with cryptocurrencies such as Bitcoin, Ethereum, and Litecoin. Unfortunately, you can't play on Roobet if you're in the US because, obviously, it has complete restrictions in this country. However, there's an easy way to bypass this restriction and enjoy both Roobet casino and sportsbook in the US or any other country. Stay with me to see how.
Where Is Roobet Available?
Those who often gamble or bet online know how complicated things can become. Online gambling is all about your location, jurisdiction, legislation, and whatnot. For these exact reasons, you simply can't play Roobet in the US, and sadly, this is not the only country on the blacklist.
Namely, depending on your location some casino games won't be available, and in some instances, you won't be able to play any of them. Let's say you're located in the US. In that case, you try to visit Roobet, and you get this error message: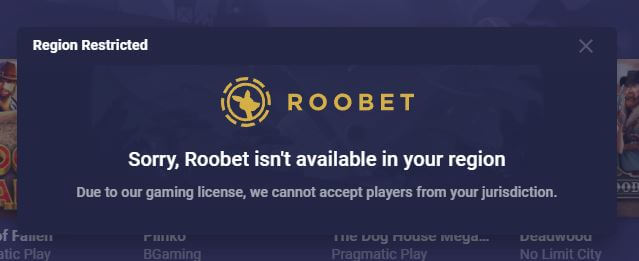 As you can see, you can remove this message and try to proceed and play some games. However, upon doing so, you will, once again, see that you can't play any of the games due to licensing rights. So, if this is your problem as well, what can you do to be able to play Roobet in the United States?
Well, you first need to know where you can play Roobet, and thankfully, in its Terms of Service, we can find a list of restricted countries. Take a look: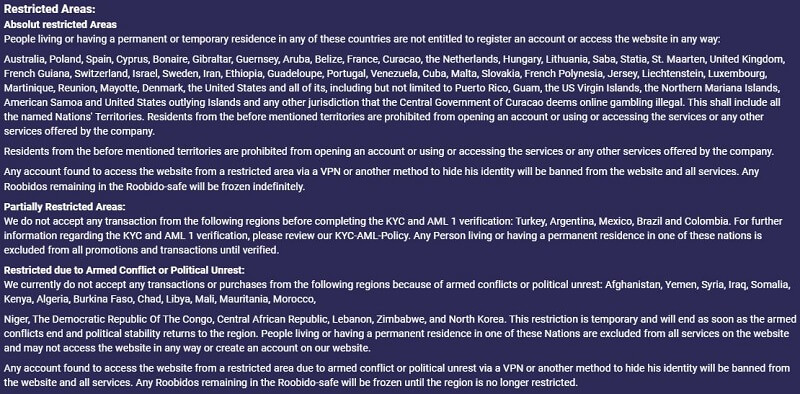 We can see that Roobet restricts access to counties like the UK, the US, and many others. However, countries like Canada, Germany, and Italy aren't on the list. Of course, there are more of them, but to avoid making this article longer than it needs to be, I will use one of these countries for today's example.
So, if you want to play Roobet in the US, you need to be located, let's say, in Germany. And if you're not located in this country, there's an easy way to make this website believe that you are, and that is by getting a German IP address.
How to Unblock and Play Roobet in the US?
Getting a German IP address is quite easy and to do that, you will need to use a VPN. A VPN or Virtual Private Network is a service that lets you do just that. It lets you change your IP address to another country and by doing so, unblock geo-restricted websites and online casinos.
This means that, if you get a German IP, you can access the casino and gamble using crypto. Conversely, if you get a UK or US IP address, logically, you'll see the error message from above.
For this scenario, you need to use a VPN that can actually unblock Roobet in the US. Furthermore, this VPN must have servers in Germany/Canada/Italy and it must offer stable performance for enjoyable gaming. Today, we choose ExpressVPN, which is actually the best VPN for Roobet and offers servers in 94 countries, including the ones we mentioned.
I'll tell you why later in the article.
For now, I must mention one important thing. ExpressVPN can be installed on ALL devices. This means that you can perform this solution even on your mobile devices, such as tablets, smartphones, laptops, or even Smart TV if you want.
How to Use ExpressVPN to Play Roobet in the US?
Okay, with that out of the way, let's see how to play Roobet in the US or anywhere else by using ExpressVPN. Our step-by-step guide is below:
Subscribe to ExpressVPN. I recommend getting a 1-year plan that comes with a 49% discount and 3 months FREE, plus a 30-day unconditional money-back guarantee.
Download and install the app(s) on your device(s).
Open ExpressVPN's application and connect to the VPN server in Germany. (see the screenshot below)
Visit https://roobet.com/.
Create a free account.
Deposit Bitcoin/Ethereum/Litecoin and start playing. If you don't have any crypto, you can buy them directly from Coinbase, for example. After that, send your crypto to the provided Bitcoin/Ethreum/Litecoin address (given by Roobet) and you will have the funds in your account.
Get ExpressVPN to unblock Roobet >
Best VPN for Roobet : ExpressVPN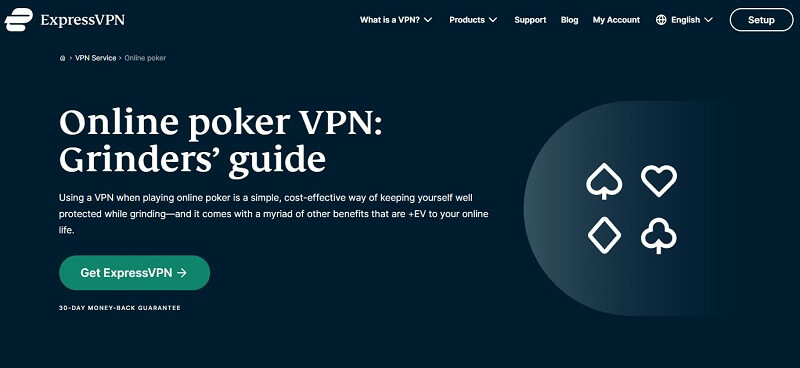 The best VPN for Roobet is ExpressVPN. I chose this VPN for many reasons, one of them being its huge server fleet. There are 3,000 servers in 94 countries here, with multiple server locations in almost every country. This makes it extremely easy to play Roobet in the US and unblock this gambling website.
Moreover, I would like to add that ExpressVPN is pretty fast. It is the fastest VPN you can get, which is a prerequisite for an enjoyable gambling experience. Needless to say, Roobet isn't the only website that you can unblock and access with ExpressVPN.
Actually, this VPN offers many more possibilities, so you won't feel stupid for spending money on it. Do you love watching Netflix? If so, know that ExpressVPN can unblock a wide array of Netflix libraries. They include Netflix US, UK, Japan, Canada, and at least 10 more.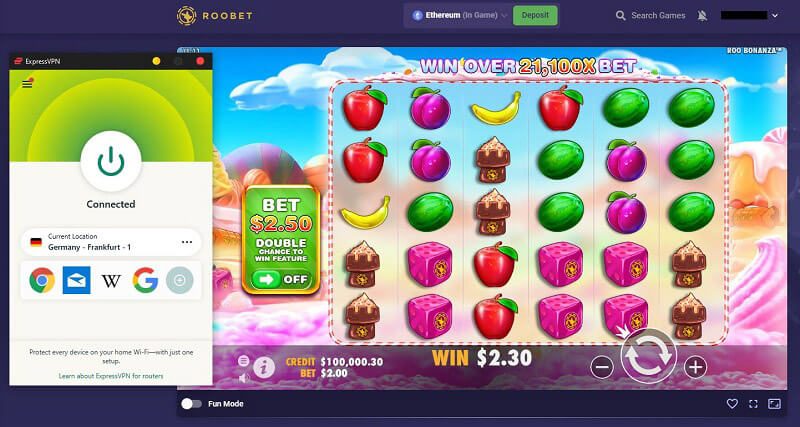 Furthermore, ExpressVPN is a great choice for unblocking many other online casinos, such as Stake, for instance. One more thing to mention is security. ExpressVPN is highly-secure, offering military-grade encryption and a kill switch, for preventing potential IP/DNS leaks.
With these features, you ensure that your crypto trading or gambling remains anonymous and known only to you all the time. Speaking of anonymity, ExpressVPN comes with an audited no-logging policy.
What this means is that it won't store any logs of your personal info and browsing history, which is also great for torrenting or even visiting the Dark Web safely.
All in all, ExpressVPN will give you much more than just the ability to play Roobet in the US. Not to mention that you can enjoy all of these benefits on 5 devices simultaneously, with no additional costs, making it extremely affordable.
If you're still in doubt, know that you can try ExpressVPN risk-free for 30 days and get a refund in case you don't like it. I recommend grabbing its 49% discount and 3 months free for the 1-year plan for the biggest savings.
FAQ
Can Roobet detect a VPN?
Of course. This is why it's important to choose a highly-secure VPN like ExpressVPN. VPNs with weaker encryption and website-unblocking capabilities (free VPNs) will, in 99% of the cases, easily be detected by Roobet. As a result, you won't be able to deposit/withdraw any crypto or play games on the site.
Should I use a free VPN for Roobet?
No, you shouldn't. As I said, free VPNs have weak security overall and they're poor at unblocking websites and online casinos. You can be sure that Roobet will almost always detect when you're using them and block your access.
Not to mention that free providers offer limited bandwidth, painfully-slow speeds, and very few server locations. And before you ask – they usually don't have servers in the countries I mentioned above. But, for example, they have servers in the US, which won't let you play Roobet.
Is Roobet a scam?
Nope. Roobet is a completely legit online crypto casino/sportsbook with a gambling license from the Government of Curacao.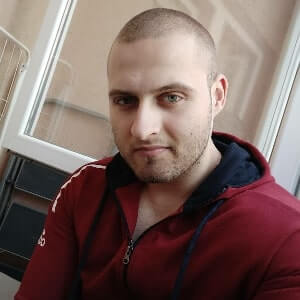 A professional writer with a Master's degree in Mechanical Engineering. Since his youngest age, he loves everything related to internet, technology, fitness, games, and dogs! He joined our team in order to bring his deep knowledge in security services, among which VPN is of course a key component.