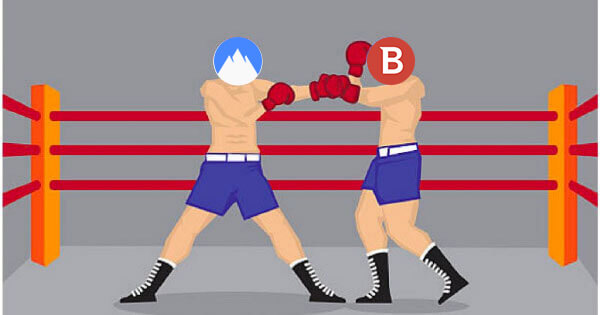 One of the most well-known VPN providers is going up against a company known for offering internet security software but also a Virtual Private Network as an add-on. So, the fight is on, but will it be NordVPN or Bitdefender that is crowned the winner?
In one corner is a provider who has been offering safety and security to internet users by way of a Virtual Private Network for many years. In the other corner is a company that has offered internet security by way of a suite of software.
Both claim to offer much more than online security, however, so let us compare them as they go up against each other over nine rounds. In the end, we will have found the winner.
The Applications and Ease of Use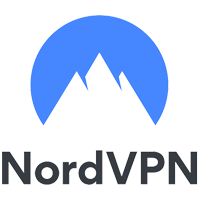 NordVPN offers apps that are easy to install not just for the standard Windows, Mac OS, Android, and iOS devices but also for many others.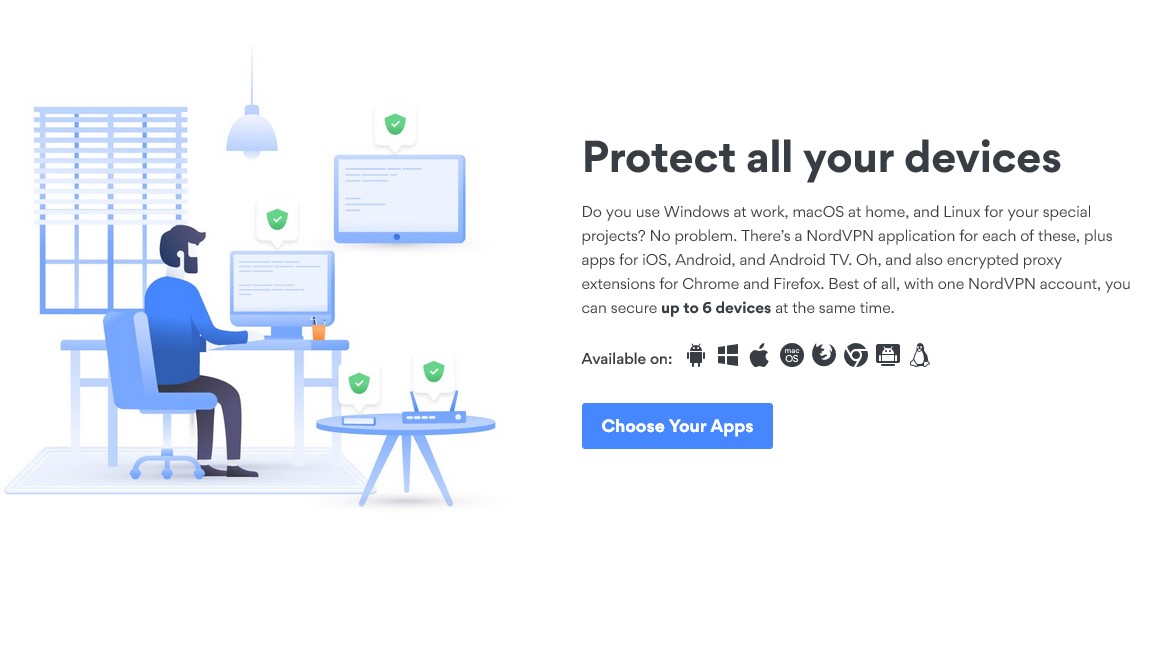 You can use the VPN on literally any device that connects to the internet through a router as it can be installed manually on compatible routers.
Therefore, you can use it on such as your games console, Smart TV, or any other device.
From one single plan, you can connect up to 6 devices at the same time.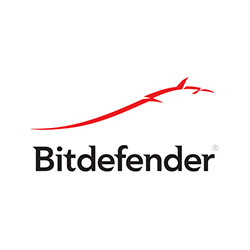 You do not have the luxury of as many options for compatible devices with Bitdefender but it does cover the standard devices.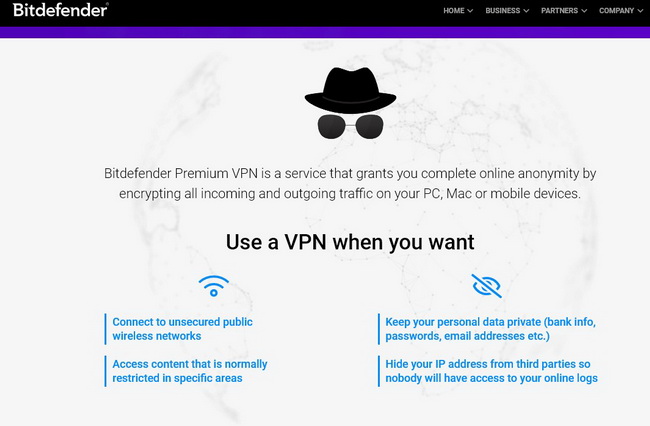 Computers running Windows OS are covered and the same applies to Mac OS computers and laptops. Android and iOS devices are also compatible.
The provider does not offer support for routers like its competitor, so you are out of luck for other devices.

Only one provider covers just about every device you can think of, so in the device and app round of NordVPN or Bitdefender, it is the former than wins.
---
NordVPN or Bitdefender: Which One Is the Fastest?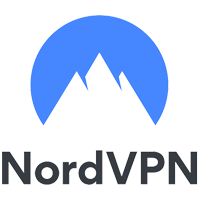 NordVPN offers speeds that are fast and while not the fastest VPN, it is more than enough for downloading or streaming in HD.
You can check out our speed test results below using various servers and comparing it to regular speed without a VPN.
Without VPN (we were located in London) :

EU Server (Paris) :


US Server (New York) :

Asia Server (Hong Kong) :


The servers are very stable and we didn't have any issues with connecting or drops in connections. The provider also promised 99.9% uptime which is reassuring. We can confirm this after various tests.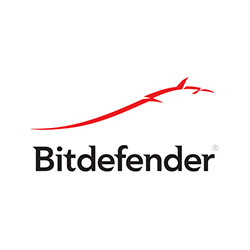 The speeds offered by Bitdefender VPN are nothing to get excited about and this may be due to not enough server choices.
You can see the results we managed below compared to the typical speed without using a VPN from a London location.
Without VPN (we were located in London) :

EU Server (Paris) :

US Server (New York) :
Asia Server (Hong Kong) :


There is better news in regards to stability as we found it to be stable and did not have issues with lost connection, which was surprising.

In the speed test round of our NordVPN vs Bitdefender battle, the former offers faster speeds because of the huge number of servers it offers.
---
Streaming: Which One Should You Choose?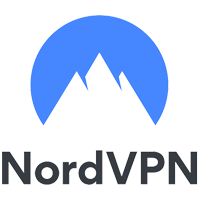 If you want a VPN that works to unblock YouTube+ and more streaming services, NordVPN is a good choice.
The provider offers servers that can unblock and stream US Netflix along with other countries' versions and makes it easy using SmartPlay technology.
It is also a good choice to unblock and stream BBC iPlayer in the United Kingdom, using UK servers. We also found it was possible to watch a range of other sites, including HBO, Sky, and Hulu among others.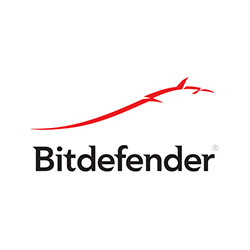 If you want to stream the matches of the UEFA Champions League or watch the latest Netflix movies, Bitdefender VPN is not a good choice.
Netflix is one of the most difficult services to unblock and we put the provider to the test and it failed miserably. Even given the fact that we tried numerous US and UK servers.
We then tried servers from the United Kingdom and tried to unblock and stream BBC iPlayer, with no luck AGAIN.
However, we had better luck with unblocking YouTube, Amazon Prime Video, Sky Atlantic, HBO and many more.

In the unblocking and streaming round of this NordVPN or Bitdefender battle, the former wins again as it unblocks and streams Netflix and BBC iPlayer easily wherever you are in the world.
---
Torrenting: NordVPN or Bitdefender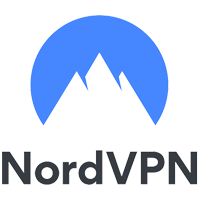 NordVPN believes it is the best VPN for P2P and is not afraid of boasting.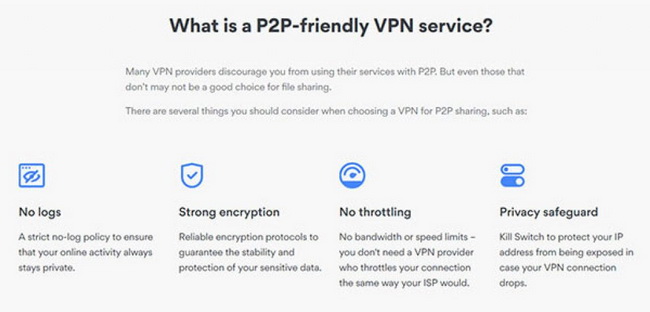 You cannot use all of the thousands of servers offered but there is a lot to choose from when torrenting.
There are compatible servers in several locations around the world and the VPN detects when you are file-sharing and re-routes the connection for you.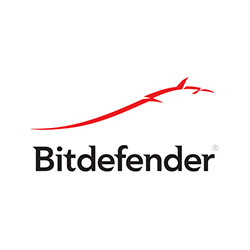 Bitdefender is not a good choice of VPN if you like to use torrent sites and clients such as BitTorrent for downloading.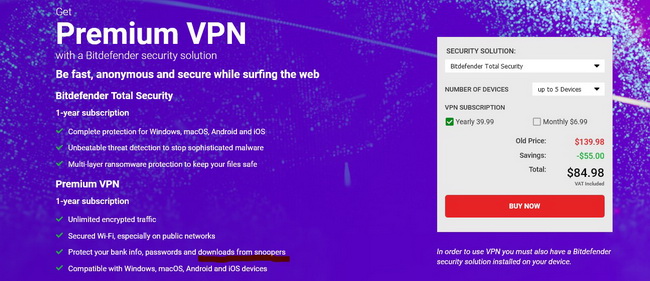 It does advertise that you can keep your downloads out of the eyes of snoopers but doesn't state clearly that P2P file sharing is allowed.
The provider also does not offer any other form of security specifically aimed at torrenting, such as Kill Switch, neither does it re-route traffic.

As NordVPN welcomes those who like to share files through torrent clients with open arms and makes it easy to do so, it has to be the winner.
---
Bypassing Censorship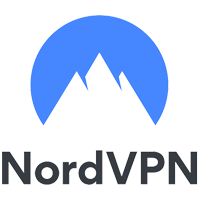 China is one of the most difficult countries to overcome censorship but with NordVPN, you can get past the Great Firewall.
This makes accessing websites such as Google products, Facebook, Twitter, and others possible when visiting the country. It is also a good choice for other countries where restrictions are high, such as India, the UAE, and Turkey.
Finally, you can use its service for beating censorship closer to home in hotels, schools, colleges, and the workplace.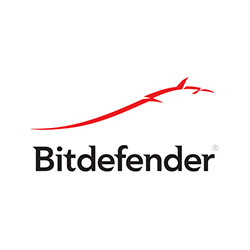 If you want to unblock the thousands of apps and websites blocked in countries such as China, Bitdefender VPN is not suitable at all.
It does claim to offer access to restricted content in countries with high censorship. However, it doesn't work in all countries – we can confirm this.
The list of countries it doesn't work in is big, including the UAE, Turkey, Russia, Iran, Iraq, and Belarus.
While it isn't reliable in high censorship countries, you can use the VPN in the workplace, schools, and colleges.

If you want a VPN to beat censorship in countries with high censorship, there is one clear winner in this round of NordVPN or Bitdefender – and it is the former, once again!
---
Security: Which One Is the Safest?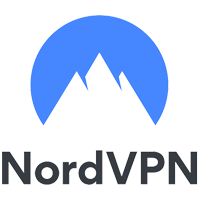 The provider is well out of the way of the watchful eyes of the intelligence sharing agencies, as it is located in Panama. As such, it cannot forced to give up any customer data.
Additionally, NordVPN has put a no-log policy in place and it is a solid one. The only piece of information kept is the email address, payment details, and username of the user.
Security measures include military-grade 256-bit encryption along with OpenVPN and NordLynx protocol. For macOS and iOS devices, there are IKEV2/IPSec protocols. DNS leak protection is also included for additional security to stop the internet connection if the server drops.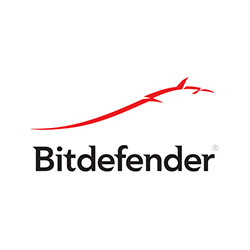 Having its base in Romania, Bitdefender is not a part of the intelligence agencies that have to share data, such as the 5 and 14 Eyes. As such, it does not have to collect and share user data.
While many VPNs are fully transparent, this one is anything but, as you would have to be a lawyer to be able to understand the complicated jargon in its privacy policy.
There is better news security-wise as it does offer AES 256-bit encryption and the OpenVPN protocol. This keeps your data away from prying eyes.
Unlike other providers, you cannot turn DNS leak protection on or off in the app but when we tested, we found no leaks.


With a solid no-log policy, plenty of options for protocols and military-grade encryption, in the security round of NordVPN or Bitdefender, once again, the former provider wins the round.
---
Servers and Countries Coverage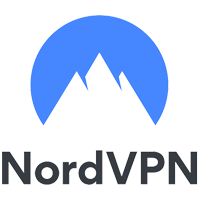 If you want access to thousands of servers located around the world, the provider is not going to disappoint.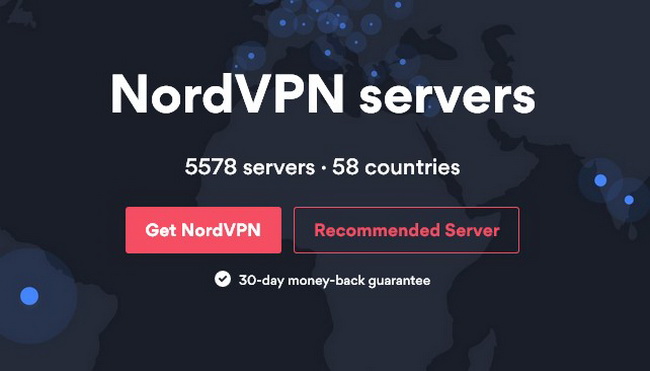 It covers more than 60 countries offering 2700 plus servers in Europe that includes the UK, Germany, Italy, Greece, and many more.
In the Americas, the USA, Canada, Brazil, and more are covered. Moreover, there are also servers located in Africa and Asia.
In total, more than 5500 servers are offered, some of which have been specifically optimized for different activities (P2P, connecting to Tor, etc).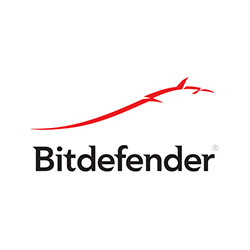 Being more of an add-on to another product, this VPN does not concentrate on offering a huge number of servers.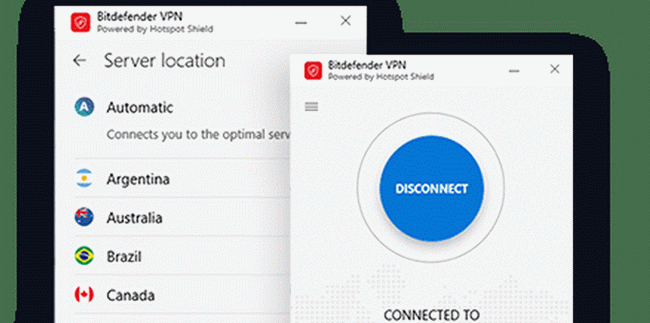 Bitdefender VPN doesn't actually specify how many servers it has in total. However, servers are located in just 27 countries around the world.
The majority of servers are found in Europe, where there is a choice of sixteen servers, but out of how many it's not clear. Note that the provider also offers a small number of servers in South America and Asia but there are no specialized servers.

With it offering access to many thousands of servers worldwide along with specialized servers, NordVPN easily takes this round as its competitor comes nowhere close.
---
Client Support: Which One Is the Best?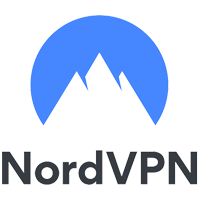 There are different options for getting help and support and during our tests, we found the provider to offer excellent support.
To start with, the quickest way to get help is via the live chat option. You don't have to wait long before someone comes online to chat.
Email and ticket support are also offered, however, neither are as fast as the live chat option.
There is also a huge quantity of self-help options available on the website of NordVPN. This includes anything from comprehensive guides to FAQs and more. Plus, you can find setup tutorials for devices and tips to make the most of the service.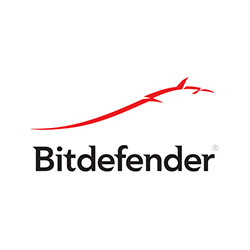 Bitdefender offers several choices for help and support and one of them is a 24/7 live chat on the website.
While it does claim that the live chat option is available around the clock, we found this not to be true as agents were unavailable most of the time.
Another form of help and support is through email. And there is telephone support available too.
Tutorials and guides are available on the website. There is a huge knowledge base and also a user forum. Using the knowledge base is not the easiest of things, as it covers other products from the company (antivirus, for example).

In the customer service round of this battle between NordVPN and Bitdefender, the former wins as it offers a superb level of customer support with fast replies using live chat.
---
Pricing of NordVPN and Bitdefender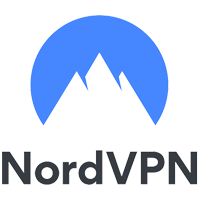 There are three payment plans to consider, each having the same features.

The best savings are made when taking out the two-year plan from NordVPN, which saves you 68% and is the equivalent of $3.71 per month. This is billed at $89 every two years.
There is also a six-month plan at $9 per month. And finally, there is a monthly plan for $11.95 per month.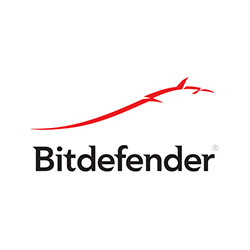 Three choices of plans are also available with Bitdefender but you have to pay for a security product too.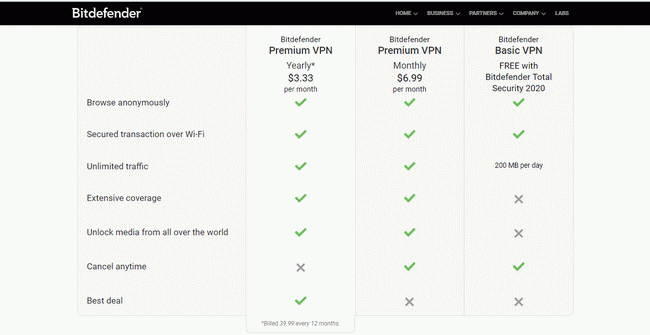 The premium VPN yearly plan costs $3.33 per month billed at $39.99 every twelve-months, plus the cost of the security product. This does make the VPN very expensive.
The monthly plan is $6.99 per month. Plus, there is a limited free plan with Bitdefender Total Security 2023. This is kinda cool… apart from the fact that it is too limited.

In this final round of NordVPN vs Bitdefender, the former wins as its two-year plan with 68% savings cannot be beaten.
---
Conclusion: NordVPN Wins Against Bitdefender
As you will have found out, NordVPN has won every single round in this comparison to find the best of the two providers.
It simply cannot be beaten when it comes to top-notch security. Customer support is excellent and NordVPN can overcome censorship and geo-restrictions everywhere in the world.
The provider is superb for unblocking and streaming Netflix and other streaming services and Bitdefender simply could not contend.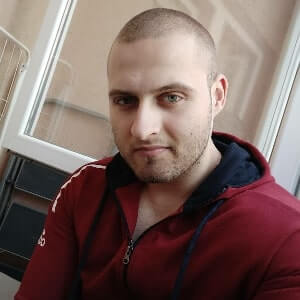 A professional writer with a Master's degree in Mechanical Engineering. Since his youngest age, he loves everything related to internet, technology, fitness, games, and dogs! He joined our team in order to bring his deep knowledge in security services, among which VPN is of course a key component.