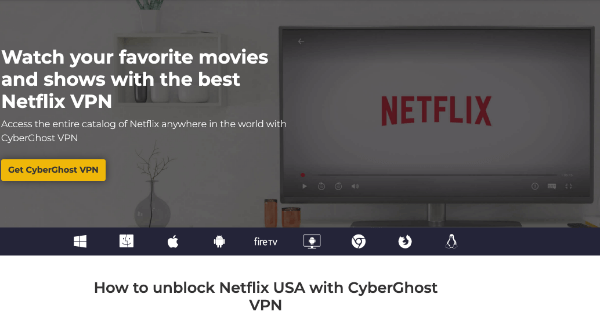 If you want to unlock US Netflix while abroad, a VPN can help. However, Netflix imposed a VPN ban and now uses sophisticated software to detect unblocker apps. To bypass blocked content, you need an extremely good VPN that is not easily detectable. The truth is, only a few VPN providers can reliably stay under Netflix's radar, and Cyberghost is one of them. In this article, we'll show you why this provider is a great choice for watching Netflix outside of the USA.
Everything You Need to Know About the Netflix VPN Ban
In the past, if you were outside of the United States and wanted to watch high-quality Netflix shows, all you needed was a VPN. However, Netflix has recently increased efforts to preserve copyright agreements with content owners.
There has been a lot more pressure for the popular content distributor to crack down on unblocker apps that help with bypassing restricted content. In response, Netflix developed complex software to detect IP addresses generated by VPNs.
As a result, it has become so much harder for VPNs, like CyberGhost, to bypass geo-blocked shows.
For example, when you choose a server location, connect your VPN, and log in to netflix.com, everything seems fine. However, when you try to play a video, Netflix will detect that you are using a proxy and will display a message like this: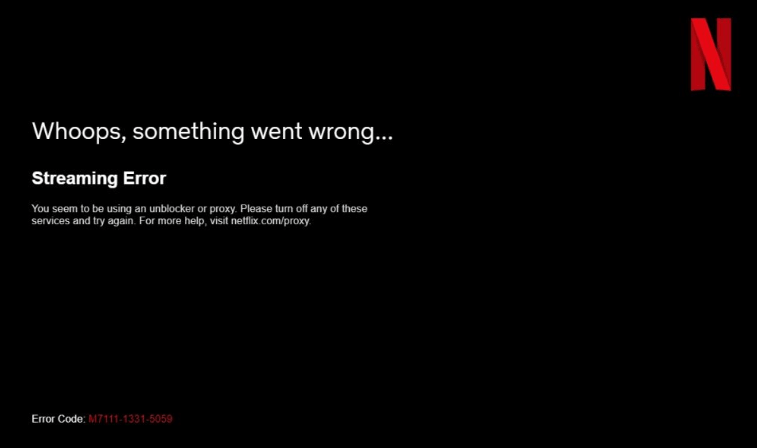 (Learn more about the Netflix Streaming Error here)
Premium VPNs such as CyberGhost continue to update their infrastructure to ensure that users remain completely unnoticeable by Netflix detection software.
Why CyberGhost is Great for Watching Netflix US?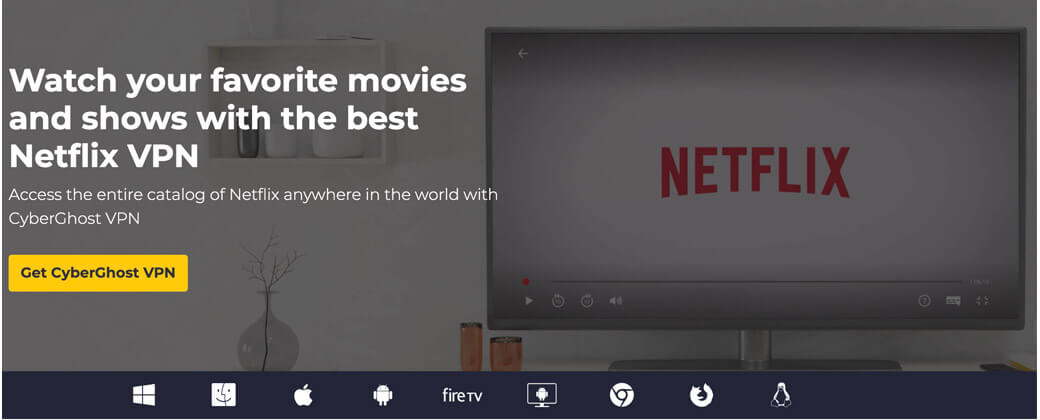 All VPNs work the same way. They channel your online traffic to anonymous servers to keep your real IP address and location completely private. For example, you could be vacationing in the Maldives but if you connect your VPN to a server in the US, anyone who might be looking at your online traffic will see that you are in the USA.
A good VPN provider has multiple dedicated servers spread out across different countries. This way, you can easily watch or listen to blocked content in almost every part of the world where the provider's servers are available.
What's more, the availability of numerous servers allows you to switch to another server in case Netflix (or any other site) blocks your current server.
CyberGhost has a network of 7,000+ servers in more than 90 countries. You can connect to any of its servers in the United States and stream the thousands of shows available even when you are outside the country.
Impressively, CyberGhost's streaming technology automatically switches you to another server if Netflix detects and blocks your current one. This happens so seamlessly that you will never notice if a server is blocked or switched.
More Reasons for Unblocking USA Netflix with CyberGhost
If you are an avid streamer, you know the importance of fast internet connections. Unfortunately, some VPNs slow down your connection. When you try to access Netflix outside of the US where internet speeds might not be as fast, a sluggish VPN can make for a bad streaming experience.
What's great about CyberGhost is that it does not have bandwidth caps so you will not deal with problems like buffering when streaming shows. If you want to find out more about its streaming speeds, we detailed this in our test of CyberGhost here.
You will also find the standard security features including a kill-switch and DNS leak protection. These add an extra layer of protection to ensure that Netflix does not detect your real IP address.
How to Watch US Netflix Abroad Using CyberGhost
The CyberGhost app is extremely intuitive and easy to use. It is definitely a great choice if you are new to VPNs.
To get started, follow these simple steps:
Sign up for a free account and download the app to your chosen device.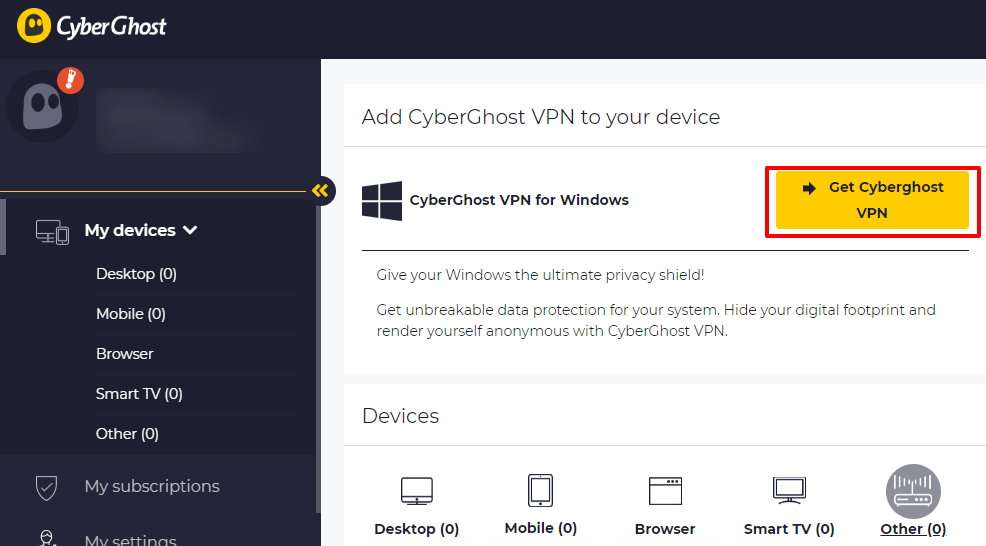 Launch the app and select 'For streaming'. Then, select the Optimized for Netflix option for your desired country (United States).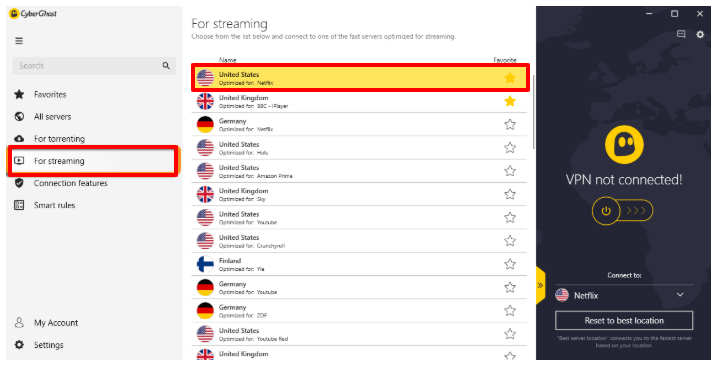 Lastly, connect the VPN and log into your Netflix account to start streaming.
Want More Options?
If you were wondering whether CyberGhost works with US Netflix, the answer is a resounding yes. You might also be happy to learn that this provider has a generous 45-day money-back guarantee, so you can try the service completely risk-free.
That being said, we understand if you want to see what other providers have to offer before you can make up your mind. In that case, we recommend that you read this to find out who's winning between ExpressVPN and CyberGhost when it comes to streaming your favorite shows on Netflix.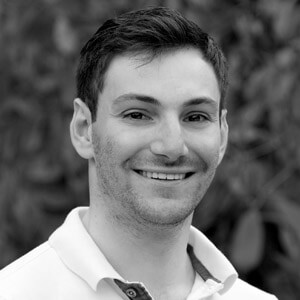 Flo is the founder of the-bestvpn.com. Really concerned about security on internet, he decided to create this website in order to help everyone find the best VPN. He's got a Business School background and now is 100% dedicated to keeping his website alive.