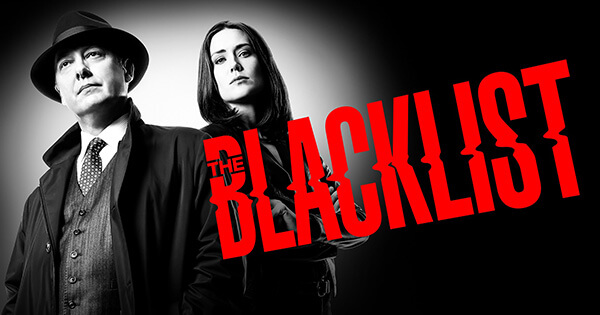 The Blacklist has been around since 2013 and is one of the best thrillers you can enjoy. Thankfully, this show is still going strong, and with the release of the last, 9th season, it became even better. However, despite being available in almost every Netflix library, users struggle to find this last season. So, how to find and watch The Blacklist season 9 on Netflix anywhere? Well, that's what I intend on showing you today, so I suggest you stay with me until the very end.
Where Can I Watch The Blacklist Season 9 on Netflix?
Before I move on to the tutorial, we first need to see where is this show available. As you know, Netflix offers different libraries according to your location, which is the reason why you can't find some shows and movies. What about Blacklist, though?
Honestly, this show is available, more or less, everywhere. However, if you check uNoGS.com website, you'll see that very few catalogs offer The Blacklist season 9 on Netflix. For instance, in the US, Australia, and Canada, you can find only 8 of them.
But, if you check Netflix Hungary, for instance, you'll see that there are all 9 seasons of this show, along with English subs. Take a look at the screenshot below: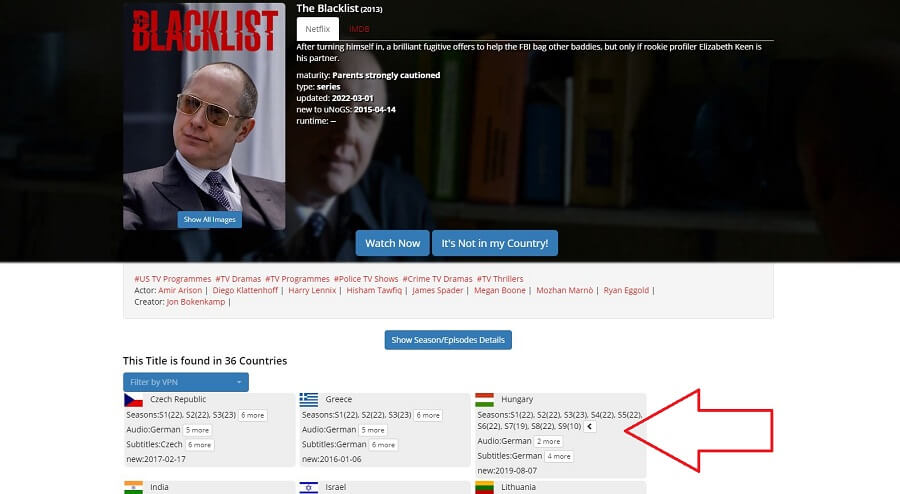 So, what does this mean? Simply put, it means that you need to be located in Hungary to watch all 9 seasons of this show, or just have a Hungarian IP address. The second solution is much cheaper and simpler, so this is going to be our choice.
Unblock Netflix Hungary with Surfshark >
How to Watch Season 9 of The Blacklist on Netflix?
This, then, begs the question – how to get a Hungarian IP address and watch The Blacklist season 9 on Netflix? Actually, it's really simple if you use Surfshark.
Surfshark is a VPN application that lets you change your IP address to any of the 65 countries it currently offers. Once you get a Hungarian IP from Surfshark, you'll make Netflix believe that you're located in this country and be able to access all seasons of The Blacklist effortlessly.
Wondering how to do that? Take a look at these steps, mind you:
First, you need to subscribe to Surfshark. I recommend using this link to get its cheapest deal (under $2.5 a month) that also comes with a 30-day money-back guarantee for all plans.
Now, download and install Surfshark on your device. Beware that all devices are supported, so you can apply this solution even on iOS and Android devices if you want.
Open Surfshark and connect to the VPN server in Hungary.
With the Hungarian IP address in place, visit Netflix and search for The Blacklist. It should now be there with all 9 seasons, so you can immediately start watching.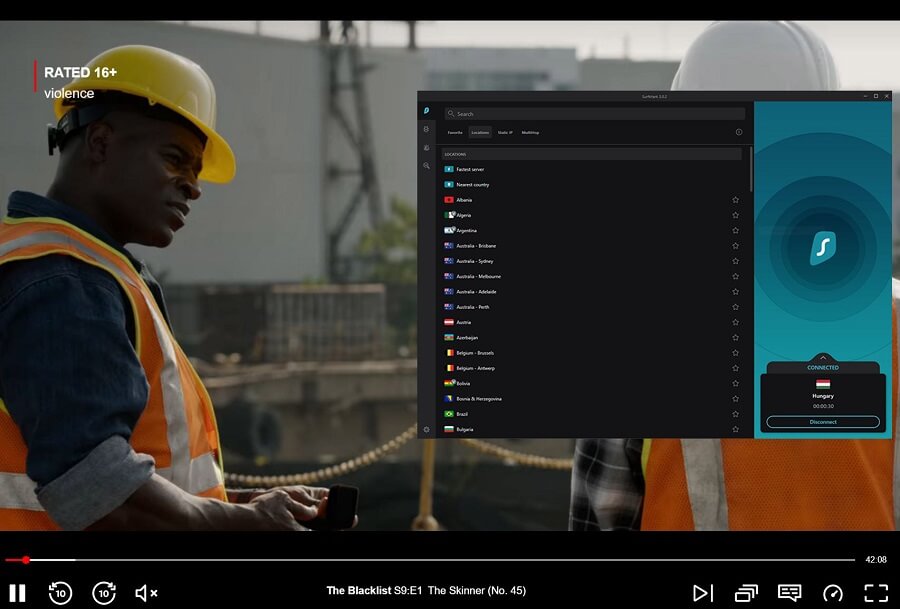 Best VPN to Watch All Seasons of The Blacklist on Netflix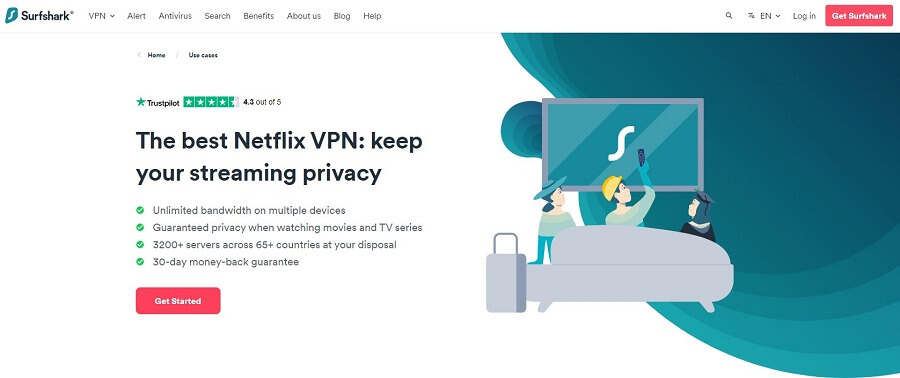 I used Surfshark for this solution because I found it the most convenient and most reliable. Hence, the best VPN to watch The Blacklist season 9 on Netflix is definitely this one.
Surfshark comes with more than 3,200 servers in 65 countries globally, giving you the ability to get thousands of different IP addresses. This is useful for unblocking geo-blocked streaming platforms, but also movies and shows on Netflix. I especially like its performance.
While not the fastest VPN, it's reasonably fast for buttery-smooth 4K streaming. If you have a Premium account on Netflix, this is especially beneficial. Moreover, Surfshark is a great streaming VPN, so you can use it to unblock BBC iPlayer or Disney+ if you want.
Perhaps the best thing about this VPN is the number of simultaneous connections – or lack thereof, as it puts no limits. As a result, you can protect multiple devices simultaneously with Surfshark, without having to pay a dime more. Speaking of which, it has native apps for all major platforms, hence the installation process lasts no more than 20 seconds.
Finally, I must praise Surfshark's security if that's what you want. Apart from bank-grade encryption, it gives you a certified zero-logs policy and reliable 24/7 live chat support. This all comes at a price of a pocket change per month, which, you'll agree, is an offer you shouldn't refuse.
Free VPN for Netflix – Does It Work?
Okay, so what about free VPNs? Will they allow you to watch The Blacklist season 9 on Netflix? Sadly, no.
I don't suggest using free VPNs for Netflix for a few reasons. First, they don't work with any libraries, which you can easily test out. Second, they offer very slow speeds and limited monthly bandwidth, which isn't great for watching shows and movies limitlessly.
Free VPNs are also known for intrusive logging practices. So, when you use one, not only do you get weaker encryption and no crucial security features, but also the absence of a no-logs policy. With that in mind, free VPNs will collect and sell your personal info to the highest bidder to earn revenue.
I actually encourage you to test out any free VPN and you'll quickly see what are its problems. This is why I recommend Surfshark if you want to watch season 9 of The Blacklist on Netflix. Not only is it the cheapest VPN of this caliber, but it also takes care of your security, all while providing rock-solid performance.
Summary
And that, my friends, is pretty much it. As you can see, The Blacklist season 9 on Netflix is indeed available, but you just need to know where to look. On uNoGS.com, you'll be able to inform yourself on which Netflix catalogs you can find certain movies and shows.
Beware that this is something prone to change, and some of them will appear or disappear from certain libraries. Therefore, before trying out this solution, I recommend checking uNoGS.com out and then getting the respective IP address from Surfshark or even ExpressVPN.
That way, you can unblock any Netflix content and enjoy it no matter your location.
After all, Surfshark gives you a 30-day money-back guarantee with no conditions, so you can use it to watch season 9 of The Blacklist, and when you're done, get a refund in the first 30 days, not losing a single dollar in the process.
Watch Blacklist Season 9 On Netflix with Surfshark >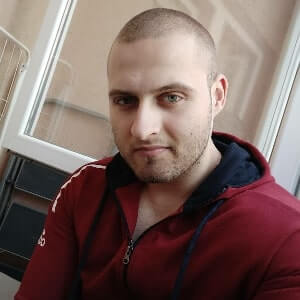 A professional writer with a Master's degree in Mechanical Engineering. Since his youngest age, he loves everything related to internet, technology, fitness, games, and dogs! He joined our team in order to bring his deep knowledge in security services, among which VPN is of course a key component.