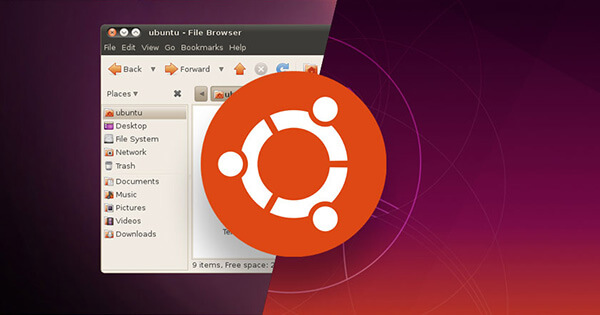 Users who switch to Linux almost never do it without any reason. Apart from its minimalistic and intuitive interface, this platform is known for its security and customization options. For the newcomers, Ubuntu is perhaps the best option in every aspect, including security, which doesn't translate to the online world. When browsing the web, you're still exposed to many threats, but with a VPN, you can rectify this issue. Let's talk more about the best VPNs for Ubuntu.
Best VPNs for Ubuntu
Preserving your privacy online should be your top priority when using this operating system. Since it won't attract any malware or viruses, the only threat will be your ISP, hackers, and other malicious entities online.
Avoiding them is easy if you stick with our best picks.
List of the best VPN to use on Ubuntu (2023) :
ExpressVPN
CyberGhost
NordVPN
Surfshark
Private Internet Access
1. ExpressVPN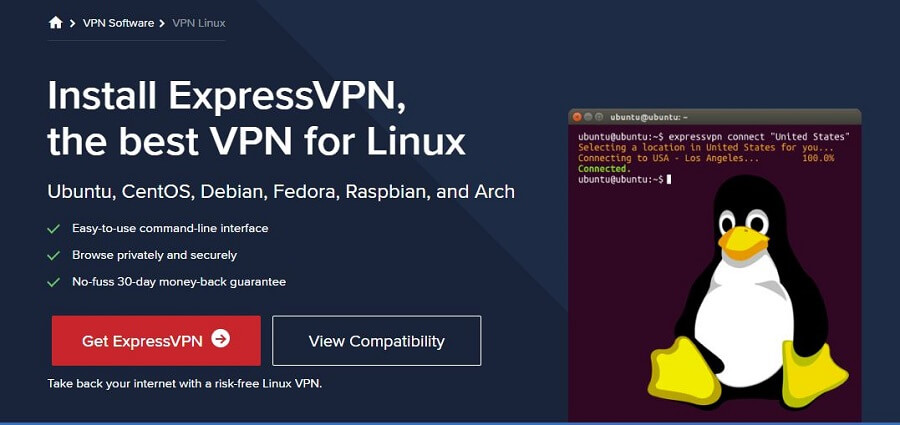 Setting up your VPN on Linux is dead simple if you use ExpressVPN. This provider is known for extensive device support, letting you install it on every platform. To do so, download the setup files, open the Terminal, and complete the process.
Once you do so, you'll gain access to its huge server network, consisting of 3,000+ servers in 94 countries. These servers are really fast and offer substantial performance. This is all you need to enjoy a smooth browsing experience with stable and reliable connections.
Ubuntu users will like the provider for its ability to bypass geo-restricitons. You can now turn your PC into a streaming machine, capable of unblocking Netflix, Hulu, Disney+, and many other platforms. Moreover, you can engage in P2P activities safely, regardless of your location.
The thing that makes ExpressVPN unique is its zero-logging policy. Year after year, it receives an audit from PwC, making it more trustworthy than ever. Security features are abundant, as well. With this great VPN, you get military-grade encryption and a kill switch that works perfectly on Ubuntu.
We like the addition of DNS leak protection, which will prevent any accidental exposures. This lets you even access the Darkweb in complete safety, should you want to do so. ExpressVPN supports 5 simultaneous connections on a single account, along with router connections.
As an icing on the cake, there's 24/7 customer support that will help you solve your VPN-related issues through live chat. Price-wise, it's not the cheapest. However, this Ubuntu VPN app comes with a 49% discount and 3 months free for a 12-month plan. Right now, it's the MOST affordable!
2. CyberGhost

If there's one provider that takes care of Linux users, it's CyberGhost. It's hard to believe that it's the best cheap VPN provider for Ubuntu, but hey, that's how things stand! Even better, it has multiple guides on setting up a VPN on Ubuntu, Mint OS, Chakra, Debian, and many more.
We're talking about a manual setup, which we don't prefer. But, in our test, we managed to equip our Ubuntu PC with CyberGhost VPN in less than two minutes! Features-wise, the provider is better than many of its more expensive competitors. To prove it, we'll mention that it offers 7,000+ servers worldwide.
Those who use Ubuntu are often worried about security, where CyberGhost simply shines. It packs 256-bit AES encryption, comes with a no-log policy, and uses an automatic kill switch. On this platform, you can use OpenVPN protocol, which is both pretty fast and secure.
If you're not a security guy, you may be worried about unblocking sites. Here, CyberGhost offers dedicated servers for streaming. They unblock Netflix, ESPN, BBC iPlayer, Prime Video, HBO GO, and many other streaming services.
P2P servers made its return and with speeds so humongous, torrenting will be a breeze. CyberGhost nails it when it comes to features, especially its reliable ad-blocker. It blocks ads, trackers, and malicious sites, ensuring your complete security.
Protect Your Ubuntu Computer With CyberGhost VPN >
3. NordVPN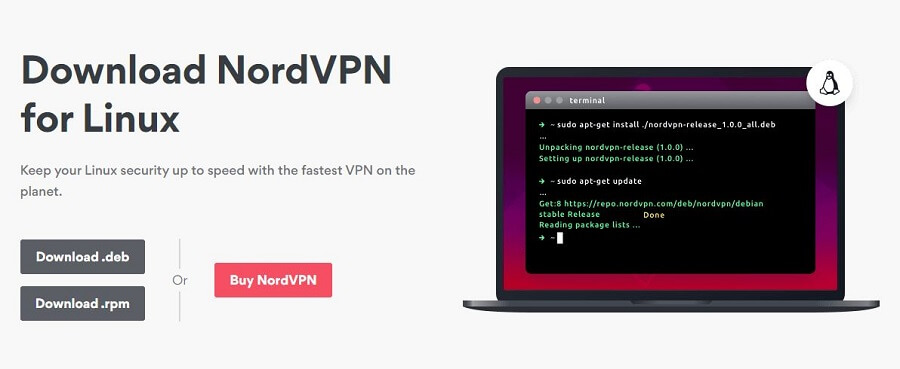 NordVPN is a high-caliber name in the world of cybersecurity. And as always, there are plenty of reasons for that. This VPN provider for Ubuntu manages to combine superb performance and security, resulting in an all-rounder that will do everything you want from it.
Sure, Ubuntu is already secure, but not on the level of NordVPN. The VPN will give your connection a "boost" in the form of 256-bit AES encryption, coupled with a kill switch. These two features will ensure that your IP or DNS never leaks, which is crucial for staying anonymous.
One of the highlights here is the brand new NordLynx protocol. Although you can't use it on Ubuntu, you can protect your other devices with it. Basically, it's a much faster solution than OpenVPN, and on top of that, offers an improvement in security.
Speaking of other devices, NordVPN gives you 6 simultaneous connections on a single account. This will let you watch Netflix or enjoy MotoGP races live on any device you want. There are P2P servers on the list, as well, and thanks to fast speeds, downloading torrents will be smooth and fast.
Device support is fairly decent. Aside from Windows, iOS, Linux, macOS, and Android, you can connect NordVPN to a router. Doing so will protect every device that connects to the router, all the way up to 16 or 32, depending on the router model.
To make things easier, NordVPN includes guides for a bunch of Linux systems, including Ubuntu and Debian. If you have any trouble setting it up, its 24/7 support will jump in and help you complete the otherwise simple process.
Get the NordVPN App for Ubuntu >
Why You Should Use the best VPN for Ubuntu?
There are a lot of things that a quality VPN can do for Ubuntu users. Let's talk about them and see why you should absolutely use it on this platform:
Avoiding Surveillance
All internet users need to come to terms with one thing, and that's the fact that we're under constant surveillance. And no – don't think you're out of it because you're using macOS, iOS, or Linux. Surveillance is a pretty nasty habit that aims to destroy your privacy.
Usually, it's done by your ISP (Internet Service Provider), which cooperates closely with the government. In return, the ISP shares your personal info with them, but also with third-party advertisers. That's why you often see ads that somehow always manage to hit the mark.
Some people think it's not a big deal, but that's not the case. The more info your hand out to third parties, the more material they have for tracking you. In some cases, they can even punish you for commenting on certain posts or posting something offending, depending on your country.
Your best bet is to get a VPN that is working on Ubuntu and hide your IP address. Simply connect to the server and the VPN will do that for you. This will let you browse the web safely and anonymously, with no one sniffing around your back like a drug-detection dog.
Unblocking Websites
How many times have you visited a website that's not available in your country? We'll let you do the math. Our job is to point out that without the best Ubuntu VPN, your internet freedom is pretty limited. As an example, we can use Netflix, which is a geo-restricted platform.
Or better said, it has geo-restricted content on its website. Some movies are available for the USA, while some are for Europe, Asia, Africa, and so forth. The same can be said for Hulu and HBO GO, completely American platforms available only in that country.
Living in Europe won't let you access any of these, so it's best to change your online location and bypass the geo-restriction. A VPN lets you do exactly that! On Ubuntu, use the Terminal to connect to the server in another country and access its local content.
We can apply the same principle if it were the opposite way. When you're abroad, you can use a server in your country to access local TV or your bank account without any issues.
Torrenting Safely
Are you using qBittorrent or Deluge on Ubuntu? These are the best torrent clients for this platform, which doesn't think they're safe and secure. In fact, torrenting itself is far from being that, and that's a great reason to introduce a VPN to your connection.
Governments around the world are hell-bent on stopping users from torrenting. As such, they impose strict fines and punishments for doing so, that many users don't have the money to pay. And honestly, why would you put yourself through the legal entanglement?
Stay Anonymous ALL the time with ExpressVPN >
To prevent this from happening, you can obfuscate your presence online with this service. After you do so, your ISP won't be able to see your online activity or what you're downloading from torrent sites.
Needless to say, it won't be able to impose any fines or report you to the authorities, leaving you to enjoy your online freedom.
Summary
To summarize, Ubuntu is a great operating system for those seeking additional security and maximum control over their devices. However, we need to bear in mind that no one is safe while browsing the web unless they use the best VPN made available on Ubuntu.
Our recommended pick for this platform is ExpressVPN. It offers an enormous number of features, lots of stable servers, and outstanding speeds. Furthermore, it's easy to set up and use on Ubuntu, which is what newcomers will definitely appreciate.
Quentin is the co-founder of the-bestvpn.com. With several experiences as a System and Network Engineer, he is very knowledgeable when it comes to VPN, cybersecurity and the risks of using the Internet nowadays.