PlayerUnknown's Battleground is all the rage in the world of multiplayer video games. But, popular as it is, gaming geeks in countries such as China, India, and the Philippines are blocked from accessing this game. Fortunately, all you need is a Virtual Private Network (VPN) to unblock PUBG. Not all VPNs are the same though. If you are wondering which provider to choose, we've picked out the best ones to help you play PUBG without any limitations.
Why Do You Need a VPN for PUBG?
A Virtual Private Network comes in handy if you want to bypass blocks, mitigate hacker attacks, and improve connection speeds. But, apart from gaming, with a solid VPN, you will also be able to unblock YouTube videos easily.
Let's look at some of these benefits in detail!
Bypass PUBG region lock
When PlayerUnknown's Battleground was first released, players faced many challenges such as unreliable servers and hacker attacks mostly originating from China. Because of this, the game owners decided to place location blocks so that players could only connect to servers in their respective geographical locations.
This move somehow stabilized the servers and reduced hacker attacks. However, this also meant that players could no longer play in the region of their choice. The location blocks simply locked out entire sections of players.
Today, instead of choosing your server, players are automatically matched to the closest server. The only way to connect to a server of your choice is through a VPN.
A Virtual Private Network hides your real IP address so the PUBG platform cannot detect your real location. This way, you would be able to bypass the region locks and choose a server in the region you would like to play in.
If you are traveling to or reside in a country where PUBG is banned, a solid VPN can help to bypass these blocks and access the respective gaming site. Privacy apps hide your internet activity so your ISP will be unable to see which sites you access and what you do on there.
Reduce ping in online gaming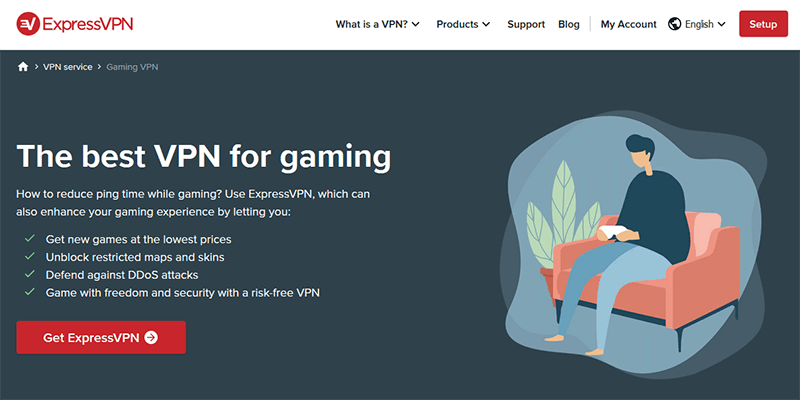 Any gaming nerd understands the importance of speed. The slightest connection lag can give your competitor an edge over you.
Even if you are in a country where PUBG is not banned, a Virtual Private Network still comes in handy for minimizing connection lags.
Look at it this way: when you connect to the gaming server directly using your ISP, connections are likely to be slow due to congestion on the ISP server. VPN providers, on the other hand, have numerous servers through which traffic is directed to minimize congestion.
When you connect to the right server, i.e. one that is closest to you, you can experience lower ping and therefore have a leg over your competitors.
Protect yourself against hackers
Being an international multiplayer game, there is no discounting the fact that PlayerUnknown's Battleground servers are prone to hacker attacks. When you connect to the site/game directly, you risk exposing your IP and any identifying information to potential intruders.
On the other hand, a Virtual Private Network masks your IP address so anyone who is looking will only see the VPN's IP address. This is the best solution for staying safe online as a gamer.
Top 3 Best VPN to Play PUBG
Virtual Private Networks are not all the same. Some are better suited for online gaming than others. Important features to look for in a VPN for PUBG and other online games include:
Fast speeds and unlimited bandwidth.
Wide server coverage with servers in the region you wish to play in.
Standard security features including DDOS protection, military-grade encryption, IP and DNS leak protection, and an automatic kill switch.
Multiple simultaneous connections.
The best Virtual Private Networks are incredibly easy to install and use. But, if you need more information on how to set up your VPN, you should check our guide.
CyberGhost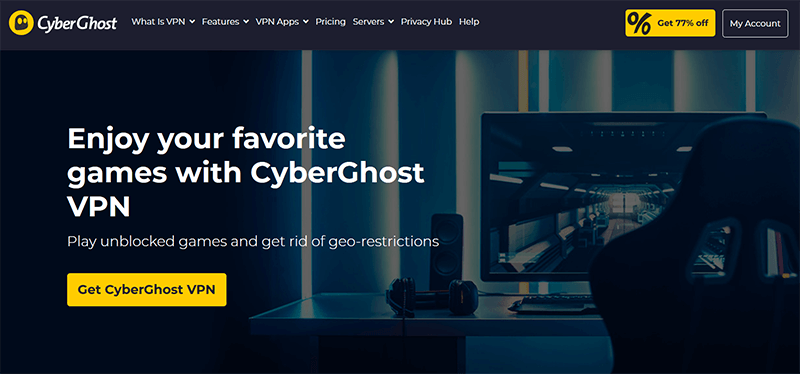 CyberGhost tops our list of recommended VPNs for PUBG. This provider has one of the widest server networks. We have come across 7,000 plus servers spread out in more than 90 countries.
With so many low-latency, high-speed servers available, there is no doubt that you will find one in the region you want to play in. Chances are good that you will also find one close to you, which can help with reducing ping for a seamless gaming experience.
It is also worth mentioning that its servers are DDOS-protected, which minimizes the threat of hacker attacks when you connect to gaming sites. CyberGhost is also among the fastest VPNs we have tested, making it the perfect choice for gaming buffs.
This provider packs on amazing security features including military-grade encryption, DNS and IP leak protection, and a kill switch. All these help with bypassing the strictest censorships and staying under the radar of ISPs who might block PUBG sites or throttle bandwidth.
CyberGhost protects seven devices simultaneously under a single subscription so you and your friends can all be protected as you enjoy gaming together. And, with a generous 45-day money-back guarantee, you can test all the perks it has to offer risk-free.
All these factors considered, it is easy to see why it is the best VPN for gaming in our eyes.
PROS:
45-day money-back guarantee
7 simultaneous connections
More than 7,000 servers
P2P allowed
Very good prices
Company based in Romania
CON:
Doesn't work in Russia/China
Try CyberGhost for free during 45 days >
---
NordVPN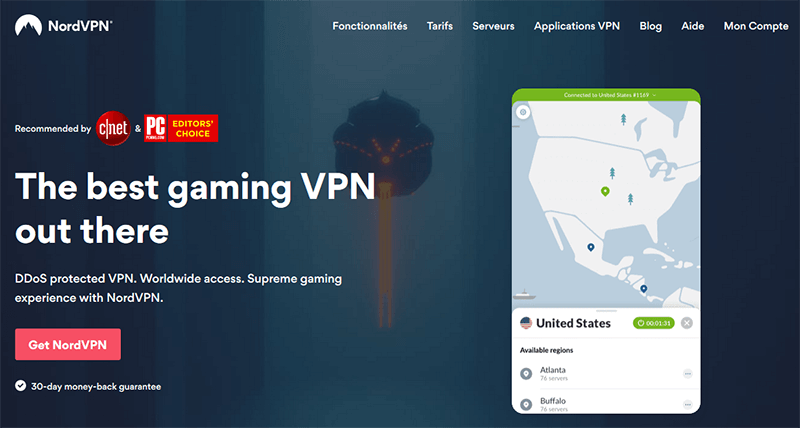 NordVPN is our second choice in regards to the best VPN for PUBG online. Unlimited bandwidth, super-fast connection, and impressive server coverage give this provider a competitive edge.
A feature worth mentioning is its DDOS-protected servers that go a long way to mitigate hacker attacks, which are common in the gaming world.
This provider also helps you to avoid bandwidth throttling by hiding your online traffic from your ISP. With so many servers to choose from, you can easily switch to the next server in case the one you were connected to is noticed.
NordVPN also boasts an advanced security solution known as CyberSec. This feature takes your online privacy and security to the next level by blocking annoying pop-up ads and suspicious websites that can compromise your devices.
This VPN is compatible with a range of platforms including Windows, iPhone, macOS, Android, and Android TV, and can support up to 6 devices simultaneously.
PROS:
Double VPN option
Strict no-logs policy
Number of servers (5,600+)
60 countries covered
Servers for P2P
CON:
Hacking incident in 2018
Expensive short-term plans
---
ExpressVPN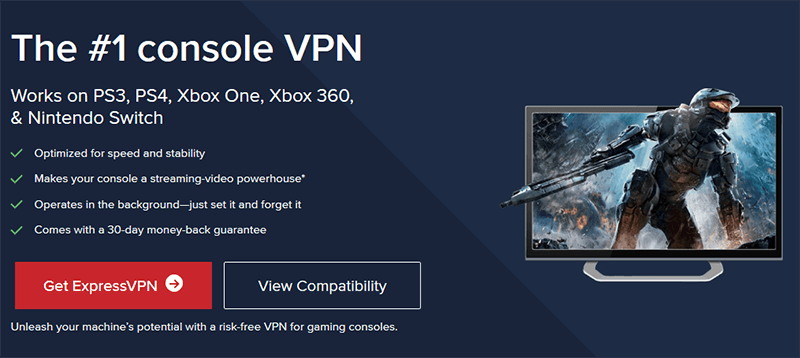 Last but certainly not least is ExpressVPN, one of the fastest and most secure VPNs we have tested. Like the others, this provider has a wide network of 3,000+ servers spread out in more than 160 locations worldwide.
There is no doubt that you will find a server close to you, which helps with reducing ping.
If you want to play in a different region, you can select from any of the thousands of servers available. This particularly works well for gamers who want to access PUBG in regions that offer lower game prices.
This Virtual Private Network comes with all the standard security features to protect you from DDOS attacks including military-grade encryption, an automatic kill switch, and IP leak protection.
You can also connect the app to up to 5 devices simultaneously including phone, PC, tablet, Xbox, Nintendo, PlayStation 4, and others.
ExpressVPN is certainly not the cheapest provider on our list but right now, you can snag a 49% discount and three months free if you sign up for the yearly plan.
PROS:
Very good speeds
Kill Switch
3,000+ servers in 94 countries
Easy-to-use application
App available on many platforms
CON:
A bit expensive prices
"Only" 5 simultaneous connections
Get 3 months free with ExpressVPN >
---
Summary
What is the best VPN for PUBG? Our top recommendations are CyberGhost, NordVPN, and ExpressVPN. These three are some of the fastest we have tested, making them ideal for online gaming where speed is a major priority.
They also come with top-of-the-class security features designed to protect you from DDOS attacks and other malware. Strong encryption further helps with bypassing strict firewalls, allowing you to play PUBG even in countries where the game is blocked.
Lastly, all three providers offer a large network of servers, which comes with several advantages. First, you will always find a good server close to you and if you want to play in another region, the server options are limitless too.
Overall, whichever one you opt for, each of these VPNs will allow for a safe and seamless gaming experience! So don't hesitate for too long 😉
Quentin is the co-founder of the-bestvpn.com. With several experiences as a System and Network Engineer, he is very knowledgeable when it comes to VPN, cybersecurity and the risks of using the Internet nowadays.