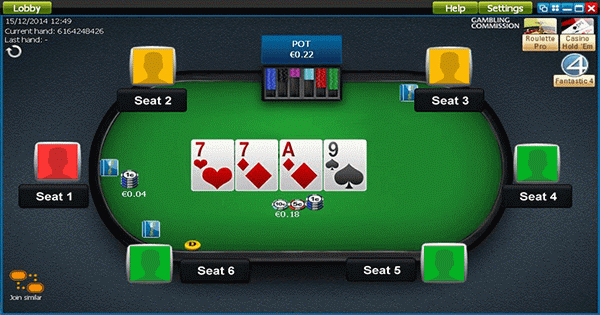 Joining a poker game has never been as easy as it is today thanks to the huge range of gambling and betting websites on the internet. There are many popular websites, with 888Poker, Full Tilt Poker, and PartyPoker being just a couple. However, not all countries favor gambling. In some countries, gambling is banned altogether, while in others, your favorite site may be accessible but with restrictions in place. However, if you want to be able to play online from any location, you can sign up with a VPN. So, let's look at some of the best VPNs to play online poker.
We are not only going to recommend some of the best Virtual Private Networks to use to access blocked Poker websites. We are also going to explain why you need one and how to use it to avoid geo-restrictions.
Why Do I Need a VPN to Play Online Poker?
When you are in your home country, you don't necessarily need a VPN to be able to log in and join a poker table. Of course, you can still use a Virtual Private Network and it will provide you with security and anonymity. However, go abroad and it's a different story.
Websites such as Full Tilt Poker and PokerStars are only licensed in certain countries around the world. If the website you use doesn't have a license in a particular country, the site cannot be accessed.
This is when using a VPN becomes invaluable.
Bear in mind, some countries do not allow online gambling due to religious or ethical grounds, while other countries allow access to sites, but with restrictions. While it may be possible to unblock a gambling website in a country where it is illegal, you do have to ask yourself whether it is ethical to do so.
Unblock any geo-restricted content
Geo-restrictions are placed based on the IP address you use. All countries have a range of IP addresses, so it is easy for the ISP or the website to find out which country you are located in and block you from accessing the platform.
In many countries around the world websites people take for granted are censored, and a VPN is very useful to unblock any kind of website.
For instance, you might want to stream live sports while abroad but the streaming service is blocked. Again, by connecting to a server in the country whose content you want to stream, restrictions can be bypassed.
How a VPN Helps You?
A Virtual Private Network helps as it allows you to pretend you are in a specific location.
For instance, you might have signed up with PartyPoker in the United Kingdom but have taken a vacation to Australia and found the website blocked in the country.
In this instance, you can use a Virtual Private Network to fool the website into "thinking" you are in the UK by connecting to a server in the United Kingdom. The same would apply to any other country – you would just choose a server from the country where you signed up for your betting account.
Incidentally, you can also use this solution to watch sports in any country blocks are applied and then place a bet using an online bookmaker.
If you do plan to use a Virtual Private Network to bypass geo-restrictions, you should sign up for a plan in your country. Some countries, particularly those with high censorship, ban access to the VPNs websites making it impossible to sign up and install while abroad.
Top 3 Best VPN to Play Online Poker Anywhere
When considering this kind of service to beat geo-restrictions you have to bear in mind that not all work in countries with high censorship. Therefore, with this in mind, we have chosen three providers that work exceptionally well wherever you are in the world.
1. ExpressVPN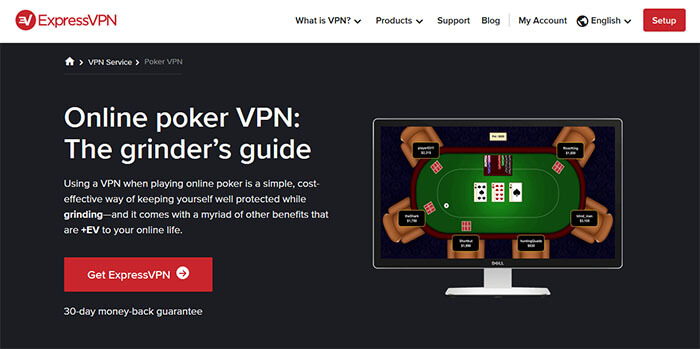 ExpressVPN is our first choice, offering access to thousands of servers from around the world. Covering a huge range of countries, there is bound to be a suitable one for your needs to unblock your choice of a poker room.
Having many servers available in the UK can be very interesting as you can use them to not only unblock Full Tilt Poker and others but also BBC iPlayer, 5OD, ITV Player, Netflix, and more.
ExpressVPN is perfect for high censorship countries
ExpressVPN is exceptionally good if you want to unblock poker websites on the internet in countries such as the UAE, China, or Russia. All of these countries are known for high censorship. Along with this, they are some of the most difficult to fool, but the provider manages to do so.
Once connected to a server, you are behind the military-grade encryption offered by the provider. This makes it impossible for anyone to find out what you are doing online, including the ISP.
A choice of plans with a money-back guarantee
A choice of three plans is offered with the biggest savings of 49% made on the yearly plan. Plans all offer the same superb features, with the only difference being the length of the plan.
There is no need to worry, as whichever plan you choose, there is a 30-day unconditional money-back guarantee. Therefore, if you are not happy, you can get your money back quickly and easily.
Packed with many superb features, ExpressVPN definitely deserves the number one spot on our list of the best VPN to play online poker from abroad.
Unblock and play poker online with ExpressVPN >
2. CyberGhost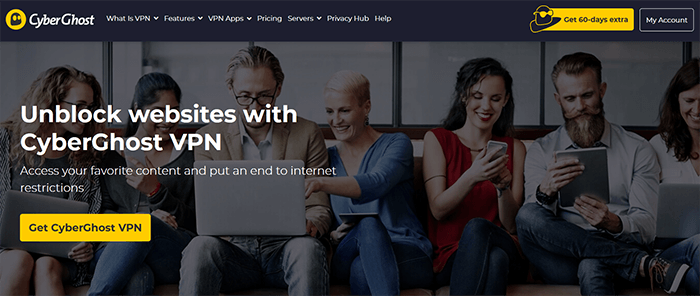 Next on our list of the best VPN to play online poker is CyberGhost.
The provider offers a range of useful features to spoof your location easily, whether you want to use an app on your phone or your laptop.
Shared IP addresses ensure anonymity
Thanks to shared IP addresses, your activity cannot be traced back to you. This is perfect for accessing sites such as Betfair Poker, Sky Casino, 888 Poker, or any other site.
Own data center for secure servers
CyberGhost provides easy access to 6,800+ global servers. This means you are not going to struggle to find a server close to your location. Besides, as the provider has its own datacenter, you can be sure the servers are secure.
Access poker anywhere with CyberGhost now >
3. NordVPN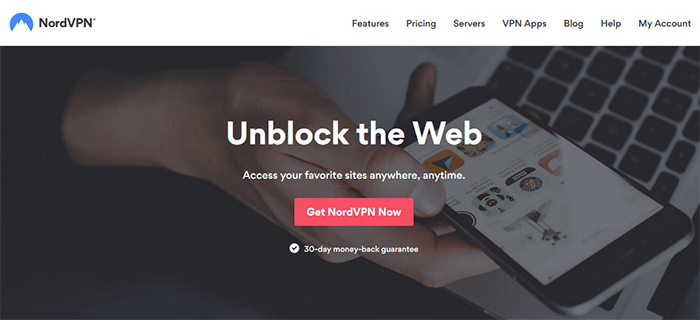 Finally, NordVPN is another provider worthy of consideration. It offers a range of plans packed with some great features that come in useful when trying to access blocked websites.
The provider promises advanced security and complete privacy, giving users internet freedom.
Double protection with DoubleVPN
One feature particularly useful for beating geo-restrictions is DoubleVPN. This feature allows users to connect to the first server to take on a different IP address and then another.
This means it doubles protection and security. Of course, you benefit as it lowers the risk of the ISP finding out you are using a Virtual Private Network.
Plenty of security measures
NordVPN offers good security measures to ensure you remain anonymous and away from prying eyes. These include AES 256-bit encryption, an automatic Kill Switch, and leak protection.
The latter protects the user if the connection to the server should drop. It does this by making sure no information passes onto the internet to expose your real location when playing poker on the internet.
With access to thousands of servers, you should have no problem finding a server to unblock the poker website you want to use abroad.
Unblock online poker with NordVPN now >
How to Use a VPN to Play Online Poker?
Now you know some of the best VPNs to play poker wherever you are in the world. We will give you a helping hand on how to use a Virtual Private Network to beat geo-restrictions.
Step 1 – Choose a provider
First, you are going to have to choose a provider. Then sign up for a plan.
We have helped with this as we have recommended some of the best VPNs to unblock, access, and play online poker. So, choose a VPN and a plan to suit your needs then subscribe.
Step 2 – Choose apps and download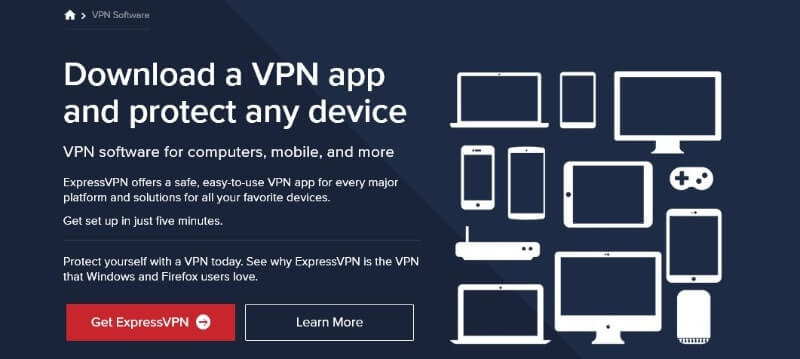 Next, you have to choose the apps you want to install onto any device you use. All of the providers we have recommended support for numerous devices. This includes everything from Windows and Apple computers to tablets and routers.
There is no limit to apps, you can download and install them on as many devices as you want. Other family members can use the same plan, up to the limit set by the provider.
Step 3 – Install and launch the apps to choose a server
Finally, allow the installation to go through and then enter your personal details to sign in.
A dashboard will open up and this is where you can choose a server. Choose a server from the country where you have an account with the website and make a connection.
You can now visit the website, sign in to your account without geo-restrictions being placed, and join a game.
To Summarize
Whether your preferred websites are PokerStars, 888Poker, PartyPoker, or any other, you can avoid the geo-restrictions and join a game wherever you are in the world using a VPN.
All you have to do is choose one of our recommended best VPNs to unblock and play online poker on your favorite website. Simply sign up with a provider, choose a server from your country, and connect!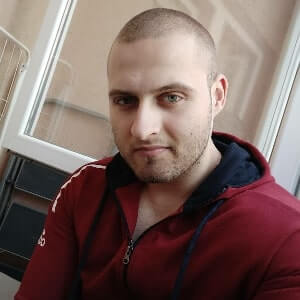 A professional writer with a Master's degree in Mechanical Engineering. Since his youngest age, he loves everything related to internet, technology, fitness, games, and dogs! He joined our team in order to bring his deep knowledge in security services, among which VPN is of course a key component.