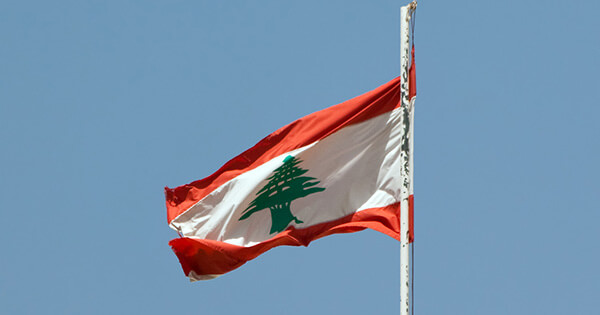 Lebanon is slightly more liberal than other countries in the Middle East. However, government surveillance, censorship, and throttling have become rampant in the past few years. If you plan on visiting the country, you should definitely pack up a VPN with you. This is your best bet for safe and private access to the internet. Lebanese abroad could also use a Virtual Private Network to access local content back home. After extensive tests, we have rounded up the best 3 VPNs for Lebanon.
VPNs With Servers in Lebanon
Lebanese abroad will find that the majority of homegrown TV stations are blocked. Want to get around these blocks and catch up with the events back home? You will need a Virtual Private Network.
Not just any VPN will do. In fact, we strongly advise you not to use free providers. Instead, opt for a premium one with servers inside the country.
Once you connect to the app, it hides your real IP address and assigns you one from Lebanon. As such, your ISP will 'think' that you are in the country when you are obviously in a different one.
With the Lebanese IP address, you'd be able to stream local channels. You can enjoy everything from MTV Lebanon, OTV Lebanon, and LBCI to Al Manar among others.
Our best pick for VPNs with servers in Lebanon is:
HideMyAss: The provider boasts thousands of servers. You will find servers even in countries where most providers have no presence. At the time of writing, it has 2 high-speed servers in Beirut. You can try this VPN risk-free for 30 days to find out if it is a good match for you.
Why Do People in Lebanon Use a VPN?
Are you traveling or residing in Lebanon? Internet users in this country face some harsh realities. These include mounting government surveillance, crackdowns on 'oppositional' voices, and censorship.
If online privacy and safety is a priority, a solid VPN should be your first line of defense. A good one will protect your online activities and enjoy the full experience of the internet.
Here's how using a VPN in Lebanon can benefit you:
Bypass blocked sites
Since 2015, the government has consistently blocked tons of websites. Most of these are related to gambling, escort services, adult content, and Israel.
Often, owners of news websites receive requests from authorities to remove certain content from their sites. It is also not uncommon for the government to ask companies such as Facebook, Twitter, and Google to hand over users' information.
In fact, at one point, Facebook blocked access to some content in the country. This was after authorities reported the content as defamation.
But the best VPN for Lebanon will help you access the content you want, so you won't have to worry about this 😉
Avoid government surveillance
The government maintains a monopoly over the telecommunication and internet industry. It also has strict control of ISPs. Unsurprisingly, in recent years, government surveillance has been on the rise.
In a 2018 report, mobile security company Lookout and the Electronic Frontier Foundation uncovered, 'Dark Caracal'. This was an extensive surveillance operation conducted out of Beirut.


Using mobile malware, the operation collected large amounts of data from WhatsApp and Facebook users. In particular, users of Android devices were major targets.
ISPs in Lebanon gather information on users on behalf of the government. Sending messages deemed to be critical of the government or anti-Islamic, or visiting certain websites can easily land you in trouble.
Journalists, activists, visitors, and regular citizens should consider using a VPN in Lebanon to keep the prying eyes of ISPs and government authorities at bay.
Unblock geo-restricted content
In this country (and globally), US and UK versions of Netflix, Hulu, Amazon Video, HBO Go, and BBC iPlayer are blocked. This has less to do with censorship than with geo-restrictions by these sites.
If you are planning to travel to Lebanon and would like to catch up with your favorite shows, a VPN can help. Lebanese residents can also use a Virtual Private Network to unblock in few seconds any Netflix catalogs.
For this, you will need a provider with servers in the US and Europe. This will allow you to hide your IP and change your location. With a US or UK IP address, you'd be able to trick the streaming sites into thinking you are in these countries when you're actually in Lebanon.
Navigate internet throttling
The internet and telecommunications infrastructure in the country are relatively weak. You will have to contend with slow internet, fluctuations, and outright throttling when visiting some sites.
Fortunately, a premium Virtual Private Network can help you enjoy faster internet speeds. It does this by tunneling your traffic through its own fast servers instead of those of the local ISPs.
The Best VPNs for People Living in Lebanon
You should look for several attributes in a VPN for Lebanon. These include:
Secure encryption and strong protocols
Wide server network with servers in the target country
Fast speeds and unlimited bandwidth
Without further ado, let's get straight into our top picks of VPNs for people living in Lebanon.
1. ExpressVPN

ExpressVPN is a top choice among privacy-conscious users. This provider prioritizes your online privacy with top-of-the-class security features. These include AES-256 encryption, automatic kill switch, and DNS leak protection.
A feature worth mentioning is the unique TrustedServer technology. This technology wipes out all data from the provider's servers. This way, ISPs and government authorities will have no way to access your online data.
What's more, a recent report by a top auditing firm confirmed that ExpressVPN does not store users' data at all. With this provider, you have peace of mind that your online activities are completely anonymous.
In addition to this, it boasts wide server coverage consisting of 3,000+ lightning-fast servers. You will find plenty of servers in North America and Europe. This way, streaming US Netflix, Hulu, and BBC iPlayer in Lebanon becomes a complete breeze.
ExpressVPN is compatible with iPhone and Windows devices. You can also use it on your Android phone and/or tablet. Furthermore, with one subscription, you can protect up to five devices at the same time.
Right now, subscribing to the one-year plan qualifies you for a 49% discount and three months free with a 30-day money-back guarantee. That gives you a total of 15 months of premium VPN service.
PROS:
94 countries and 3,000+ servers
Great streaming performance
Good applications
Strict no-log policy
Split Tunneling
Many protocols
---
2. CyberGhost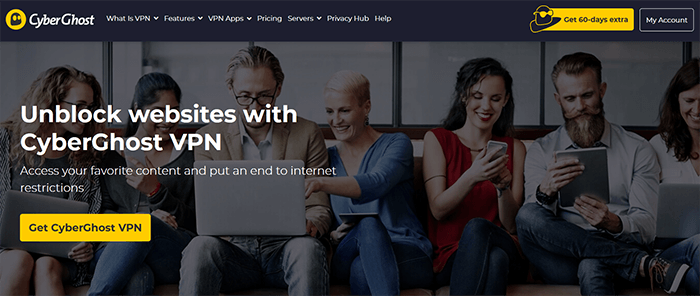 CyberGhost comes in a close second as one of our favorite VPNs for Lebanon. It offers top-tier security features to guarantee your online privacy. You get military-grade encryption, an automatic kill switch for secure connections, and DNS leak protection.
What's more, this provider has one of the widest server networks. In particular, it boasts 6,800+ servers spread out in more than 90 countries worldwide.
Impressively, servers are optimized for speed, allowing you to enjoy buffering-free streaming of all your favorite content. With unlimited bandwidth, you can bypass internet throttling by Lebanese ISPs too.
This provider is the best cheap VPN that is actually available. You can simultaneously connect a whopping 7 devices per subscription and enjoy a generous 45-day money-back guarantee.
It isn't any wonder that CyberGhost is a top choice among budget shoppers.
PROS:
Big server network
45-day money-back guarantee
7 simultaneous connections
Ad-blocker
Servers for streaming and P2P
CONS:
1-month plan pricing
Shady parent company
---
3. NordVPN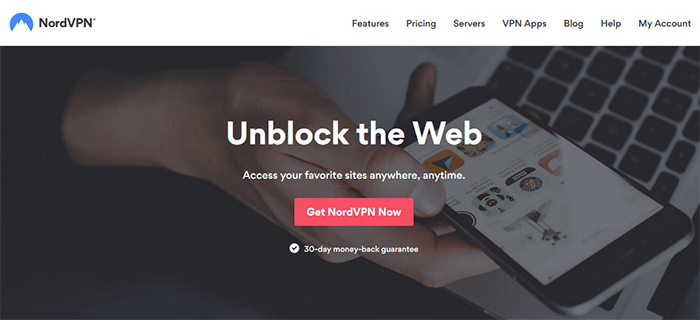 NordVPN offers the security features you would want from a premium VPN that works in Lebanon. It comes with best-in-class AES-256 encryption, kill switch, Onion over VPN, and a no-logs policy to keep your online activities completely anonymous.
A unique setting is DoubleVPN. This feature protects your online traffic behind two, instead of one server, to keep spies at bay.
Additionally, this provider boasts unlimited bandwidth and more than 5,500 super-fast servers across 59 + countries. This ensures fast browsing and streaming of US Netflix, Hulu, and Amazon Video wherever you are.
Servers are optimized to bypass censorship and internet throttling, too.
Each subscription lets you connect up to 6 devices simultaneously. Even better, all plans are backed by a 30-day money-back guarantee!
PROS:
Company based in Panama
Security features
Live chat support
Great interface
CONS:
"Only" 60 countries covered
Inconsistent speeds
---
Summary
Internet users in this country have to contend with slow speeds, surveillance, and censorship of online content.
The laws on internet privacy, data protection, and freedom of speech are quite arbitrary. Therefore, visitors can easily find themselves in legal problems.
Additionally, if you are traveling in the country, you might find most of your favorite shows are blocked. A Virtual Private Network is your best bet for getting around all these restrictions.
A VPN will also come in handy for Lebanese abroad who want to catch up with local content. For this purpose, we recommend HideMyAss.
ExpressVPN, CyberGhost, and NordVPN are our favorites VPN for those in Lebanon. Indeed, all three thoroughly prioritize your online anonymity with top-tier security features.
Quentin is the co-founder of the-bestvpn.com. With several experiences as a System and Network Engineer, he is very knowledgeable when it comes to VPN, cybersecurity and the risks of using the Internet nowadays.