We all use VPNs for different purposes. Some use it for privacy and some use it to access geo-blocked content. In a country like Ireland, using a VPN is a thing of choice. People in Ireland enjoy a huge deal of online freedom and the government is keen on protecting your rights for freedom. However, Virtual Private Network comes with a plethora of other benefits that will help you regardless of your geographical location. Read this article that helps you understand how a VPN keeps you anonymous online.
Best VPNs with Servers in Ireland
If you're from this country and you're traveling abroad, it feels bad to miss your favorite shows on the local television. But, if you have a VPN, you can be rest assured knowing that you can access them with a click of a mouse.
Our top three providers with servers in this country are:
ExpressVPN: ExpressVPN is a provider with more than 3,000 servers worldwide. Their servers in Ireland support fast speeds, impenetrable security, and P2P, which is great for all-around use.
CyberGhost: It is the largest provider on the earth, boasting whopping 7,000+ servers. They're known for their fast speeds and military-grade security that people can use. And they've got 36 servers in the country (supporting P2P file sharing)!
NordVPN: This provider is your best bet if you want to save some cash, yet enjoy premium features. With over 5,400 servers around the globe, it's one of the largest providers. They're known for their Double VPN feature that makes them so unique.
Why People in Ireland Use a VPN?
If your main concern is an online security and privacy, you might want to use such a service. In Ireland and many countries around the world, using a VPN is totally legal. That being said, let's see why people in Ireland use a VPN.
Safely Use Public Wi-Fi Networks
When the government conducts constant surveillance, your data can easily be accessed and used. However, if there's not much surveillance, there's another danger – hackers. Hackers often attack public spaces where people can use free Wi-Fi. For example, your local cafe, bar, restaurant, etc.
These networks are often unprotected, which allows them to steal data from numerous people in one go. For example, there's a case in Argentina in which the CEO of an American company got his laptop hacked at Starbucks.
He was a victim of a massive cyber-raid in which many people suffered the same fate.
You can read more about that case in this article. So, before accessing a public network in Ireland, be sure to boot up your VPN app, whether it's your smartphone, tablet, or laptop.
Bypassing Geo-Restricted Websites
Geo-restrictions is a problem that plagues many countries. If you don't have the luxury of being born in the USA, you can't always access your favorite Netflix shows.
For this purpose, a Virtual Private Network might come in handy. Many VPNs can unblock Netflix, for example, but not all of them can unblock major streaming websites.
Luckily for you, the providers we will mention below are fully capable of delivering this promise. When you bypass these restrictions, you can access Netflix, Hulu, HBO, BBC iPlayer, etc.
Furthermore, using the best VPN is great when you want to access your favorite bookmakers outside of Ireland.
Torrenting Safely
Downloading torrents can be a cardinal mistake in some countries. Let's use Germany as an example. This country is very strict when it comes to downloading copyrighted content.
In Ireland, this isn't always the case. Still, if you're torrenting often, a reliable, high-speed provider will always benefit you, regardless of your country.
The Best VPNs for People Living in Ireland
Every Virtual Private Network provider comes with a unique feature. Some are faster, for example, while some offer a wide array of security protocols. Since not every VPN is the same, here's what to think about when buying a subscription for/in Ireland:
Rock-solid security
Ability to pass geo-restrictions
Fast torrenting speeds
Compatibility with all major platforms
Our top three picks that tick every box are:
ExpressVPN
CyberGhost
NordVPN
Let's see what makes them great for Ireland:
1. ExpressVPN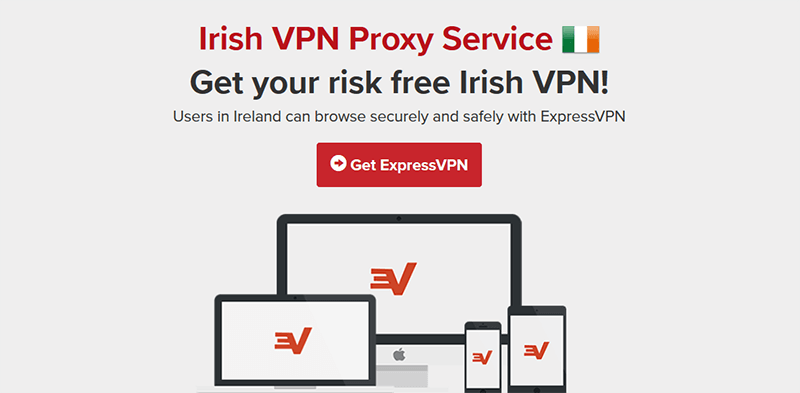 If you want the best provider in the world, look no further than ExpressVPN. ExpressVPN is a choice of millions of internet users and we understand them. Who wouldn't want a blazing-fast provider for everyday purposes?
Many providers limit your bandwidth but this one doesn't do it. It lets you stream 4K content or download huge games like RDR2 or Gears of War 5 within a couple of hours. Furthermore, it comes with second-to-none protection, akin to Alcatraz.
No hacker or government can breach this!
We also like the inclusion of a zero-log policy. This means that ExpressVPN doesn't keep any data regarding your internet activity. Every site you visit is known only by you. Even when watching porn sites, no one is going to know. But stop doing that and find a partner!
All jokes aside, this is the best VPN for Ireland and we wholeheartedly recommend it. Also, did you know about ExpressVPN's huge discount? It's a 49% discount and 3 free months for a 12-month plan.
Such a crazy deal shouldn't be missed! And if you still don't like it, meh – you can always get your money back within 30 days.
PROS:
Unblocks Netflix, Hulu, HBO, and more
Great apps for smartphone
Split tunneling feature
30-day money-back guarantee
User-friendly application
Excellent speeds
CON:
More expensive than its rivals
---
2. CyberGhost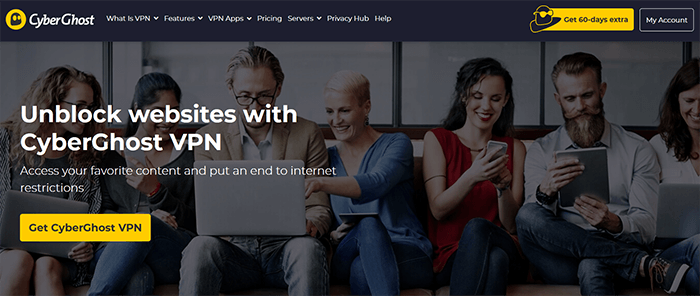 If you've ever played some Call of Duty games, you know what Ghosts are. Soldiers that finish their mission without ever being seen. Well, CyberGhost is the same. It's a VPN that's not going to pierce your eyes with its presence, yet it will finish the mission – keeping you safe and secure online.
CyberGhost has you covered with their 7,000 servers around our beautiful planet. Furthermore, they have 20 servers in Dublin, which makes the whole of Ireland covered. If you're from this country, you can access geo-restricted websites such as Sky News, Hulu, and Netflix, and enjoy the new Witcher series when it comes out.
Of course, security measures are drastic, so we have DNS/IP leak protection, kill-switch, zero-logs, policy, and many more. There's even a 45-day money-back guarantee and support for simultaneous connection on 7 devices.
Simply put, you won't regret a single dollar if you get it.
PROS:
Competitive prices
7 simultaneous connections
90 countries covered
Servers optimized for P2P and streaming
Live chat support
---
3. NordVPN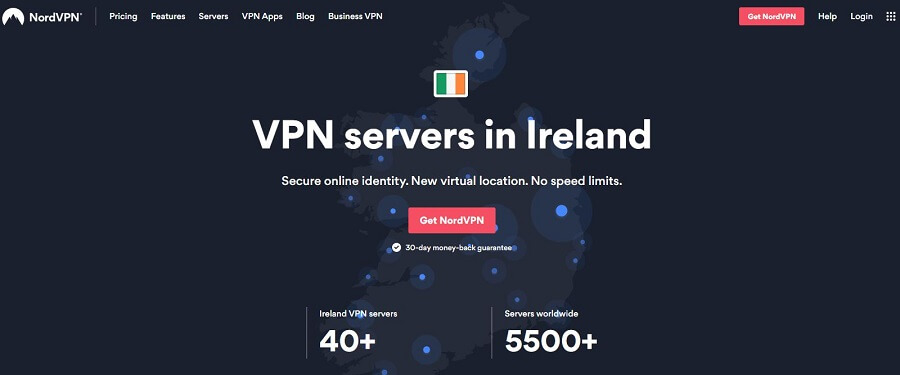 NordVPN is one of the best things to come out of Panama. With more than 5,400 servers worldwide and 45 servers in Ireland, it's equipped to deliver some stunning speeds and overall performance.
Almost all of these support P2P, meaning that you can torrent as much as you want.
Security-wise, there's a well-known DoubleVPN feature that NordVPN proudly promotes. Your internet traffic passes through two servers, so the government or hackers can't track you.
Aside from that, the provider offers unlimited bandwidth, making it one of the fastest in the game.
All in all, if you want a reliable provider for a not-so-hefty price, NordVPN is a great choice. Don't miss out on their holiday deals, by the way!
PROS:
Very good privacy features
Large server network
Verified no-logs provider
Company based in Panama
CONS:
Expensive short-term subscriptions
---
Summary
A good Virtual Private Network provider can get you far in terms of online privacy and security. In Ireland, where the government respects your internet rights, a VPN can protect you from cybercrime that's ever-growing in the world.
To make sure you're properly equipped for your online voyage, we recommend ExpressVPN, which is THE best option for us, experts. We care about our and your internet security, so we want to remove you from the watchful eyes of the government.
Next time you visit the internet, do it like it's intended – with a good ol' VPN!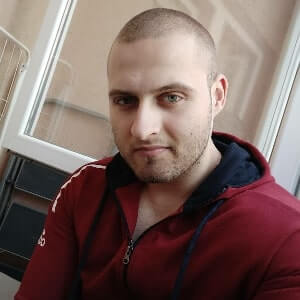 A professional writer with a Master's degree in Mechanical Engineering. Since his youngest age, he loves everything related to internet, technology, fitness, games, and dogs! He joined our team in order to bring his deep knowledge in security services, among which VPN is of course a key component.