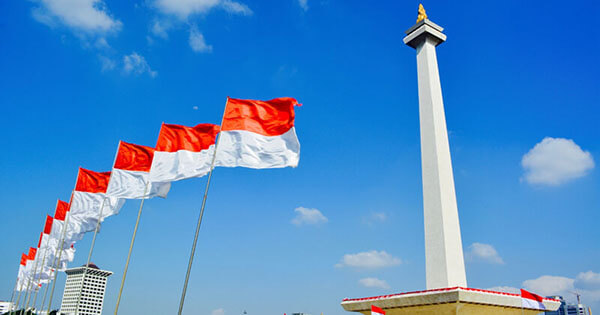 Indonesia isn't a stranger to internet access. With more than half of Indonesia residents using the internet, some people might think it's considered safe. Unfortunately, this country doesn't have free internet access. The government has brought some very harsh laws to the table, meaning that the residents can't enjoy their favorite shows or websites. But, it's not all that black. There's still a possibility of using the best VPN in Indonesia, which can breathe some life into mundane and limited internet browsing.
Best VPNs with Servers in Indonesia
The top-of-the-line providers aren't to be messed with. Even in a country like this, many of them have their servers there. These are high-speed servers with support for numerous security features. Our top three providers with servers in this country are:
ExpressVPN: ExpressVPN is an unstoppable force with its 3,000+ servers worldwide. Their servers in Indonesia are one of the best, allowing its residents to enjoy hassle-free internet browsing.
CyberGhost: CyberGhost is a VPN giant, boasting over 7,000 servers around the globe. In addition to their lightning-fast speeds, the provider allows a simultaneous connection of up to 7 devices.
NordVPN: The provider is slightly smaller than CyberGhost but nothing short of greatness! With rock-solid security and stellar speeds, it's a choice of millions of users and it has servers in Indonesia!
Whatever option you go for, using a Virtual Private Network is very easy. ExpressVPN and CyberGhost are two very good VPN providers, for example, with intuitive interfaces, suitable even for dummies.
Why People in Indonesia Use a VPN?
There's one thing that doesn't have a price and you can get it with a VPN – peace of mind. Aside from that, let's see more reasons why people use a service like this:
Avoid Government Surveillance
Going into the extreme is never good. In countries with almost no government surveillance, there's a danger from hackers who can steal your data. On the flip side, when the government surveillance is at large, you're overly "safe".
The censorship laws are thorns in Indonesia's foot, with the government blocking hundreds of websites and images. Even websites that are considered 'normal' and non-offensive are also blocked. For example, some messaging services used worldwide can't be used in this country.
Furthermore, Indonesia strictly blocks all pornography websites due to its anti-pornography laws. This law is active even outside the internet, so you can't expose your shoulders if you're a woman and you can't kiss your boyfriend/girlfriend.
Indonesia is hell-bent on punishing those who oppress this law, although not as much as for those on the internet. Still, you can pay a hefty fine for violating these laws or end up in jail for some period. Nevertheless, you don't want to pay a fee only for visiting a website.
Access Geo-Restricted Content
People in Indonesia can't access many websites due to certain geo-blockages. If you're not from this country and you're just a visitor, you'll need to think about this in advance. For example, if you have a Disney+ subscription, you'll need a VPN to access it abroad e.g. in Indonesia.
Websites like Netflix, BBC iPlayer, Hulu, and HBO are all unavailable in this country. So, if you're there, you'll be limited only to watching local television without a service like this. Many people in Indonesia use a VPN to access blocked porn websites, too!
As we mentioned, the country is VERY harsh when it comes to porn and related content.
Torrenting
If you want to use your almighty BitTorrent, you'll need a Virtual Private Network in Indonesia. This is one of the most common reasons for using it in this country. Torrenting is considered illegal in many countries and you can be charged a substantial amount of money for this deed.
In this country with tight laws, don't even try to download torrents without a VPN. You never know when will the laws change – for the better or worse.
The Best VPNs for People Living in Indonesia
Before we move on to the list, you need to know that not every provider offers the same. Some are better at speed, while some are better at security. That being said, here's what you should look for in a VPN for Indonesia:
A high number of security features
Ability to pass geo-restrictions
Fast BitTorrent speeds
Compatibility with the major platforms
1. ExpressVPN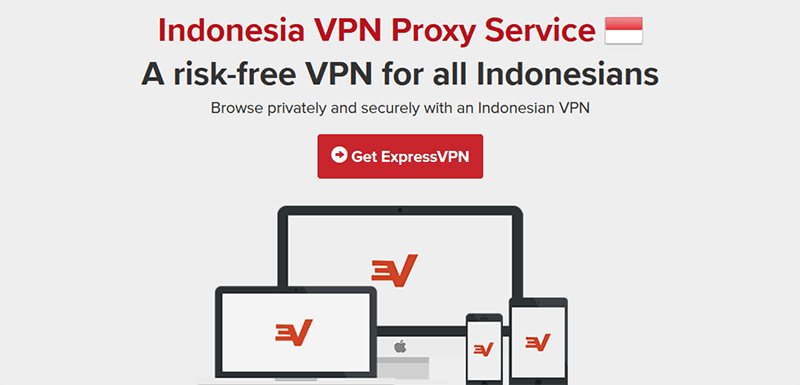 ExpressVPN is the best provider for people living in Indonesia. We all know this provider for being the fastest of all and this tradition remains even today. The provider doesn't limit your bandwidth, allowing you to take full advantage of your internet speeds.
Coming with 3,000+ servers in 94+ countries, ExpressVPN isn't the largest provider but is among the largest, including the next two on the list. Security-wise, you won't be disappointed, either.
With military-grade 256-bit AES encryption, DNS, and IP leak protection, you'll be protected 24/7 on all devices.
Speaking of that, ExpressVPN has customer support that's praised by thousands of users. They offer viable solutions for all your problems and are easily accessible. We can confidently say that this provider has no downsides, except for its expensive prices!
Still, those worried about the price can now rest easy. ExpressVPN offers a 49% discount and 3 months free for an annual subscription plan. If you don't like it, which is unlikely to happen, you can get your money back within 30 days.
PROS:
3000+ servers in 94 countries
5 simultaneous connections
30-day money-back guarantee
The best option for streaming
P2P is allowed
Top-notch_ 24/7 customer support
CON:
Prices are a little bit expensive
---
2. CyberGhost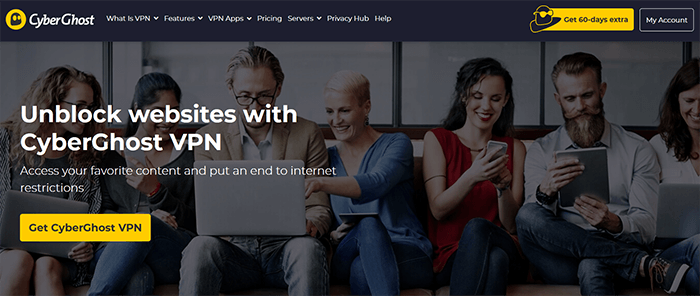 This Romania-based provider is among the best in the world. Sporting more than 7,000 servers worldwide, it has twelve high-speed servers in Indonesia. So, if you want to access local television channels there, you can do it swiftly, with zero lags and stuttering.
Because our primary concern is safety in this country, CyberGhost offers a zero-log policy. This means that the provider doesn't keep any data about your internet activity. The security features come with a so-called Stealth setting.
This allows you to easily bypass geo-restrictions, boost VPN's speed, and keep your IP hidden.
All of your favorite streaming websites can now be unblocked – Netflix, Sky Go, BBC iPlayer, ESPN, and much more. With a 7-day trial on Android and iOS platforms, you can grab CyberGhost right now!
Needless to say, generosity doesn't end here, as you also get a 45-day money-back guarantee.
PROS:
Unlimited bandwidth
90 countries available
Strict no-logs policy
Automatic Kill Switch
45-day money-back guarantee
CONS:
Shady parent company (Kape)
---
3. NordVPN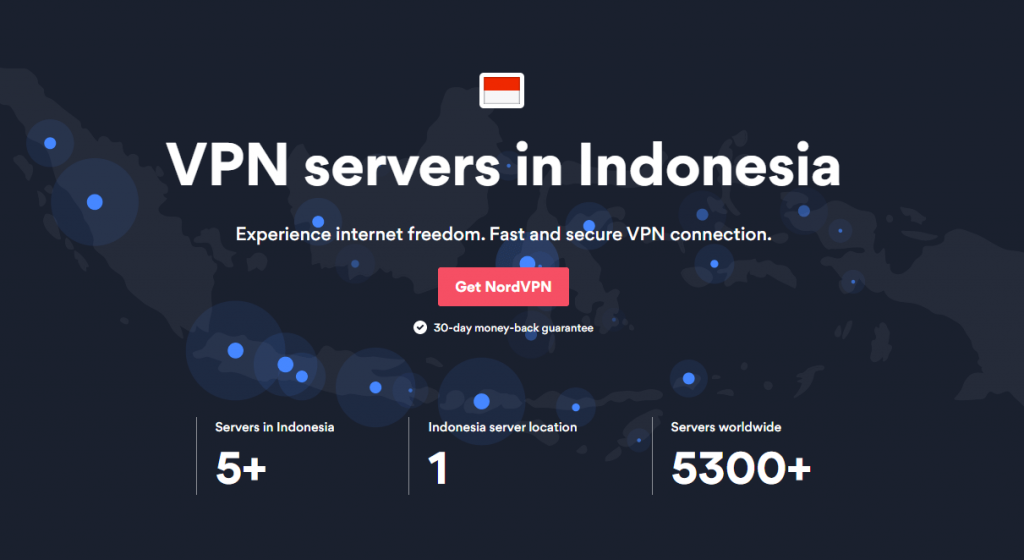 NordVPN is a VPN for every purpose. Do you want to stream? Check. Do you want to torrent? Check. Everything you want is at your hand's reach with NordVPN. It offers a winning combo of high speed and cutting-edge security that many of you will value.
With its Double VPN feature, Indonesian users will learn about the power of true safety! It filters your internet traffic through two servers, making it invisible to hackers, advertisers, etc.
When it comes to geo-blocks, this provider will blast them like Andy Roddick's fastest serve (155 mph).
NordVPN is a choice of many users around the world, thanks to its affordable price and premium features.
PROS:
No IP/DNS leaks
Works perfectly with Netflix
Huge server network
Double VPN function
CONS:
Expensive short-term plans
---
Summary
To conclude, the best VPN provider for Indonesia is ExpressVPN. Avoiding government surveillance and remaining anonymous all the time is something this provider can give you. It's such a small investment for such benefits you can get.
Despite your geographical location, you always need a fast and secure VPN for all purposes. Don't forget to get your subscription and save cash during the holidays. It could be your best gift to yourself ever!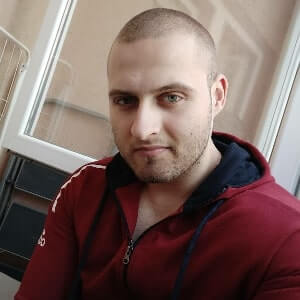 A professional writer with a Master's degree in Mechanical Engineering. Since his youngest age, he loves everything related to internet, technology, fitness, games, and dogs! He joined our team in order to bring his deep knowledge in security services, among which VPN is of course a key component.