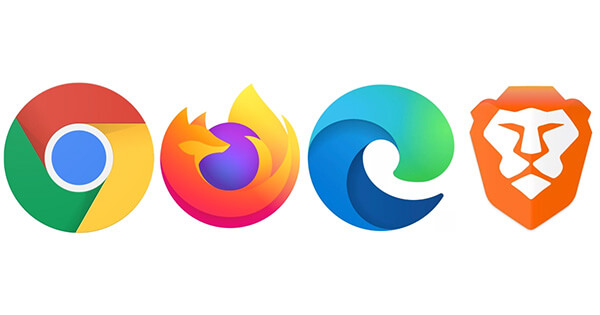 A VPN is software that's already easy to use and set up. You download the app, connect to the server you want, and enjoy browsing. However, VPN companies have come up with browser extensions that you can implement directly in your browser. The trick is that you protect only the traffic within the browser but on the brighter side, most of these extensions are free. Let's see what are the best VPN with a browser extension in 2023.
Native Apps or Browser Extensions – Which Is Better?
Before giving you our top 3 picks, we need to explain the difference between the desktop app and the browser plugin. These two seem the same but if you look at each other's interface, you'll see that that's not the case.
The main difference is that the browser addon protects strictly the browser. You can turn it on within your Chrome or Firefox browser and every bit of data will be protected. However, if you try downloading torrents or visiting the Darkweb using Tor, that's not going to be the case.
Basically, VPN extensions are more like an HTTPS proxy as they encrypt your in-browser connection. If you're using only the extension, which may be free, we suggest stopping it. The reason being is because this extension is only a small part of the protection you really need.
And that's where VPN apps come into play.
These apps are, obviously, a much better choice. The app contains every feature that the provider offers, giving you protection for the whole connection, whether it's through Google Chrome or uTorrent.
Therefore, we suggest that you use BOTH VPN apps and extensions, to make the best out of your online protection.
Best VPN Browser Plugins
Now that we got the "boring" but important stuff out of the way, it's time to jump into the nitty-gritty of the topic. Our top 3 for the best VPN browser extensions are below:
1. ExpressVPN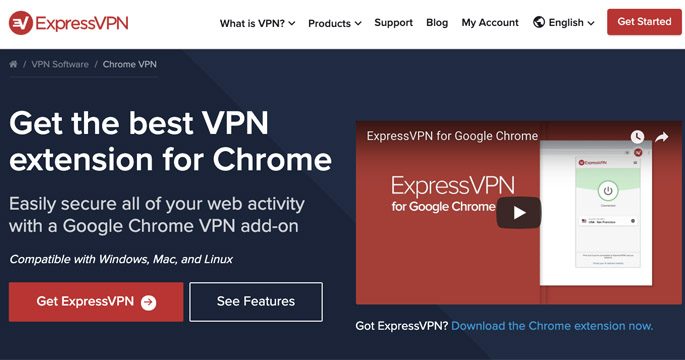 ExpressVPN is the best provider on the market and that applies to its browser extension as well. Is this VPN extension working on Firefox? Or perhaps Chrome? Sure. Both ends of the spectrum can use the provider and enjoy everything it has to offer directly from the browser.
But wait – didn't we just say it's impossible?
Yes, we did, but ExpressVPN begs to differ. Instead of giving you a proxy service for your browser, the provider packs a whole app into your browsing companionship. To be precise, you can control the app directly from the browser and it will protect not only the browser traffic but also general internet traffic.
This is the ONLY provider that lets you do that, but on the other side, this means that the extension is not free. You need to have an app installed so that you can control it within Chrome or Firefox.
Needless to say, every ExpressVPN's feature is at your palm's reach. There are 3,000+ servers in 94 countries and they unblock platforms like Netflix, Hulu, Amazon Prime, BBC iPlayer, and so forth. We like that there's WebRTC leak protection, as well, which will prevent your ISP or hackers from detecting your online activity.
ExpressVPN goes another step forward, scrambling the HTML5 geo-location that Google's API reports. When it does so, you're completely anonymous since Google can't see where you're located. And since you're connected to another server, even if it could to that, it will see another, random location.
The provider offers a 49% discount and 3 months free for a 12-month subscription plan. If you get it, know that there's a 30-day money-back guarantee, so you can use it risk-free for 30 days.
Get Your ExpressVPN Extension >
2. NordVPN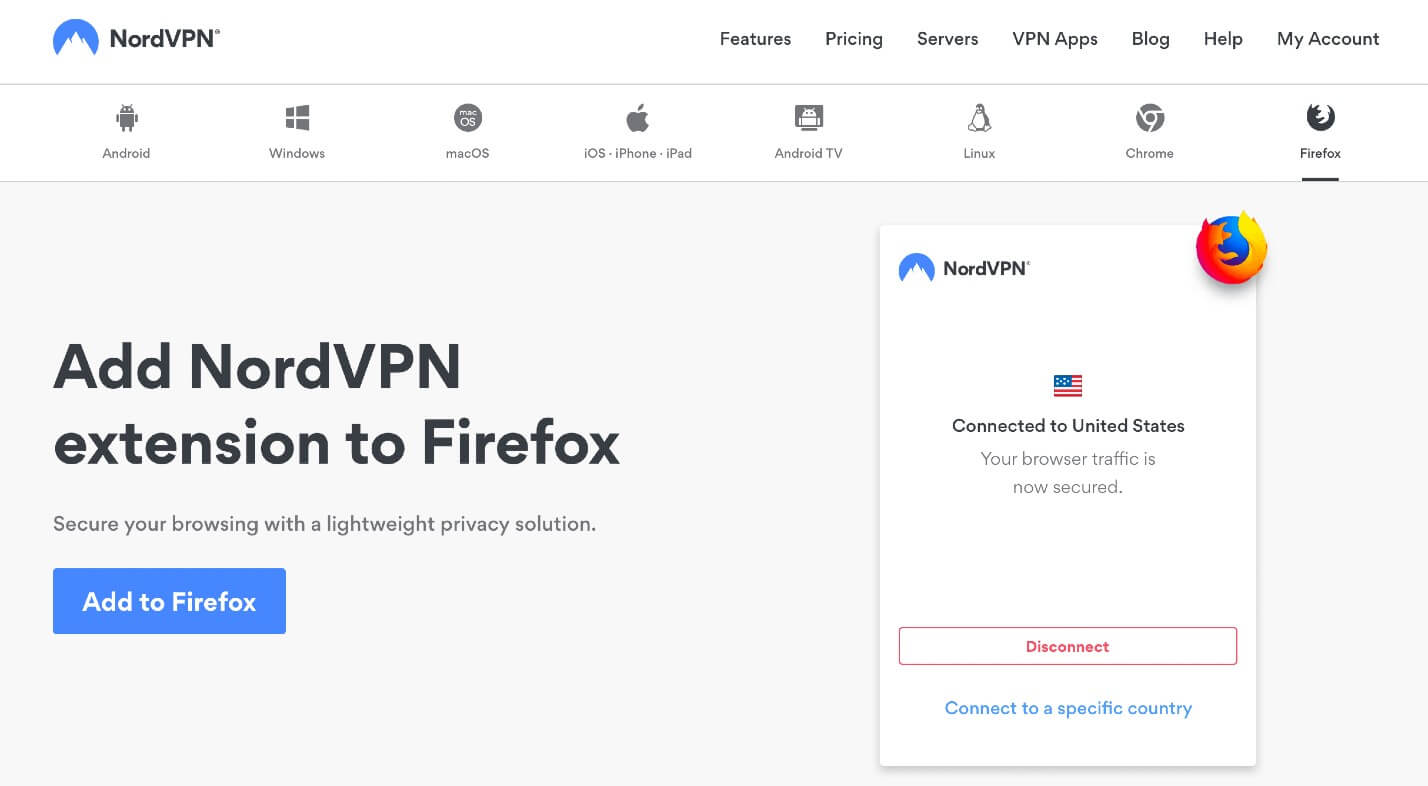 If we compare NordVPN and ExpressVPN, these two providers are quite similar in terms of quality. ExpressVPN is not necessarily a better one in some scenarios, except in this department.
NordVPN's extension is a pretty basic one and serves as a proxy, rather than a full-fledged Virtual Private Network. Still, this extension is quite good when it comes to security and privacy. First off, you get 5,600+ servers in 60 countries but with a small caveat – you can't choose the server you're going to use.
What you can choose, though, is the location, which is great. For instance, choose the USA, and the web browser extension will connect you to a random server in that country. We tested this plugin for streaming and it was decent, unblocking sites like ABC, Hotstar, and HBO GO.
Security-wise, this VPN browser extension uses 256-bit AES encryption and has an option for disabling WebRTC. WebRTC is a dangerous protocol, which exposes your real IP address, despite having a Virtual Private Network turned on.
We don't like that there's no kill switch, but the silver lining is that the extension is absolutely free. And before you ask, it's a VPN working on Chrome and Firefox, so you can cover your needs pretty efficiently.
Enjoy NordVPN on Firefox and Chrome >
3. CyberGhost

One word that describes CyberGhost the best is affordability. This is a European provider from Romania that values your money and what you get for that money. Users who are interested in saving cash will see it is a God-given help since its 3-year plan is very cheap and gives you a 45-day money-back guarantee.
Okay, enough about the app. What about the VPN browser extension? For the start, it's free, so you won't have to give additional money for a lightweight extension like this. Unlike NordVPN, CyberGhost doesn't provide that much security.
As an example, we'll mention the fact that it doesn't include WebRTC leak protection, meaning that you can still be detected by the ISP if the connection isn't stable. Furthermore, the provider says that it's not cheap when using Flash content – for whatever reason.
The good sides are here, too, don't stop reading. CyberGhost uses 256-bit encryption, has a kill switch, and unlimited traffic. The extension is also based on the Eteherum blockchain, which is a top-grade security solution.
With 4 servers available, from Germany and Romania to the US and Netherlands, you'll surely enjoy anonymous browsing whenever you connect to the browser. Just don't expect it to unblock streaming platforms and behave like a traditional app.
Get CyberGhost for Your Browser >
Free VPN Browser Extensions – Are they Worth a Shot?
Once again, let's get some information out of the way. When we talk about free VPN extensions, we think about extensions that belong to free providers. One of those would be Hola VPN, for example. Hola VPN is pretty much the worst provider out there, with its browser extension being unsafe, with weak encryption.
This type of free extension should be AVOIDED.
Being free, the providers look for many other ways to earn money. Maintaining the servers and network is a bloody hard job and a small amount of cash isn't going to cut it. That's why free extensions often collect your personal information and sell it to third parties.
The providers can easily get the info they want, which costs a lot to sell/buy these days. Not to mention that they're very slow and are barely functional at times. We tested a few of them, with disappointing results even for web browsing.
Also, beware that free VPN providers/extensions often carry malware with them. Malware is used to monitor your computer, collect data, and mine cryptocurrencies in some cases. Our short advice would be to use paid providers and you'll be in the safe zone.
We can guarantee that our top 3 picks for the best VPN extensions are safe, secure, and functional. If you get the addon/plugin outside of our list, that's your liability.
FAQ
To wrap up our article, let's go over some of the frequently asked questions related to web browser extensions.
? What browsers can use VPN extensions?
Web browsers that can successfully utilize this type of app are Mozilla Firefox and Google Chrome. ExpressVPN works on Safari, as well, but only as a full-fledged app. All other VPN browser extensions will work on the first two browsers, sometimes just one, sometimes both of them.
? Can VPN browser plugins unblock Netflix?
Yes and no. As we saw, CyberGhost's plugin can't do it and the provider says it explicitly. ExpressVPN's version will unblock any site you want because its plugin is much different. Instead of a cut-down version, you get a full app that you can control from the browser.
❓ How can I get a VPN browser extension easily?
There are two ways you can get a VPN plugin for your browser. First, you'll need to sign up for a provider of your choice, and from here, you have two ways to go for. One way is to download the extension directly from the provider's website and the other one is to download it from your browser's store.
Just install the plugin, sign in, select a server, and connect to it. Your plugin should be successfully activated.
? What is the best VPN browser extension?
The best choice is ExpressVPN because it's a full app, rather than a proxy addition. We recommend it but if you don't want to pay anything, then the other two options are great, as well. Just don't expect miracles, especially if you didn't buy a subscription and you don't have a full app.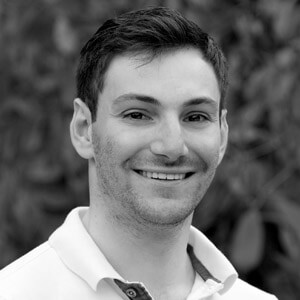 Flo is the founder of the-bestvpn.com. Really concerned about security on internet, he decided to create this website in order to help everyone find the best VPN. He's got a Business School background and now is 100% dedicated to keeping his website alive.