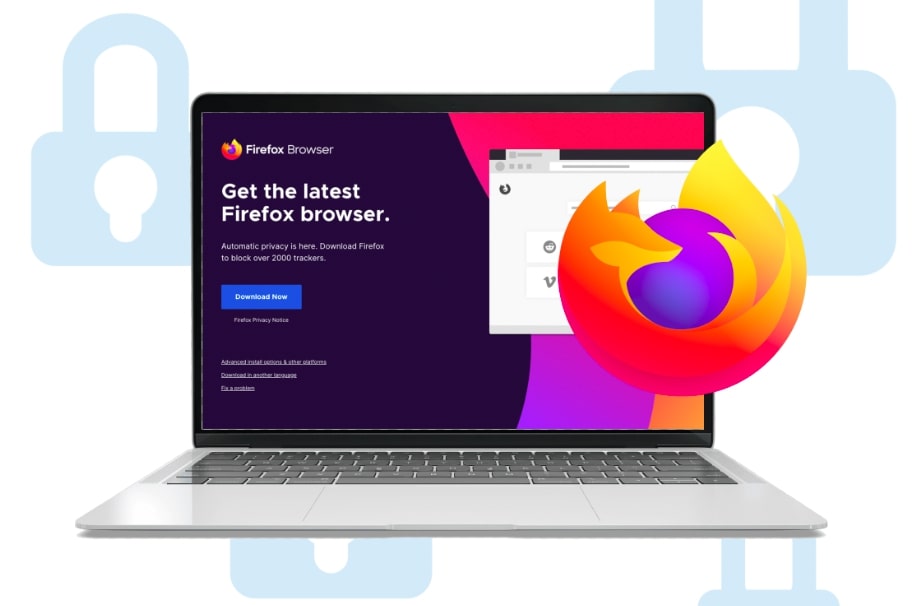 One of the top browsers used by many to access the internet is Firefox. However, this browser in itself cannot guarantee online security and privacy unless you install the necessary add-ons. For this, you need a Virtual Private Network (VPN). If you're wondering what the best VPN extension for Firefox is, then follow along as we present details about three providers we tested.
Before diving in, let us have a quick run-through of what a VPN is, how its browser add-on works, and why you need it.
What is a VPN?
In simple terms, a Virtual Private Network is an application that secures your online traffic by routing it through different servers. Thereby, it allows you to browse without the fear of being susceptible to attacks.
Aside from security, it has other purposes such as keeping you anonymous on the web and helping you access content that may not be available for your region.
How Does a VPN Extension for Firefox Work?
Since we all use browsers to access the internet, it is often imperative to arm these browsers with the needed security. However, not everyone is willing to install a separate application to do this.
This is where a browser extension steps in.
A VPN extension is an add-on that you can easily install on your browser to give it some of the benefits of a Virtual Private Network. Let's explore this in detail.
Get the best offer right now : choose ExpressVPN >
Why Do You Need a Virtual Private Network Extension?
A Virtual Private Network extension is essential for internet users today due to a number of reasons. Below, we'll examine the benefits of VPNs in general, which of course translates to their browser add-ons. Follow along as we try to explain some of them:
Security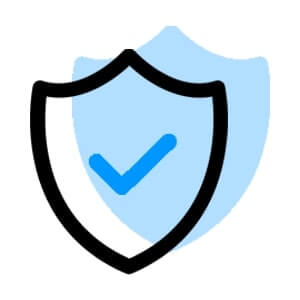 One of the top reasons you need a Virtual Private Network is to ensure that you can carry out your online activities securely.
Without a proper tool to protect your information, you run the risk of unwanted parties accessing your data. Using a high level of encryption, a VPN will ensure that your credit card details, social security number, and other information you share on the web stay secure.
Privacy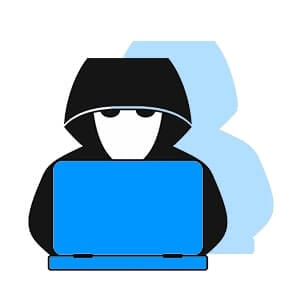 A Virtual Private Network does not only ensure that you are safe online, it also keeps your activities private. Have you ever checked out a website only to find ads about it on your Instagram the next minute? Yes, right?
Such an application can help you combat this. By making you anonymous on the web, it ensures that your browsing data is private. That way, you do not get unwanted advertisements.
Bypass geo-restrictions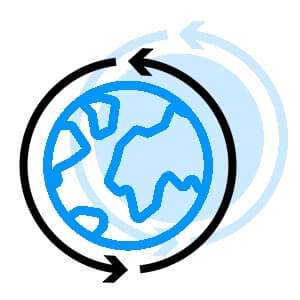 Another important reason you need a VPN extension for Firefox is to be able to bypass geo-restrictions. Have you ever tried to access something on the web only to get a message saying "Sorry, this content is not available for your region"? We bet you have and we understand how frustrating that can be.
A Virtual Private Network can help you bypass that. How? It provides you with an IP address of the location whose content you are trying to access. So, if you've been dreaming of accessing the Netflix catalog of other countries, you can finally enjoy that.
Now that you know why you need a VPN extension, let us explore the best ones on the market.
Best VPN Extensions for Firefox
We selected three services (after a lot of tests) to make the decision of choosing a VPN plugin easy for you. Below, we will examine these providers in detail and let you know why they belong to our list of the best VPN extensions for Firefox.
1. ExpressVPN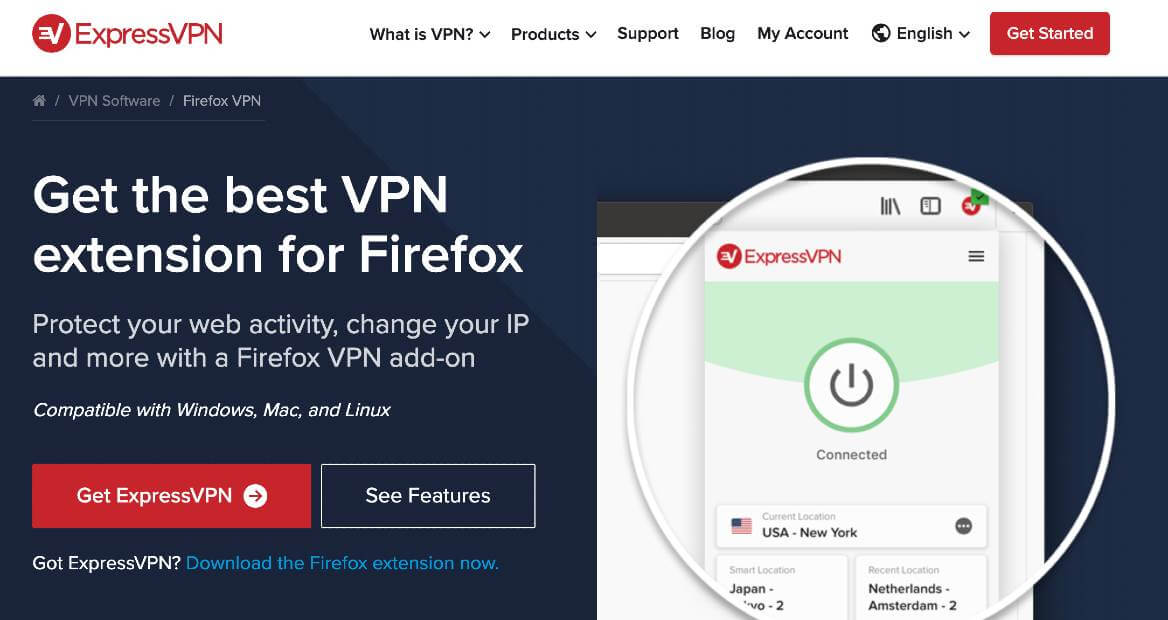 ExpressVPN is one of the leading providers in the world.
It has positioned itself as a reliable and dependable service for users. As you can see in our review, it has 3,000 servers in 160 locations across 94 countries. Why don't we reveal some of our findings when we tested this plugin on Firefox?
Ease of use
This is one of the primary reasons why many people opt for a browser add-on rather than the application itself. And ExpressVPN delivers well on this front. Adding the plugin to Firefox is quite easy. Additionally, using it is also as smooth as it can be. All you need to do is click a button and you're set!
Speed
Does ExpressVPN compromise your internet speed? It is often the case that when you use a Virtual Private Network, you experience lags. But that is not so with ExpressVPN.
With its high number of ultra-fast servers, it is able to deliver consistently high speeds. Thus, it makes your browsing experience smoother and more enjoyable.
Security
In terms of security, ExpressVPN is top-notch. It uses AES-256 encryption – the same level of encryption used by the US government to protect classified information. This provider goes the extra mile to ensure complete security.
How? First, it hides your IP address and changes it to one from the server you connected to. Then it encrypts your data, making sure that unwanted third parties cannot read it.
Additionally, it automatically directs you to the more secure HTTPS version of the sites you visit.
Pricing

ExpressVPN might not be the cheapest service out there. However, it compensates for this by providing mouthwatering deals. At the moment, this provider offers a discount of up to 49% on its yearly plan. Let's check out the different plans available:
If you opt for the monthly package, then it's $12.95
The second package lasts for 6 months at a rate of $9.99 per month
The third package is the juicy one. You only have to pay a rate of $6.67 per month, and on top of that, you get 3 extra months for free.

It would interest you to know that ExpressVPN offers a 30-day money-back guarantee on all its packages. So, you can dive in without any fear. In the off-chance that you're unsatisfied with the service, then you can simply get your money back, no questions asked!
Some other reasons we consider ExpressVPN the best VPN extension for Firefox include:
No logging policy: This provider does not keep logs of your internet activity. This means that there is almost no chance that any unwanted third party gets a hold of it.
Kill Switch: This is a safety feature that kills your connection in the rare event that your traffic is not being encrypted. This further reduces the possibility of being susceptible to attacks.
Compatibility: Whether you use Firefox on Windows, Mac, or Linux, you can get the add-on. It is available on different platforms.
Enjoy a 49% discount at ExpressVPN >
2. NordVPN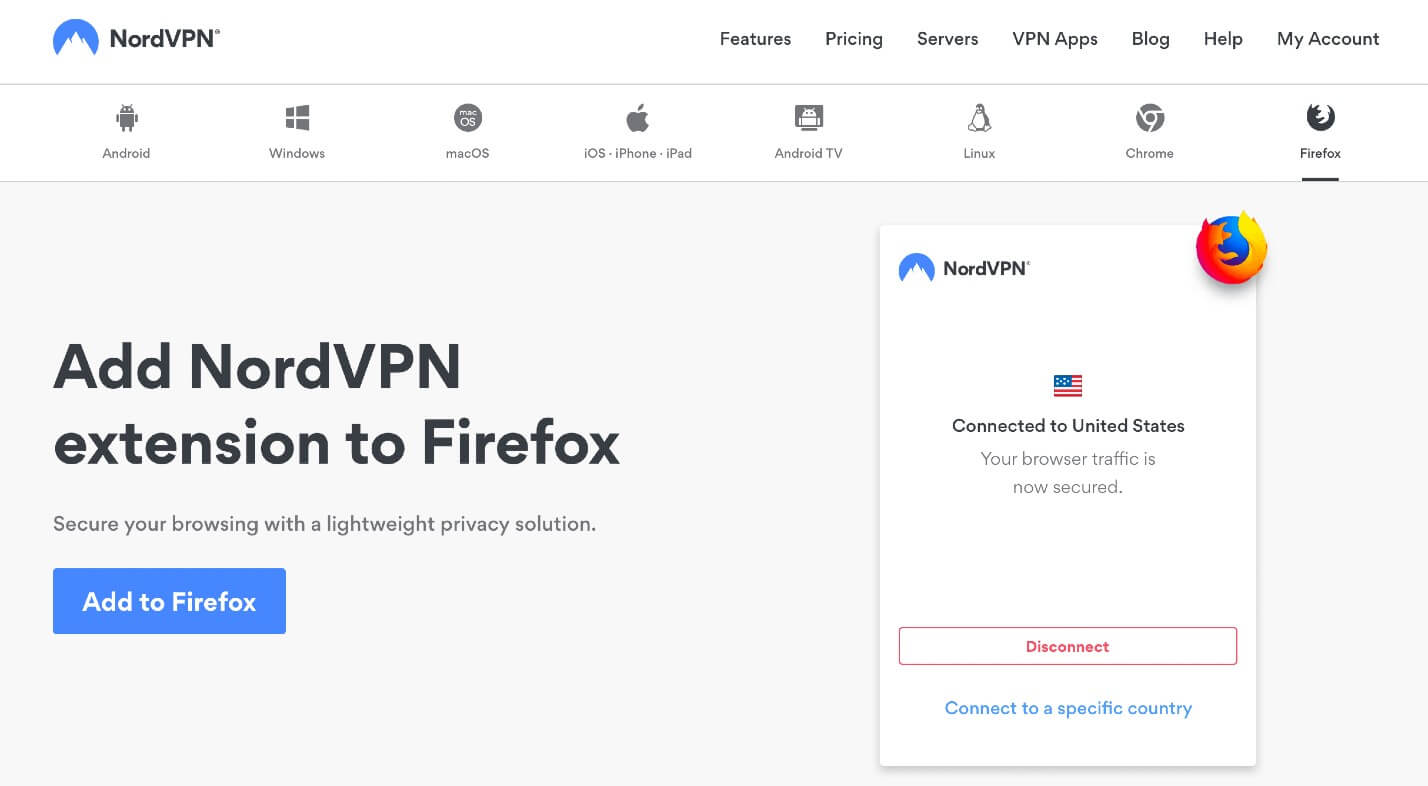 NordVPN is one of the best VPN extensions for Firefox. If you'd like a service that is both affordable and excellent, then NordVPN is the right choice. Not only is it great for Firefox, but it also offers the best VPN add-on for Google Chrome.
Below, we will examine the top features and perks of this plugin:
Ease of use
As mentioned earlier, high usability is an important factor when you examine a browser add-on. It should not only be too strenuous to turn it on and off, it should actually be easy.
This provider certainly delivers in this aspect. Coupled with its high usability, it also values your time. The plugin is so light and fast that you can switch from one location to another in the twinkle of an eye.
Number of servers
One of the best selling points of this provider is the huge number of servers it has. NordVPN boasts of over 5,400 servers spread across 60 countries around the world.
Some providers don't even have half of that. This means that you have an almost unending list of servers to choose from. So, whatever geo-restriction you need to bypass, you're covered!
Speed
A natural implication of its high number of servers is its speed. With the NordVPN extension on Firefox, you can be sure to surf the net at blazing-fast speeds. And you can be certain that your browsing speed will not be throttled in any way.
Security and Privacy
Of course, security and privacy are two important factors in the realm of Virtual Private Networks. Of what use is a Virtual Private Network that cannot deliver on security?
NordVPN takes security and privacy to another level by using advanced protection systems.
This provider combines two protocols, OpenVPN and IKEv2/IPsec, all in an attempt to keep you fully secure. Additionally, it has a double VPN feature which ensures that your information is encrypted twice.
So, it is almost impossible for unwanted third parties to get a hold of it.
Pricing

Though NordVPN is a premium service, it is still quite affordable. It has three different packages for users to choose from and they're priced as follows:
For the monthly plan, you only have to pay $11.95.
Then, you have the six-month plan priced at $9.00 or $54 every six months
Lastly, you have a 2-year plan at $3.71 a month of $89.00 for the first 2 years.
In addition, this provider makes it quite convenient for you to make a payment. Would you like to pay via your credit card? Or do you want to maintain complete anonymity and pay via Bitcoin?
You're completely covered as both payment options are available on their website.
NordVPN also offers a 30-day money-back guarantee in the off-chance that you are not pleased with their service or any other reason for which you would want your money back.
Here are other reasons NordVPN is a choice VPN extension for Firefox:
Compatibility: You can use NordVPN for Firefox on your Windows, Mac, or Android device.
6 simultaneous connections: This application is not only compatible with your devices but it also allows you to connect them all at once. With up to 6 devices allowed, it caters to all your gadgets, and perhaps your friends' too.
Strict no-logging policy: This provider is strict about its no-logging policy. In fact, it is based in Panama, a country with no data retention laws.
24/7 customer support: Its award-winning customer service agents are available round the clock to attend to any issues you may have.
Enjoy a 75% discount at NordVPN >
3. Surfshark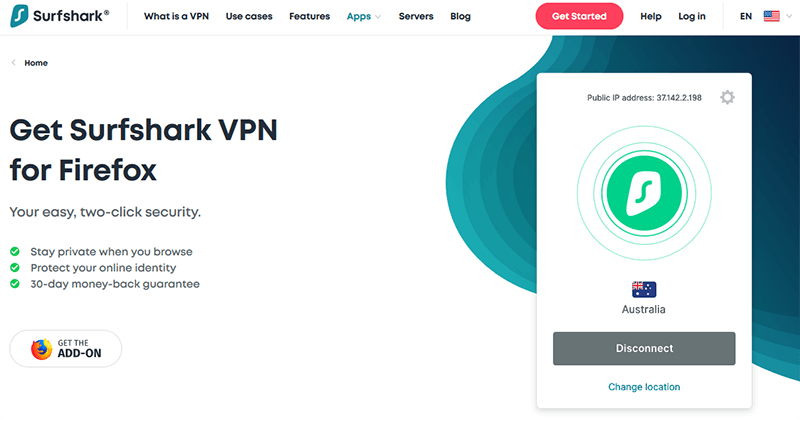 This is another great VPN extension for Firefox. Ranked as the Best Newcomer, this provider proves that being new in the game doesn't mean you cannot deliver an excellent service. Let's check out some of the features that make this service one to reckon with in the world of Virtual Private Network add-ons.
Ease of Use
If it's not easy to use, then it doesn't deserve to be on this list. With just one click, this provider gives your Firefox browser the protection it needs. Setting it up and subsequently using it is quite intuitive. It features a clean and minimal interface that anyone can navigate.
Speed
Using a Virtual Private Network shouldn't mean you have to suffer from slow speeds, and this provider understands this.
They ensure that your speed is not throttled. So, you don't have to worry about lag while streaming. As a matter of fact, Surfshark is one of our favorite VPN providers for Amazon Prime Video.
Security
With Surfshark, you can be sure of optimal security for your Firefox browser. What makes us say this? It uses powerful AES-256-GCM encryption, the same level of encryption used by the government, and major financial institutions.
Furthermore, it has different protocols for users to choose from. The IKEv2/IPsec protocol comes by default but you can change it to OpenVPN if you prefer that.
Pricing
Did you think NordVPN was affordable? Wait till you see Surfshark's rates. Arguably the cheapest VPN extension for Firefox, this provider has rates as low as $2.49. Why don't we check them out?
The monthly plan costs $12.95, but that might not sound so cool compared to other packages.
The next package lasts for six months and costs $6.49 a month or $38.94 every six months
Lastly, we have a 24-month plan, coming at $2.49 a month or $59.76 for the first two years.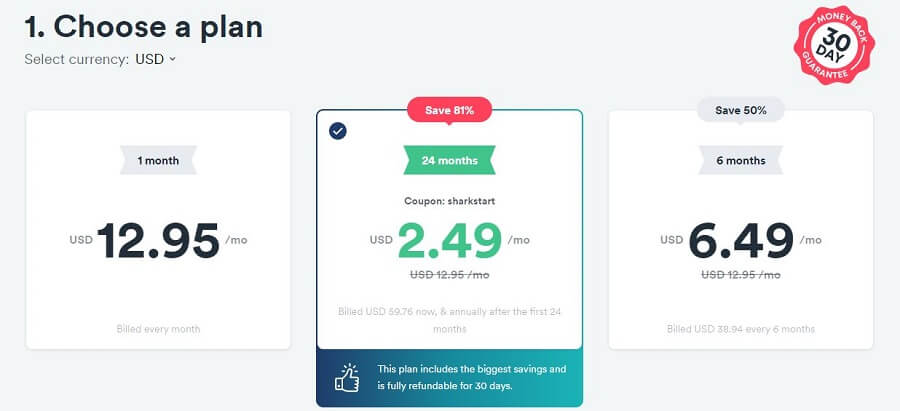 What's more, Surfshark's payment options are also quite flexible. You can pay via your card or opt for options like PayPal.
Still not convinced? Then check out other reasons why Surfshark is a good choice:
Strict no-logs policy: This provider believes what you do online is your business only. Therefore, they do not monitor, track, or store your activities.
24/7 customer support: Referred to as "Customer Success Sharks," they have agents available round the clock to attend to any complaints.
Private DNS and leak protection: With Private DNS on each server and leak protection when using IPv4 stack, they take their protection to the next level.
Enjoy a 85% discount at Surfshark >
Summary
By now, choosing the best VPN extension for Firefox should be a walk in the park for you. All you need to do is select one of the providers we highlighted in this article.
If you need a premium service that delivers on all fronts, you may opt for ExpressVPN. However, if you're on a budget, then Surfshark would be a good choice. But if you want the best of both worlds, you should go for NordVPN.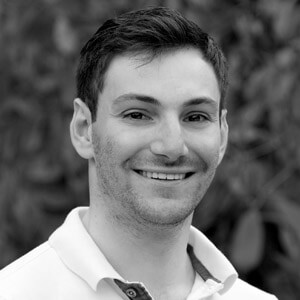 Flo is the founder of the-bestvpn.com. Really concerned about security on internet, he decided to create this website in order to help everyone find the best VPN. He's got a Business School background and now is 100% dedicated to keeping his website alive.