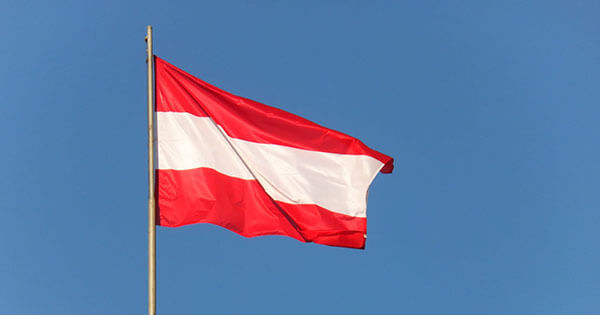 Whether you are traveling or living in Austria, a solid VPN can help keep your online activities private and secure. Austrians abroad can also use one to keep up with shows back home. We have rounded up a list of the best VPNs for Austria for maximum safety and privacy. So, let's find out what is THE best option for yourself!

The Best VPNs With Servers in Austria
Austrians living or traveling abroad can access their favorite shows from back home. However, you can't just connect to the internet and instantly stream Austrian TV.
This is because channels such as ATV, ATV2, Sky Austria, ProSieben, and others are inaccessible outside the country due to geo-restrictions.
The good news is that you can easily bypass these restrictions using a Virtual Private Network. In particular, you would need one with servers inside Austria.
By connecting to a server in Austria, you will obtain an Austrian-based IP address. With this address, the streaming sites will 'think' that you are in the country and therefore allow you to watch your favorite shows online.
Access banking services while abroad
Other than watching TV shows, a VPN with servers in Austria also allows you to log into your bank accounts. Banks do not impose geo-restrictions per se. However, if you try logging in to your Austrian account from different parts of the world, you could easily be denied access for security purposes.
To access your bank account from any part of the world, it is best to connect to a VPN first. This way, your bank will detect that you are in the country and therefore, grant you access at all times.
Not all providers/services can get the job done though. Our top recommended VPNs with servers in Austria are:
ExpressVPN: This provider is an excellent choice for Austrians abroad. It has more than 3,000 ultra-fast servers with tons of them in Austria. You will not run out of options for appropriate servers to connect to.
CyberGhost: As of the time of writing, CyberGhost has over 60 servers in Vienna. Servers are optimized for safety and speed.
NordVPN: NordVPN is a crowd favorite for its reliability and ease of use. At the time of writing, the provider boasts more than 30 super-fast servers ideal for streaming and casual browsing.
Why Do People in Austria Use a VPN?
The country ranks high among countries with true internet freedom. Access to the internet is largely unrestricted and ISPs typically do not block websites, as is the case in many other countries.
In addition to this, it is quite a sterling example of a country whose government mostly respects privacy. Presently, there are no known reports of government surveillance in the country.
That being said, there are still several threats to your online safety and privacy. We strongly recommend that you use a premium Virtual Private Network every time you connect to the internet.
Here are important benefits of using a VPN while in Austria:
Stay safe from cybercrime
Austria scores highly as a safe country for residents and visitors alike. However, like in almost every country, cybercrime is a reality.
In particular, hackers target users of public Wi-Fi hotspots that typically lack safeguards. Using Wi-Fi without first connecting to a Virtual Private Network makes you an easy target for hacker attacks.
On the other hand, a good VPN hides your online traffic at all times. Anyone who might be looking won't be able to see the websites you are visiting or what you are doing there.
Our top-recommended providers use military-grade encryption, leak protection, kill switch and a no-logs policy to keep your data completely safe from hackers.
Torrent privately and safely
Torrenting is not banned in Austria. In fact, in 2016 the courts lifted a ban on popular P2P site The Private Bay, allowing users free access.
That being said, the country has very strict copyright laws. You need to be prudent to avoid finding yourself on the wrong side of the law.
Additionally, even though torrenting is not illegal, it doesn't mean that you are completely safe on P2P sites. Hackers and copyright trolls are a real threat and they can easily steal your information and locate your IP address and location.
But, using the best VPN for Austria helps you avoid many of these problems. You can use it to stay anonymous while downloading P2P files.
Avoid data harvesting schemes
The General Data Protection Regulation (GDPR) sought to implement tougher data protection and privacy for citizens of the European Union.
However, commercial entities have already found ways around this law and continue to collect and sell millions of users' data without their consent. They do this through all sorts of channels including ads and social media.
If you are concerned about the commercialization of your data, a VPN can help. In addition to military-grade encryption, the best providers also offer ad and malware blockers.
This prevents third parties from infiltrating your online traffic and using your data for their own benefit.
Access geo-blocked websites
Certain sites are blocked in Austria. This has less to do with government censorship and more with geo-restrictions.
If you traveling in Austria, you will find, for example, that your country's Netflix catalog is unavailable. This is because streaming sites use IP addresses to show country-specific content.
Fortunately, a VPN can help you change your IP address. This way, it will seem like you are in another country even though you are obviously in Austria.
A good one will unblock Netflix, Hulu, UK Sky, BBC  iPlayer, Amazon Video, and more. You can also unblock your favorite bookmaker and easily place your bet while being abroad.
The Best VPNs for People Living in Austria
Virtual Private Networks are not all the same. We advise against using free providers as they end up selling your data and do not offer consistent service. Instead, opt for a premium provider that is committed to your online privacy and safety.
Take a look at our top-recommended VPN for those living or traveling in Austria.
1. ExpressVPN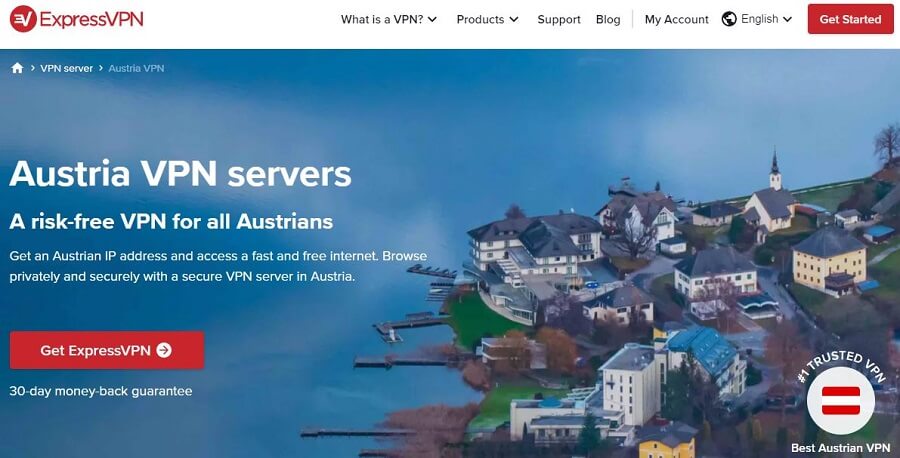 ExpressVPN is the most sophisticated provider in the VPN market. It offers airtight security features including AES-256 encryption, automatic kill switch, and leak protection.
In addition to this, it boasts 3,000+ ultra-fast servers spread out across the world. With a wide IP address pool and unlimited bandwidth, ExpressVPN is simply the best VPN to unblock Netflix.
Easy-to-use apps are available for popular devices including Android, iOS, macOS, Windows, Linux, and some Wi-Fi routers. With a single subscription, you can protect as many as 5 devices simultaneously.
Right now, signing up for the yearly plan qualifies you for a 49% discount and three months free.
PROS:
Very easy-to-use application
Good for Netflix, Hulu, Amazon Prime Video, and Disney+
No-log policy
Company based in the British Virgin Islands
IPs available in more than 90 countries
Speeds are THE best
CON:
Prices are not the most affordable
---
2. CyberGhost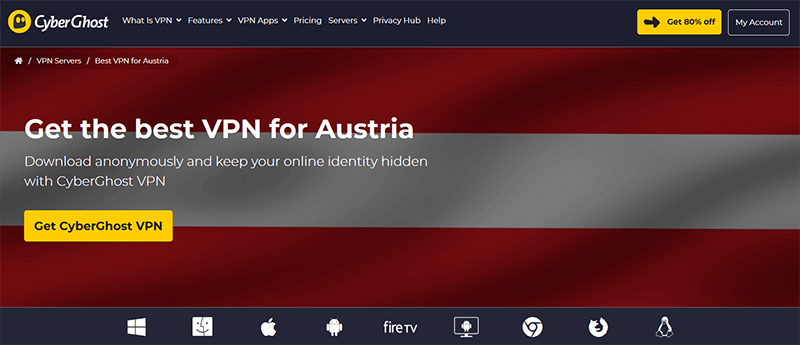 CyberGhost is a crowd-favorite more so among beginners and budget shoppers. It offers easy, intuitive apps that let you connect and start to browse and stream instantly.
It is compatible with major devices such as Android, iOS, macOS, Windows, and Linux. What's more, you can connect a maximum of 7 devices at the same time – way more than most providers allow.
Aside from this, CyberGhost boasts top-of-the-class security features to safeguard your online privacy. These include leak protection, kill switch and military-grade encryption. It also has an ad and malware blocker, protecting your data from unwanted commercialization.
Impressively, this provider owns over 6,800 super-fast servers in 90+ countries. It is an ideal choice for unblocking Netflix, Hulu, HBO GO, UK Sky, and more.
Want to try CyberGhost? You can do it risk-free thanks to the generous 45-day money-back guarantee available.
PROS:
6,800+ servers available
Up to 7 simultaneous connections
45-day money-back guarantee
Live chat 24/7
Very good value for price
CONS:
The ad-blocker feature is not working properly
Not working in China
---
3. NordVPN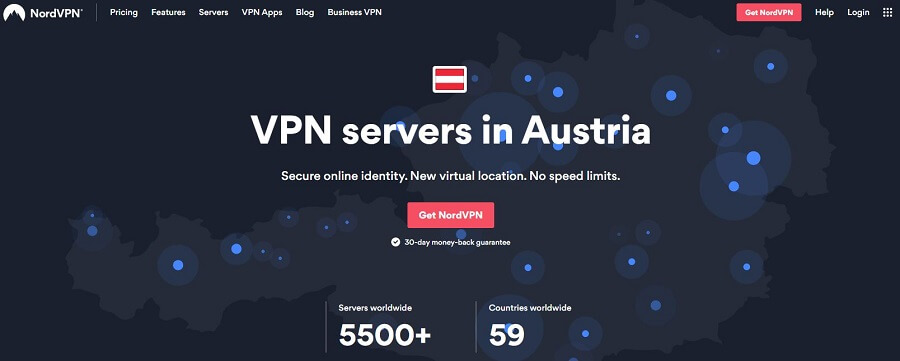 NordVPN comes with the hallmarks of a top-quality provider. Military encryption with OpenVPN protocol, kill switch, and leak protection make it a sure-fire choice for safety and privacy.
Other than this, it offers DoubleVPN. This feature encrypts your data behind two servers to increase your safety online. Even better, there's a new NordLynx protocol based on WireGuard, that promises much faster speeds and connection times.
Notably, the provider has 5,500+ servers in almost 60 countries, with many of them in Europe and North America. It is a great choice for unblocking Sky, Netflix, Hulu, Sling TV, BBC iPlayer, and more.
It is compatible with Android and iOS as well as desktop platforms such as Windows and Linux. What's more, a single license protects 6 devices simultaneously and a 30-day money-back guarantee lets you try NordVPN risk-free.
PROS:
Double VPN feature
Strict no-logs policy
Very pleasant interface
Can unblock any website
CONS:
Not the best speeds
Expensive short-term plans
---
Summary
Just because Austria ranks high on safety and internet freedom does mean you should not be concerned about your online activities. To ensure that you are completely safe online, always connect to a Virtual Private Network.
Our top contenders for the best VPN for Austria are ExpressVPN, CyberGhost, and NordVPN. With these providers, you will be able to bypass geo-restrictions, browse, torrent safely, and protect your identity online.
What's more, Austrians traveling abroad can use one of our top picks to catch up with their favorite shows back at home.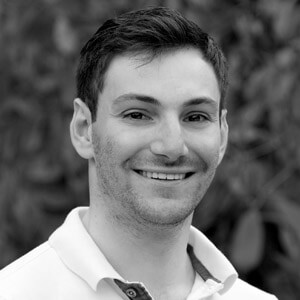 Flo is the founder of the-bestvpn.com. Really concerned about security on internet, he decided to create this website in order to help everyone find the best VPN. He's got a Business School background and now is 100% dedicated to keeping his website alive.