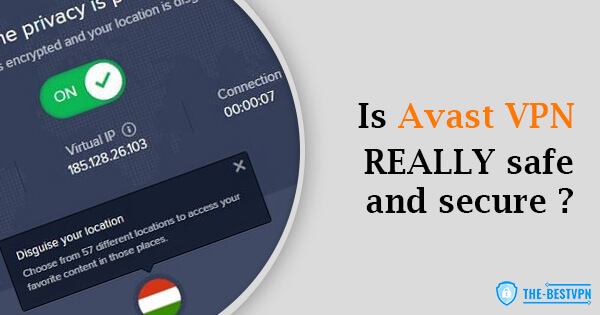 What many people don't know is that Avast also provides a VPN service known as Avast SecureLine. VPNs are designed to keep your data safe when browsing the internet. This is especially relevant in countries with strict data retention policies. But, is Avast SecureLine truly safe? Many people on the internet, especially on Reddit, had some mixed feelings. So, let's have a look at the service offered.

Security Tools: What are the Security Tools in the Apps?
Most VPNs have a variety of security tools and features that help to safeguard your online information and reduce your online presence overall. Avast SecureLine is no different, and the service makes use of some of the best security protocols out there.
But are they enough? We tested it extensively to see for ourselves what it offered. Here are some of the things to consider before calling Avast SecureLine safe or unsafe.
Encryption Protocol
Avast SecureLine, like most other VPNs on the market, uses 256-bit AES encryption to secure your data. This encryption is used by both military and government organizations. It protects their highly sensitive data.
So, you can be sure that it will work well for personal use.
The application is also supplied with IPSec and UDP protocols, which are some of the most reliable security protocols on the market. The combination of these protocols and the AES encryption will help keep your data as safe as possible.
Unfortunately, these are the only encryption protocols that Avast SecureLine offers. There are far cheaper and quicker VPN options out there that offer these protocols and many more and are generally much safer than this one.
Kill Switch
Avast SecureLine also offers a kill switch. Essentially, this kill switch will terminate your connection to the internet if the VPN detects that you have lost connection to the service/server.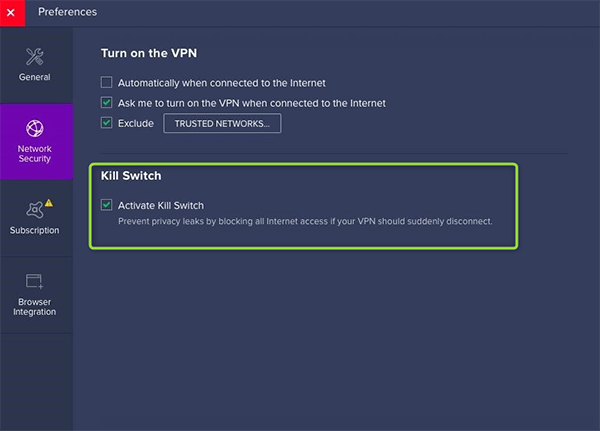 This helps keep your personal data safe from prying eyes and will prevent any of your sensitive information from being leaked if your VPN connection ever were to fail. This is quite a standard feature amongst most VPNs, so it is not revolutionary of Avast to include it in SecureLine.
DNS and IP Leak Protection
Avast SecureLine can keep your online presence safe and anonymous. When using this VPN, your DNS, IPv4, or IPv6 IP will not be leaked.
Again, this is quite common for most VPNs, so it is to be expected from Avast since they are one of the largest and most well-known security companies out there.
Run on Startup
By default, Avast SecureLine does not run on startup. This can be a good thing, as you may have other programs on your device that run on startup, and adding SecureLine to the mix could cause your machine to slow down.
Still, you can configure the VPN to run on startup from the Avast user interface. This feature is great for those who want to be safe as soon as their device is turned on. You don't want to have to activate it each time it restarts, do you?
Avast SecureLine Privacy Policy: The Most Important Security Criterion
Of course, other than safety, VPN users are looking for as much privacy as possible. There has been much debate regarding Avast SecureLine's privacy policy on Reddit. And many users had something to say about it.
Avast's privacy policy takes effect whenever you visit a website that they own or operate or other websites that are under Avast's direct control. It also applies to any Avast product or online service, regardless of where you acquired it from.
Their privacy policy states that they may employ third-party marketing services. Remarketing is their way of reconnecting to their users based on past interactions with the Avast website.
When using Avast SecureLine, the server can capture and store certain pieces of your basic data and information. This includes things like the time and network location that you made the VPN connection from, as well as the duration of the connection via SecureLine.
While this data is routinely deleted every thirty days, it would be preferable if no information was logged at all. This is because Avast can sell this information to advertisers and other third parties before the thirty days, which can then be used for targeted marketing.
The system is also able to store data on the bandwidth transferred for each VPN session. Again, this is not really a big deal, but it would be better if nothing were logged at all.
Information that Avast collects via any of its products or services is stored on its servers or the servers of its affiliates, subsidiaries, representatives, contractors, re-sellers, or agents. Information that can be used to identify users is accessible only from physical Avast premises, or via their VPN service.
External Audit: Is SecureLine Safe?
Avast SecureLine has not been audited by any external parties. This can raise some suspicion about the company's security, but why? Why is it important for a VPN to have an external audit?
A security audit is important to demonstrate the overall health of a project. Essentially, they are the second set of eyes. Audit firms can see whether or not a VPN is living up to its intent and service promise.
This is important as it allows users to gauge whether or not they should use a particular VPN. When a VPN is certified externally, it is a good indicator that they are doing what they promised to do, and doing it well.
ExpressVPN is one such service. They have been audited by PwC, meaning they are one of the trustworthy VPNs out there. However, there is more to consider.
Issues and Scandals Avast Has Faced in the Past
In October of 2019, Avast disclosed that a security breach had impacted its security network. They released a statement saying that they believed the purpose of the attack was to insert malware into the CCleaner software.
The company stated that this breach occurred because the hacker was able to compromise an employee's VPN credentials. This allowed them to gain access to an account that was unprotected and did not use a multi-factor authentication method.
This raises quite a few alarms, especially when considering using Avast SecureLine. If a hacker was able to compromise an employee's information, who's to say they wouldn't be able to compromise yours?
Conclusion: Avast SecureLine Cannot Be Trusted
Despite what you may have heard from Reddit, Avast SecureLine is not a very trustworthy VPN service. They have a less-than-average number of security tools, and the ones that they do provide are merely adequate.
Their recent security scandal is also quite a deterrent and places SecureLine under quite a bit of scrutiny. Some top options do not appear in our ranking of the best VPNs. You should check them out.
We recommend ExpressVPN as the best option. Find out more below.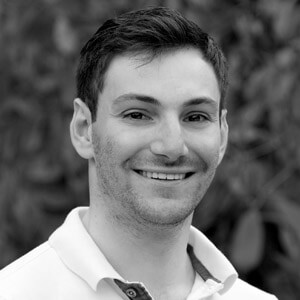 Flo is the founder of the-bestvpn.com. Really concerned about security on internet, he decided to create this website in order to help everyone find the best VPN. He's got a Business School background and now is 100% dedicated to keeping his website alive.