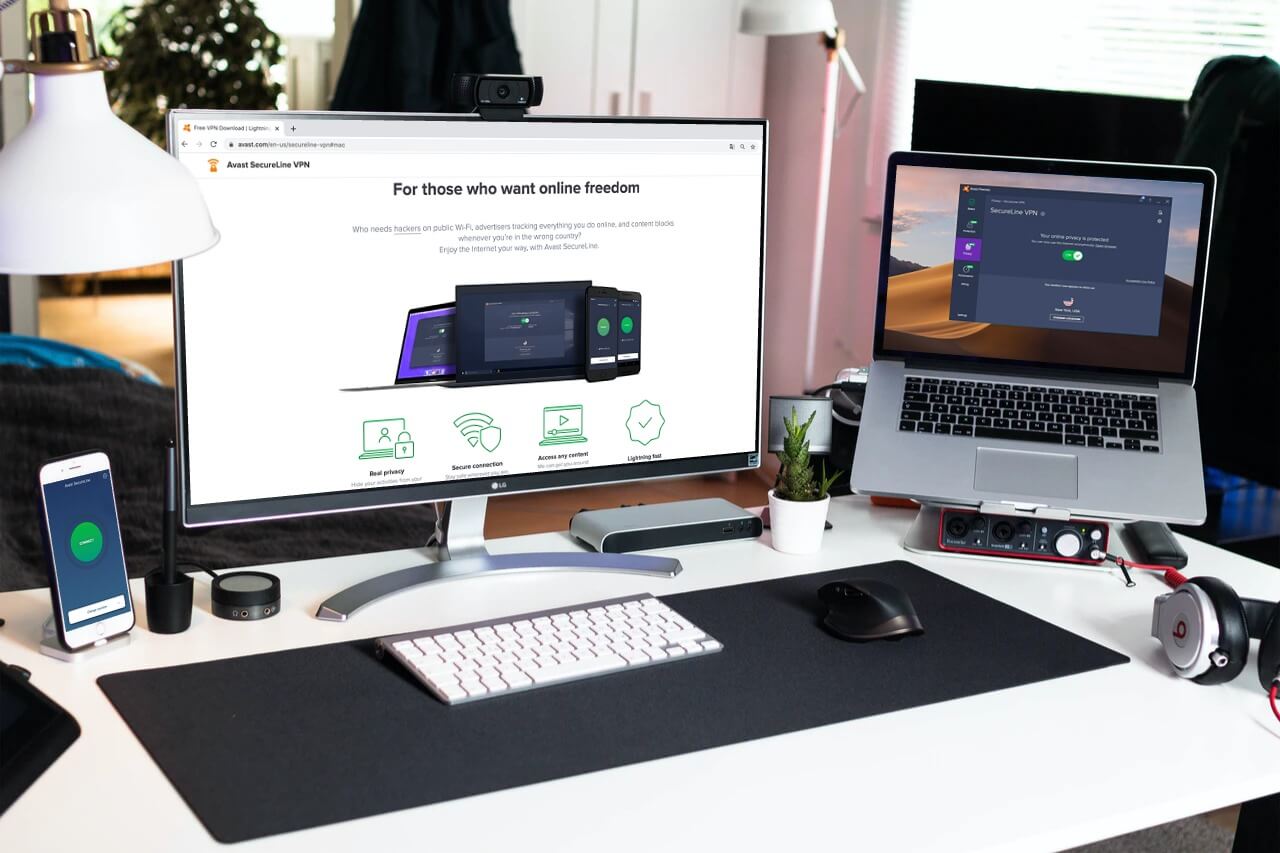 Being one of the biggest software manufacturers in the world, Avast is actually a brand that needs no introduction. The company has formed a reputation around manufacturing some of the most popular security-related products. However, most critics believe that it made the wrong choice coming into the VPN market. If you're wondering why, this review aims to show you.
Since Avast has manufactured one of the leading online security products in Avast Antivirus, most people would be forgiven for expecting the company to come into the VPN market with the same energy.
Unfortunately, the famed company hasn't really enjoyed a smooth sail in this super-competitive market. However, Avast SecureLine VPN still comes with a couple of fine features, and many Virtual Private Network enthusiasts are actually interested in knowing how this service stacks against the competition.
That said, putting all its basic and advanced features to test, we have done a comprehensive review of this service from Avast. So, does its performance really justify the criticism levied at it by critics?
We will allow you to be the judge after reading our detailed review and the results of our intensive test.
PROS:
30-day money-back guarantee
A 7-day trial for free
P2P sharing is allowed
Decent security
Strong encryption
Allows five simultaneous connections
CONS:
Can't pay via Bitcoin
Keeps some logs
Poor platform support
Too expensive
Poor client support
Poor streaming performance
Limited network coverage
Doesn't have a Kill Switch
Painfully slow speeds
Avast SecureLine ranks #33 out of 104 VPNs tested. Here are the best alternatives :
---
Is it a paid or a free VPN?
Is Avast SecureLine a paid or a free VPN? To be honest, we feel the latter should have been the answer to this question, based on everything we found in our test.
However, the former is the answer and surprisingly, it's even one of the most expensive services in the market. Wondering why we believe SecureLine should have been a free service in 2023?
You will find out before the end of this review.
Performance
The best VPNs are known for their incredible performance when it comes to speed and stability. So, using these metrics, how does Avast SecureLine VPN measure when compared to other popular services in 2023? Our test results below have the answers.
Speed
While it generally sends a bad message, the fact that a lot of people aren't on the network of Avast SecureLine VPN has an advantage.
Since many people don't use the service, the servers aren't as burdened as the servers of more popular providers. While Avast offers only about 54 servers, the servers have pretty average or below-average speeds, as our speed test revealed.
To be honest with you, we were pretty disappointed with the results we've got :
Without VPN (we were located in London) :

EU Server (France) :


US Server :

Asia Server (Hong Kong) :


Stability
If you're investing your money on a service, then you want it to be available whenever you have a need for it, right? That's probably why the first question on the lips of VPN buyers is "how stable is the service?".
Interestingly, Avast SecureLine VPN performs decently on this front. Even though it may not offer you the best service, it promises to be available at all times.
Streaming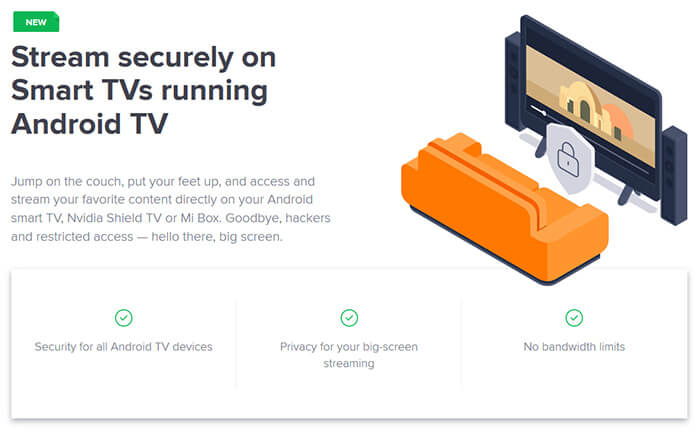 Another important feature of a virtual private network is its ability to unblock access to popular sites offering movies, music, shows, and different types of interesting content. In fact, it has become immensely popular to use VPNs to unblock media streaming sites in 2023.
Therefore, let's review Avast SecureLine VPN's streaming capabilities and discuss our test findings
Netflix
Being the world's most popular streaming service, Netflix keeps blocking IP addresses of VPNs. The battle is so intense that a service that managed to unblock Netflix today may fail to do so tomorrow.
Unsurprisingly, Avast SecureLine is currently losing this battle to Netflix, even though it has Netflix-optimized servers
It's always wrong to blindly believe the words of providers, which is why we ignored the provider's claims about running Netflix-optimized servers and actually tested the service.
Unfortunately, we were unable to unblock Netflix throughout our test, even though we switched between the servers multiple times.
BBC iPlayer
Like Netflix, Avast SecureLine VPN also doesn't unblock BBC iPlayer. When we tried during our test, we promptly received the regular "not available in your location" error message and we instantly understood.
Don't be deceived – this service cannot unblock either Netflix or BBC iPlayer at the moment, even though the provider may make different claims.
Others?
Even though this service cannot unblock both Netflix and BBC iPlayer, we thought it would perform better with less popular streaming sites like Hulu and Amazon Prime Video.
Unfortunately, we got the same results, so we think this provider may actually be the wrong choice if streaming or unblocking streaming services is your priority.
Security
There is literally no point in paying for a Virtual Private Network if it has porous security systems. With this in mind, we made sure to review the security systems of Avast SecureLine VPN, and below are our findings.
Where is it based?
Founded in 1988, Avast is a company that is headquartered in the Czech Republic. Since this country is a part of the EU, it shares a lot of regulations with other members – and this obviously extends to digital regulations as well.
Fortunately, it seems the European Union is more particular about digital privacy than some countries, such as the United States, for instance. We have been hearing a lot about GDPR in recent months, and also how Facebook and Google are facing legal battles for not handling their users' private data as dictated by the new law.
In addition, there is a healthy dose of conversation in the European Union related to mass data collection. In 2018, a number of NGOs and campaign groups reported a series of complaints about mass surveillance.
Later, it was discovered that Internet service providers and mobile carriers are coerced into collecting private data for many years or months, depending on the national laws.
Remarkably, the European Union's Court of Justice ruled that this practice was unlawful.
In general, it's safe to declare that you don't need to worry about Avast SecureLine VPN storing your private information. While the Czech Republic might not really be the best location for Virtual Private Network providers, it is actually not problematic – for the moment at least.
Log policy

First of all, it's important to note that not everyone who uses a Virtual Private Network is committing an illegal or unethical act. Nonetheless, the point of a Virtual Private Network is to give you optimum security and privacy, so that your data and identity are not compromised.
This includes privacy from even your provider and anybody requesting to access your information or identity.
Clearly, while Avast is also expected to deliver this, it doesn't actually deliver optimum privacy. Although it claims that it doesn't keep any logs of your activity or identity, this is contradicted by its Acceptable Use Policy – "if we receive a complaint about misuse (for instance, from a copyright owner), we will investigate and take action if the complaint is correct."
Imagine being on a business trip and finding out that Avast wants to examine your internet activity. According to its Acceptable Use Policy, the company can do so if required and we are sure they won't hesitate to do so.
Obviously, this isn't a headache you should be dealing with from your provider, particularly when it claims that it doesn't keep your data. We'd highly recommend you to choose a VPN that does not keep logs, like ExpressVPN.
Keep in mind that no provider is 100 percent secure as your data traffic is still routing via a company, and certainly, any company can go rogue or even go out of business.
If you are looking to avoid your ISP, then you're just replacing their distrust with your VPN's trust.
And if your Virtual Private Network is Avast SecureLine, we're sorry to break it to you that they still hold similar investigative muscles over you. Provided you're are an activist where you can't survive without trust, then you may need to review or re-analyze your options.
Protocols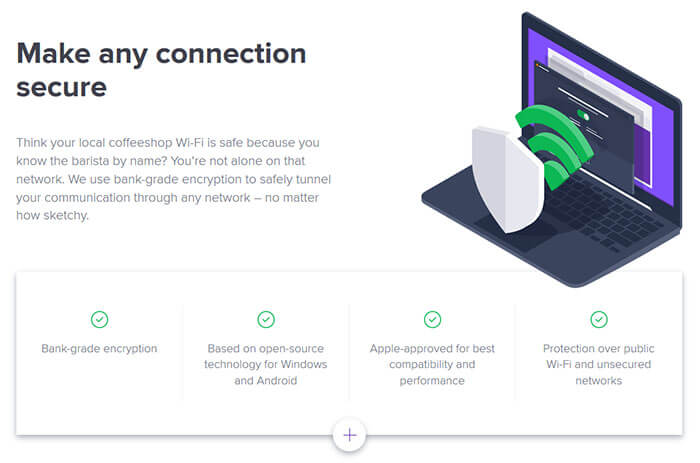 Using AES 256-bit encryption, Avast SecureLine VPN encrypts users' data while it's in the tunnel. Bear in mind the AES 256-bit encryption is military-grade and is the best encryption that any Virtual Private Network can provide.
It is designed to pass any sort of test or challenge that is thrown at it. With such robust encryption, the data is basically impossible to decode.
Enjoy the strongest protection with Avast >
While it requires lots of the device's processing ability for encryption and decryption on such strong encryption, the bargain is fruitful since the encryption cover is literally impermeable.
Then, the encrypted data is routed via secure tunnels or protocols. While the usual traffic is routed via such protocols or channels as well, the security and speed level varies from one tunnel to the other.
OpenVPN protocol is widely regarded as the best protocols for VPN services and is currently the protocol adopted by top-rated providers. The protocol perfectly combines speed and security, which gives it the right balance.
Remarkably, Avast SecureLine uses this protocol to route all the data traffic of its users. Nonetheless, while the protocol is fast and safe, we are of the opinion that the fact that no other protocol option is included is a drawback.
The majority of the leading providers provide users with many protocol options to pick from, so we wonder why this provider doesn't. Some users are usually willing to compromise a little security for extra speed, and many protocol options offer them the chance to select a faster but less secure protocol.
Protection against leaks

To provide protection against leaks, Avast SecureLine gives you DNS leak protection. This useful feature ensures that any of your personal data doesn't leak without your knowledge outside the connection.
It's important to mention that that sort of leak could divulge your browsing activity or reveal your real physical location. Many users have a great review of this service just because of this protection.
Torrenting
Governments and other authorities continue to wage war on the use of torrenting in 2023, but it keeps growing stronger regardless. If you're a torrenting enthusiast, the first thing you'd like to know is if Avast SecureLine VPN allows torrenting.
We did consider this during our test, for sure, and we have done a review of the service's torrenting capabilities below.
Engage in P2P sharing with ease >
Is torrenting allowed?
While you may never find the word "torrenting" on Avast's official website, the service actually supports peer-to-peer sharing in 2023.
However, the practice is allowed only on three US servers and five European servers – the European servers are in the Czech Republic, the United Kingdom, France, the Netherlands, and Germany.
Thus, if any of the servers is not near your current location or region, then you may have to look beyond Avast SecureLine VPN for peer-to-peer activity as the speed would even be excessively low to allow you to download large files easily.
As usual, we checked out its torrenting support during our test and it worked decently.
Is there a Kill Switch?
Disappointingly, a Kill Switch has not been introduced on Avast SecureLine VPN yet.
It's a feature that automatically cuts off the online activity of the user when the connection is lost. It is particularly vital if your device is connected to an unknown or public Wi-Fi network, as you may have your true IP address exposed and your personal data at risk of being hijacked if the service doesn't encrypt your data connection at a point.
Bypassing Censorship
Any service that's worth its weight in gold has to be capable of bypassing stringent censorship policies, especially the Great Firewall of China. We also had this in mind while writing this review and below is what we found.
In censored countries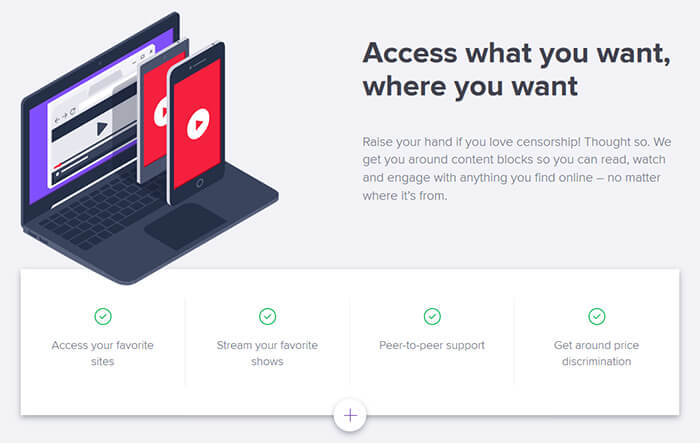 Without mincing words, Avast SecureLine VPN won't work in China.
It won't also work in any other country with stern censorship policies as it doesn't have the obfuscation tools required to conceal its use of OpenVPN protocol, as we rightly found out during the test for this review.
Since OpenVPN is widely adopted by providers, it is nearly impossible to outmaneuver the censors with this protocol. Therefore, you have to find a service that provides a stealth protocol to unblock blocked websites like Whatsapp and Gmail.
If you want to bypass the Great Firewall of China, then we recommend you to turn to a service like ExpressVPN.
In restricted networks
Governments, schools, and businesses can restrict your access to some of the most popular sites on the internet. For instance, a business may decide to block your Facebook access so that you don't spend your work hours chatting.
Likewise, some schools may choose to restrict all social media sites to ensure that students don't get distracted.
Thankfully, Avast SecureLine VPN is capable of tunneling through these blocks, even though it can't work in China.
However, you may have to do this at your own risk. Your job may be on the line if you use to bypass the filters put in place by your employer. Also, you may land in hot water if you use it to bypass the internet censorship of your country.
Countries and servers
The countries covered and the number of servers a VPN has is another big determining factor. During our test, we found many juicy details about Avast SecureLine VPN's server count and geographical distribution.
Countries covered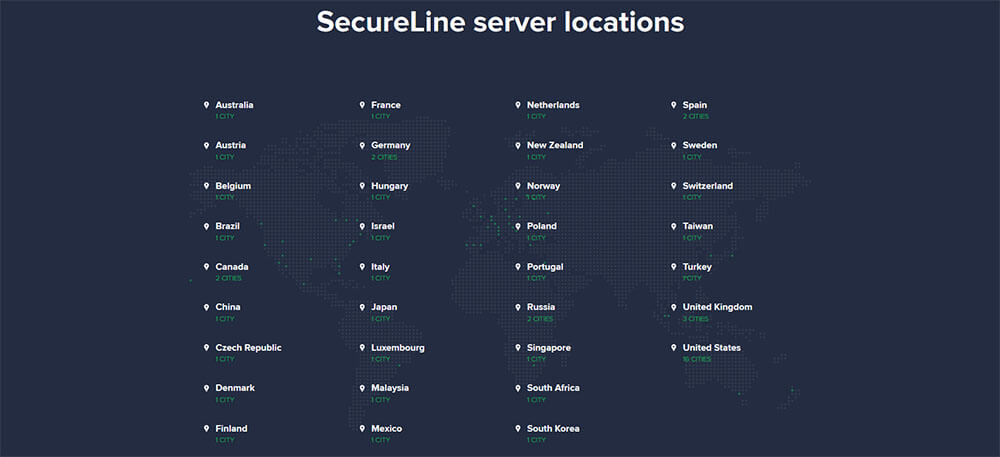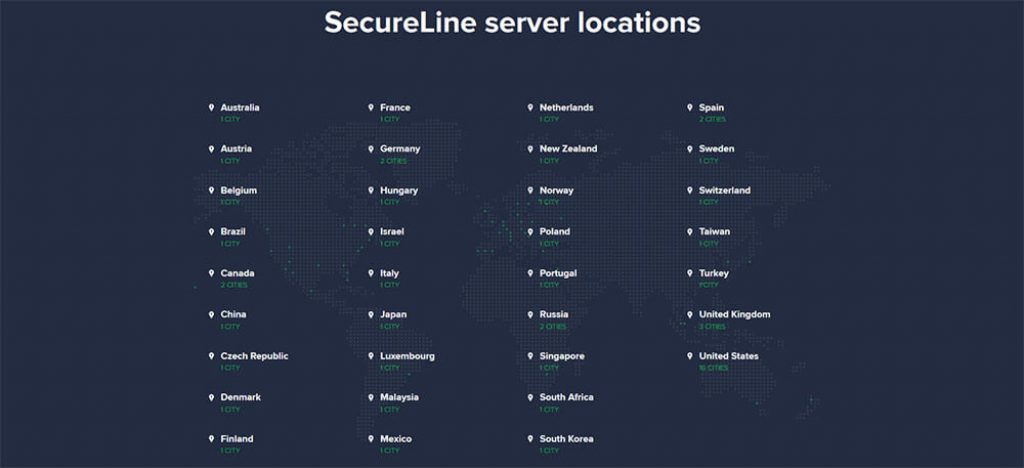 With only 54 server locations spread across 34 countries around the world, the server network of Avast SecureLine VPN is one of the smallest we have seen. While it covers some of the world's most popular countries, we recommend opting for ExpressVPN or CyberGhost if you want a wider coverage.
We don't have any data about the number of individual IPs maintained by Avast, but we do know that every server offers a single shared IP. If the company's customer base expands, this can cause congestion and even worse, slower speeds.
Covering both west and east coast cities, the network covers 16 cities in the United States, but with a couple of options in-between. Some other countries like Germany, Russia, the United Kingdom, Canada, and Spain also provide city-level servers
Out of the 34 countries covered by Avast SecureLine VPN, 19 of them are European countries, making Europe the most covered continent.
However, the Asia-Pacific also enjoys decent coverage, with server locations in Japan, Malaysia, Hong Kong, and Australia. But South America and Africa aren't adequately covered at all, with just one server in Brazil and South Africa.
It's important to note that Avast seems to be intended for average home users, something their server count reflects. There aren't many options to choose from and you can't enjoy the luxury of picking from different servers in one country.
Instead of that, you choose a country and the Virtual Private Network will complete the job.
The important thing to mention here is that leading providers like ExpressVPN and NordVPN provide thousands of servers, and they aren't even overly expensive.
In fact, some other VPNs with thousands of servers are cheaper than Avast SecureLineVPN.
Servers
The provider offers specialized servers for certain activities such as streaming and torrenting. However, despite offering designated servers for streaming, this service still provides a poor performance when it comes to unblocking some of the world's biggest streaming services, as we found out in our test.
If a provider with strong streaming capabilities is what you're looking for, we encourage you to review your options.
Compatible devices and simultaneous connections
Before subscribing to a service, you have to know if your provider caters to all your devices. Nowadays, you can expect to use a Virtual Private Network on your smartphone, tablet, computer, and protect any other device using a router that is VPN-enabled.
Now, let's review what we found in our test in regards to Avast SecureLine VPN's device compatibility.
What device can I use with Avast SecureLine VPN?

When it comes to multi-platform support, Avast doesn't have a good performance here as well.
While it provides compatible applications for the world's most popular platforms like Windows, macOS, Android, and iOS, there are no apps for other platforms – for example, Linux.
Besides, you can't configure your router to function with this service.
Therefore, you won't be able to manually configure the service at the router level at all and protect all the devices on your home network.
Moving on, the service also doesn't offer VPN extensions. Most top-tier providers provide a proxy extension at least for Firefox or Chrome, with some providers offering full-featured extensions.
If you are looking to utilize a VPN extension on your favorite browser, then this provider may not be the right choice for you, again.
How many simultaneous connections?

Although the service doesn't offer satisfying multi-platform support, it at least supports 5 devices at the same time. Note that 5 is actually the industry standard, so it's not like the provider is even offering anything out of the ordinary in this aspect.
With the 5 simultaneous connections allowed, you can easily use the service on all of your devices. And if a member of your family needs a VPN protection, you can also allow them to join in.
Client support
The client support can influence the decision of a prospective buyer to either walk or stick with it. During our test, we did review how Avast SecureLine performs on this front and we aren't entirely satisfied with what we found.
Nevertheless, we'd allow you to read our honest review and be the judge.
How to contact it?
The first red flag we found is that Avast SecureLine VPN offers only two contact channels – email or phone call. Surprisingly, they don't have a live chat option, which is very disappointing as most top providers nowadays operate a live-chat support channel.
Perhaps, this is another indication that this provider can't be considered a leading provider yet.
While it's easy to submit a ticket, don't expect to receive a quick answer. The company claims to typically respond to the queries of users within two business days. If you, however, can't wait for that long, you may use the phone support.
The phone support is available 24/7,  but it isn't as convenient as the live chat option.
As an alternative, you can post your question on the Avast forum, where you may find someone to resolve your issue. And if no member comes to your aid, there're chances that a representative of the company will join the discussion.
Is it good?
During our test for this review, the customer support of this provider really frustrated us. From all indications, it just doesn't measure up to the high-quality service provided by the top-rated providers.
We've been contacted a few times about users who wanted to get a refund and who couldn't get any answer from the support. Therefore, our review can only be very negative as far as client support is concerned.
FAQ/Tutorials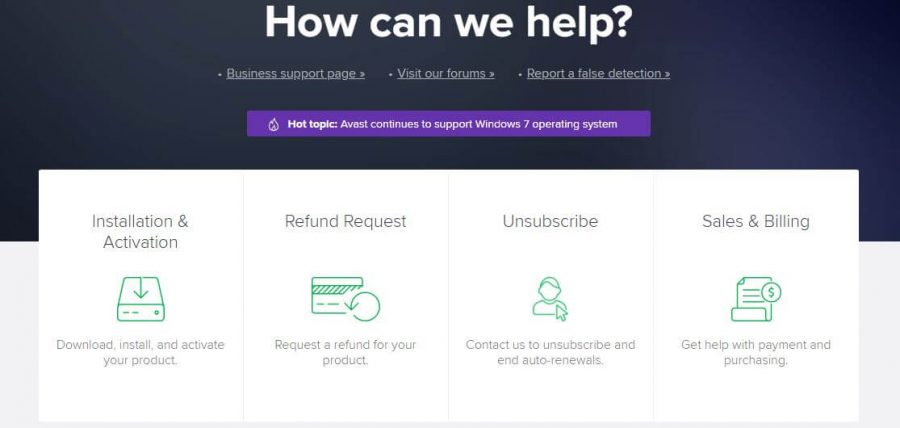 While the website features setup guides and basic FAQs, they are very hard to navigate. And even though the FAQs will cover basic troubleshooting issues, that's where it ends – at the basic. Don't expect it to cover anything technical and be ready to contact the support team to resolve your advanced issues.
And before contacting support, we advise you to learn how to be patient as you will definitely need a lot of patience, as we found out in our test.
Value for money
Everyone wants to squeeze as much value as possible from their investments, of course. VPN buyers are not different and that's why we have decided to review the value for the money of this service.
Price comparison

Essentially, Avast SecureLine VPN offers three different plans. However, the provider doesn't offer a one-month plan, which is rather surprising. Below are the three plans on offer;
A one-year plan for $59.88
A two-year plan for $95.76
A three-year plan for $143.64
This provider doesn't offer a one-month plan, in a rather shocking move. Moreover, this is probably one of the most expensive pricing structures in the industry, despite offering an average performance.
A 2-year plan at $3.99, for example, is very expensive. Have in mind that Surfshark costs $2.49 a month for the same plan, yet it's a much better VPN.
Means of payment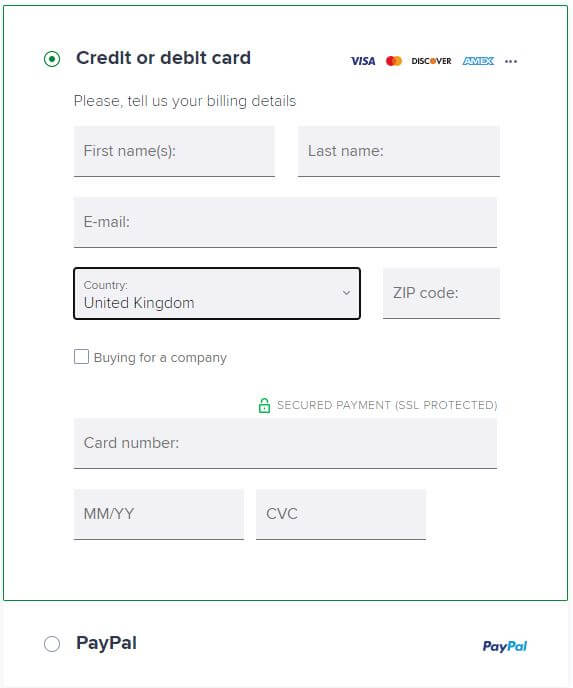 The provider offers a range of payment options, which include;
PayPal
Discover
MasterCard
American Express
Visa
While Avast SecureLine VPN offers a variety of basic payment options, it doesn't have cryptocurrencies. Obviously, this is something that may be concerning to people who want complete anonymity.
Money-back guarantee
Apart from providing a 7-day free trial to test the service, Avast SecureLine VPN also offers a 30-day money-back guarantee. The guarantee means the company will refund your full money in the event that you don't like the service.
However, the guarantee comes with a condition – if you have connected to the service on more than 100 occasions or you have used over 10 GB of bandwidth, you aren't eligible for a refund.
Any extra?
Forget about its expensive pricing – Avast SecureLine VPN is a very basic service. But, did we find any extra feature while writing this review? Yes, we did, and below is the review of the extra feature we found.
TOR Compatibility
Avast SecureLine has TOR compatibility, and we recommend you to use both tools together for better security. Since Avast doesn't have a Kill Switch, TOR will safeguard your activity if your VPN connection breaks for some reason.
We really liked this feature during our test and many users give a decent review of the service just because of this.
Final Thoughts
Avast is a big name when it comes to anti-virus products, but as we've already noted in this review, they seem to be out of depth in the VPN industry. After performing an intensive test on the service, we can say that there is a lot of room for improvement.
For now, the only people we can recommend the service to are average home users who need only the basic features. However, if a serious service that can provide advanced functions like bypassing the Great Firewall of China is what you're looking for, we say you should look elsewhere.
Apart from that, this VPN comes with probably the most exorbitant pricing in the industry, which is quite shocking. The value it offers is a long way below its cost, therefore, we don't even recommend it to anyone.
You'll even find free services that offer better performance. Or perhaps, if you want a premium choice, we'll gladly recommend ExpressVPN.

Michael is a talented writer who has dedicated a lot of time into making sure that everyone around the world can use the internet securely. Being an avid traveler, he has acquired a lot of experience while using different VPNs on his travels. When it comes to doing comprehensive "how to tutorials" or testing some VPN functionalities, he's always the best pick ! He's here to help you solve your VPN-related issues.