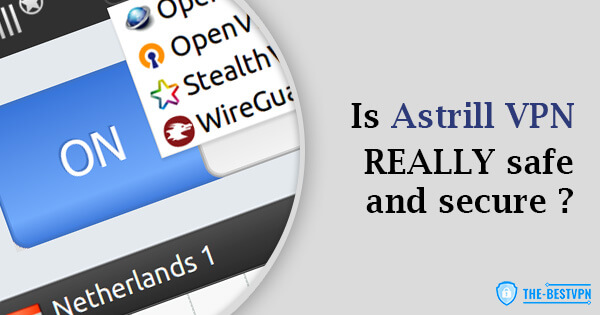 Astrill VPN is a great provider for users in China, according to Reddit. Thanks to its ability to bypass DPI, it seems like we're talking about a highly-secure provider. However, in our review, we didn't rank it very high mainly because of its pricing and several other features. Will Astrill VPN at least justify its high price by being safe and secure? We've yet to see that in our article. If you're planning to buy it, please read what we have to say carefully!
Security: What Are the Security Tools in the Apps?

To use a VPN safely and securely, the provider must offer several security tools and features in the app. Thankfully, Astrill VPN offers a pretty impressive choice. Take a look:
Smart Mode
Astrill VPN offers a feature called Smart Mode, which is basically a cut-down version of split tunneling. It functions by tunneling international websites through your VPN-given IP address, while all the local sites are accessed through your native IP address.
As a result, you get faster speeds on the local websites, resulting in a smoother browsing experience.
Application Filter
The Application Filter is a fancy name for split tunneling. We don't see a reason for splitting these features, but hey, as long as it works.
If you don't know how split tunneling works, let us explain. When you enable it, you can choose which app you want to use the VPN connection, and which one will use your native IP address. This way, you can stream movies on Netflix, while using a local shopping site or a bank account.
OpenWeb, StealthVPN, and Wireguard Protocols
The provider is not necessarily the best option to stay anonymous online. However, it offers numerous security protocols. OpenWeb is a proprietary protocol focused on fast speeds and bypassing DPI, making it great for use in China. It also sports 256-bit encryption.
StealthVPN is what we already saw in multiple providers on the market, although they claim that it's their proprietary protocol. Basically, it's similar to OpenVPN, but it obfuscates your traffic, even more, making it undetectable for firewalls.
Finally, the Wireguard protocol is here to deliver fast speeds through simpler implementation. It's implemented and used with far fewer lines of code, making it easy to maintain and improve.
Kill Switch (App Guard)
A kill switch is also here, in the form of App Guard. It functions like a normal kill switch but allows you to apply it on certain apps, rather than on the whole connection. A normal kill switch blocks access to the internet if the VPN connection drops.
App Guard, on the other hand, blocks internet access only to certain apps, and not necessarily internet access in general.
MultiHop
MultiHop is a useful feature for staying secure online. It works by routing your connection through multiple servers, making it untraceable for your ISP or hackers. That's why it has the word 'hop' in it – you're hopping from server to server.
Military-Grade Encryption
Last but not least, Astrill VPN uses 256-bit AES encryption, which is an industry-standard nowadays and a good way to stay safe.
Astrill VPN Privacy Policy: The Most Important Security Criterion
Trustworthy providers have their zero-log policies easily accessible and crystal-clear. While Astrill VPN's policy is short and to the point, we noticed some irregularities that make it… well, not that trustworthy and safe. Here's the first part of it: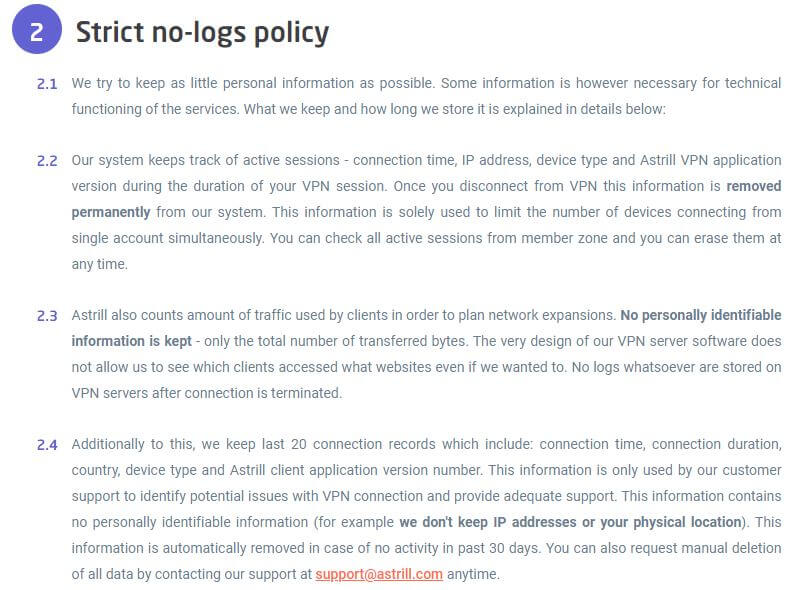 First, they say that this is a strict no-logs policy, just to mention that they store the IP address, device type, connection time, and the amount of bandwidth you used. Furthermore, they keep logs not only regarding your last connection but 20 last connections!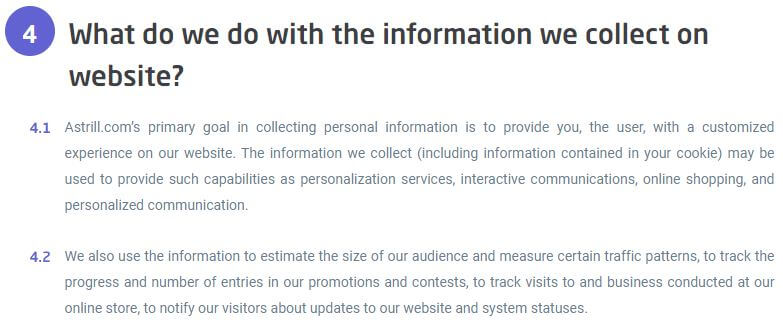 Of course, they use cookies to improve your experience on their site, which is okay. What's not okay is the first paragraph in the image above. They use your personal info is used to provide capabilities such as online shopping… how come?
Does it mean that they somehow monitor what you're searching online and sell it to third parties?

Oh, here's the answer! Quite frankly, we'd like to have a clearer no-logging policy here, as the information is all over the place. Either openly say that it's not a zero-log policy or be a zero-log provider.
If they don't give your personal info to third parties, how can they improve your online shopping experience? We can't deem AstrillVPN as a trustworthy provider due to everything we said above. When it comes to security, though, they do an amazing job with all those protocols and features we mentioned.
External Audit: Is Astrill VPN Safe?
The external audit is great for significantly raising the provider's reputation. ExpressVPN, for example, has a PwC audit. PwC examined all of its servers, to make sure that it's completely safe and secure. VyprVPN is yet another VPN with an external audit from Leviathan Security, regarding its zero-logs policy.
Given that Astrill VPN isn't the most popular option on the market, we can't expect it to have any kind of audit. While it doesn't always mean that the provider isn't trustworthy, it's going to help the new customers with their trust issues
To date, we are not aware that Astrill VPN has audited its service and privacy policy.
Issues and Scandals the Company Has Faced in the Past
Astrill VPN didn't have any issues and scandals in the past.
Based in Seychelles, it's strange that the company still keeps some of the logs we mentioned above. However, there aren't any cases of hacking or compromising security in any way, shape, or form.
Conclusion: Astrill VPN Can't be Trusted
We're sorry to say that Astrill VPN isn't trustworthy. Albeit, we must admit that the provider has a solid basis. Tons of security features, okay speeds, and intuitive apps are some of the greatest features of this provider.
On the other side, the provider is simply too expensive for what it offers, especially since it has a shady zero-log policy. A few moments ago, we recommended ExpressVPN and that recommendation remains.
Check our complete review of ExpressVPN for a safer alternative. It offers a 49% discount and 3 months free for a 12-month plan, making it more affordable than ever.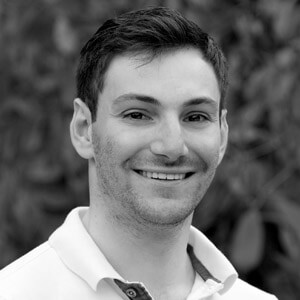 Flo is the founder of the-bestvpn.com. Really concerned about security on internet, he decided to create this website in order to help everyone find the best VPN. He's got a Business School background and now is 100% dedicated to keeping his website alive.