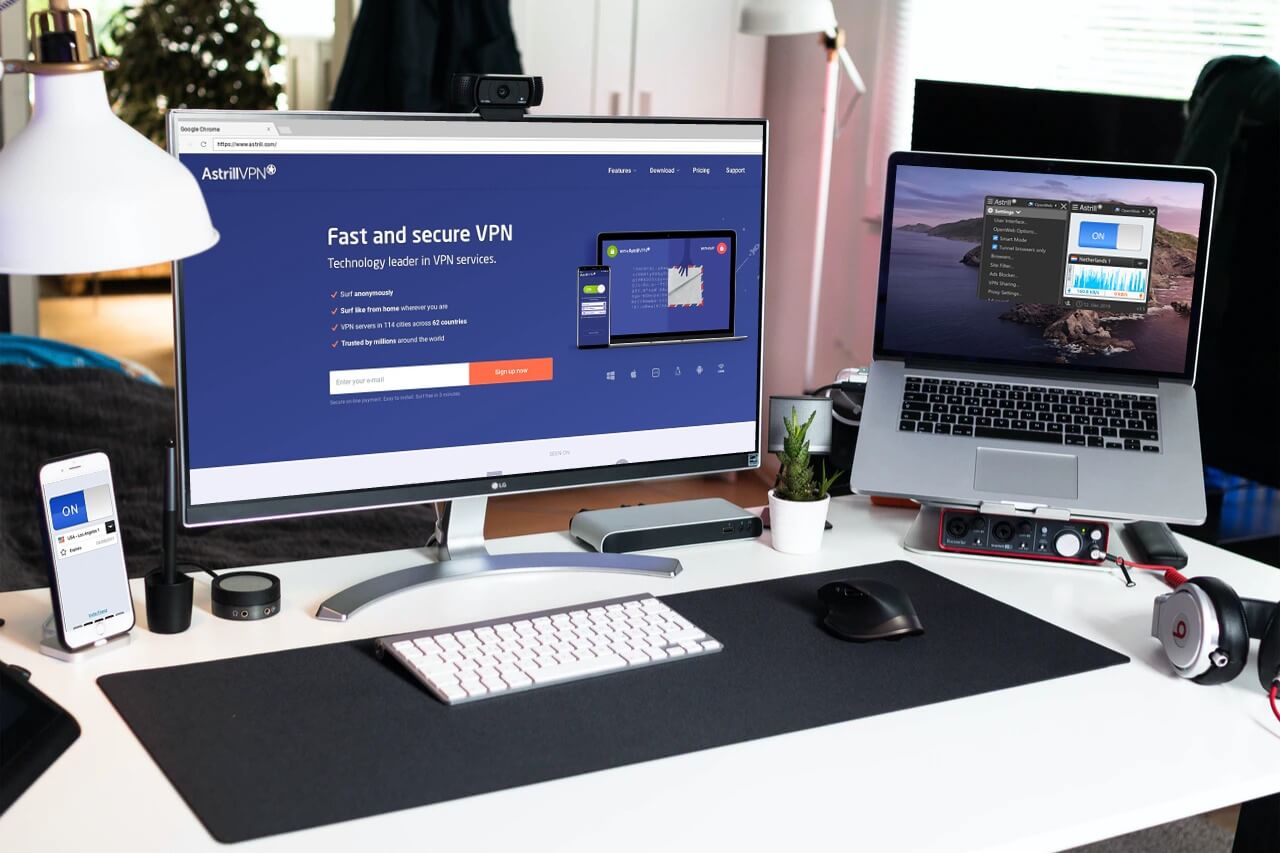 The first time that Astrill VPN emerged under the spotlight, it was because of its ability to work in China. While the service continues to achieve the almost impossible feat of bypassing the censorship policy of China, it is now known for many other things, which we will look at in this Astrill VPN review and test.
The truth is that there are many criteria that determine how good a VPN service is in 2023. Apart from finding out if it works in China, you must also find out if the Virtual Private Network unblocks Netflix and other popular websites, if it supports torrenting and if it uses the best encryption methods.
For the purpose of this review, we've conducted an intensive test on the app and the service in general, keeping all the key factors in mind. According to our findings, the service is an all-rounder that ticks lots of boxes as far as VPNs are concerned.
In general, it is a genuine contender on the Virtual Private Network scene in 2023, with only a couple of reservations that we will discuss in this Astrill VPN review.
STRENGTHS:
Great speeds and performance
P2P-friendly
Great client support
Works well in China
Offers a free trial
WEAKNESSES:
No free trial for Chinese users
It is too expensive
Doesn't come with a money-back guarantee
Astrill ranks #15 out of 104 VPNs tested. Here are the best alternatives :
---
Is it a paid or a free VPN?
It is a paid provider and even one of the most expensive options in 2023. However, it offers a 7-day free trial that is completely free in every sense of the word. The free trial allows users to test the service for a few days and see if it tickles their fancy.
Performance
Everything always boils down to performance! We are aware of that, so one of the first things we evaluated is the performance, using its speed and stability as determining factors.
Speed

There's no way to determine the exact speed of a VPN until you've put its speed to test by yourself.  Since speed is extremely vital to a great connection, particularly for downloading and streaming, we made sure to test Astrill VPN's speed in our review.
The provider claims to be the fastest around, and while that claim is too tall, it's not a lie entirely. We tested the speed on different servers and each one gave on a pleasant result. We were especially satisfied with the provider's download speed on the European and American servers.
It's not as fast as ExpressVPN, but it's quite good!
Without VPN (we were located in London) :

EU Server (France) :


US Server :

Asia Server (Hong Kong) :


Stability
The company utilizes a super-powerful network of dedicated servers, instead of cheap VPNs that some other providers use. That's a solid indication of how committed the provider is to providing a stable and reliable service.
Secondly, the service has an uptime of 99.9 percent, which also speaks volumes about the stability of the provider.
According to the company, "our service is stable, we have multiple backup solutions in place and we do not experience outages nor downtimes. All issues are addressed immediately with tech team always ready to come on-line".
If you're looking for a provider that won't leave you alone when you're in need, Astrill VPN ticks the box.
Streaming
While the company does not like to brag about their streaming services in their ads, it's clear that they've worked hard to ensure that their service is able to effortlessly unblock streaming services.
Let's review the performance of this service for unblocking streaming sites in 2023.
Netflix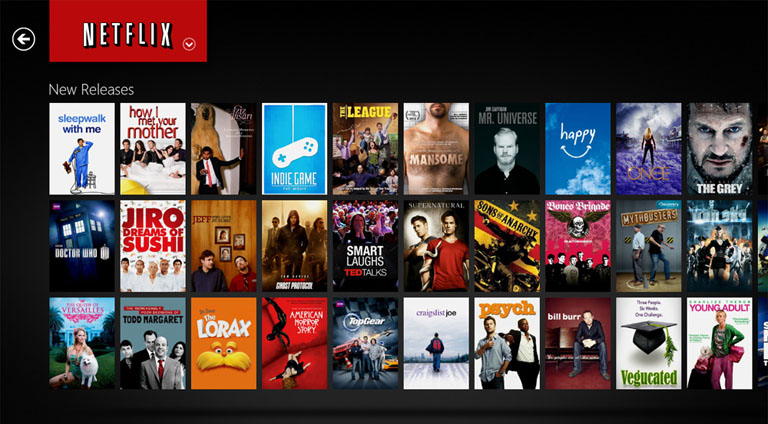 So, is Astrill VPN capable of unblocking Netflix? Well, we've conducted a range of tests and we were quite impressed with the results we got. We connected to the provider's New York server and we were effortlessly able to bypass Netflix's restriction.
Effortlessly unblock Netflix restrictions >
While it's not in doubt that you will be able to get around Netflix blocks with this provider, don't expect all their servers to do the job. When you connect, speed is not a problem. Streaming was delivered in a great resolution at a decent speed during our test, with only slight stutters occasionally.
It is definitely not enough to condemn Astrill VPN.
BBC iPlayer
Although it works quite well with Netflix, it's hit-and-miss with BBC iPlayer. This is due to the streaming service's recent crackdown on Virtual Private Network traffic. The VPN provider can help you unblock the service through its multiple UK servers some days, other days it is totally blocked.
So, it's something of a mixed bag, as our text revealed.
Others?
Since it has great speeds, the provider is quite popular with people who like other big streaming services like HBO, Amazon Prime Video, NowTV, and Hulu. While all these popular streaming services are in a cat-and-mouse game with VPN providers, we're confident that it will reliably unblock them most of the time.
Security

In this part of the review, we will explore the encryption methods and protocols of the provider. The primary purpose of those systems is to protect your personal data, so let us see how this provider handles it and what we found in our test.
Where is it based?
Founded in 2009, the company is located in Seychelles. The country has a reputation for its liberal Internet laws and a solid stance on privacy. Also, there are no data retention regulations.
This means that no corporate agency or internet provider can force the provider into divulging its users' personal information.
Furthermore, Seychelles is an excellent location for VPNs as it is not a member of any intelligence-sharing alliance like the 5 Eyes or the 14 Eyes. This means that it doesn't have any legal obligation to share data with other countries.
However, even if any law enforcement agency requests for the details of any Astrill VPN's user, they wouldn't have any information to provide. This is because the provider claims not to store any personally identifiable data.
Log policy

While the provider brags to have a stern no-logging policy, what we found in our test for this Astrill VPN review revealed that the details are a bit more complicated. In reality, the provider keeps unspecified partial connection logs, but they don't keep any personally identifiable data or logs.
Protect your privacy with Astrill VPN >
In the privacy policy, it is explained that during a session, the provider's system monitors your connection times, device type, IP address, and the application version. This data is allegedly collected to monitor each account's number of simultaneous connections only.
The moment you are disconnected from the service, all data gathered in that session is deleted permanently from the system. The system will not store your personal information or usage data at any point in time.
The VPN company is very transparent about this, and users can easily see and erase their active sessions within their page whenever they want.
Also, the provider retains partial connection logs of your last 20 VPN sessions for up to 30 days. These include connection durations, connection times, server locations accessed, your application version, and your device type.
This data is anonymously stored and not linked to any personally identifiable data.
However, if you're not satisfied with the 30-day retention period of your connection logs, you can contact support at any time to delete it manually. Of course, we don't think that's necessary as Astrill VPN promises to not rent, trade, or sell any of your data with third parties.
Protocols

The encryption and protocols of a VPN often speak volumes about the effectiveness of the service. As long as the customers have many options to choose from in terms of protocols, they are likely to continue using the service.
To their credit, the provider already knows about this phenomenon, from what we found in our test for this review. Therefore, they offer a combination of OpenVPN, OpenWeb, L2TP, Cisco, PPTP, SSTP, IKEv2, StealthVPN, and many other protocols.
Of course, the most commonly used ones are OpenVPN, PPTP, and L2TP. You can set PPTP protocol up on Windows, Linux, Mac OSX, Android, Apple iOS, and DD-WRT while you can set L2TP protocol up on Windows, Linux, Mac OSX, Android, and iOS.
OpenVPN is the most secure protocol and it can be set up on Mac, Windows, DD-WRT routers, and Linux.
Secure your private data with the strongest encryption >
In terms of encryption, Astrill VPN utilizes AES 256-bit encryption to ensure that your internet connections and traffic are safe. With its advanced encryption and great protocol support, you are totally safe from the possible threats of cybercriminals.
We will discuss the service's other security features later in this review.
Protection against leaks

In order to maximally protect your digital identity, Astrill VPN has a DNS leak protection system. The service adopts IPv6 leak protection and a WebRTC IP leak protection, both of which are automatically turned on.
However, this feature is not available on the Android app, but available on the Windows client. Nonetheless, we're happy that the provider is taking every possible measure to safeguard its users from cybercriminals.
Torrenting
Torrenting is another popular functionality that is found on the best VPNs in 2023. What did we find in our test regarding the torrenting capability of Astrill VPN? Let's find out in the review below.
Is torrenting allowed?
Astrill provides full support for P2P on specialized P2P servers. To allow users to easily recognize the servers that are designed for P2P specifically, they will be marked with a star when you choose your location. Also, these servers incorporate port forwarding for higher speeds.
In fact, the provider promises explicitly to keep your torrent downloads completely private and risk-free. They also promise to prevent government authorities and your ISP from detecting your activity.
In addition to that, Astrill VPN also guarantees compatibility with uTorrent, LimeWire, BitTorrent, and other P2P-sharing networks.
Is there a Kill Switch?

Sometimes when your VPN connection is lost, there is a risk of your IP address getting exposed to your Internet Service Provider. Additionally, it may also cause the site you're visiting to detect you. In order to prevent the possibility of this, Astrill VPN offers a super-helpful Kill Switch.
This feature helps to kill your internet immediately if you were to lose your connection. A lot of users have a good review of this provider simply because of this feature.
Bypassing Censorship

There are many countries around the world with strict censorship policies, even though the internet is all about freedom. With that in mind, we've put the ability of this service to bypass censorship to test, and below is our review.
In censored countries
Despite all the reports and rumors, Astrill VPN is still working very well in China. Since the Great Firewall is aggressively working to curb all the VPNs that are still working in China, many reports and rumors came out that they have been able to block the provider as well.
However, despite all the previous evidence and reports, it is still as effective as ever in China, according to our test. In fact, the provider has added new servers for China in order to evade the country's harsh restrictions.
Glide past the Great Firewall of China >
With Astrill VPN, residents of China can easily conceal their IP and access popular streaming sites and social media networks like Twitter, Facebook, Instagram, Netflix, and others.
The provider is so committed that it ensures that every server is working properly in China at all times.
Additionally, the provider has proprietary protocols that make it work in other high-censorship countries like Iran, Turkey, and UAE.
In restricted networks
To reduce distraction, encourage productivity, and make sure the content is work-friendly, your business or school may block some websites. On a larger scale, there are governments that censor foreign content.
Fortunately, Astrill VPN is capable of tunneling through those restrictions and allowing you to enjoy your online experience without restrictions. We checked this during our test and it worked excellently.
However, we encourage you to think twice before using this tool for this. In the event that you are caught by your employer, it could cost you your job. Also, you could be facing hefty fines or penalties if you are caught breaking through your country's firewall.
So, review your options before making a decision.
Countries and servers
Before choosing a Virtual Private Network, it's logical to consider its network of servers. Ideally, the provider you want to choose needs to have a wide network of servers, coupled with a great geographical distribution of servers.
Countries covered

Consisting of more than 300 servers in more than 60 countries, Astrill VPN has a relatively small network size compared to ExpressVPN, CyberGhost or NordVPN.
This is especially true when you consider top-rated alternatives like ExpressVPN and CyberGhost, which have 3,000+ and 7,000+ servers respectively.
However, Astrill VPN has a good server distribution, operating servers in all the major continents of the world. People connecting to the United States from Asia should utilize a west coast location while those connecting from Europe should use the east coast, as we did during our test.
Like we already mentioned in the review, this service has a good distribution of servers. The provider is well represented in Asia, with big countries like Korea, Malaysia, Singapore, and Thailand enjoying multiple servers.
Unfortunately, Africa doesn't enjoy as many server locations. The provider has servers in Egypt and South Africa, making them the only two representatives.
However, Europe is the continent that is mostly catered to, with the provider operating servers in some of Europe's leading countries like France, Germany, Italy, the Netherlands, Spain, the United Kingdom, Austria, Belgium, and many other countries.
Like Africa, continents like South America, North America, and Oceania also don't have many servers. The provider has servers in only two countries in South America and in only two countries in Oceania as well.
There is better luck for North America though, with the provider having servers in three countries in that continent.
As we have seen in this review, Astrill VPN has locations in every major continent except Antarctica. The servers are dispersed across these countries, allowing users to access an extensive range of virtual IPs in each country.
Servers
Impressively, the provider has specialized servers for Private IPS and some certain activities like torrenting and bypassing the Great Firewall of China. Due to these specialized servers, users can have the ultimate P2P sharing experience and effortlessly glide past the Great Firewall.
Compatible devices and simultaneous connections

Before settling for a Virtual Private Network, it makes sense to find out if it's compatible with all your devices. Not only that, but you also need to ensure that you're satisfied with the number of simultaneous connections it allows.
Taking those two factors into account in our test, we have included this part to make this review more comprehensive.
What device can I use with Astrill VPN?
The provider offers custom applications for a wide range of platforms, which include:
Microsoft Windows
macOS
iOS
Android
Linux
Routers
Apart from the ones listed, the service is also usable on a plethora of devices that lack custom native applications. There are many setup manuals on the site for Amazon Kindle Fire, BlackBerry, and Windows Phone.
You can also configure your existing router manually to support the service.
When it comes to what is missing, you will not find any browser extensions. Moreover, it would be useful to have native applications for media streaming devices. Although, you may be able to use the Android client on an Android TV device depending on your skills.
Nothing can, however, be as convenient as a fully-featured native application.
How many simultaneous connections?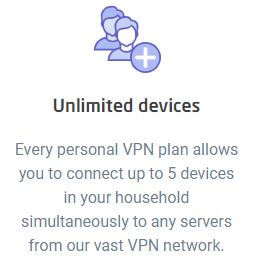 Like ExpressVPN, this provider also offers 5 simultaneous connections. While this is not the highest on the market, it is pretty much the industry standard and should be sufficient.
With 5 empty slots, you can easily connect your laptop and your phone, and even allow some of your family members on the network.
Protect all your devices at once >
Client support
The provider claims to offer great client support. Thus, we decided to put its support to test in our review of Astrill VPN. Contrary to their claim about boasting the best client support, our test results actually indicated that they need a little improvement in terms of client support.
How to contact it?
While it's always better to be able to contact your provider via multiple channels, you want a provider who has live support. Although most providers provide e-mail support at least, the best ones usually have live chat support.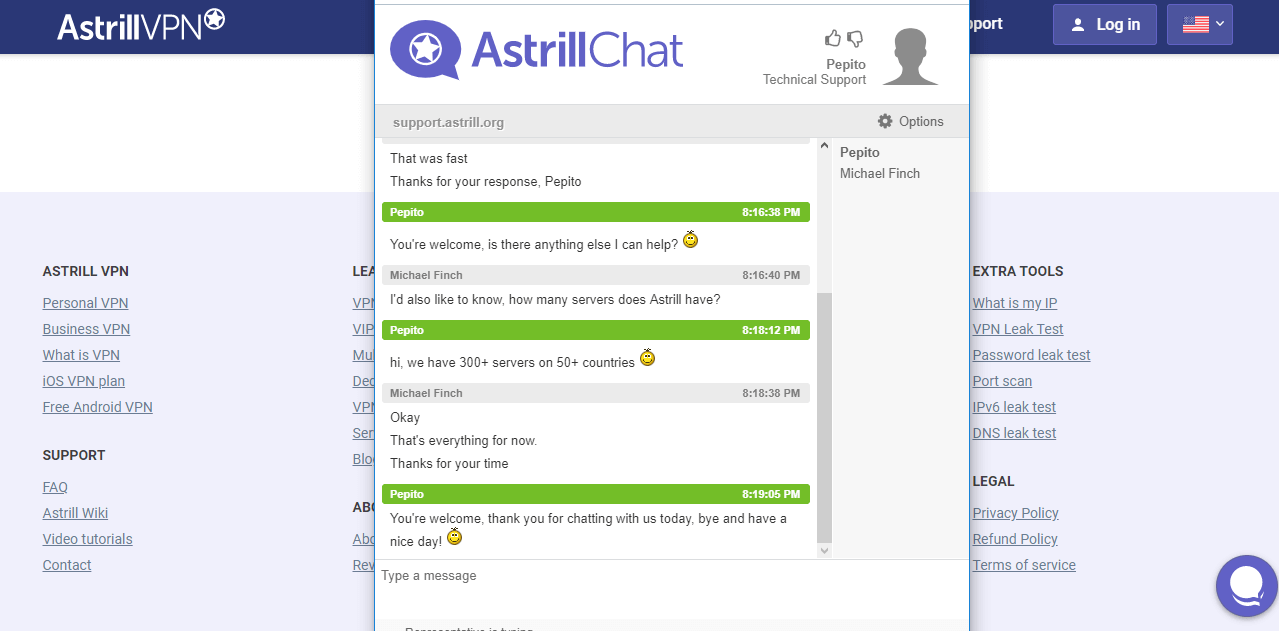 Fortunately, Astrill VPN has 24/7 live chat and email support, which means you will always find a representative to come to your rescue in times of need.
Is it good?
Generally, they have good client support, as we found out while compiling this review. We contacted them via their live chat support during our test, and an agent promptly responded within 2 minutes. It was impressive. 3
Not only was the agent responsive and friendly, but he was also knowledgeable.
Probably the only shortcoming we found was that the agent didn't seem proficient in the English Language. While this may not mean much, it could cause complications when dealing with technical questions that are difficult to explain.
Get in touch with Astrill's client support now >
FAQ/Tutorials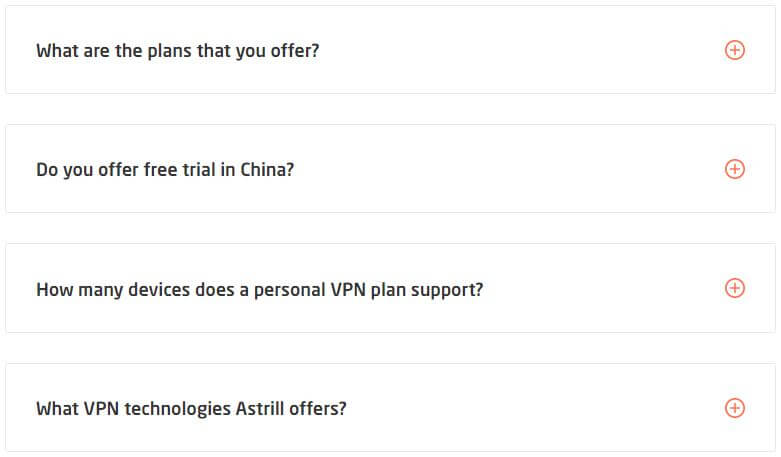 The support on the website is very helpful, providing video tutorials and FAQs detailing some of the more sophisticated features. Besides, the Wiki has a large number of manual setup guides, which makes it stand out from its rivals.
The manual setup guides actually came to our rescue a lot of times during our test.
Value for money
You work hard for your money, so it would make a lot of sense if you could choose a service that offers great value for your money. We thought including this part would make this review a lot more detailed, so here we go.
Price comparison
As with nearly every provider in the world, the pricing of Astrill VPN differs from one package to another, and prices often reduce significantly with long-term packages:
1-month plan for $20/month
6-month plan for $15/month
1-year plan for $10/month (billed annually)

To be honest, Astrill VPN is too expensive, especially if you're buying a short-term plan. On top of those plans, we listed, the provider gives a VIP service that costs an additional $10 every month.
While the VIP service drastically increases speeds and is targeted at Asian customers and gamers, it is just too expensive. You also need to pay $50 more for router support, which is another hefty charge.
Means of payment

Astrill VPN accepts a wide range of payment means, which include some unique international options. The payment choices we discovered while bringing this review together include:
Debit Card (Visa, MasterCard, American Express, UnionPay, JCB, Diners)
PayPal
BitCoin
Bank Wire Transfer
AliPay
WeChat Pay
Perfect Money
Money-back guarantee
First of all, the service doesn't have a money-back guarantee. Instead of that, however, it has a 7-day free trial that allows you to test it before buying. There is no need to input your payment details to download, so don't be worried by the service upgrading you to a premium plan automatically in case you forget to cancel.
Unfortunately, China residents can't enjoy the free trial and some of them consequently have a bad review of this service.
The free trial period is quite helpful as Astrill VPN has a stern no refund policy – every sale is final. This is very different from the risk-free 30-day money-back guarantee that top-tier providers like ExpressVPN and CyberGhost offer.
Any extra?
Since Astrill VPN comes with a very hefty price, a lot of potential buyers will be wondering if it comes with some heavenly features for price justification. Well, we found some unique features and it will be up to you to determine if they make it worth the price or not.
Ad-blocker
The solution comes with an ad blocker that you can turn on in the Settings. During our test, we checked out the ad blocker on many websites filled with adware and the application successfully blocked every ad that we came across.
Actually, the ad blocker is able to block ads using a catalog of notorious adware. You can also edit the list to manually include ads that the filter is unable to detect. This is an excellent feature that earned Astrill VPN a good review from many users.
Smart Mode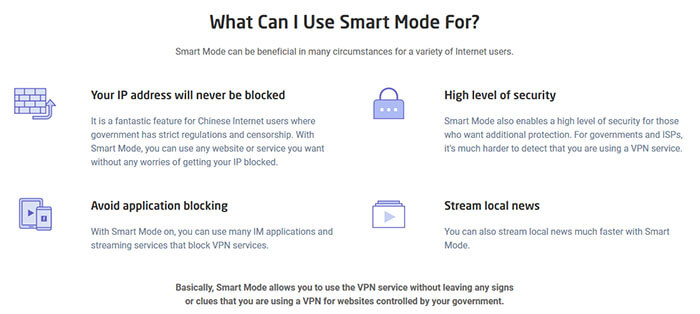 When you're using a Virtual Private Network, it gives your device a foreign IP address. Apart from slowing your Internet down, this can also make governments find out that you're using a Virtual Private Network.
With the Smart Mode offered though, you can utilize the Internet with local IP addresses, keeping speeds high and preventing any suspicion.
This feature provides users with high-end security and stealth that is very challenging to spot for authorities. It means you can easily surf the Internet and use all the services with peace of mind, as we found out in our test.
In fact, this review would have actually been incomplete without this feature.
Multi-Hop VPN

You are connecting to a server as an entry node when you use the VPN. Then each user receives the same IP, and the server gains access to your desired site by passing through the exit node.
So, if someone suspects that you're using a Virtual Private Network, they could track the sites that are accessed through that particular service.
However, the multi-hop feature gives you a way around this issue by not instantly accessing the Internet. It instead uses the encrypted tunnel to transfer your request to another server, which ensures that you can't be traced.
Split Tunneling

Split tunneling is a very popular feature we often see in many premium VPN providers. Essentially, it allows you to choose which apps or websites will take advantage of a VPN tunnel, and which won't.
For example, if you want to access your local bank account in your home country, you don't need a VPN tunnel. And if you want to stream Netflix US abroad, a VPN tunneling will be useful.
Astrill VPN lets you choose websites/apps that will or will not utilize the VPN functionality.
Final Thoughts
To be honest, any VPN that works well in China should be given credit. Astrill VPN does work well in China and we commend them for that. In fact, the provider doesn't only work in China, it also offers access to big streaming sites like Netflix and allows users to download torrents risk-free.
However, while we admit that the provider offers generally an impressive service, we also think that it is overpriced. Not only is it overpriced, but it also does not come with a money-back guarantee.
Of course, this is a far cry from what we've become accustomed to from other top-tier providers.
We'd recommend it but bear in mind that the super-expensive service comes with shortcomings, which our test laid bare.
Thus, a much better, yet cheaper solution would be ExpressVPN.

Michael is a talented writer who has dedicated a lot of time into making sure that everyone around the world can use the internet securely. Being an avid traveler, he has acquired a lot of experience while using different VPNs on his travels. When it comes to doing comprehensive "how to tutorials" or testing some VPN functionalities, he's always the best pick ! He's here to help you solve your VPN-related issues.