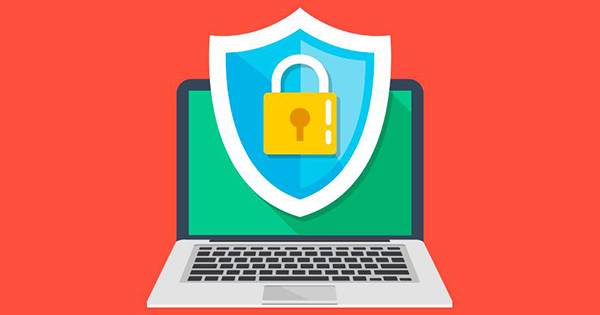 Antivirus or VPN? That is the question we are looking into today. In today's online world, security and protection are more essential than ever. Stories appear on a regular basis in the media. This includes identity theft, funds stolen from bank accounts, personal information stolen, and companies held to ransom after hackers have taken out computer systems. Thankfully, there is a lot you can do to prevent these things from occurring and a Virtual Private Network and AV protection are just two of the most popular.
What is a Virtual Private Network?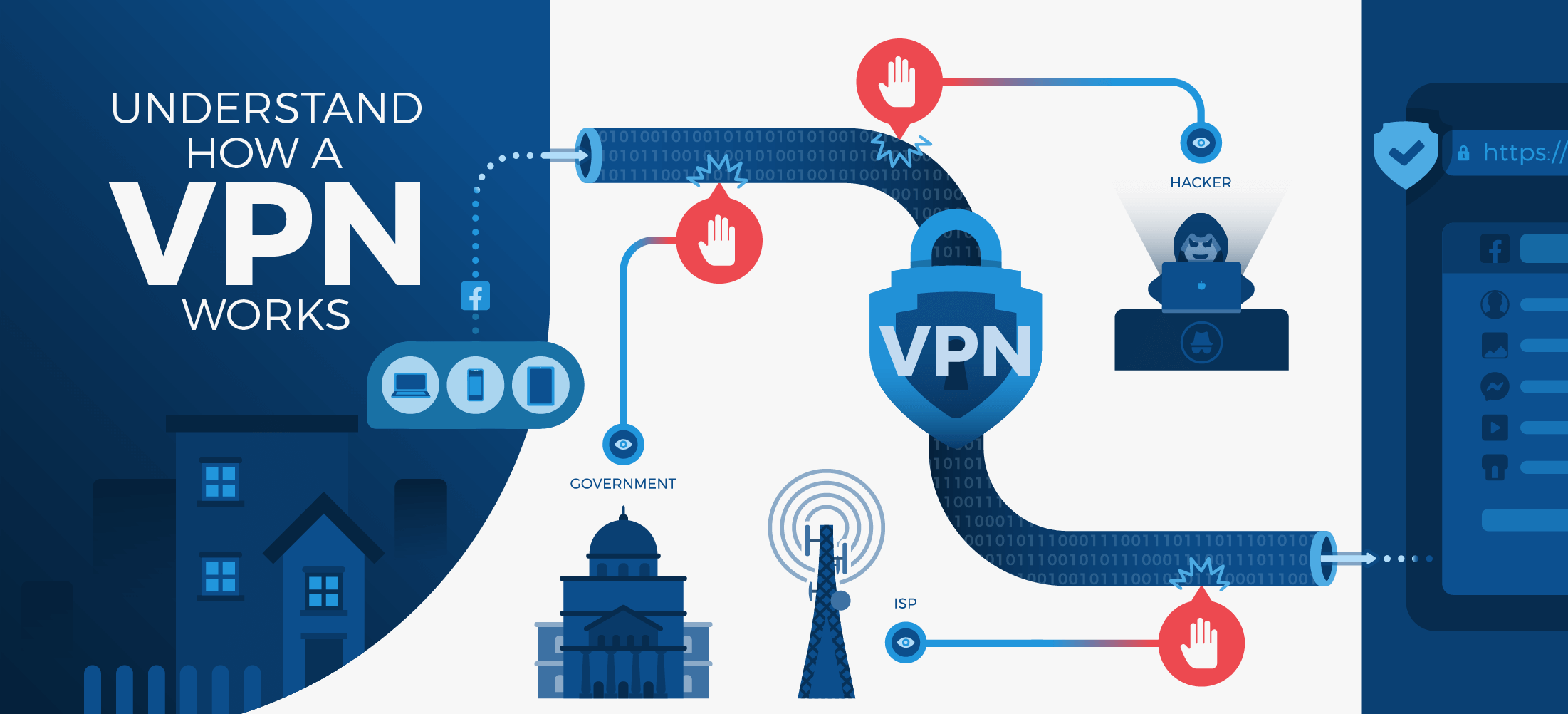 When considering the question of antivirus or VPN, you first have to understand what each of the technologies is and what they offer. Both offer security and safety measures online but this is where the similarities end.
A VPN, aka, a Virtual Private Network, provides a whole host of security measures to keep the internet user safe and secure online while also ensuring anonymity.
Providers offer plans, paid either monthly or yearly, with some of the best savings made when paying upfront. In this particular case, you might want to consider a Virtual Private Network provider like ExpressVPN, CyberGhost or NordVPN.
After taking out a subscription with a provider, you can download apps for various devices.  This ensures safety and security on whatever device you choose to use to access the internet.
Enjoy safety and security online with ExpressVPN >
Once downloaded, you install the app then launch it and connect to one of the thousands of servers offered by the provider from around the world.
Hide behind an encrypted tunnel

When connected to a server offered by the provider, your IP address is masked and you take on one from that server. Essentially, this makes it look as though you are located in that country. When considering whether to go with an antivirus or VPN, bear in mind that this is one thing that AV cannot do.
For instance, you might actually be located in the UK but take on an IP address from the United States, making it look as though you are in the states. In this instance, you have total anonymity.
Any information you send over the internet goes through a tunnel between your device and the World Wide Web. Your encrypted information passes through the tunnel onto the web and even if anyone came across it, it would be impossible to read.
When the information finally reaches the destination, it is decrypted. Again, this is something that may sway you towards a Virtual Private Network when considering antivirus or VPN.
With your IP address masked and information encrypted, not even your own ISP can find out what you do online.
Benefits of Using a Virtual Private Network
There are numerous benefits to choosing a VPN and we are going to take a look at some of the most popular ones below.
Online security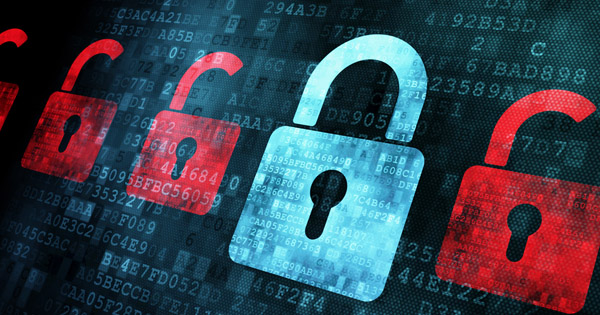 The first benefit is perhaps the most important if considered antivirus or VPN, as it relates to security.
AV does offer protection from viruses, Trojans, and malware from downloads. However, a Virtual Private Network takes things a step further and protects data sent over the internet so that hackers cannot access it on its way to its destination.
Some AV plans might include a basic VPN. However, providers offering antivirus will not be able to offer the numbers of servers and military-grade encryption that VPN providers offer.
If you undertake online banking or shopping that requires you to send your bank account and/or credit/debit card details, they are at risk of hackers. With a Virtual Private Network in place, that information is unreadable thanks to military-grade encryption.
Some Virtual Private Network providers also include features to block malicious websites when browsing online and stop ads popping up, which may slow down or infect your computer with malware.
Overcome geo-restrictions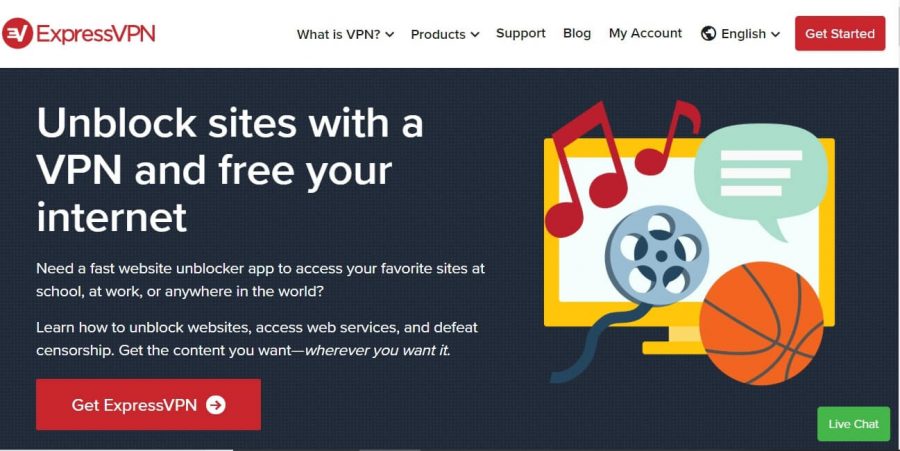 Another huge difference when considering antivirus or VPN is that a Virtual Private Network offers you a way to overcome geo-restrictions.
Geo-restrictions stop you from visiting websites or streaming when in certain countries.
For instance, you might reside in the United States where you can gain access to the full catalog of Netflix content. However, if you travel outside of the states, you are limited to the local version of Netflix due to copyright issues.
Watch US/UK/CA Netflix with ExpressVPN >
The sites know your location based on your IP address.
With a VPN, you can change your IP address to one from the United States by choosing to connect to a server based in the USA. So, for example, a VPN will enable you to watch US Netflix in Canada.
This applies to any country you visit or the website or portal of any country whose content you want to watch. Simply choose a server in that country and take on an IP address from that country to gain access to geo-restricted content.
Browse the internet anonymously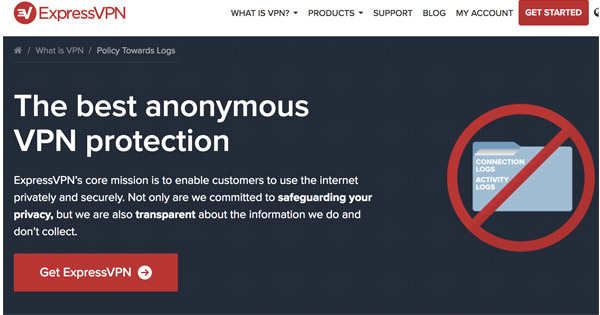 With a Virtual Private Network, you can browse the internet anonymously. It may surprise you, but even your ISP can spy on what you do while connected to the internet, keeping logs of sites you visit and what you download.
You have to be very careful about what you say and do online on social media and in forums. Freedom of speech in some countries can lead to fines or even jail time if you say something that causes an offense.
With such kind of application, you can hide your online presence by choosing to connect to a server halfway around the world from your real location. By doing so, even your ISP cannot keep a track of what you do online.
This is not something that all AV providers offer, so keep this in mind when considering between antivirus or VPN.
Torrent safely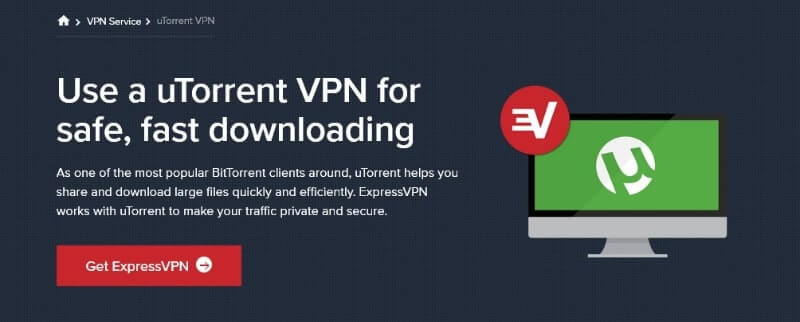 You might like to torrent online. While there is nothing illegal about using torrent software to download free music, games, and software, if you download and share copyrighted material, it is illegal.
Download torrent safely with the best VPN >
As mentioned above, your ISP can keep track of what you download and what you do online. So, if you like torrenting, you can benefit from using a VPN to hide your online presence.
Purchase restricted online games
Another benefit to using a Virtual Private Network that you do not get with antivirus is the ability to purchase or access restricted online games.
Some games are restricted or banned from certain countries. However, if you change your IP address you can get over the restrictions and download content. Using the same method, you might be able to make savings when downloading games from countries where games are cheaper to purchase online.
Make savings online
It is also possible to make savings online when booking flights, hotel rooms, and car rental. This is also something you cannot get with free or basic AV when pondering over antivirus or VPN.
You might make savings by choosing a server in a country or state with a lower income than yours. Prices on comparison sites depend on the IP address of your computer as all countries have a range of IP addresses.
Choose a country or state with a lower cost of living and you get access to cheaper flights, hotel rooms, and car rental when booking online.
What is an Antivirus?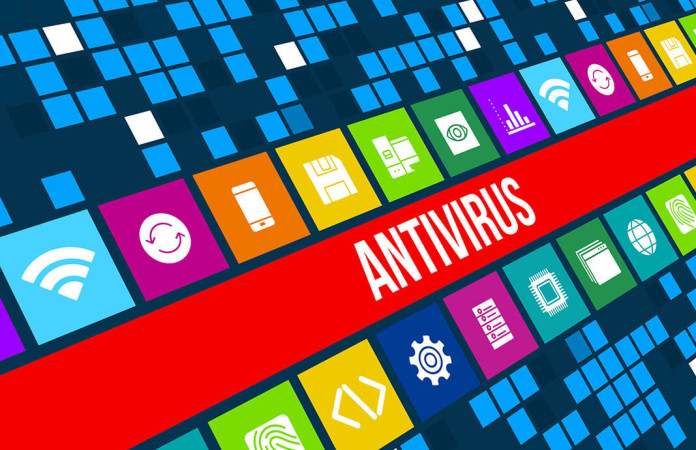 AV software plays an important role for anyone who uses the internet. Without some protection in place, the device is at risk of infections from viruses, worms, adware, Trojans, and more.
Today's computers generally ship with a form of antivirus installed, either free versions or trial versions.
However, there are many providers out there with some of the most popular being Norton, AVG, and Kaspersky.
The most advanced software comes with a price, although many do offer basic protection free of charge.
As cyber threats continually evolve, the software has to evolve too. That is the reason why the provider sends out updates on a regular basis. When weighing up antivirus or VPN, bear in mind that just as with the Virtual Private Network, AV software is generally paid for in subscriptions.
Providers usually offer a range of packages from the basic to the more advanced.
On downloading the AV software to the device, it resides in the background monitoring all you do online.
Users can set up scans on certain days to run automatically and remove any virus or malware it finds. Some plans also have real-time threat protection, catching viruses or malware in real-time before it infects the device.
Benefits of Using Antivirus
There are many benefits to using an AV and it does offer some things that a Virtual Private Network does not. Let us now look at the benefits.
Protect against viruses in downloads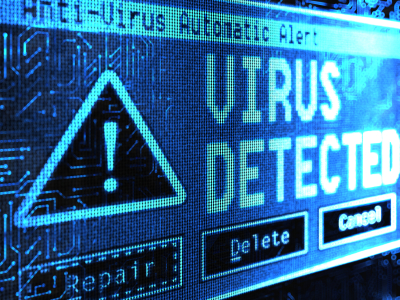 One of the things AV does extremely well is protecting against viruses when downloading.
A quality paid antivirus program will watch over any files you download or websites visited, and provide protection on the fly. If you visit a site that is infected, the software will warn you not to visit that site.
If you download a file with a virus, the virus is contained, so it cannot harm the device.
When considering antivirus or VPN, this is something that is not generally found offered in Virtual Private Networks as a feature.
Protection against phishing attempts
The software can provide protection against phishing attempts. Phishing is a cybercrime. It involves hackers targeting devices on the pretext of posing as a legitimate company or institution with the aim of obtaining personal details.
This usually involves obtaining a credit card or banking information.
Once the criminals have the information, they use it for identity theft or steal money from accounts.
Common ways that criminals use phishing attempts is through email. Most AV software can scan email attachments helping to eliminate phishing.
Scan removable devices
AV comes in handy for scanning removable devices such as USB flash drives, CDs, and external hard drives.
The program can usually be set up to scan them automatically on insertion.
Block malicious websites
When considering antivirus or VPN for blocking malicious websites, AV may be your primary thought.
However, some Virtual Private Network providers include ad blockers and malicious website blockers in with their features. CyberGhost and NordVPN both offer this as a feature.
Of course, there is nothing to say that you have to consider whether to use antivirus or VPN. So, why not use them both together.
Benefits of Using Both Together
By combining both AV and a Virtual Private Network, you have the best of both worlds.
With the second kind of application, you have access to all the features offered, which include:
Protection against hackers
Military-grade encryption for data
Anonymity online, so not even your ISP knows what you do
Overcoming geo-restrictions
Safe torrenting
Access online games safely
Access geo-restricted games
Save money on flights and hotel rooms
With a good AV in place, you have benefits that include:
Protection from spyware and viruses
Can conduct scans automatically
Have resident protection in real-time
Protection for removing viruses from removable devices
Block ads and malicious websites.
When using the two in combination with each other, it makes it twice as difficult for hackers to infiltrate your device and steal your information or put trackers on your device.
VPNs to Consider Using Alongside Antivirus
We have chosen what we consider three of the best VPN providers that you might want to consider. If you are located in the UK, you might want to check out our selection of the best VPNs in the UK.
If you have decided not to make a choice between antivirus or VPN and go with both, you may want to look at the following providers.
1.     ExpressVPN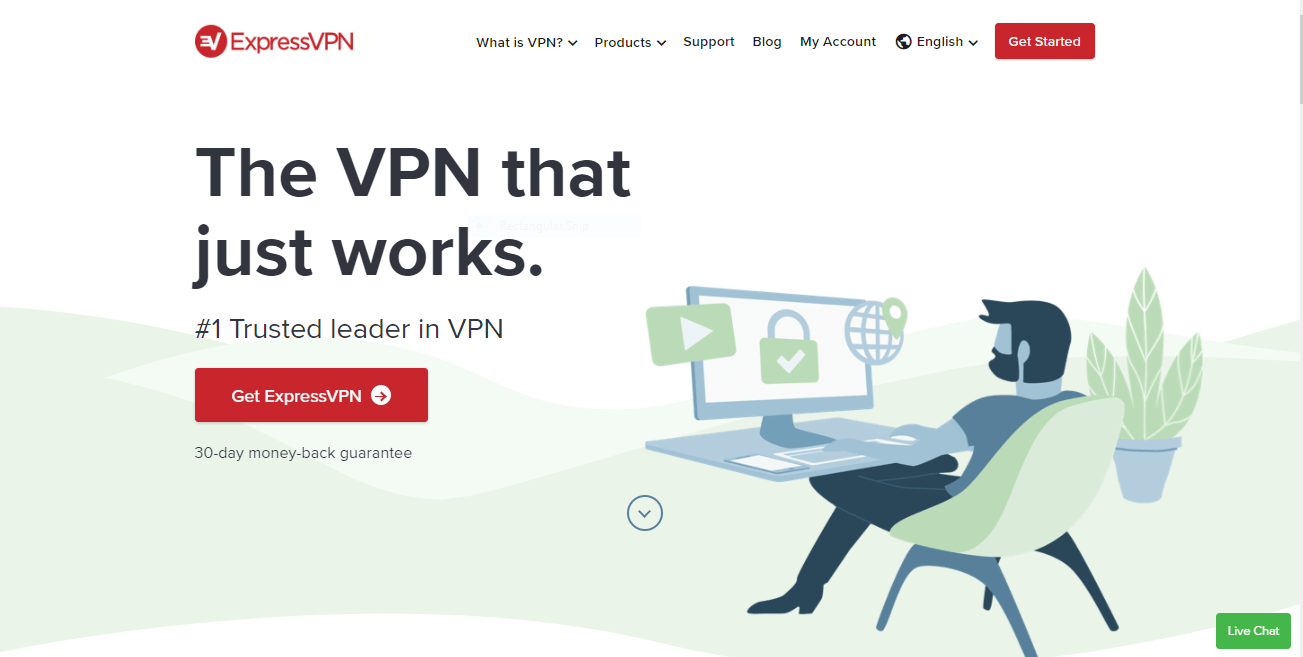 ExpressVPN is one of the top premium Virtual Private Network providers offering numerous features for security and anonymity.
The provider offers access to thousands of optimized servers around the globe (3,000+), making them a great choice for streaming HD content and overcoming geo-restricted content.
Apps are available for a wide range of devices, including Windows PC, macOS, iOS, and Android among others. This means you can enjoy all the benefits on numerous devices whether at home or on the go.
ExpressVPN offers IP address masking, anonymous web browsing, best-in-class encryption, reliable server technology, split tunneling, Network Kill Switch, and no-logging policy.
The provider is a great choice to use on its own or when considering antivirus or VPN and deciding to use both together.
Enjoy anonymous browsing with ExpressVPN >
2.     NordVPN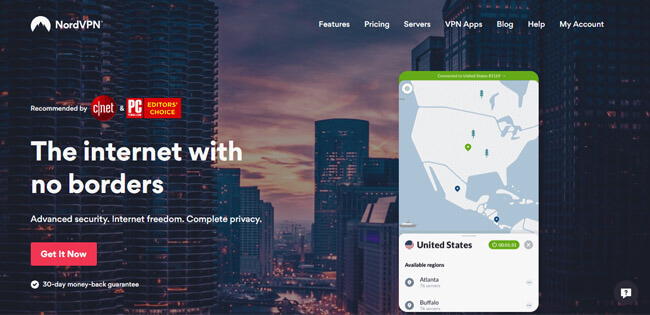 NordVPN is another great choice of provider to use on its own or with antivirus to benefit from both.
The provider offers plans packed with many features and benefits that allow you to remain safe and secure online.
NordVPN offers military-grade encryption along with access to 5,400+ servers around the world so you can mask your IP address and take on one from another country. The provider also allows you to connect to double servers for added security.
It also includes a feature called "Cybersec". This advanced technology suite allows you to take privacy onto another level. The technology is able to block any websites it deems to be suspicious, doing so automatically.
This protects against malware along with cyber threats. Along with this, the technology blocks ads to speed up web browsing. This feature is available on Windows, macOS, and Linux.
Of course, this feature does not take over from good antivirus software, so you do not have to choose antivirus or VPN, you can use both.
Get NordVPN with built-in malware protection >
3.     CyberGhost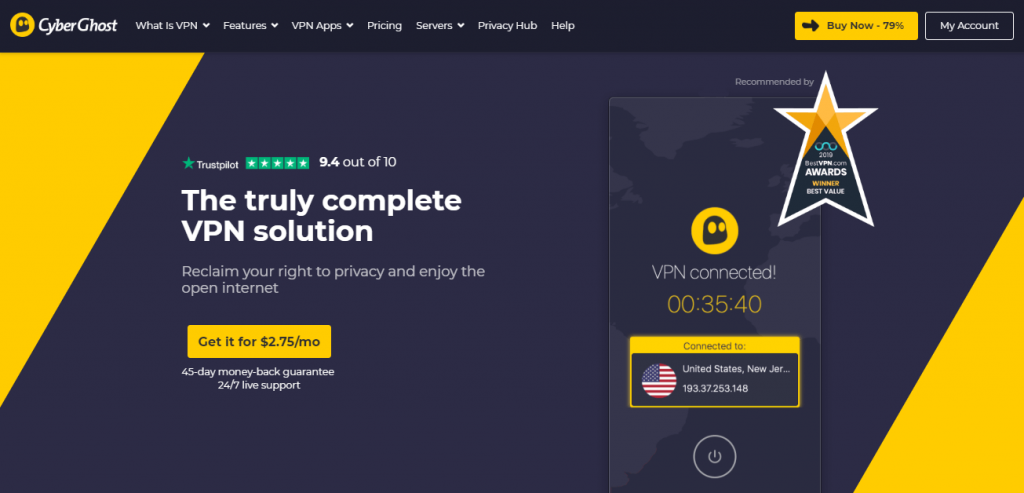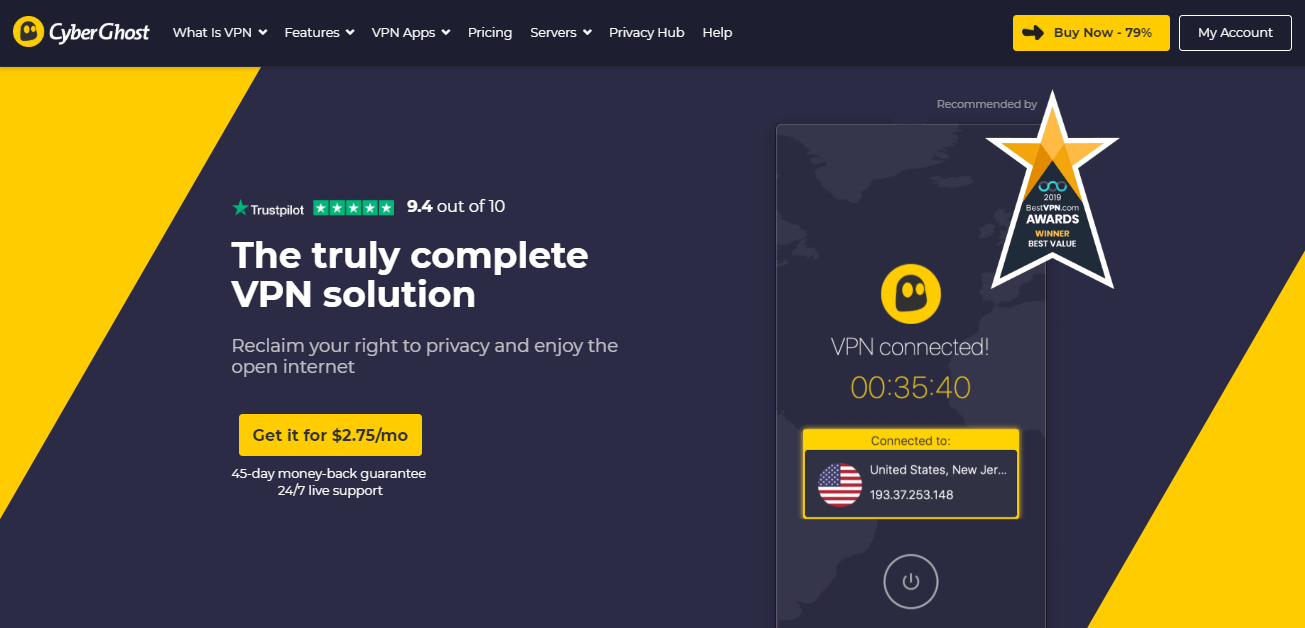 CyberGhost is another good choice of provider, offering access to 7,000 servers and the ability to overcome geo-restrictions. The provider allows users to browse anonymously and offers many features for anonymity.
Features include DNS and IP leak protection, Automatic Kill Switch, fast servers, and unlimited bandwidth.
CyberGhost supports torrenting and P2P sharing securely, thanks to 256-bit encryption. This is the highest level of encryption available. In addition, numerous apps are available for download for various devices.
The provider offers features that help to block ads, block malicious web content, and online tracking, and can work alongside any existing antivirus software.
Block malicious websites with CyberGhost >
In summary
A Virtual Private Network and antivirus both play an important role in offering security online. Both can co-exist with each other happily.
While free or trial antivirus often comes pre-installed with computers, you might have to pay to sign up for a subscription for more advanced protection. If you combine it alongside a good Virtual Private Network, not only is security boosted, but you also get access to numerous other benefits that AV cannot provide.
We have recommended some great choices of providers that you might want to consider that work in perfect harmony with AV software. There is no need to give thought to antivirus or VPN when you can have the best of both worlds combined.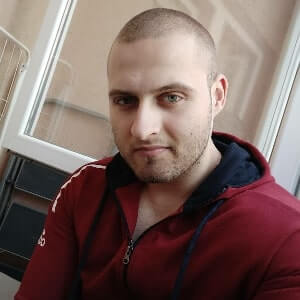 A professional writer with a Master's degree in Mechanical Engineering. Since his youngest age, he loves everything related to internet, technology, fitness, games, and dogs! He joined our team in order to bring his deep knowledge in security services, among which VPN is of course a key component.