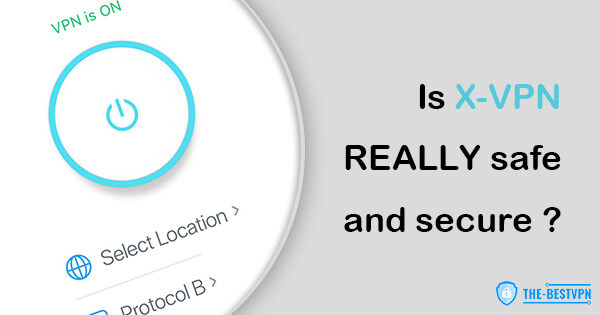 X-VPN is an ambitious VPN provider that promises a lot of features, fast speeds, and rock-solid security. The last part, however, is what interests us the most in this article. Security and safety are the two most important things in any VPN provider, so we'll examine X-VPN thoroughly to see if it's trustworthy. If you're planning on buying it soon, we recommend reading our analysis first, to avoid wasting your money.
Security: What Are the Security Tools in the Apps?
For a Virtual Private Network to be secure, it needs to have a plethora of security features in the app. Now, X-VPN is a cheap VPN provider, so we can't expect it to be on the level of ExpressVPN or NordVPN. Here's what security features you can find here:
Automatic Kill Switch
An automatic kill switch is a very important and reliable security feature in this software. Many people have heard about it, but not so many know how it works. Basically, it's here to shut down your internet connection as soon as the VPN connection drops.
In a quality provider, that shouldn't happen very often. However, if these drops happen frequently, this might come in handy. By doing this, a kill switch prevents you from leaking your IP or DNS accidentally, thus exposing your true identity online.
In this day and age, some providers still don't have this feature, which is a major red flag for us.
256-bit AES Encryption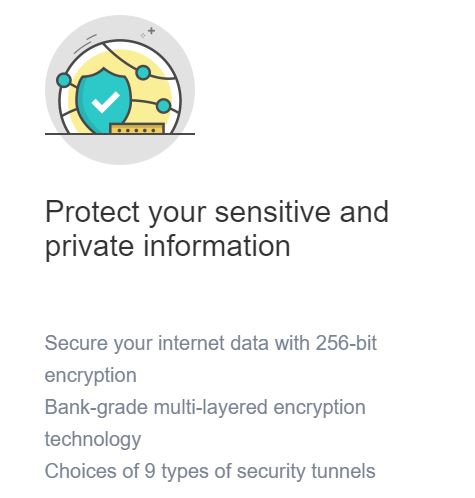 The best encryption your money can get now is 256-bit AES encryption. While some free providers use 128-bit encryption, X-VPN uses the strongest one. Is it enough to mention that banks, the military, and the government all use it?
No wonder why it's often called military-grade or bank-grade. As a premium provider, X-VPN knows its duty and that's to protect your identity online.
9 Security Protocols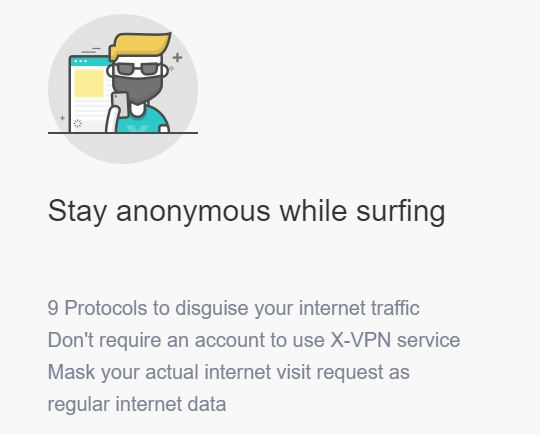 If you browse through the X-VPN's features on its site, you'll see that it offers 9 security protocols. The best VPNs on the market don't have this number of protocols, generally speaking. Usually, we're talking about OpenVPN, IKEv2, IPSec, PPTP, SSTP, and others.
But, X-VPN doesn't display the names of its protocols. Instead, it's Protocol 1, 2, 3, etc. We counted that as a security feature, but then again, we don't know what protocols are these. Are some of them based on WireGuard, for example?
We don't know anything!
The fact that this kind of vital information is not clearly indicated by X-VPN makes us wonder about its reliability and seriousness.
Router Support
It is, indeed, possible to use this VPN on your router. This is a great security feature that will easily secure all your devices at home. How? Well, you follow the guides on the X-VPN's website on how to connect it to your router, then, you connect all your devices to it, and voila!
Remember – a router can protect up to 16 or 32 devices simultaneously. This is more than enough to protect literally EVERY device in your household.
X-VPN Privacy Policy: The Most Important Security Criterion
So far, X-VPN was decent enough. We can't say we're impressed, but we're far from being disappointed. Now, it's time to check its privacy policy and see what we can dig out. At the very beginning, the provider states this:

They're basically saying that they don't store any logs. As you can see, they don't store your browsing activities, IP address, or sell your data to third parties. That's some great news – you must admit. Although, we're far from the end. Here's the next part: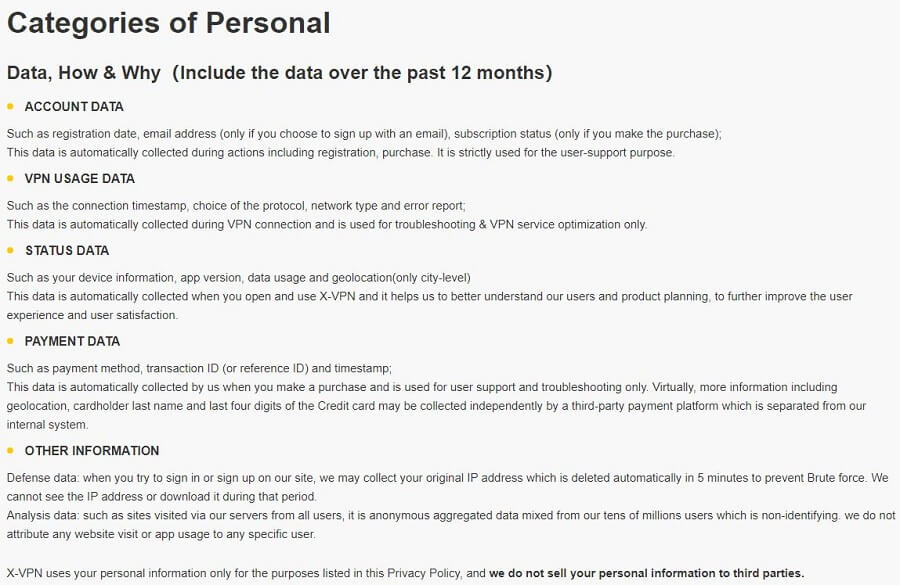 After all, X-VPN DO collects some data and it's being kept for up to 12 months. What data do they collect? To be honest, all kinds of data, including timestamps, network type, device information, geolocation, the protocol you're using, the server you connected to, and so forth.
This isn't a trustworthy zero-log policy we hoped to get, making us a bit more suspicious about the provider. Nevertheless, we continued and found this part:
Your account data is kept for less than 48 hours, while your personal data is kept "as long as necessary for the purpose for which it is collected…" And how long would that be? One year? Two years?
Also, we can see one fatal flaw in the last paragraph. Your data is actually kept on the servers in the EU, while the company is from Hong Kong. Furthermore, they warn us about the level of protection, which is obviously lower in Hong Kong than in Europe.
For us, it's enough to conclude that this policy isn't exactly trustworthy. Users on Reddit also seem to agree with us.
External Audit: Is X-VPN Safe?
Despite claiming more than it actually offers, X-VPN isn't really a great provider, let alone the most popular option. Why are we saying this? Because not all providers will get an external audit. To this day, only a few of them got it, including ExpressVPN and VyprVPN.
These are very good options and much better choices than this provider. X-VPN, being a smaller and newer company in the business, doesn't enjoy the same treatment. In most cases, though, it doesn't mean much if the provider proved itself in the eyes of the users.
Here that's not the case, as X-VPN isn't a trustworthy provider.
Issue(s) and Scandals the Company Has Faced in the Past
X-VPN didn't have any issues and scandals in the past. But, we do have to note that the company is from Hong Kong, which isn't the best location for a VPN company. PureVPN shares the same location, and if you remember, it's a pretty bad provider overall.
It even violated its zero-log policy by cooperating with intelligence agencies and giving out information about its users. Will that be the case with X-VPN? We've yet to see.
Conclusion: X-VPN Can't Be Trusted
With all the info we gathered, it's pretty clear that X-VPN can't be trusted. It's not safe to use and its privacy policy isn't the most trustworthy one out there.
A perfect and safer alternative to this provider would be ExpressVPN.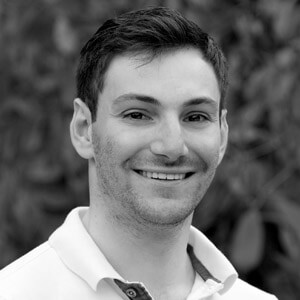 Flo is the founder of the-bestvpn.com. Really concerned about security on internet, he decided to create this website in order to help everyone find the best VPN. He's got a Business School background and now is 100% dedicated to keeping his website alive.