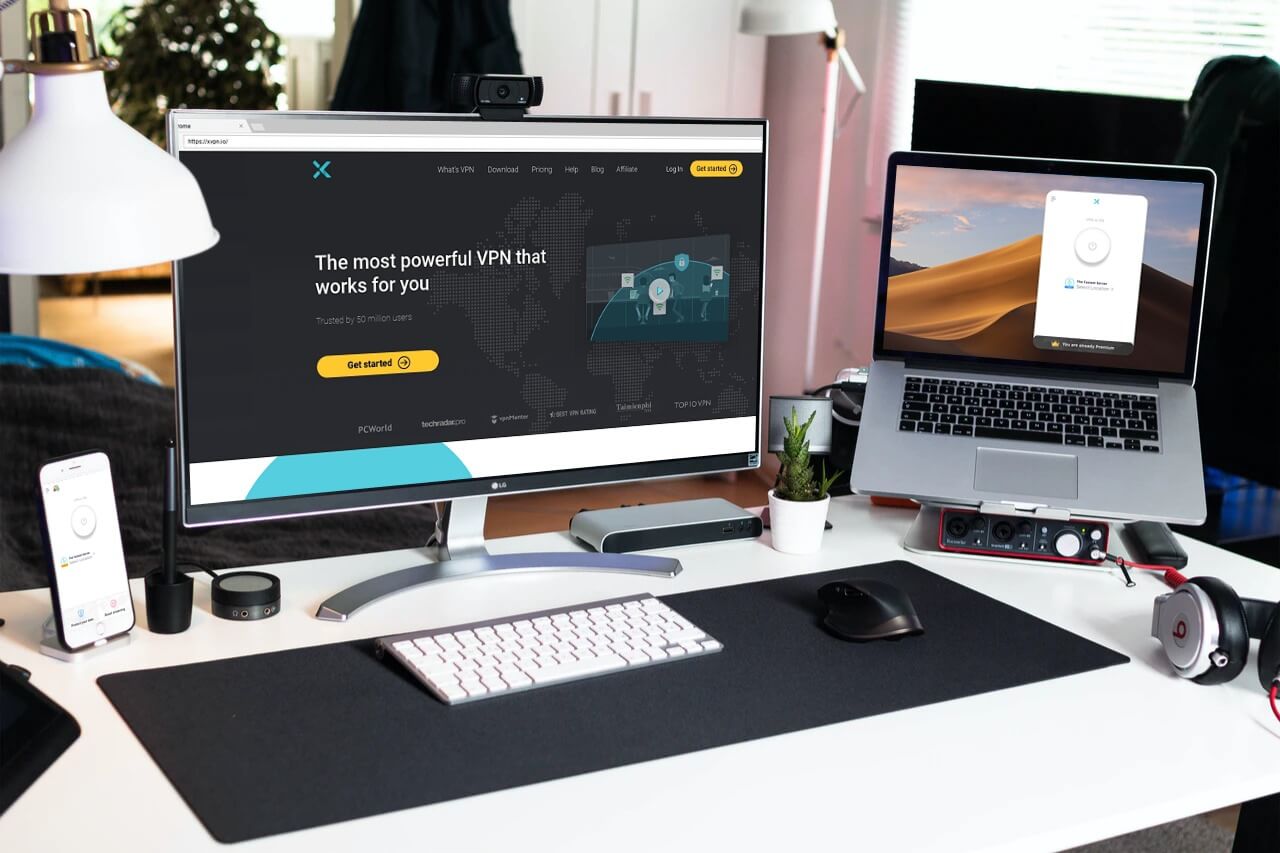 At first glance, X-VPN seems to be a good choice. After all, the provider offers a free version. What more could you want? Well, actually a lot more, such as great servers, fast speeds, etc. Apparently, more than 50 million users have chosen it as their Virtual Private Network and it seems to offer many of the benefits offered by the top providers out there. However, is it all too good to be true or does the provider live up to first impressions? This is what our X-VPN review and test are going to determine.
We are going to put the provider under the microscope and take a look at all aspects of its service to determine if it is a hit or miss and we are going to be brutally honest throughout.
So can the provider match up to the many other competitors out there, such as ExpressVPN, NordVPN or CyberGhost? Let us begin by looking at the main strengths and weaknesses.
STRENGTHS:
Free option available
Number of servers
WEAKNESSES:
Speeds are inconsistent
Lack of long-term pricing
Speed is slow
Split-tunnelling does not work well
Free plan limited to 500 MB of bandwidth
No choice of server with a free plan
---
X-VPN ranks #42 out of 104 VPNs tested. Here are the best alternatives :
Is it a free or paid VPN?
We want to start by saying it offers an interesting free (but limited) VPN.
Saying this, we are referring to the fact that with the free plan, you are limited to the nearest server to you, along with the client you can use.
This means you can use the desktop version of the Virtual Private Network and you have a limit of just 500 MB of bandwidth. You do not get a choice of server – you can only connect to the closes available server.
The mobile app is available, and again, the only server is the closest one to you. On the good side, you can use an unlimited amount of bandwidth.
Another downside to the free plan is not being able to use browser extensions.
There are paid plans available, which we will discuss later in the review.
Performance
Offering great performance is essential for any VPN, so this is the first thing we are going to look into for our X-VPN review and test.
In this section, we will be taking overall speed into account, along with the stability of the servers. These two things are crucial for any good VPN if you want to stream HD and download.
Speed
We will start by saying that the speed of this VPN is often very disappointing.
It was more disappointing the more we used the service. When we first fired up the Virtual Private Network to test the speed, we enjoyed fairly good speeds, which was promising.
However, things went quickly downhill from there.
When using a French server, there was a big drop in performance, with upload speeds dropping to only a fraction of the speeds without a VPN. We are aware that when connected to a Virtual Private Network, the speeds do drop a little, but this was ridiculous.
We saw the same results when using servers in other countries, including India and Japan. Again, the performance dropped significantly when looking at download/upload speeds and ping times.
Not something you want to see from a VPN.
This is not good for streaming, as you might imagine, and streams often froze or buffered.
Without VPN (we were located in London) :

EU Server (France) :


US Server :

Asia Server (Japan) :


Stability
Stability is another downside as the server connections were often unreliable and seemed to drop randomly.
With stability being one of the core features of any provider, we cannot recommend X-VPN and you might want to look elsewhere.
Streaming
Many people choose a VPN when they want to unblock and benefit from streaming services. Therefore, we are now going to move on with our X-VPN review and test by looking into how well the provider performs for streaming.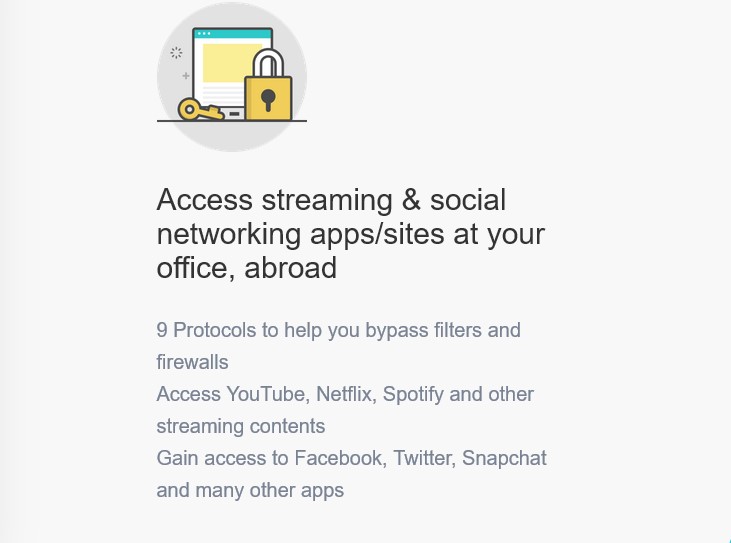 Netflix
With stability being an issue and servers being unreliable, streaming using the provider is going to drive you insane with constant buffering, stopping, and starting.
On saying this, the servers do manage to beat Netflix security and it is possible to stream it. For instance, we connected to a server in the US and managed to gain access to the full catalog of content from the states.
This was one part of our X-VPN review that we were pleasantly surprised about.
Other streaming services
Netflix is not the only streaming platform out, so we also put the provider to the test with other services.
We chose to test another two popular sites, BBC iPlayer and Amazon Prime, and managed to connect to both by choosing the relevant country and leaving settings at default.
The results were different when testing Hulu, as we could not bypass the security and remained blocked.
However, for streaming Netflix and more without issues, we do highly recommend the security and fast servers of ExpressVPN.
Security
We then decided to move onto the security aspects. One of the main reasons people choose to use a VPN is for security online.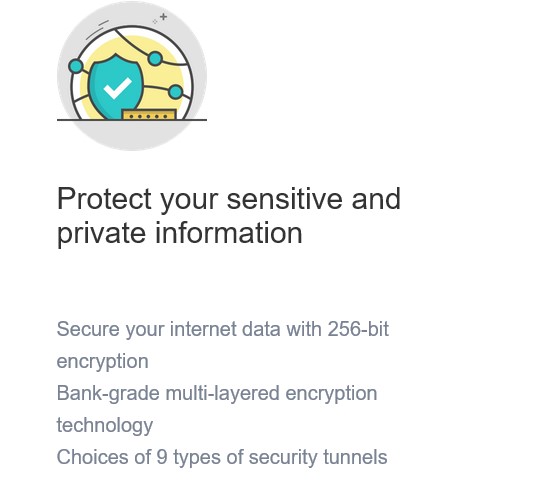 Where is it based?
During our review, we found out X-VPN is based in Hong Kong and is owned by Free Connected Limited. We did try to find information about the company but found very little online.
Log policy
The provider does have a logging policy in place but the news is not so great, as it looks like a fair amount of data is collected.
No data is collected regarding the websites, visited apps, or services used. Nor does the provider collect information on how users use the service. Your IP address is not noted or any server addresses you want to make a connection to, nor DNS queries.
However, the user's email address is collected along with the subscription status and payment method. The ad identifier number of Android and iOS devices is also collected.
The provider claims to collect data in aggregate and this includes the operating system and total amount of data used per month. The server location used is collected along with timestamps and the protocol used, along with the type of network used to connect.
So, while a no-log policy is in place, it is apparent that a great deal of information is, in fact, collected. This should make you wary.
Protocols
The protocols offered is something that concerned us during our X-VPN review and test.
Unlike ExpressVPN and other providers who state they use OpenVPN and other protocols, here, we have no idea which protocol we were connecting to or which we used.
Instead of the name, there is only "Protocol A, B, C" etc. This means you have no idea about the protocol used.
The provider claims this is to protect privacy. But to be honest, we have no idea what that means as other providers with serious privacy concerns have no issues in telling the proper protocols used.
In total, there is a choice of eight different protocols to choose from and each gives you a star rating based on speed to connect, speed once connected, security, and if you can use the protocol for overcoming geo-restrictions and censorship.
Leak protection
We did not find any leaks during our test and the provider does offer IP and DNS leak protection. This stops data from being read if the server connection drops.
Torrenting
The plans can be used for P2P file sharing and torrenting with the provider offering strong 256-bit encryption and DNS leak protection.
The encryption will ensure that your ISP cannot find out what you are doing online so they will have no idea what you are downloading. While the DNS leak protection makes sure that if the server connection drops data is not exposed.
However, as speed can be something of an issue, expect to wait a long time for downloads to complete.
A better solution is ExpressVPN that offers blazing-fast speeds and also supports torrenting.
Bypassing censorship

If you want to bypass censorship in schools and the workplace, X-VPN is capable of doing so.
This means you can use social media apps and websites blocked by the workplace and school or browse any other sites that are restricted.
However, if you want to overcome the strict censorship of countries such as China, you might want to look at other providers. China, in particular, is very hard to bypass due to the Great Firewall and is continually blocking the servers of providers.
If you need a VPN to work in China, one stands out and this is again ExpressVPN.
Countries and servers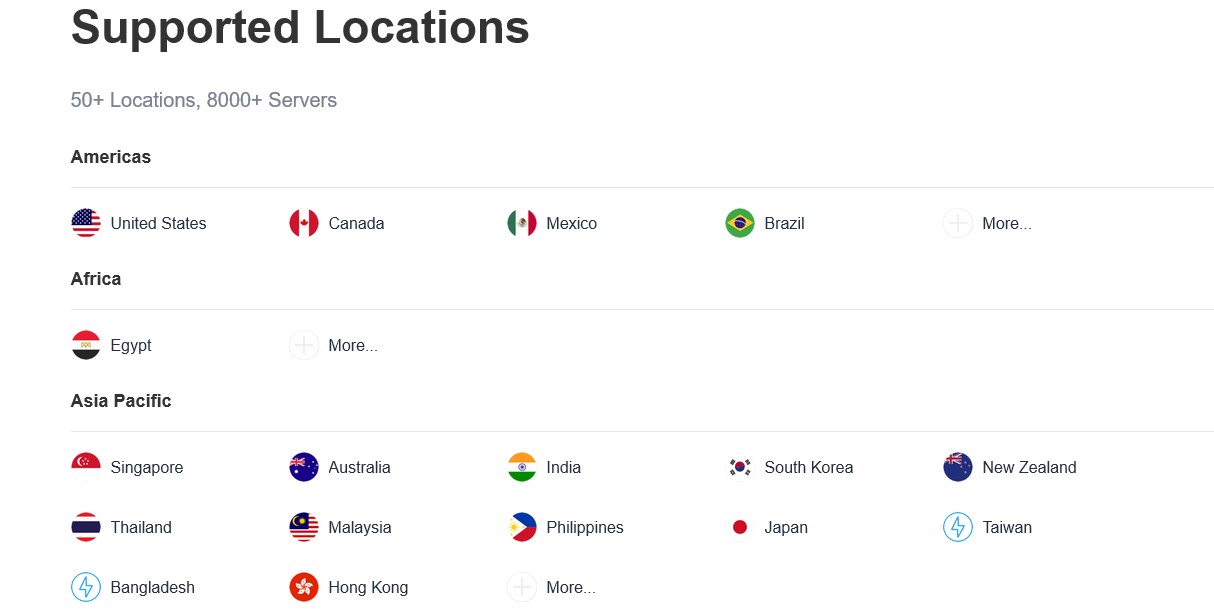 X-VPN provides access to over 8,000 servers in around 50 locations worldwide, which is a good thing for our review of 2023.
Servers are located in The Americas, Asia Pacific, Africa, Europe, and the Middle East. The biggest number of servers is located in Europe and the Americas, with Africa just having a couple.
Bear in mind that the further away you connect from your actual location, the poorer the speed. And remember, the speeds of the provider are nothing to brag about in the first place.
The provider also offers servers specifically for online gaming and video streaming. However, do not expect to get great results even if you use the dedicated servers. Speeds are still slow and not really suitable for online gamers or streaming in HD.
For both cases, any of the top providers come out better. ExpressVPN and NordVPN, for example, offer thousands of optimized servers located around the globe. And they are way more reliable!
Compatible devices and connections
The next part of this X-VPN review focuses on compatible devices and connections, so how does the provider fare?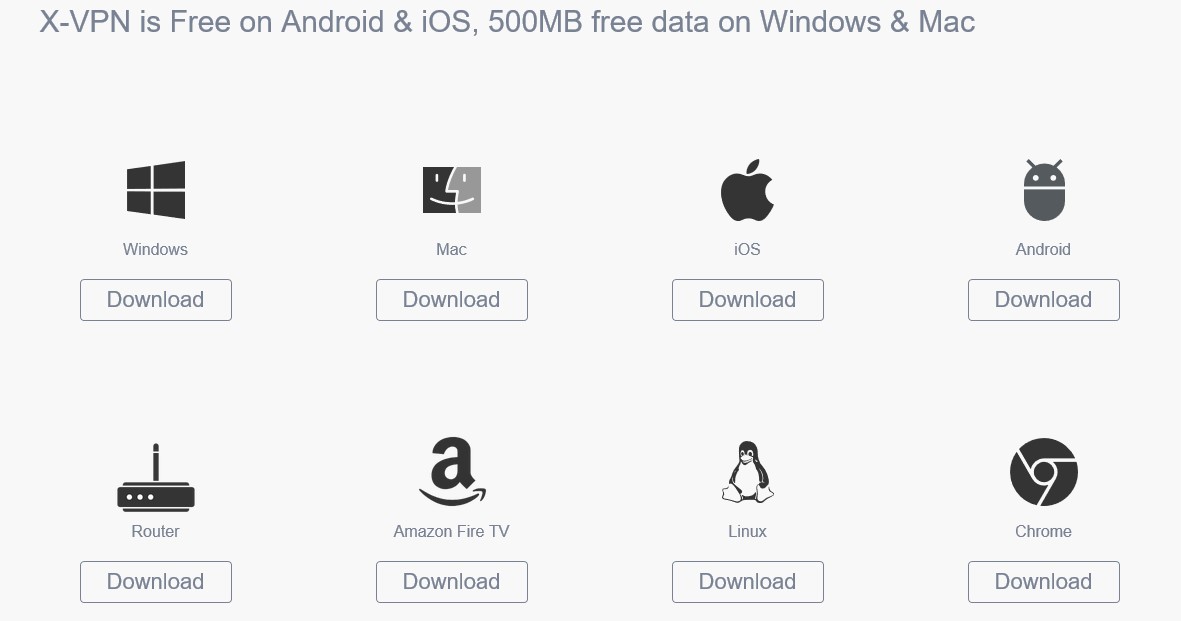 Devices supported
Windows, macOS, Android, and iOS are all supported with apps being available to download from the website and Play Stores. Browser extensions are available and the provider supports installation on Amazon Fire TV and routers.
All apps are easy to use and come with a clean looking interface that makes connecting extremely easy. For devices, such as routers, where no app is offered there are tutorials for installation and use.
Simultaneous connections
All plans can be used on up to five simultaneous devices, so other family members can take advantage of the same plan.
This is in-line with many other top VPN providers out there, while Surfshark offers support for unlimited devices.
Support
For our X-VPN review and test, we wanted to check out the level of customer support. While it is nothing compared to ExpressVPN and the superb level of support offered, the provider is not bad for support.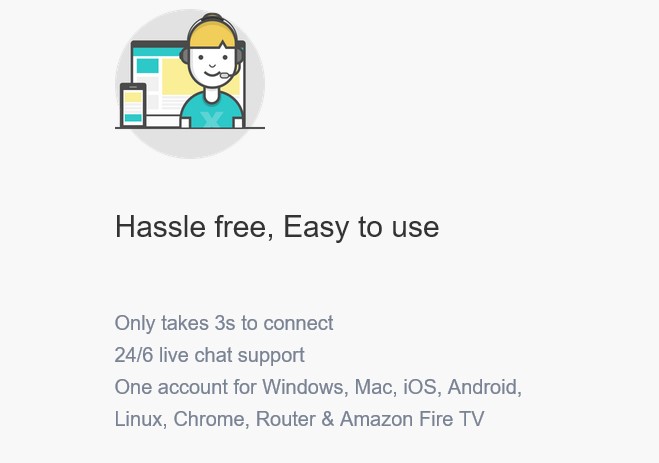 We were pleased to find live chat support available on the website. This is the fastest way to receive help six out of seven days a week. If you run into issues on a Sunday, you are out of luck as no one is available.
How long you have to wait depends on how busy the provider is.
There is also email support, however, do not expect to receive an immediate answer as you could be waiting a couple of days. Finally, the provider offers a help center with a knowledge base.
However, only basic questions are answered in the FAQ section.
Value for money
Does the provider offer good value for money with its plans? Let us take a look at the offers and prices.
Price comparison
As mentioned before, there is a free plan but it is very limited and you might want to think of it more like a trial than a full-blown VPN due to all the limits.
The free plan only allows you to connect using the fastest server option. This is where a server and route is chosen based on your network. The free version is also limited to 500 MB per month.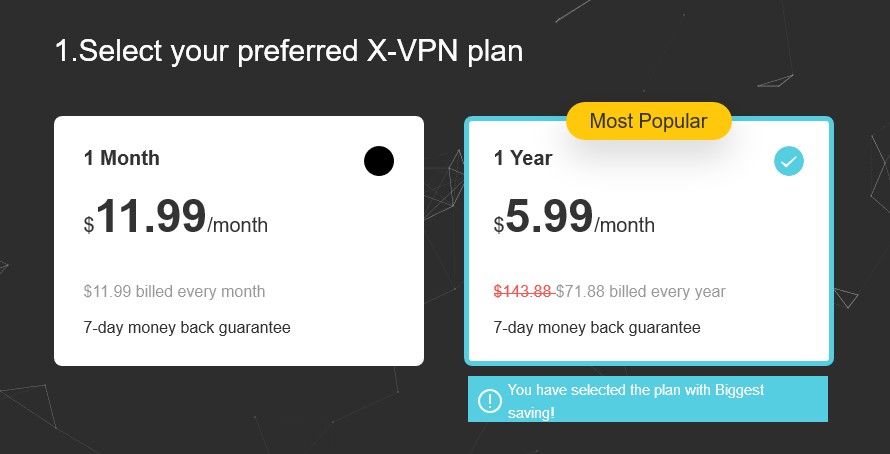 Two paid plans are offered and these both provide unlimited access to top tier privacy protection according to the website.
The first plan is a simple month-by-month plan, which comes in at $11.99. The second plan is a yearly plan, which is billed at $71.88 per year, which is the equivalent of $5.99 per month.
For around $5 more, you can get a 3-year plan with CyberGhost. For us, prices offered by X-VPN are way too expensive compared to other providers.
Payment types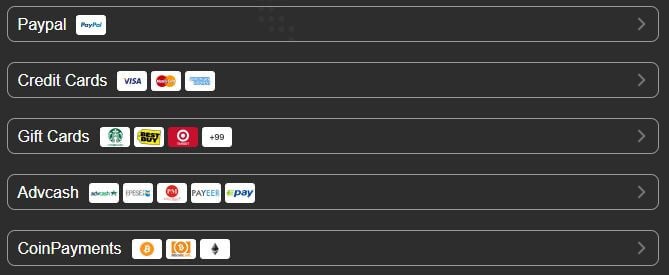 There are several ways to pay for a plan and these include PayPal, Credit card, EPay, Payeer, Gift card, and Bitcoin.
If you value your anonymity, you might want to go down the Bitcoin route for payment.
Money-back guarantee
There is a money-back guarantee from the provider but it is only for 7 days. It does claim to be hassle-free but this is poor when you take into account that leading provider ExpressVPN offers a 30-day unconditional money-back guarantee.
Extras
If there are any extras included, we could not find them, nor are there any incentives offered on the website of the provider.
Final thoughts
Now, we come to the final thoughts in our X-VPN review and test.
The provider claims to offer the most powerful VPN but we find this hard to believe when it is going up against providers such as ExpressVPN, NordVPN, and CyberGhost.
We did not like the fact that the protocols are not named. This means you have no idea whether it is OpenVPN, the most secure protocol, or any other. This is a big deal, as you do want to know how safe your VPN is.
Server speeds are on the slow side and nothing to brag about, in fact, it was something of a chore trying to stream in HD and downloads dragged.
All-in-all, this is not a provider that we would recommend over the top providers out there.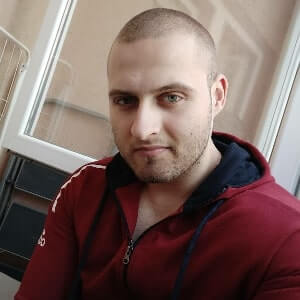 A professional writer with a Master's degree in Mechanical Engineering. Since his youngest age, he loves everything related to internet, technology, fitness, games, and dogs! He joined our team in order to bring his deep knowledge in security services, among which VPN is of course a key component.