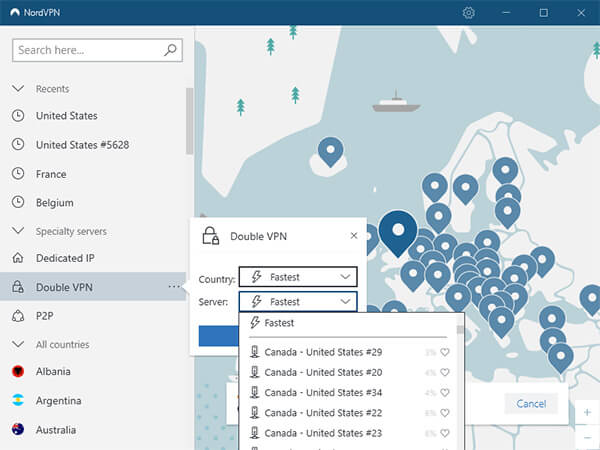 On the market, there are at least hundreds of VPNs that all offer pretty much the same features. But, in the sea of mediocre providers, some will separate by offering a wide array of special functionalities, one of them being Double VPN. We don't see it often and users aren't well-acquainted with what it is and what's its purpose. So, let's talk more about it and see if it's as useful as many think it is.
What Is a Double VPN? How Does It Work?
When you connect to a VPN server, the provider sets up a virtual tunnel that spans from your computer to the internet. Here's an image that will perfectly explain what we're trying to tell.

This tunnel wraps around your connection, preventing anyone from seeing what's inside the tunnel. It's like driving a car through the tunnel, where other drivers can't see you.
Other drivers will see themselves, while you're driving elsewhere, and no one sees you, yet you arrive at the same destination. In other words, a VPN will route your traffic through its server via this tunnel, so that no one can intercept and decipher its content.
What is a Double VPN, then? Well, Double VPN is exactly what it sounds like – a double layer of security (encryption) that routes your connection through TWO different VPN servers, and not one.
If we take an analogy from above, it's like driving through the tunnel, only to get to another one, that's completely different, and then, arriving at the destination you want.
Logically, this makes you even more untraceable and harder to detect. Here's how Double VPN works, in short:
When you connect to the server, your connection is encrypted two times.
The encrypted data goes through the first server of the VPN provider.
Now, the second layer of encryption is "peeled off" by the server.
Your data, now with only one layer of encryption, is transferred to the second server.
The second server "peels off" the first layer of encryption, leaving your data decrypted.
The decrypted data arrives at its destination i.e. online service, app, or website.
Advantages and Disadvantages of Double VPN
The main question here is if you actually need this feature. Let us tell you straight – you probably don't, except if you're a journalist or activist, or you live in a country with excessive government surveillance.
Advantages of Double VPN
This feature is very powerful in the way that it adds a rock-solid layer of security to your connection. You can access the Darknet safely with it, or enjoy any other activity, without worrying if someone's going to intercept your traffic.
Get NordVPN to Use the Double VPN Feature >
Even if someone accesses the first server, the second server and its encryption are here to back you up.
For example, if your ISP manages to track the information in the first server, they can't go past the second one, so they can't see where that traffic is going. Conversely, if they track the second server, they don't see where the traffic is coming from.
This way, you're always safe, secure, and anonymous.
Disadvantages of Double VPN
Double VPN doesn't always work this way, though. The feature we described above is called "nested" Double VPN, and it's the best security solution. But, some providers that offer this feature don't adhere to these rules all the way.
Instead, they encrypt your data only once before sending it to the first server. The first server then removes the encryption, leaving your decrypted data to travel to the second one, where it applies another layer of encryption.
Basically, both servers can access an unencrypted version of your traffic, which does nothing in terms of security and privacy. This is what you need to AVOID.
Furthermore, due to the two layers of encryption, the connection speed is always slower. It's nothing major but the reduction is sometimes noticeable, depending on the provider and your internet speed.
Maybe the biggest downside is that you can't choose which two locations to chain. There are usually two fixed locations and you can just choose which combination you want from the provider's roster.
Which Provider Offers Double VPN?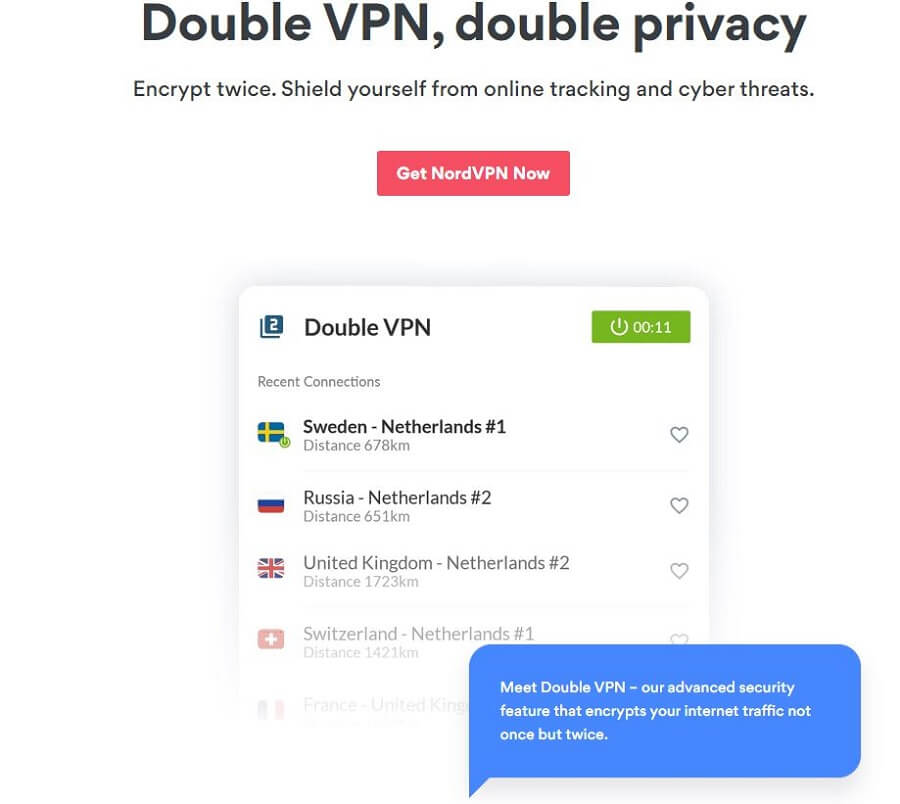 There are very few providers that offer this functionality but the best one is definitely NordVPN. NordVPN is a very popular option on the market, that offers 5,600+ servers in 60 countries, with dedicated, obfuscated, and Double VPN servers.
Double VPN in NordVPN is great and works flawlessly, although it suffers from the minor problem we mentioned above. You can't select which locations you want, so you have to choose from the few presets that are offered.
Enjoy Double VPN With NordVPN >
You'll like this provider because it has pretty fast speeds and can unblock platforms like Netflix, Hulu, or Amazon Prime. Moreover, it's very secure with its 256-bit AES encryption and a kill switch.
Being from Panama, it maintains a strict zero-logging policy, making sure that your data never gets into the wrong hands. It's the most trustworthy provider you can get accompanied by ExpressVPN, which doesn't offer this feature.
How to Enable Double VPN?
If you're using NordVPN, enabling this functionality is pretty easy. On the left-hand side, there's a server list where you can choose different types of servers. Click on the Double VPN menu to expand it. Now, choose the combination of servers you want and connect to it.
Another way to use the feature is to combine two different providers. This method is highly unlikely to work, as two VPNs usually can't work simultaneously. And if they could, you'll need to do a lot of tweaking and troubleshooting to make it work.
The VPNs will have to use different protocols, to be set-up differently (one on the router, and one on your device), and so forth. To avoid the additional hassle, our recommendation is to get NordVPN and enable it in a few seconds.
NordVPN currently offers a huge discount on its plans and gives you a 30-day money-back guarantee. This means that you can use the provider for 30 days risk-free without losing a single dollar if you don't like it.
FAQ
Is it worth it to use a Double VPN?
It depends on what you want to accomplish on the internet with your VPN. If you just want to unblock and watch content on Netflix, or download torrents, you should avoid using a Double VPN because the speeds you will be offered will be really low.
Using a Double VPN feature really makes sense if you are looking to improve your online security and privacy. If you are in this case, NordVPN is a really great choice!
Is Double VPN safer?
Yes, this will give you an additional layer of protection since you will be going through not one but two servers from your VPN provider. That way, it will be even more difficult to trace the information back to you.
Can I use two VPNs at the same time?
No, you can't. And it is absolutely not recommended. If you really want something like this, use the double VPN feature offered by NordVPN, for example. The expected effect will be the same.
Can I be tracked if I use a VPN?
You can never be completely invisible on the Internet, even if you use the best VPN around. On the other hand, by using such a service, it is clear that it will be possible to reduce your footprint on the Internet and thus, improve your privacy (for example, by hiding your Internet traffic from your ISP).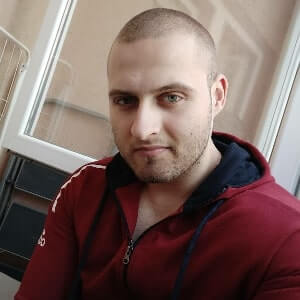 A professional writer with a Master's degree in Mechanical Engineering. Since his youngest age, he loves everything related to internet, technology, fitness, games, and dogs! He joined our team in order to bring his deep knowledge in security services, among which VPN is of course a key component.