The need to protect your online privacy has only increased as the Internet becomes even more complex, oversaturated, and even dangerous. Without a protection tool, things like your IP address and your device's location can be easily accessed by just about anyone with the right know-how. This includes your Internet Service Provider, who can monitor every link you click on. Luckily, there is a solution to this problem – a Virtual Private Network, or VPN. 
In this article, we are going to examine one such VPN. By the end, you will know whether or not you can place your trust in VPNHub, or if you should look elsewhere for a tool to protect your online privacy.
Security: What Are the Security Tools in VPNHub?
The first thing we look at when trying to determine the safety of a service is its security features. We do this first before we look at any other features it may have. Security is the most important thing to consider when deciding on a VPN.
Does it have a Kill Switch? Is my traffic encrypted? These are all questions that we ask, and we have the answers for you down below. This way, you will have a first opinion on whether VPNhub is safe to use or not.
Kill Switch
A Kill Switch is a great feature for any VPN to have, and it is almost necessary at this point. A Kill Switch ensures that your IP address and location are not compromised in the event of a connection loss to the VPN.
It does so by completely restricting your device's connection to the Internet until a secure connection to the VPN can be re-established. Thankfully, VPNHub provides this feature.
The Kill Switch is available as additional security. It can be enabled or disabled at any time, though we would highly recommend that you keep this feature active at all times.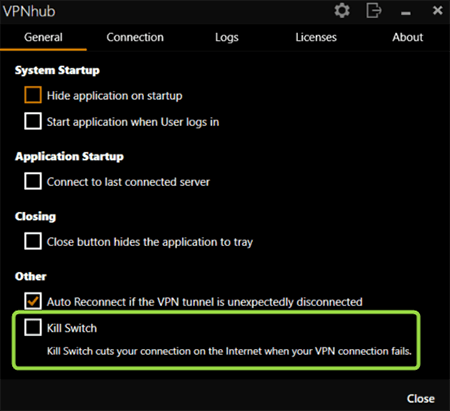 Data Encryption
We are happy to report that VPNHub also offers some great encryption protocols. Not only do they make use of industry-standard procedures, but they go above and beyond by utilizing more military-grade encryption protocols.
This turns all your data into unreadable strings of code.
Leak Protection
In the event of a DNS or IP address leak, your information and data become vulnerable to unwanted eyes and theft. VPNs must offer some sort of protection or leak-testing features against this.
Thankfully, VPNHub provides just that. You will find the industry-standard DNS leak and IPv6 protection features available. You have nothing to activate, it's there by default.
Privacy Policy: The Most Important Security Criterion
A privacy policy can make or break a VPN. If it is too vague or too sketchy, the trust between the user and provider might be shaken. A VPN's privacy policy needs to be fully laid out so that users know exactly what is being done with their information – after all, it is their information.
With that in mind, let us get into and try to break down VPNHub's privacy policy to see if it is safe to use.
Information VPNHub Collects
VPNHub begins by laying things out very clearly, and clarity is excellent quality for any privacy policy to have. They stipulate that personal information is any data that can be used to identify or associate with an individual.
They do not collect or store any personal information.
With that in mind, how does VPNHub store account information? With any service, there needs to be some sort of account that needs to be created to make use of that service. Luckily, with the free version of VPNHub, you do not need to provide them with any contact information.
If, however, you use the premium (paid) version, you will need to provide an email address and a password. These are encrypted and are not linked in any way to how you use that service. It is merely collected to confirm and maintain your subscription.
Third Parties
Unfortunately, with this payment and subscription policy, if you pay via other services, such as Probiller or through your device's app store, your information becomes susceptible to that site's privacy policy. The introduction of third parties makes using the VPN service just a bit less safe.
Additionally, other third-party services are used in collecting and analyzing certain bits of information. This is a huge detriment to the VPN's user-to-service trust. Your information is susceptible to the third party's privacy policy.
This means that you will have to view additional documentation, which may not be as strict as a VPN's privacy policy.
Data Protection and Encryption
When the VPN is launched, some information is collected. This includes your platform, operating system, browser type, and network information. This is all quite standard and is nothing to be alarmed about.
They collect this information to optimize their own performance, as well as the user's experience.
When this information is collected, it is immediately pseudonymized, encrypted, and stored, but only for the duration of your session. Your IP address is deleted at the end of your session, and it is not associated with your online activities, nor is it logged or stored.
External Audit: Is VPNHub Safe?
VPNhub has not been audited by any outside sources. While not required, an external independent audit is important for users, as it conducts a thorough survey on the service and can safely say whether or not it can be trusted.
Not every VPN has been independently audited, of course, but it is something to keep in mind. We believe that this indicates that VPNhub might not be able to keep you secure and safe, which is a problem.
Issue(s) and Scandal the Company Has Faced in the Past
Surprisingly enough, this VPN from adult film industry leader, PornHub, has not suffered any scandals, though there was some controversy over its inception.
When it was announced and released, many were skeptical about a VPN delivered by a porn site. Despite this, no legal issues or any massive issues have affected the VPN as of yet beyond the initial public reaction.
Conclusion: VPNHub Cannot Be Trusted
Unfortunately, our opinion on VPNhub is not good at all and we have to conclude that it simply cannot be trusted. While the site and service provide all the necessary tools and features you have come to expect from a VPN, the introduction of third parties is too large a blip on the privacy policy to ignore.
We would recommend going someplace else for your VPN needs. Our favorite option is ExpressVPN. It has all of the privacy and security features that you need to stay safe. Find out more about it here using the button below.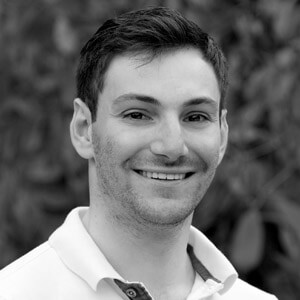 Flo is the founder of the-bestvpn.com. Really concerned about security on internet, he decided to create this website in order to help everyone find the best VPN. He's got a Business School background and now is 100% dedicated to keeping his website alive.