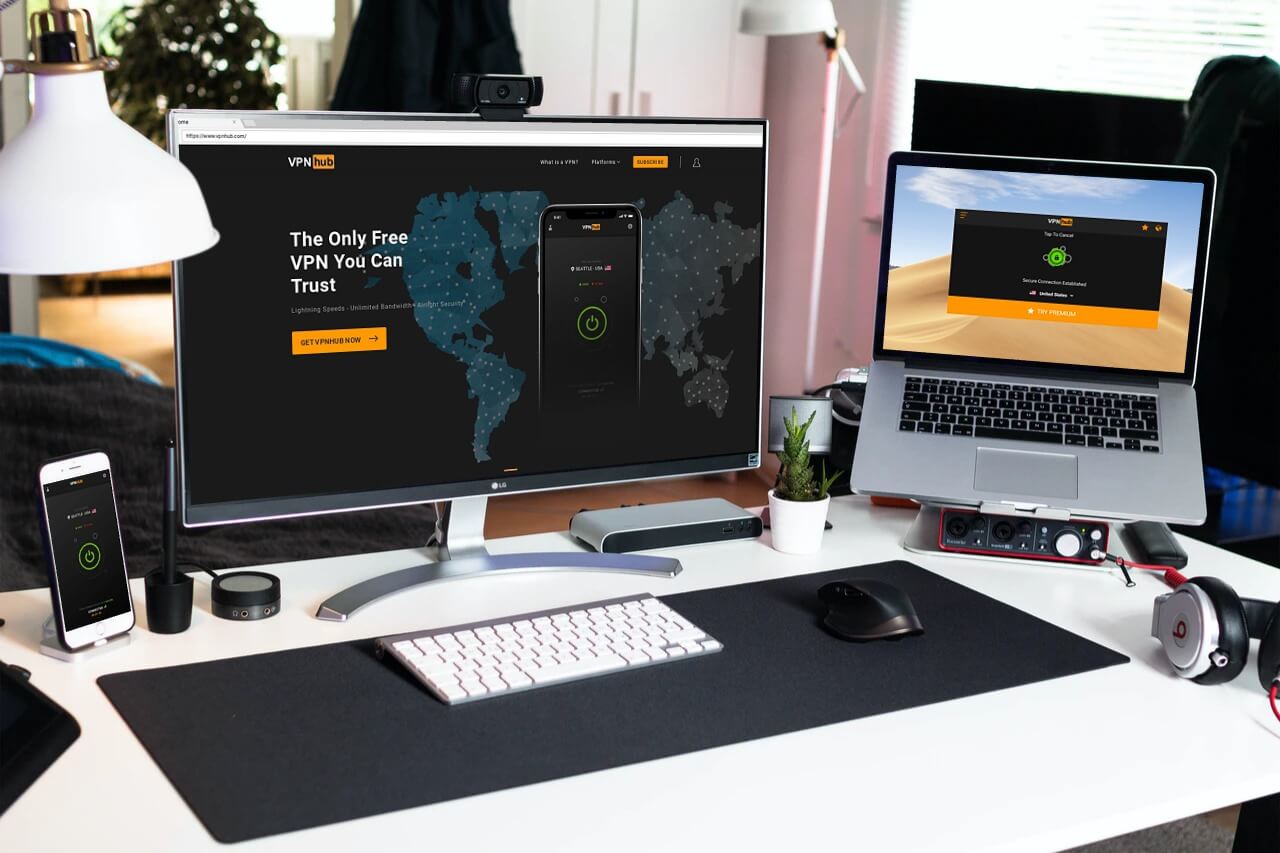 Nowadays, new entrants come into the VPN scene weekly. Thus, it's now hard to recognize the good VPNs. However, one provider that you're likely to recognize by just looking at its logo is VPNHub. This is because it's a brainchild of PornHub, which is one of the biggest porn platforms in the world. That said, we've created a review and test for this infant provider.
VPNHub was created in 2018, which should tell you why we called it an infant provider if you were wondering. After learning of the restrictions that many countries have placed on PornHub, the site decided to create their own VPN.
However, due to its newcomer status, don't expect it to be as rich as leading providers in terms of features.
If you check out their site though, you'll find many promises. You will see claims about VPNHub being the best VPN solution that allows you to protect personal data, unblock websites, and utilize a variety of premium and free plans.
Apparently, we know better than trusting those hefty claims, so we decided to test the service in-depth.
While our test has revealed that most of the claims on their website are bogus, we still found some positives. Of course, you can use it to bypass the UK porn ban.
However, expecting it to deliver the same level of performance as ExpressVPN and NordVPN may be going too far. Without wasting your time, we welcome you to our hands-on 2023 VPNHub review and test.
STRENGTHS:
Offers decent speeds
Uses strong encryption
Protects against leak
WEAKNESSES:
Poor streaming performance
Bad option for torrenting
Broken or missing Kill Switch
Doesn't work in high-censorship countries
No money-back guarantee
Poor device compatibility
Hostile jurisdiction
Poor client support
VPNHub ranks #87 out of 104 VPNs tested. Here are the best alternatives :
---
Is it a paid or a free VPN?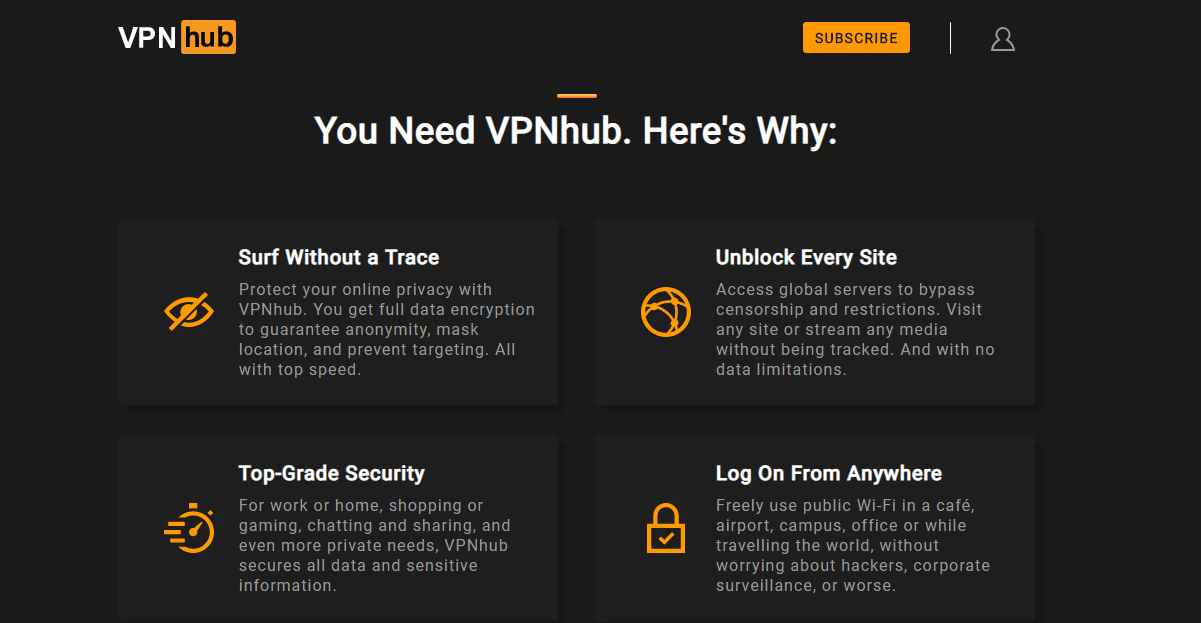 VPNHub offers a free service, which is heavily limited. But if you're not pleased with the free service, there is also a paid version you can upgrade to. Unlike the free version, there are no limits on the paid version, and you will be able to enjoy everything on offer from the company.
Performance
Performance is a major consideration when valuing any service. When we talk about the performance of a VPN, the first things that come to mind are speed and stability.
Therefore, we thought including our test results for both speed and stability would make this review very detailed.
Speed
Since the majority of users are likely to begin with the freemium version, we decided to use the speed of the free version for our test and review. To be honest, it would be a great understatement to say the speeds we got were impressive.
However, it's worth noting that the network is still quite new, so there are not many users on it yet.
Obviously, this is one of the reasons for the decent speeds we got. Thus, it's possible to get slower speeds as time goes on and as more users get on the network.
Apparently, we thought it would be useless to test the service on the paid version again since it was already quite good on the free service.
Without VPN (we were located in London) :

EU Server (France) :


US Server :

Asia Server (Hong Kong) :


Stability
You must ensure the VPN you're looking at has a stable service. Definitely, because it's not wise to put your trust in something you can't rely on. Having said that, some of the factors that help you limit potential stability issues are the power management of your device and the quality of the Internet connection available.
Generally, this provider showed a high stability level, even when we connected to faraway servers. As we noted already, connection stability is one of the fundamentals of any good VPN service.
Therefore, VPNHub surely scores points by providing users with an extremely stable service.
In the event that an external factor affects the stability, there is a Kill Switch feature that will automatically suspend your connection. We will be talking about this feature comprehensively later on in this review.
Streaming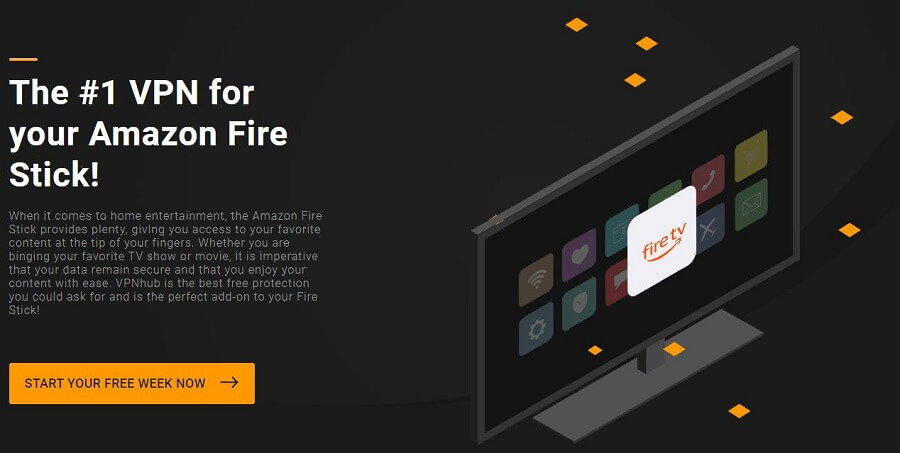 Streaming is a huge part of the functionalities of any VPN. Knowing that for sure, we made sure we put the streaming powers of VPNHub to test while writing this review.
Netflix
Normally, you would expect a VPN created by one of the leading streaming sites in the world to be optimized for streaming from the biggest sites in the world. Therefore, is unblocking Netflix with VPNHub a real option?
Well, this service is surprisingly bad for streaming Netflix, especially for free users. The free version of the service uses only a US-based server, and there is no way to switch elsewhere.
On the positive notes, we were able to bypass Netflix's geo-blocking and access shows with no problems. But not in HD!
While the provider doesn't guarantee at 100% Netflix access, it works sometimes. It just depends on the server the application connects to automatically.
However, it does not fit in our selection of the best VPNs for Netflix.
BBC iPlayer
While the service even works for Netflix sometimes, it's impossible to unblock BBC iPlayer with it. On both the free and the paid version, we couldn't connect to a UK-based server during our test and review.
Many users will find this highly disappointing as BBC iPlayer is one of the biggest streaming platforms in the world.
Others?
Just as we weren't able to unblock BBC iPlayer, it was a similar story with other streaming sites like Hulu and Amazon Prime Video. However, we had some success accessing geo-restricted content from Comedy Central and YouTube.
Obviously, this gave us some reprieve after encountering error messages on most of the streaming sites we tested. Coming from a company that deals primarily with streaming, the streaming performance of VPNHub is mediocre at best.
Security

Everybody knows that the concept of a Virtual Private Network is all about security and privacy. That's what we thought when we decided to dedicate a whole section to the security features of VPNHub. Continue reading to see everything we found in our test for this review.
Where is it based?
While PornHub is the owner of VPNHub, it created the service in conjunction with AppAtomic, which is a company that's based in Cyprus. This, however, looks to be only the business part of the VPN as its servers are actually located in California.
The consequence of this is that AppaAtomic will process your personal data in the US, which is quite disturbing.
While most people will find this difficult to believe, the United States does not have compulsory data retention laws. Nonetheless, there is the Stored Communications Act that enables the government of the United States to get access to personal information.
As you might have guessed, this means that government agencies can coerce third-parties to take and keep your personal information if they are investigating you for criminal activity.
Apparently, everyone knows that the United States doesn't respect its laws when it comes to data collection.
Furthermore, the United States is a key member of the Five Eyes. The Five Eyes is a coalition of countries gathering different kinds of data aggressively, thereby jeopardizing the privacy of their citizens in the pretense of protecting them.
Having said all this, we can only wonder why this provider has associated itself with the United States. However, you will find it hard to find anything related to the provider's connections with the US on its site.
In fact, it took lots of digging before we were also able to discover their US affiliations during our test. People who are lazy in terms of research may think that the VPN is based in a region with solid data protection regulations.
In the end, it's worth noting that using a VPN that's based in the United States may have damning repercussions. To avoid potential problems, we advise you to review your other options.
For example, ExpressVPN can guarantee you full anonymity.
Log Policy
According to its official website, VPNHub does not collect any data. To make sure this is really the case, however, you have to look closely at the Privacy Policy of the provider.
We did that on your behalf while writing this review and the following are our findings.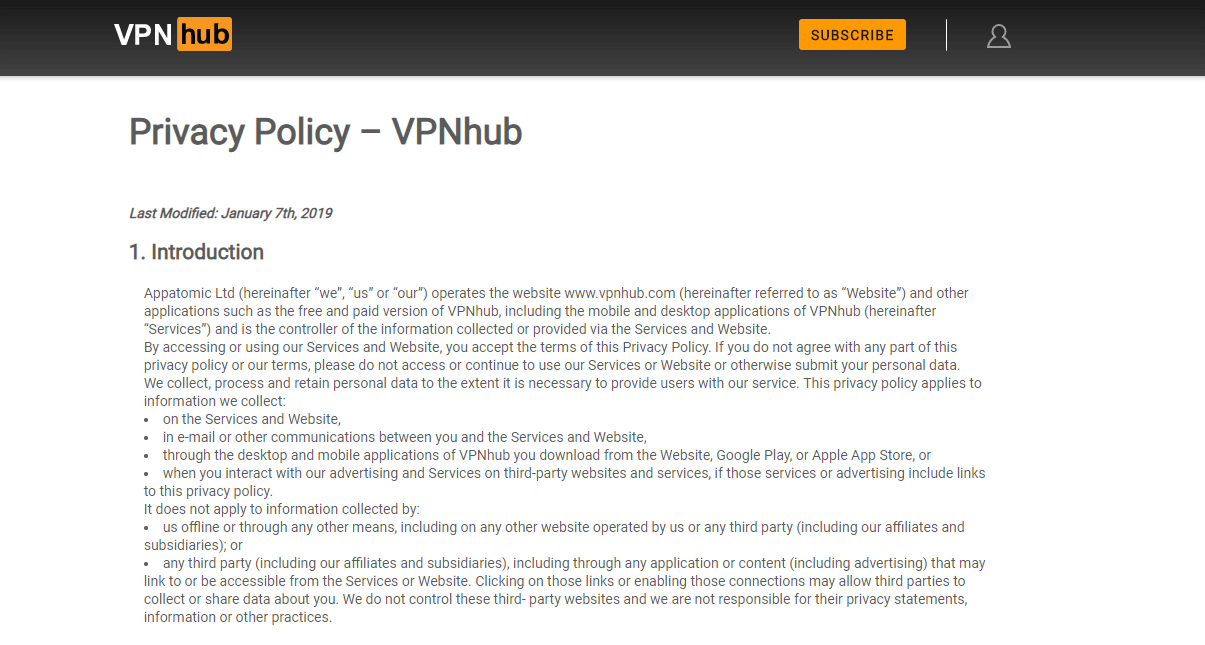 As soon as you open VPNHub, it will collect a group of data. This includes the unique mobile ID of your device, network information, Web browser's type, and operating system and platform.
Afterward, it will then connect your IP alongside usage data after you've connected to a secure server.
Keep in mind that this includes non-personally identifiable data about its website and the way you utilize the service. We'd like to mention that this provider provides its service for free on mobile devices.
However, you'll see ads on the free version.
According to the Privacy Policy, advertisers may collect some data which include the advertising ID, wireless carrier, MAC address, and IMEI of your device.
Disappointingly and contrary to their claim about not collecting data, VPNhub collects a lot of data. While we do hope that all of the data they collect is anonymous, we have no cause to think otherwise at the moment.
Protocols

VPNHub provides users with many encryption methods, which we all dug while writing this review. Since the mobile clients are a key cog of its portfolio, the provider offers the IKEv2 protocol for mobile devices.
Note that this VPN protocol is the most popular encryption protocol for mobile devices.
However, it's slightly behind the OpenVPN protocol in terms of strength, but fortunately, this provider offers this protocol method also. This protocol is broadly regarded as the strongest encryption method in the world, offering the best security and functionality.
If you're willing to scramble the OpenVPN connection, there is a choice to pick between AES 256-bit and AES 128-bit encryption.
When scrambled, the service will be able to get past network traffic sensors that aim to sense and restrict VPN usage but note that only the AES 128-bit encryption will be available.
If you are, however, looking for the highest level of security, you should just choose the AES 256-bit encryption.
In addition, users have the choice to select between a TCP connection or a UDP connection when utilizing the OpenVPN protocol. Thanks to its higher speed, the UDP connection is often preferred when the network supports it.
Nevertheless, most people consider the TCP connection to offer more reliability, as we also found out during our test. Thankfully, VPNHub provides both, so you can easily select your pick.
Protection against leaks
While there's no option to choose DNS leak protection or IPv6 protection, that is because they have been automatically enabled. In other words, both DNS and IPv6 leak protection are built into the Virtual Private Network.
While writing the review, we tested for leaks and VPNHub came out with flying colors. If both features are not secured, they can leak out the IP address of the user even when they're connected to the service.
Thus, it's great news that this provider prevents leaks.
Torrenting
Since torrenting is a very popular method of downloading and sharing files, it's important for any worthy VPN to support it. Therefore, we decided to test the support of VPNHub for P2P while bringing this review together.
Is torrenting allowed?
It seems like VPNHub is not a viable option for engaging in peer-to-peer sharing. Actually, Pornhub has done everything to make the service as legitimate and as genuine as possible.
Therefore, the provider's T&Cs states that users can't use it for "hacking, cracking or distribution of counterfeit software," not to talk of "copyright infringement."
Apparently, this partially rules out torrenting as most of the activities engaged in by P2P users involve copyright infringement. While this doesn't mean you cannot download torrents with VPNHub, it means you must not engage in illegal activities.
But if you're even able to run torrenting on this service, its torrenting performance is nothing to write home about compared to ExpressVPN, CyberGhost, or NordVPN.
Is there a Kill Switch?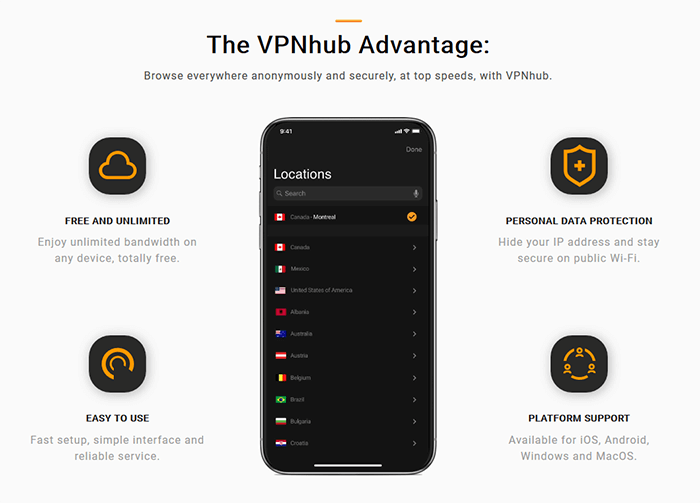 The Kill Switch is a feature that is designed to automatically cut your internet connection in the event of a sudden drop in VPN connection. This way, your personal data won't be exposed to your Internet Service Provider or hackers in case you lose your VPN connection.
Sadly, this service is either missing this feature or the feature is broken. We got mixed results when we tested the feature. When we stopped the VPN connection by force, the app instantly blocked our internet access, thereby preventing data leakage from the tunnel.
However, it would then refuse to connect sometimes. When this happened, we needed to close the client and then restart it again before it would work.
Bypassing Censorship
Censorship basically defeats the entire point of the Internet, which is complete freedom. One of the primary functions of a VPN is to help defeat censorship, especially as it's becoming a trend that more and more countries are hopping on in recent years.
In censored countries
VPNHub is not a service that people residing in China and other repressive countries should rely on. In fact, this provider states in its FAQs that: "While we do our very best to support internet access and freedom of information for all in almost every country around the world, we have had reports that our VPN might be blocked in:
Burma/Myanmar
Cuba
Iran
North Korea
Sudan
Syria
Qatar
Saudi Arabia
UAE
Egypt
China
While we cannot say that it's impossible to connect in these countries, there are a few challenges to overcome.
China, especially, has been extremely aggressive in their war against VPNs. VPNHub doesn't provide any obfuscation tool to get past the blocks, which means that there is no chance of you being able to use it in the country.
If you're looking for a provider you can rely on to help you get past censorships, we recommend either ExpressVPN or NordVPN.
In restricted networks
Unblocking restricted networks and unblocking blocked sites is one of the basic functions of a VPN in 2023. Therefore, any service that is not able to do only this is as good as useless. For all its downsides, this service is effective at this, at least.
Whether your school, organization, or parents have blocked your access from some websites like Facebook, Twitter, or PornHub, you can at least turn to VPNHub to help you access them.
We managed to unblock all these websites with this provider during our test for this review.
Countries and servers
The number of servers a provider has and the countries in which they are located will assume a big role in the overall performance of the VPN. Therefore, we decided to talk about the server count and geographical distribution to add more value to this review.
Countries covered

When it comes to VPNs, you need to have a lot of both remote and nearby locations. While you use the locations nearby when you want to enjoy the best performance possible, remote locations enable you to get foreign IPs and unblock some websites.
In terms of server count, VPNHub provides 800+ servers at the moment. It's worth noting that there's polarizing data on the Internet about the server count of this VPN.
While some sources claim that the provider has over 800 servers, some claim that it has 700+ servers. And most importantly, VPNHub brags about having thousands of servers – hold on there, boy!
The poor client support of the provider also didn't help at all. This is because we couldn't get through to them while trying to determine their exact number of servers.  However, having tested the app, we conclude that the provider currently has 800+ servers in 60 countries.
In terms of server count, this provider is actually one of the smallest options. Industry leaders like ExpressVPN, NordVPN, and CyberGhost operate multiple thousands of servers, so VPNHub is obviously very limited.
However, their geographical distribution is quite decent, as they're available in 60 locations around the world.
Moreover, we need to note that you can link up with individual cities over a large number of countries worldwide, which enables you to access local websites. You also get limitless switching, without any restriction.
In general, this provider has done a decent job of providing different locations in many countries. Nonetheless, their most significant limitation is the low number of servers, which adds to their high number of shortcomings.
Servers
This provider doesn't offer specialized servers for any activity, but that didn't surprise us one bit during our review. We saw it coming definitely as this VPN is as basic as the word basic itself.
That's probably why it doesn't perform well for key activities like streaming, torrenting, and bypassing censorship.
Compatible devices and simultaneous connections
It's important for anyone that wants to buy a VPN to determine if it's compatible with their device. Of course, we don't want you to go through the stress of finding out. Therefore, we have done the research for you and we've dedicated this part of the review to detail everything we found.
What device can I use with VPNHub?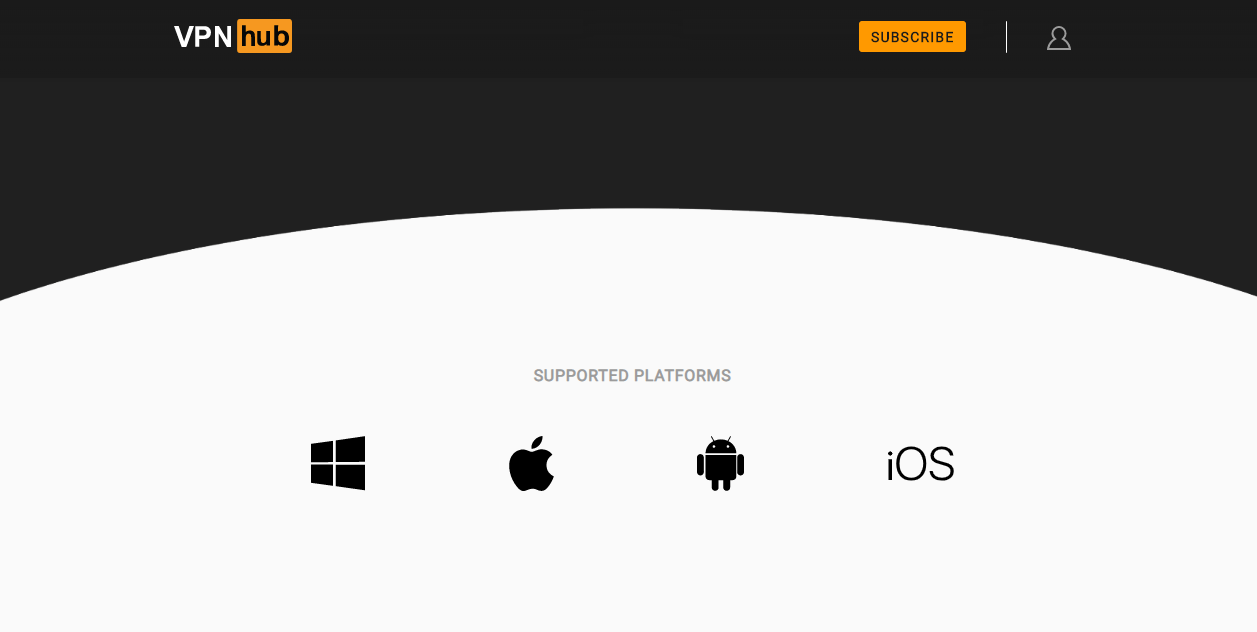 When it comes to device compatibility, this provider offers support for all the most popular platforms, which include:
Sadly, it doesn't offer native clients for consoles such as PlayStation 4 or Xbox One, at least at the time we were compiling this review. Other devices that the VPN doesn't support are routers and Apple TV.
On the flip side, Android TV and Fire TV are supported.
How many simultaneous connections?
The website of VPNHub is very sparse, which makes it extremely difficult to track down information like the number of simultaneous connections the service allows. We have, however, done the difficult work for you.
As we found out, the Premium package allows for three simultaneous connections, which is significantly fewer than the industry average.
If you choose CyberGhost for instance, you can enjoy up to seven simultaneous connections with any plan. See our CyberGhost review to read more about that. The freemium version of VPNHub is even worse, allowing you to connect only one device simultaneously.
This is definitely not enough for all your devices, not to talk about the devices of your friends or family members.
Client support
One of the major attributes of good companies is that they will make it easy to get in touch with them. So, you need to be cautious about any company that makes it difficult to contact it. This service is a brainchild of a big company, but does it make it easy for users to reach it?
Well, we left no stone untouched while writing this review, and below are our results.
How to contact it?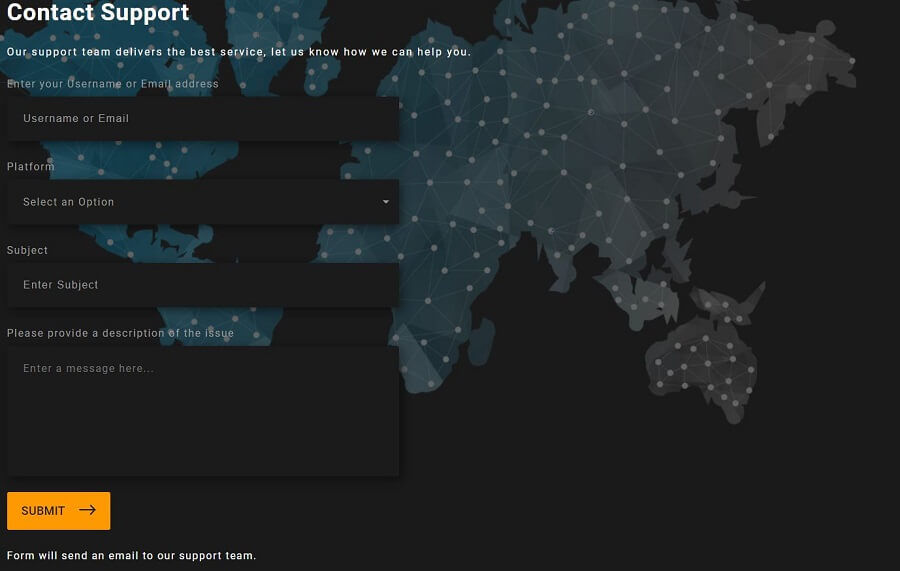 VPNHub has an email address that you can use to get in touch with it. During our test, it took about ten hours before we got a response. You can, however, expect a lot of additional questions until they are able to solve your problem.
This means that if you encounter a problem, you may not be able to use the VPN for a couple of days. Unfortunately, the email system is the only way to contact this provider, which is disappointing when you consider the fact that most of their rivals offer a 24/7 live chat support.
However, you can also reach them through their social media pages as they are active on Twitter, Facebook, and Instagram.
Is it good?
VPNHub utilizes Zendesk, which is a prominent client support platform that responds to requests automatically and issues a ticket. However, the fact that the email ticketing system is the only support channel they offer is almost embarrassing.
In the modern world where companies offer a 24/7 live chat support that helps users solve their issues on the go, this is highly unacceptable. Besides, we had to wait for up to ten hours before getting a response during our test for this review.
And the response we got lacked depth and was very impersonal.
FAQ/tutorials
This provider provides only a couple of online resources, limited to just some basic FAQs. There are no troubleshooting tips or setup guides, and the lack of technical info about the product was also disappointing.
While there is a FAQ section, all the questions asked there are answered in an extremely straightforward way. By the look of it, we think the FAQ section was designed for only complete beginners and people who're using a VPN service for the first time in their lives.
Value for money
A good VPN just doesn't offer you values – it offers you sufficient value for your money. So, is VPNHub a company that will rip you or one that will offer you more value than what you're paying? This part of this review will help you answer that question.
Price comparison

The plans provided by VPNHub are extremely clear cut – there is a freemium plan and a premium plan. However, the freemium plan is available only for mobile devices.
While the freemium plan provides unlimited bandwidth on both Android and iOS mobile devices, it is still limited in comparison to the paid version.
For instance, it allows you to connect to only one server, which is very little in comparison to the 70+ servers. Meanwhile, you need to subscribe to the premium version to use the service on either your Mac or Windows.
For the premium subscription, it costs $13.99 per month, which is too expensive considering that this is a very average service. Although the yearly plan is cheaper at $6.99 per month, we still think the pricing is too expensive.
However, each plan comes with a 7-day free trial, which allows you to test out the service.
Means of payment

VPNHub is also disappointing when it comes to payment methods. It allows users to pay only with credit cards and crypto, which can be frustrating considering that their rivals offer alternative payment means PayPal, for example.
Money back guarantee
Unfortunately, the provider operates under the "no refund" policy which means they will never refund you once you have paid. While the service offers a 7-day free trial period that allows you to test the service and see if it's good for you, it doesn't offer a money-back guarantee.
This is yet another red flag as it doesn't give customers enough time to evaluate the service and see if it's right for them. It's a sign of a company that's not confident enough in its service.
Final Thoughts
As we saw in our VPNHub review, it is a service that is in the middle of the road, with only some highlights. While it has improved considerably since it was launched in 2018, it still has a long way to go before anyone can recommend it over rivals like ExpressVPN and NordVPN.
Of course, it has its upsides, but they are not enough, as we have shown in this review.
If you want a VPN that is certain to solve all your VPN needs in 2023, then we recommend you to choose ExpressVPN instead of this one.
VPNhub Review and Test
Despite the reputation of the platform Pornhub, its VPN software has not convinced us at all. The price / quality ratio is really questionable and it is for this reason that we advise you to consider other options.
Add your review
|
Read reviews and comments

Michael is a talented writer who has dedicated a lot of time into making sure that everyone around the world can use the internet securely. Being an avid traveler, he has acquired a lot of experience while using different VPNs on his travels. When it comes to doing comprehensive "how to tutorials" or testing some VPN functionalities, he's always the best pick ! He's here to help you solve your VPN-related issues.