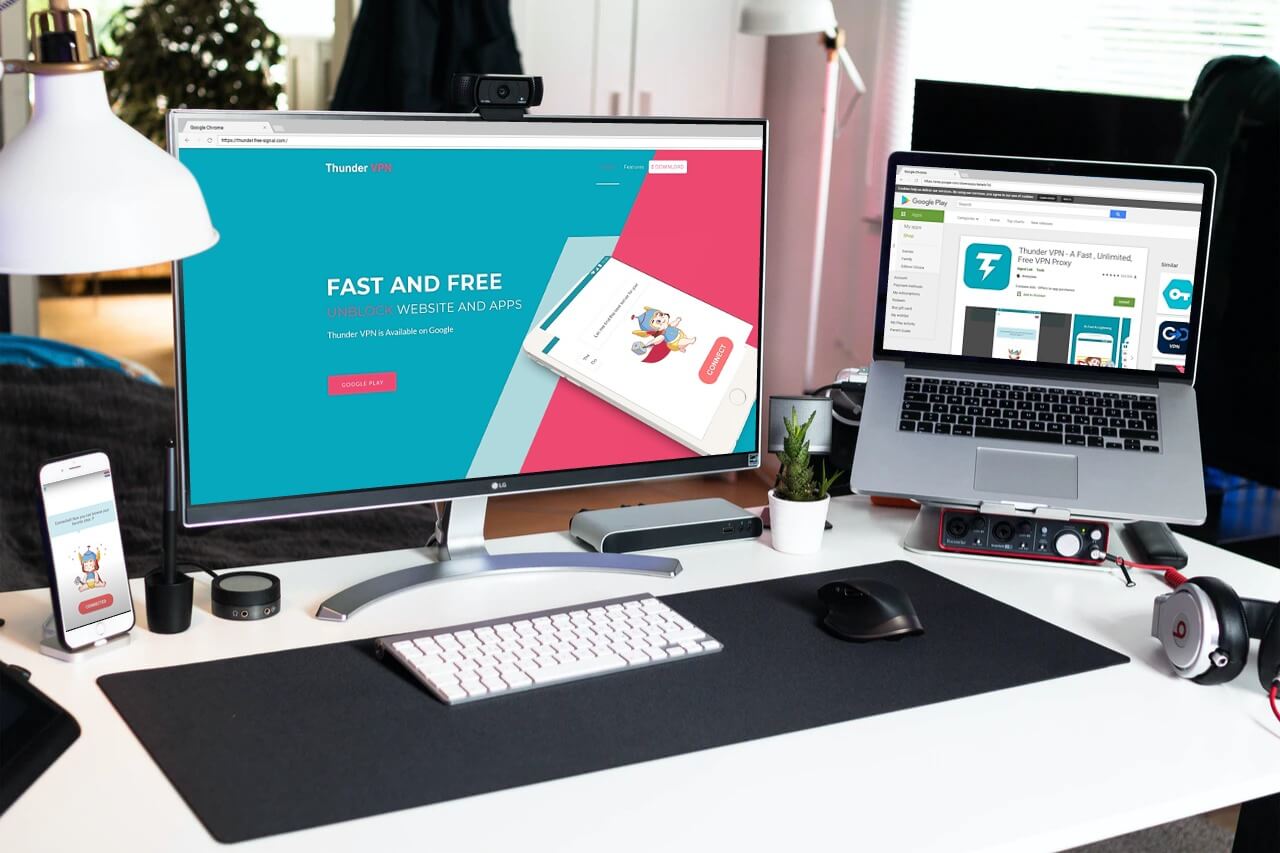 One of the main factors of a VPN is its ability to be able to protect you online, keeping you secure. Alarm bells immediately began to sound after downloading Thunder VPN from the Google Play Store to review it. The contact email address is from one of the popular free email address services. Generally, legitimate companies have their own domain name to use. We are sad to say that this was not the only downfall. So read on to find out what we think about the provider.
People use a VPN for many different things. A good plan helps to keep personal details safe, offers the ability to overcome geo-restrictions and censorship, and some people even use their VPN to bet online when they travel abroad.
With the above in mind, we looked into all aspects of our Thunder VPN test. From the number of servers to reliability, support, and device support. Sad to say we were not impressed, despite the fact the app seems to be popular in the Play Store, with over 5 million downloads.
So, let's move on with this Thunder VPN review and what we discovered about the provider.
STRENGTHS:
Its free
Unlimited bandwidth
WEAKNESSES:
Extremely slow
Limited server locations
Security is outdated
Origin is dubious
Countries covered
---
Thunder VPN ranks #38 out of 104 VPNs tested. Here are the best alternatives :
Is it a free or paid VPN?
The first thing we wanted to determine in our review of Thunder VPN is whether it is free or paid.
Thunder VPN is a free service. When we found this out, it became clear that the service was not going to match that of top paid providers such as ExpressVPN.  As you can see in the ExpressVPN review and test, the provider offers an outstanding service with excellent security and more.
Free providers have a place on the market but bear in mind that they cannot offer the same quality features that paid providers offer.
Free VPN providers have to recoup the costs back somehow and this is generally by bombarding you with ads. The downside is that the ads may come with malware.
Performance
We started our review of Thunder VPN with a performance test and we quickly realized one of the major downfalls of this free VPN provider, speed – or the lack of it, to be precise.
Speed
During our Thunder VPN test, we found speeds to be very underwhelming. In fact, if you are looking for a VPN provider to stream HD content, Thunder VPN is not going to be a good choice.
You cannot beat the speed offered by providers such as ExpressVPN, NordVPN, and CyberGhost for streaming in HD.
Download speed did fare better than upload speeds with Thunder VPN. Downloads came in at around 51Mbps in the UK, 51Mbps in France, and 36Mpbs in Germany.
Upload speeds averaged at around an extremely poor 2Mbps in the UK, while in Germany this was around 28Mpbs. There is no explanation for the huge difference.
Also, note that ping times were not good (75ms) when tested in the UK.
Without VPN (we were located in London) :

EU Server (France) :


US Server :

Asia Server :


Stability
Stability also posed something of an issue. When trying to connect to a server in Japan, for instance, the server did connect but we could not do anything using the connection during our Thunder VPN test. This included not being able to browse the internet while connected.
Streaming
As streaming content online is a major use of a VPN we could not conduct a review of Thunder VPN without looking into whether streaming is possible using Thunder VPN… or not!
Netflix
Netflix is one of the major players for streaming. So can Thunder VPN overcome the tough challenge of overcoming geo-restrictions to stream from the platform?
The answer is a big fat no. Netflix notices the fact that you are using a proxy and asks you to turn off the service. To be fair, even some of the biggest VPN providers out there struggle to beat the VPN-blocking of Netflix.
If you are looking for a VPN provider to stream US Netflix, we would recommend ExpressVPN.
Other streaming services
We did have better luck with other streaming platforms during our Thunder VPN test. For instance, it was possible to stream from BBC iPlayer using Thunder VPN.
We could also stream videos on YouTube in 720p without any issues. However, with limited country locations (this is a way to unblock Youtube videos that are geo-restricted), we cannot recommend the provider for overcoming geo-restricted content.
Security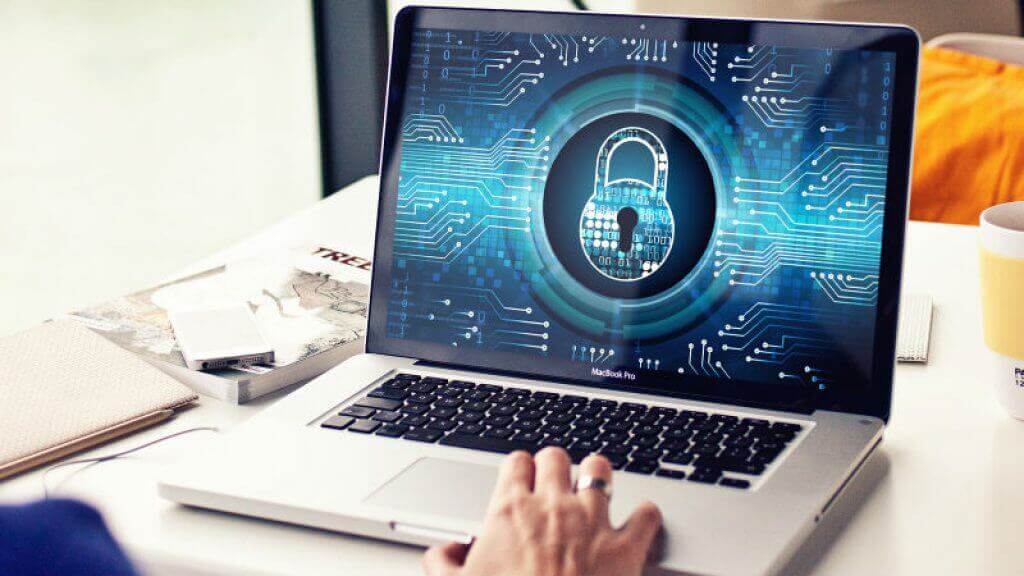 As a VPN should allow you to remain anonymous and secure when online, security is a major factor when reviewing Virtual Private Networks. Therefore we look into security with a fine-tooth comb to see what our review of Thunder VPN reveals about security.
Where is it based?
Where the company is located is the first thing we wanted to know.
We could find out very little about the provider when undertaking our Thunder VPN test as there is not much information out there. The company does have a website but it is not a professional-looking site, just one page.
What did surprise us is the fact that the company's website, it mentions very little information.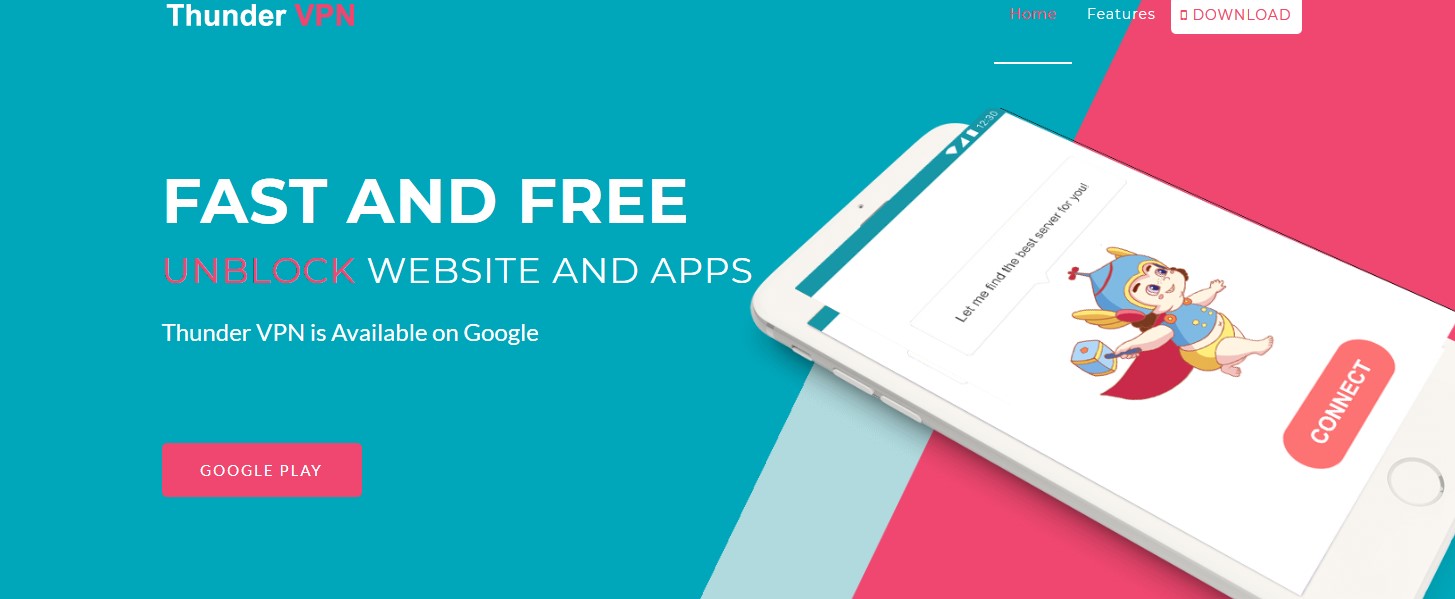 However, we managed to find out the company is Signal Lab, located in California. This means that it falls under the 5 Eyes jurisdiction.
Another worry is that the company also has another VPN on the Google Play Store with the name of Secure VPN. Why offer two of the same products? Another interesting factor is that Secure VPN also boasts the same number of downloads, 5+ million.
Log policy
If you want to remain anonymous and secure when using a VPN, the company should have a no-logging policy. So, what is the policy of Thunder VPN?
The company does claim to have a no-logging policy. On the website, it says "no log or track user data". We looked into it and found one of the shortest policies ever in the world of VPNs – and we have reviewed a lot of them.
The policy does state that when you register on the website, they do collect certain personal information. Again, this confused us, as there is no option to register on the company's website.
You also do not have to provide any information.
The privacy policy is therefore confusing, which does have us worried about whether or not logs are kept. More so, when you take into consideration the company lists data they may collect when using the app on Android.
This includes:
IP address
ISP
OS version
App identifier and version
Server location
How much data used per day.
How the company uses this information is anyone's guess, but clearly, they do log some.
Protocols
Neither the website nor the Google Play Store mentions anything about the protocols used by Thunder VPN.
Typical VPN providers such as ExpressVPN, NordVPN, and CyberGhost all boast about protocols offered. These providers use OpenVPN, LETP/IPsec, and more.
Thunder VPN mentions nothing about these protocols. All the company says is that they use SSL for data encryption.
Leak protection
We always check for leaks when conducting reviews of VPNs, so what are the findings in our review of Thunder VPN?
Leak protection is the main concern and more so if you want to overcome censorship, beat geo-restrictions, or torrent.
With so many failings up to this point, we did not expect much when undertaking leak tests. More so when taking into account the provider does not offer a Kill Switch.
However, we were pleasantly surprised to find that during our Thunder VPN test, it did pass leak tests.
Torrenting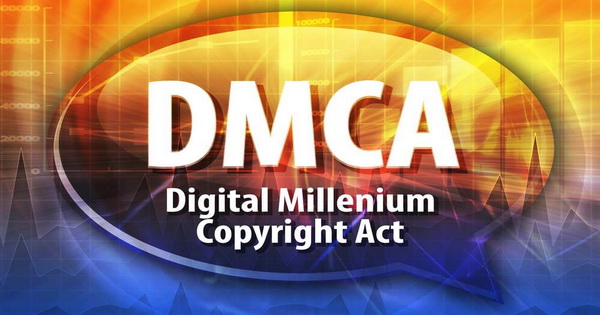 VPNs are often used when torrenting.  However, when torrenting, you need superb encryption and security and the provider fails to meet both criteria.
Another downside would be the poor speeds. Even if you forgo the poor security measures downloads would take a long time due to very poor speeds.
If you want to torrent in safety, we would highly recommend choosing a provider offering military-grade encryption and a Kill Switch. ExpressVPN, NordVPN, or CyberGhost would all make good choices for torrenting.
Bypassing censorship
To be able to bypass censorship VPNs should offer military-grade encryption and a Kill Switch. Thunder VPN does not offer either of these criteria so we cannot recommend them for beating censorship.
Countries and servers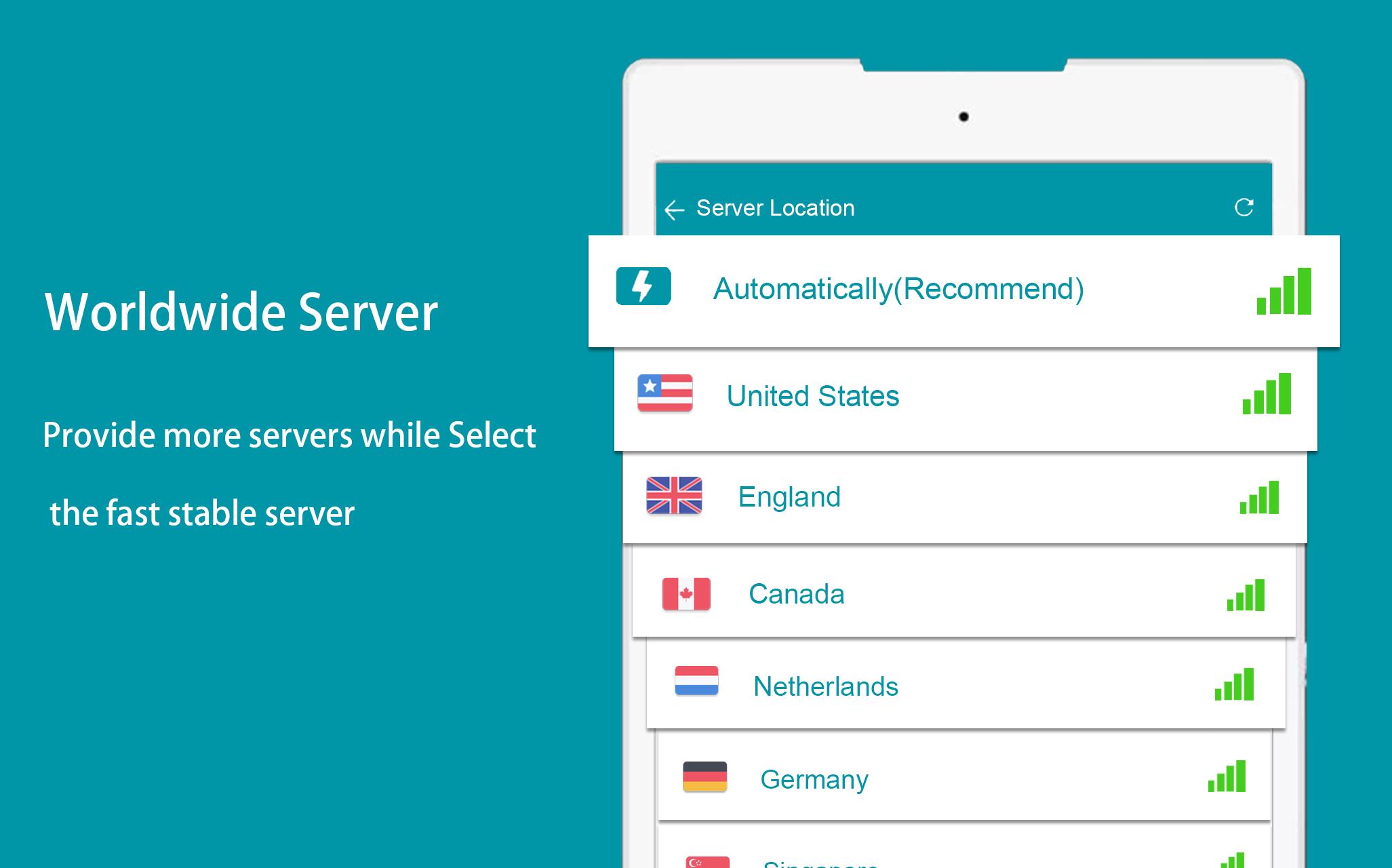 Thunder VPN is let down by the number of servers offered. We are used to seeing a choice from many thousands of servers located in many countries around the world.
When it came to our review of Thunder VPN, the provider fails miserably as there are just nine server locations. Locations include the US, Europe, and Japan. How many servers are offered in total is unclear to us. And that's not good news!
Compatible devices and connections
A VPN provider should offer support for a wide range of devices. So what devices does Thunder VPN support? Let's find out in this part of our review.
Devices supported
This was another area during our Thunder VPN test where the provider is sadly lacking. When visiting the website the only link for downloading software is on Google Play Store.
Therefore, it looks like the only device supported is smartphones and tablets running Android.
ExpressVPN is a great choice of provider for supporting numerous devices. This includes Windows, macOS, Android, iOS, routers and if you really want to use a VPN for Roku, you can check our selection here.
Simultaneous connections
By now, you can probably see where we are heading here, as up to now our review of Thunder VPN has been less than positive. This category is no different. As only Android is supported, you can only use the VPN on the device you download the app on.
Of course, this may be one of the downfalls of choosing a free VPN provider.
If you want simultaneous connections, ExpressVPN offers connections on up to five devices, while Surfshark offers unlimited connections.
Support
Support is valuable when using VPN software, so our review of Thunder VPN included looking at the levels of support offered.
Being free you cannot expect a great deal by way of support. However, it is distressing that there is no chat, email, or forum support from the company offering Thunder VPN.
The app itself offers a small FAQ page but doesn't offer much information.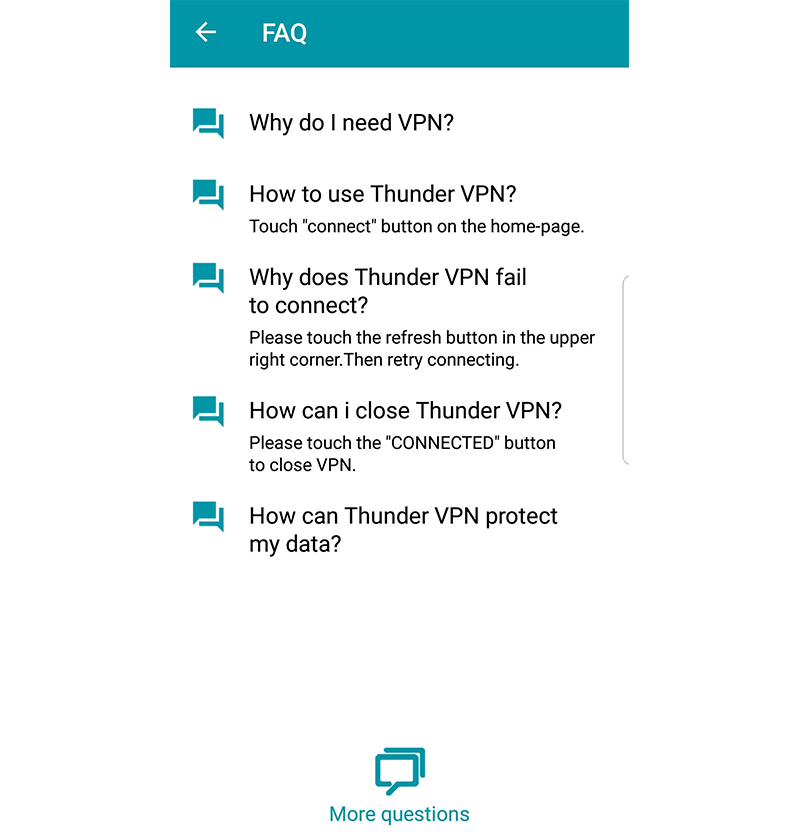 The only tiny bit of helpful information provided on the Google Play Store page is three-pointers of what to try if the connection to a server fails.

Value for money
No review would be complete without looking if the provider offers value for money, so what did our review of Thunder VPN reveal?
We would like to say that, as Thunder VPN is free with no pricing plans it is good value for money.
However, with so many faults, we cannot say that it a Virtual Private Network worth downloading and using even with it being free. More so when there are other free VPNs out there that are worthy of taking a look at if you really don't want to pay for a plan.
We would like to add that even though the app is free and there are no pricing plans the T&Cs do talk about payment details, accounts, and registrations. Which we find extremely strange.
When downloading the app on Google Play it also says "in-app purchases", which again is confusing.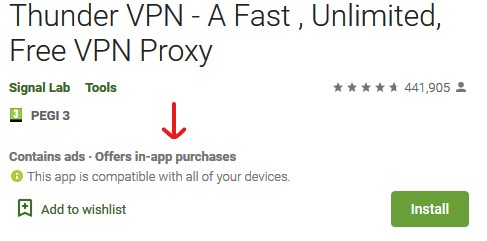 Extras
You do not get such a great deal from Thunder VPN to start with, so we were not looking to find any added extra extras and we were not disappointed.
Final thoughts
We have reviewed many VPNs over the years and we have to say that without a doubt our review of Thunder VPN reveals the provider is among the worse, if not the worse.
We were not expecting to see benefits and features in our Thunder VPN test that come anywhere close to those offered by such as ExpressVPN and NordVPN as after all this is a free VPN.
However, what we did not expect was the app to be as bad as it is, especially when making a comparison to other free VPNs we have reviewed. Every aspect of Thunder VPN shocked us.
If you do want a free VPN there are far better ones out there. However, for a few dollars per month, you can get superb protection and many benefits with one of the reputable paid providers such as ExpressVPN, NordVPN, or CyberGhost.
All of whom offer special deals throughout the year.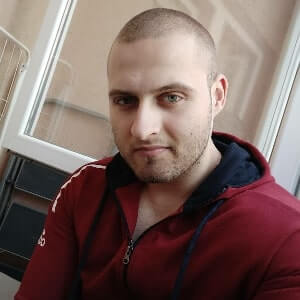 A professional writer with a Master's degree in Mechanical Engineering. Since his youngest age, he loves everything related to internet, technology, fitness, games, and dogs! He joined our team in order to bring his deep knowledge in security services, among which VPN is of course a key component.