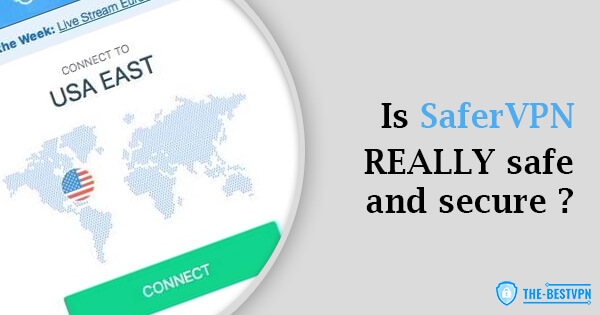 SaferVPN is a provider known for affordable prices and easy-to-use apps. With its support for all major platforms, this provider is seemingly a good option for those who don't want to break the bank. But, one question remains – is SaferVPN safe and secure? Well, that's what we're going to find out today. We suggest reading the article thoroughly, especially if you're planning on buying it. Throwing your money away is never a good option!
Security: what are the security tools in the apps?
A Virtual Private Network without any security features is practically worthless and not reliable. Security is very important for keeping your online identity intact, which is why using a VPN is always a good idea. Let's see what SaferVPN brings to the table in this regard:
Automatic Kill Switch
If you're worried about losing connection to the VPN server, you're definitely right. These things happen with a low-quality provider or server network and if you've experienced one of them, you know what we're talking about.
Let's say you connect to a particular server. You use the internet safely and therefore, you enjoy all the benefits of SaferVPN. Should the connection break, a kill switch is here to shut down your internet connection altogether, to prevent you from accidentally leaking your IP and/or DNS.
Without it, you would've continued to use the internet via your native IP, exposing yourself and compromising your anonymity.
256-bit AES encryption
Premium solutions such as this one often use what's called military-grade encryption. What exactly is this? Well, 256-bit AES encryption. Banks, military, and the government use it and it's basically impenetrable by hackers.
Thankfully, SaferVPN keeps things under control with this feature. 128-bit encryption is sometimes safe, too. However, when you're paying, you want to have as many features as you can. We mentioned all of this in our SaferVPN test, so be sure to check it out.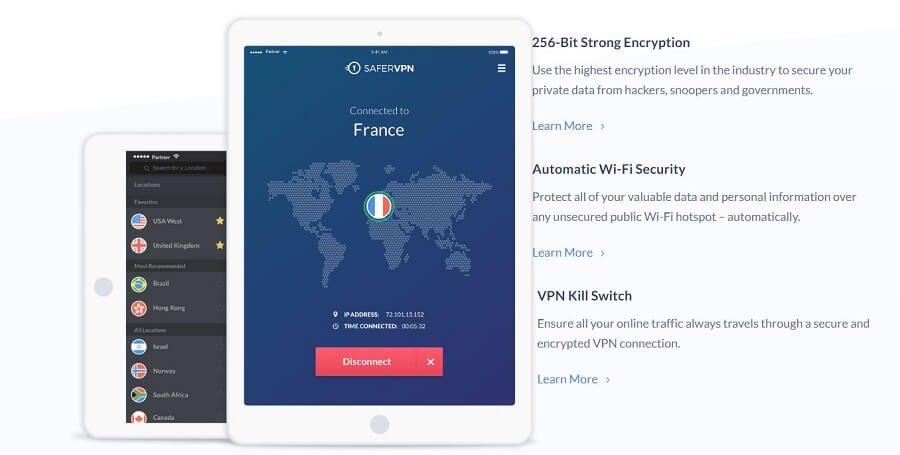 Multiple security protocols
An industry-standard nowadays is OpenVPN. This security protocol has it all – fast speeds and impeccable security. But, as it sometimes can't bypass censorship, for example, people came up with a few different options.
Aside from OpenVPN, SaferVPN uses IKEv2, L2TP/IPSec, and PPTP protocols. If something doesn't work well, you can always experiment with different protocols and solve the problems. That's why having more options is always a good thing.
Public Wi-Fi security & safety
All providers will keep you safe and secure on public Wi-Fi networks and that's very important. SaferVPN, on the other hand, implemented another feature to make your life easier and safer. It lets you choose a few trusted networks and there, the service won't activate itself.
But, as soon as you connect to a public network, the provider connects to the server, keeping you safe and anonymous online.
SaferVPN Privacy Policy: the most important security criterion
For a VPN to be trustworthy and reliable, it needs to be BOTH safe and secure. Security is one thing. It's how you protect the user when he/she is using the app, while safety usually has to do with data retention. To better understand what this provider stores, we visited its privacy policy: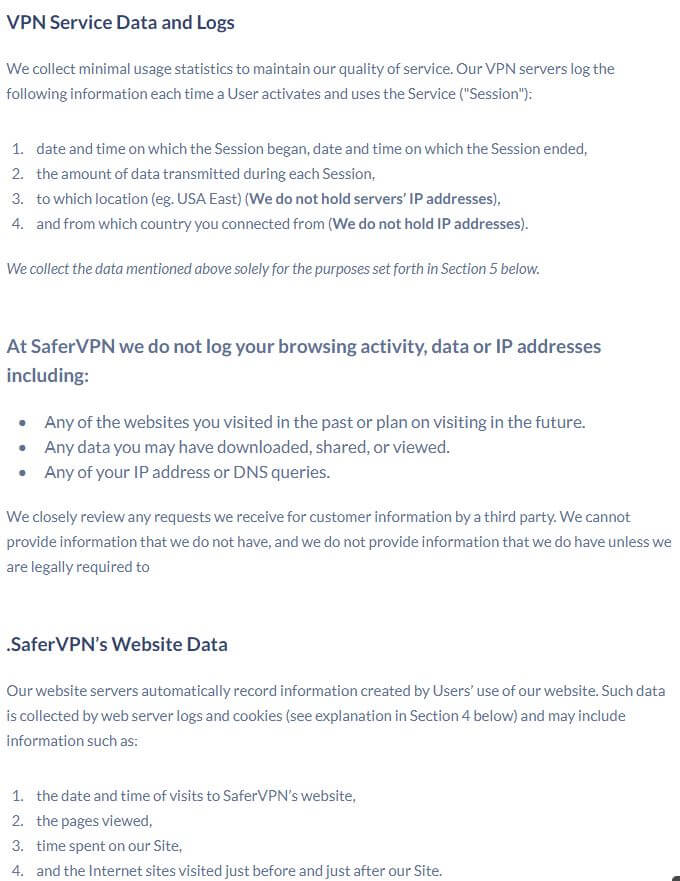 SaferVPN's privacy policy isn't the longest one. In our opinion, the provider did a decent job of explaining what it stores and what it doesn't store. For the start, they collect a fraction of your data, in their words. Timestamps, bandwidth, to which location this bandwidth is sent, and the country you live in.
Now, they mention that they don't hold IP addresses. This is alright, but is it going to help anyhow at this point? Not exactly. Logging timestamps and bandwidth information isn't very good already, let alone something like this.
To be precise, SaferVPN knows where your data is being sent and FROM where it goes. For example, it knows that you're sending data from Germany to the USA, or any other country. On the brighter side, it's good that they don't store info about visited sites, DNS queries, and IP addresses.
External audit: is SaferVPN safe?
External audits can definitely come in handy if we want to check the provider's credibility in the VPN world. ExpressVPN and NordVPN are really good alternatives to this provider and interestingly, they both have external audits.
ExpressVPN has got audited by PwC, where every server is tested for possible errors. The same applies to VyprVPN, as Leviathan Security made sure that its privacy policy is a no-log one. SaferVPN isn't the most popular provider out there, hence it doesn't enjoy this privilege.
As always, this doesn't mean that the provider isn't safe enough. An example of that would be CyberGhost with no external audit, but still, it is among the best providers out there. SaferVPN is far from that, though.
Issue(s) and scandal the company has faced in the past
When it comes to certain issues and scandals, SaferVPN is clean. We checked it on Reddit and a few other sites but found no such evidence. Reddit users don't seem to praise the provider, either. For some, it's very reliable and for some, not so much.
For us, the main issue is that it's from Israel, a country that's collaborating with the 5 Eyes alliance. Countries from the 5 Eyes are known for extensive government surveillance, which is always a bad thing about privacy. To make matters worse, these countries share information with one another and that can be an instant turn-off for potential users.
Conclusion: SaferVPN can't be trusted
SaferVPN seemingly has all that's necessary to be a decent provider. Its site is representative, looks good, and the apps are easy to use. But, as we always say, privacy and security are the basics of this service.
Given that the provider is from a country that is working with the 5 Eyes alliance and stores some unlikeable logs, we can't say that SaferVPN can be trusted. A much better alternative to it is ExpressVPN, a provider from the British Virgin Islands with a crystal-clear zero-log policy.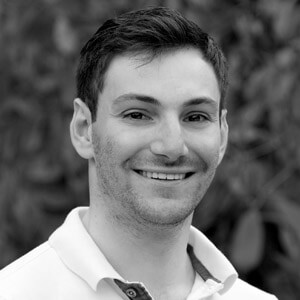 Flo is the founder of the-bestvpn.com. Really concerned about security on internet, he decided to create this website in order to help everyone find the best VPN. He's got a Business School background and now is 100% dedicated to keeping his website alive.