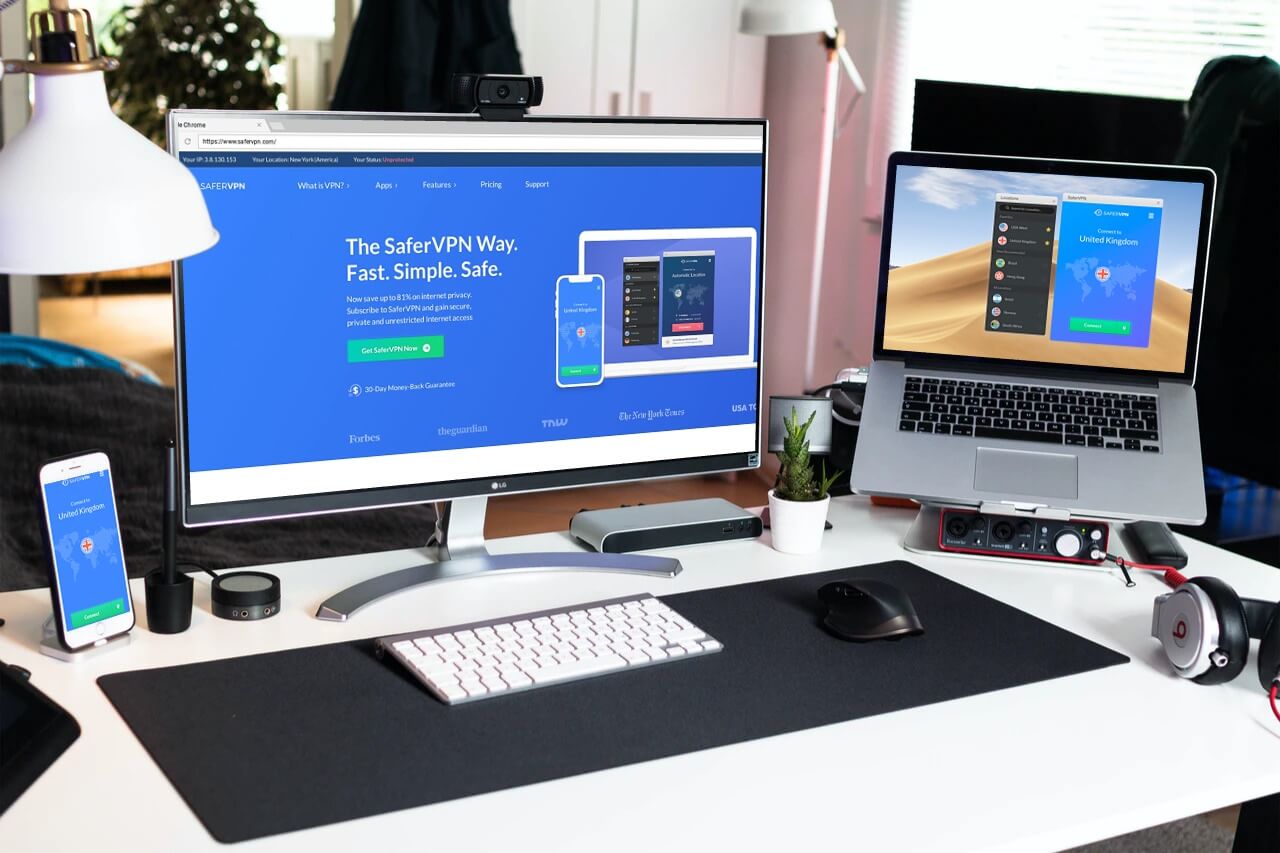 To stay secure amidst the many safety concerns on the internet nowadays, you need an ultimate VPN solution. SaferVPN promises to be that service – everything that you will ever require to unblock the Internet's true power. Apparently, this almost sounds too good to be true, so we are here to test and review the validity of those claims.
Apart from unblocking websites, this provider also delivers super-fast speeds and secures your connection with the most recent security standards. However, there is more to this provider than meet the eye.
It's based in Israel, which is a country that is renowned for its hostility to VPN companies. Besides, it has a very small server network, but that doesn't necessarily make it a bad provider.
Having said that, we are always hunting for the next best Virtual Private Network. But you should know that we never write any review without all-inclusive hands-on testing.
As you might have guessed, this will be the case with SaferVPN as well, as we will put the service through a sequence of real-world tests. This provider has made numerous massive claims, and it's time to check their authenticity.
Let's start by discussing our impressions of this service. While we'll touch every part of the service in this SaferVPN review, we'll start by highlighting its strengths and weaknesses below.
STRENGTHS:
OK Speeds
Good client support
Solid encryption protocols
Good customer support
WEAKNESSES:
Based in an unfriendly location
Small server network
Keeps connection logs
Expensive monthly plan
Limited P2P
SaferVPN ranks #19 out of 104 VPNs tested. Here are the best alternatives :
---
Is it a paid or a free VPN ?
SaferVPN is a paid service and doesn't have any free versions, according to our findings while writing this review.
However, it offers a 24-hour free trial, which allows you to test out the service and see if it's right for you. But that's that about the free trial. Considering that this service is pretty new on the market, most people can be forgiven for expecting it to have a free version.
Performance
The first concern everyone is always asking when they want to learn about a provider is its performance.
With speed and stability being the primary metrics used to measure the performance of VPNs, we've tested the speed and stability of the service, and below are our results.
Speed

After security, speed is probably the second most vital factor. We are glad to say that the provider was doing OK (when connected to nearby servers only) during our test for this SaferVPN review.
As we said earlier, this provider claims to deliver super-fast speeds, and that claim is partially true.
That's true for nearby servers but not those that were several miles away. We hand-picked numerous servers located in every corner of the world to make this test as unbiased as possible.
Without VPN (we were located in London) :

EU Server (France) :


US Server :
Asia Server :

Stability
Everyone wants a service they can connect to whenever they want, even when they wake up in the middle of the night. Does the application offer that sort of stability? Well, we think so.
While it doesn't have as many servers as most of the big boys, it can at least match them when it comes to uptime. The service is always available. Just find a server that is not far away.
Streaming
Streaming is one of the most popular activities that internet users engage in nowadays. That's why we thought this review would be incomplete if we didn't discuss Safer's streaming capabilities.
We tested the service with some of the world's leading streaming providers and below are our results.
Netflix

Netflix is the world's most popular streaming site, and we needed to test its compatibility with this provider. In general, unblocking Netflix with SaferVPN will not be an issue. It is fast, easy, and the connection is very stable.
You might still experience a few minor issues. You just need to spend one or two minutes scrolling through the servers available, and you will find a suitable one in no time.
Netflix is known for its aggressive habit of blocking IP addresses of providers, and this provider is working day and night to find solutions.
BBC iPlayer
We couldn't quite unblock BBC iPlayer, surprisingly. Since we were able to unblock Netflix pretty effortlessly, we were expecting the same story with BBC iPlayer as well.
But the fact that the service couldn't get past SaferVPN's blocks during our test doesn't mean that it will never unblock it.
In fact, don't be too surprised if you try it tomorrow and it goes through. It's just the way VPNs and steaming services roll.
Others?
Even though the provider claims that it can unblock Hulu, we weren't able to do it when writing this SaferVPN review. However, this is not really surprising considering the fact that Hulu probably has one of the most aggressive anti-VPN systems.
Then, we proceeded to test big other streaming services like HBO, Amazon Prime Video, and Youtube, and we had better lucks this time around. You can even unblock channels like SYFY and ESPN, as we did while putting the review together.
Security
If we ask you about your reason for wanting to invest in a VPN, there are chances that your answer will be "for security purposes." But even if that's not your own reason, there're millions of people whose main reason is security.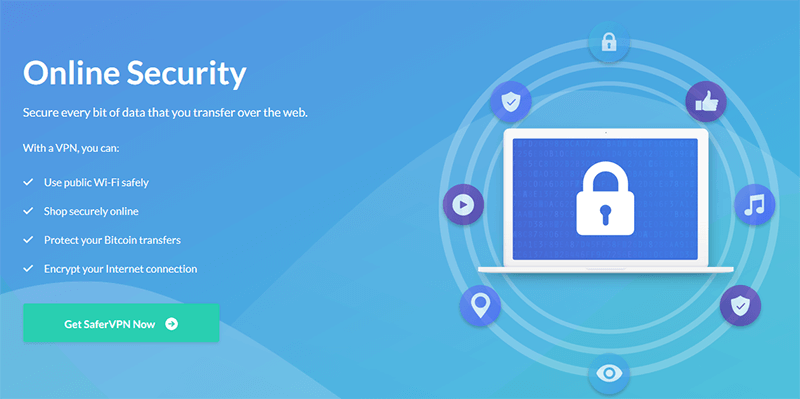 That said, the security systems of Safer have been broken down in this part of the review.
Where is it based?
SaferVPN is based in Tel Aviv, Israel, and it doesn't hide that fact. If you look at its Facebook page, you'll see that their team is comprised of young professionals. That, however, does not conceal the fact that Israel has been helping the Five Eyes Alliance actively, making it a habit to collect the private data of citizens.
Therefore, that doesn't mean you shouldn't trust this provider, but it doesn't mean you should trust them, either. On the company's official website, you will see that SaferVPN claims to not collect your data.
This is possible because of a series of new regulations in Israel that are designed for data protection.
Nearly a year ago, the country came up with laws regarding Privacy Protection, dictating how personal data/information should be handled and the things required to be done to ensure the safety of that data.
Then, the users of Safer will benefit from the Privacy Protection law. Besides, in recent years now, the Supreme Court of Israel has been limiting the powers of authorities to invade privacy.
We know most people don't trust most providers based in Israel. However, we have no reasons to not believe that this one doesn't collect personal data. In fact, the provider has said explicitly that no personally identifiable data can be collected ever.
Log policy

Despite the close cooperation of Israel with the United States and with NSA, to be specific, SaferVPN does not keep any users' data and does not share private user data with anyone.
Having said that, they keep some connection logs, according to our test findings. However, they primarily collect basic, non-personal data and do not violate the rights of users.
If you are someone that's bent on complete privacy, you may want to review your choices as this provider keeps some connection logs. Unlike providers such as ExpressVPN, NordVPN, or CyberGhost.
On the flip side, most users do not mind when providers keep some non-personal logs. Meanwhile, SaferVPN should be commended for its transparency regarding its privacy policy.
You will find a list of things they don't log on their official website.
It includes the real IP address, VPN IP address, metadata/personal data, DNS queries, and browsing activity. You will also find links to the most recent changes in the PPR of Israel on their website.
Keep in mind that connection logs are not harmful at all. Even if the provider goes against its privacy policy and hands your data over to the government, connection logs cannot hurt you.
Protocols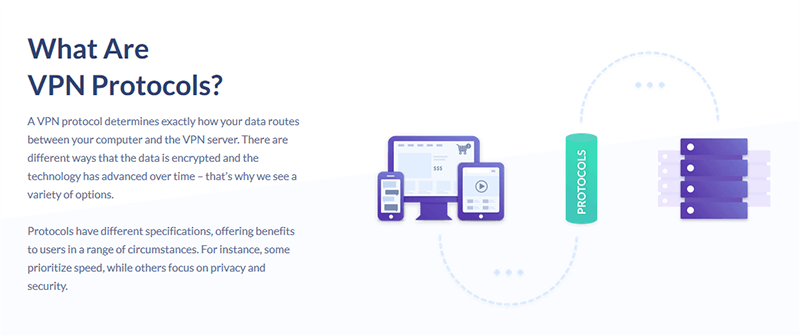 SaferVPN uses AES 256-bit encryption for encryption, and it's worthwhile to mention that this is regarded as the most secure encryption level in commercial VPNs today.
In fact, it is used by most top government agencies and military groups around the world to encrypt sensitive data. This encryption level is so strong that it'd take thousands of years for the world's best hackers to decrypt it.
In terms of protocol, the different VPN protocols you could use with SaferVPN are OpenVPN, L2TP/IPSec, PPTP, and IKEv2. All these protocols protect your data in different ways and they also have different effects on your connection speed.
OpenVPN is, however, deemed as the most secure, whilst PPTP is regarded as the fastest one.
Furthermore, the application features an "automatic" setting. This means that you can let it choose which protocol will provide the perfect balance between performance and security.
Protection against leaks
Impressively, the provider offers DNS leak protection. It utilizes Google Public DNS, which makes SaferVPN servers to be undetectable. It also offers IPv6 leak protection, which works by blocking IPv6 automatically when SaferVPN is active.
In terms of WebRTC leaks, this provider doesn't offer anything in particular, which means that you will need to ensure that it's disabled on your browser. We put everything into practice during our test for this review and found no leaks whatsoever.
Torrenting
Let's be honest, torrenting is not going anywhere. Even though the practice is deemed to be illegal in many regions around the world, it is technically not illegal.
With that said, we have dedicated this part of our SaferVPN review to detail our findings of torrenting in our test.
Is torrenting allowed?
It's a crime to download copyrighted data or files without permission. However, not every individual who engages in torrenting downloads illegally downloads intellectual property.
Some people just share files with other torrenting users. With this solution, you will not experience throttling as ISPs often slow down your connection intentionally when they detect torrenting activity.
However, we must mention that P2P and torrenting is available only on the servers in Spain, the Netherlands, and Canada. While that is not necessarily bad, you will still have to keep it in mind.
If you are residing in one of those nations, or in a neighboring country, then you don't even need to be concerned about this limitation.
We connected to one of those servers while writing this SaferVPN review and we didn't have any issues. The downside is that you can't do this type of activity while being connected to US or UK servers (in comparison to ExpressVPN).
Is there a Kill switch?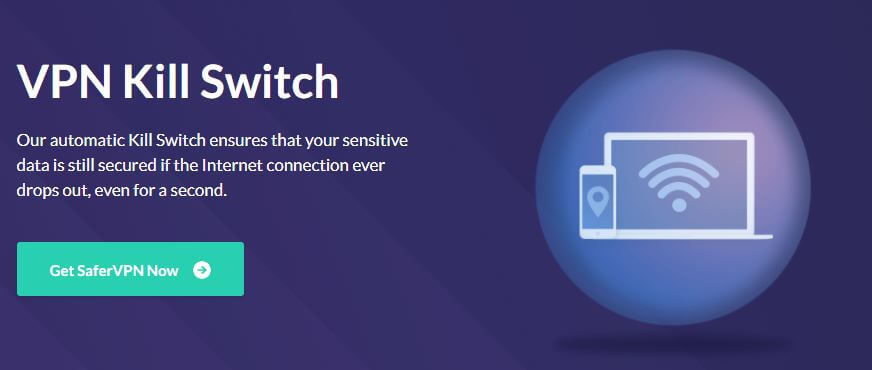 A Kill Switch is probably the most common feature in the industry nowadays. We are happy to see that SaferVPN has added this feature to all its clients. For starters, the function of a Kill Switch is that it immediately shuts your internet connection down in the event that your VPN connection drops.
This way, your private data will be prevented from getting into the wrong hands should the VPN failover unsecured networks. In the event that you want to put an extra security layer over your VPN, then be thankful for this service to feature a Kill Switch.
Bypassing Censorship
Everybody is always looking for ways to get around censorships nowadays. That's because many countries are growing restrictive when it comes to the Internet.
Can this Israeli provider help take you past censorships? Let's see what we discovered in our test and review of SaferVPN.
In censored countries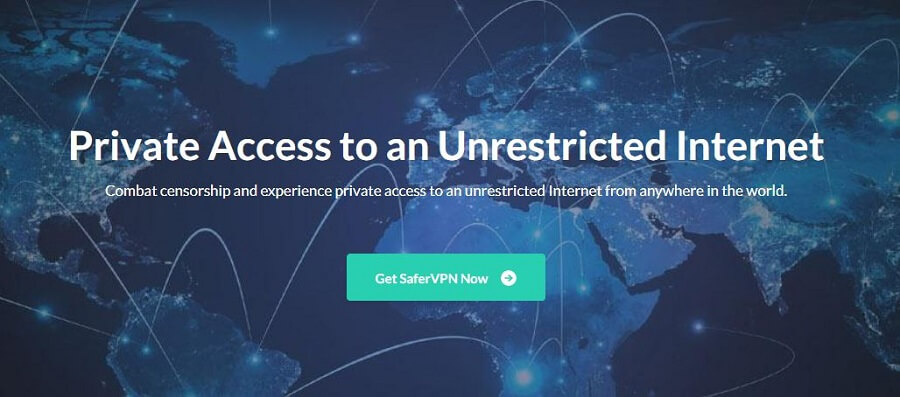 This application is unreliable for the Great Firewall of China, based on the things we found while writing this review. Since the Chinese government started a crackdown on VPN providers, this provider has really struggled to maintain any consistency in the country.
While the custom applications are blocked, configuring the service manually with OpenVPN works sometimes.
It is a pretty technical and lengthy procedure, and it is still not certain to work. SaferVPN lacks the extra obfuscation tools that are required to bypass the aggressive government blocks.
If you are looking for a service that has all the obfuscation tools needed to work in high-censorship countries, you can take a look at ExpressVPN.
Meanwhile, it remains a decent option in other high-censorship countries like Iraq, Saudi Arabia, and Turkey. This is because of its powerful privacy tools, selection of servers in Asia-Pacific, and accessibility to Tor over VPN.
In restricted networks
These days, it is commonplace that Facebook, Twitter, and other social network sites are blocked at schools and in the workplace. This is to encourage productivity and make sure that employees and students are focusing on their work and studies, instead of being distracted by these sites at all times.
If you are in this sort of situation, it can be really frustrating, we know. However, you can get past those restrictions by using this service. Even though it doesn't have the obfuscation tools needed to get past the Great Firewall of China, it is reliable for this, at least.
This was one of the things that impressed us during our test for this SaferVPN review.
Countries and servers
It's very important to consider the server count of the service you're looking at. Not only that, but you also need to know the geographical distribution of the servers. For SaferVPN, we've done all the dirty work for you in our test and this part of the review will break it down.
Countries covered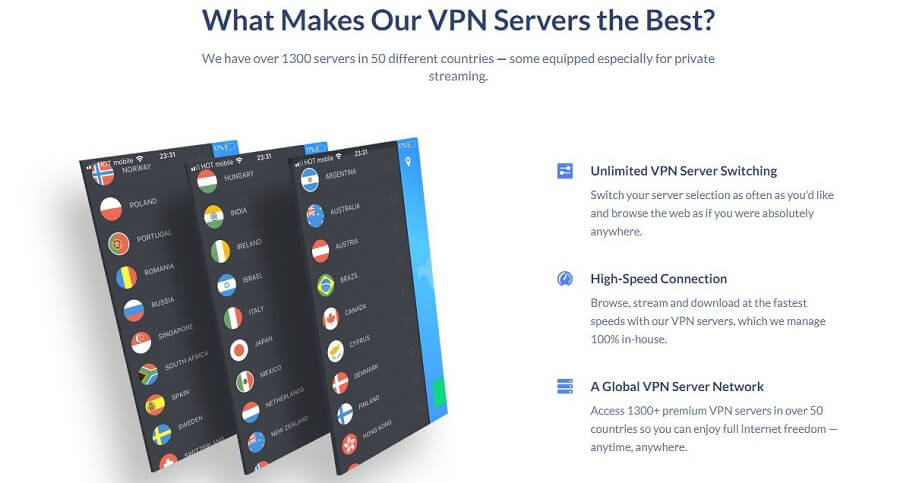 The provider has a small network coverage, covering only 50 countries around the world. These include world leaders like the United States, the United Kingdom, Australia, Canada, and tons of European countries.
It also covers other continents like Africa, South America, and Asia, with countries like Mexico, Brazil, South Africa, Japan, Hong Kong, and Thailand being on the list.
While there are no city-level servers, this provider provides West and East servers in the United States. While this is better than nothing, it is still not really helpful if you have to connect to a particular state.
If you are looking for a provider with more extensive network coverage, you should know that ExpressVPN offers servers in 94 countries worldwide.
Besides, ExpressVPN is a great option for people who require a lot of city-level servers in the United States. SaferVPN operates only1,300 individual servers, and every one of them is a virtual server.
This means that this provider rents cloud-based servers from third-parties.
While this service encrypts data traffic on virtual servers, most people prefer providers to own physical servers. This will ensure that they're in complete control of their servers for maximum privacy and security.
Meanwhile, it provides a couple of thousands of  IP addresses. Thus, users are likely to experience server congestion and reduced speeds at peak times.
Connect with SaferVPN from any part of the world >
Servers
Impressively, SaferVPN offers specialized servers for streaming, but that's the only activity they offer specialized servers for. Without any offense, you don't see this often from lower-tier providers, so we were really impressed during our review.
However, there are no specialized servers for torrenting. While P2P is available only on some particular servers, we didn't come across anything that suggests that the servers have been specially designed for torrenting.
Compatible devices and simultaneous connections
Providers nowadays often offer a series of native apps for various platforms. This is why you will need a service with clients for all your devices. Thus, let's take a look at how this provider ranks in this aspect, based on our test findings.
What device can I use with SaferVPN?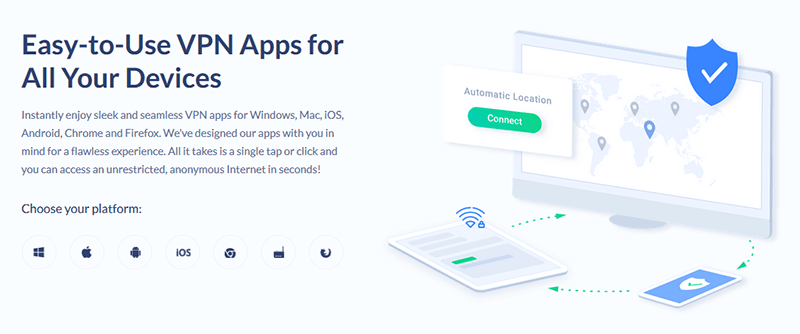 It offers a wide range of native clients for a wide range of platforms, which include:
Windows
macOS
Android
iOS
Extensions for Chrome and Firefox
Routers
As you have seen in our SaferVPN review, this provider covers the most popular platforms well. You can install this VPN on Windows, Mac, and other big platforms.
However, it's worth noting that industry leaders like ExpressVPN often go a few steps beyond what this provider offers, something we will explain below.
On SaferVPN's official website, you will find a pretty long list of platforms compatible with the service. For instance, the following devices: Windows Phone, Amazon Fire Stick, Linux, Playstation, BlackBerry phones, Apple TV, Roku, and more.
This might, however, be a little misleading as you will not find native clients for those devices. You will instead be redirected to guides on how to set the service up on a router, as we did in our test.
Then, you will be able to use the service on those devices once you connect them to a router.
We were shocked to see that this provider does not offer a native client for Android TV, Amazon Fire OS, and Linux. That's because this is something we see often nowadays.
How many simultaneous connections?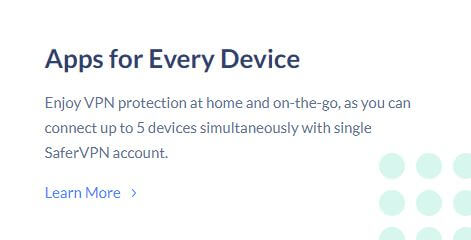 In terms of simultaneous connections, this service is pretty average, offering 5 simultaneous connections for the premium plan.
While 5 is actually the industry standard and is not bad at all, we like it when providers go beyond the norms and offer something special. In fact, you'll only get 2 simultaneous connections on the basic plan, which was insufficient during our test.
For example, CyberGhost allows 7 simultaneous connections and Surfshark an unlimited number of them.
Client support
Now you don't want to entrust your sensitive data to the hands of a company you can't contact whenever you like, right? We also thought as much and that's why we've included this part in this SaferVPN review.
Here, we will evaluate the customer support of the company, based on the service we received during our test.
How to contact it?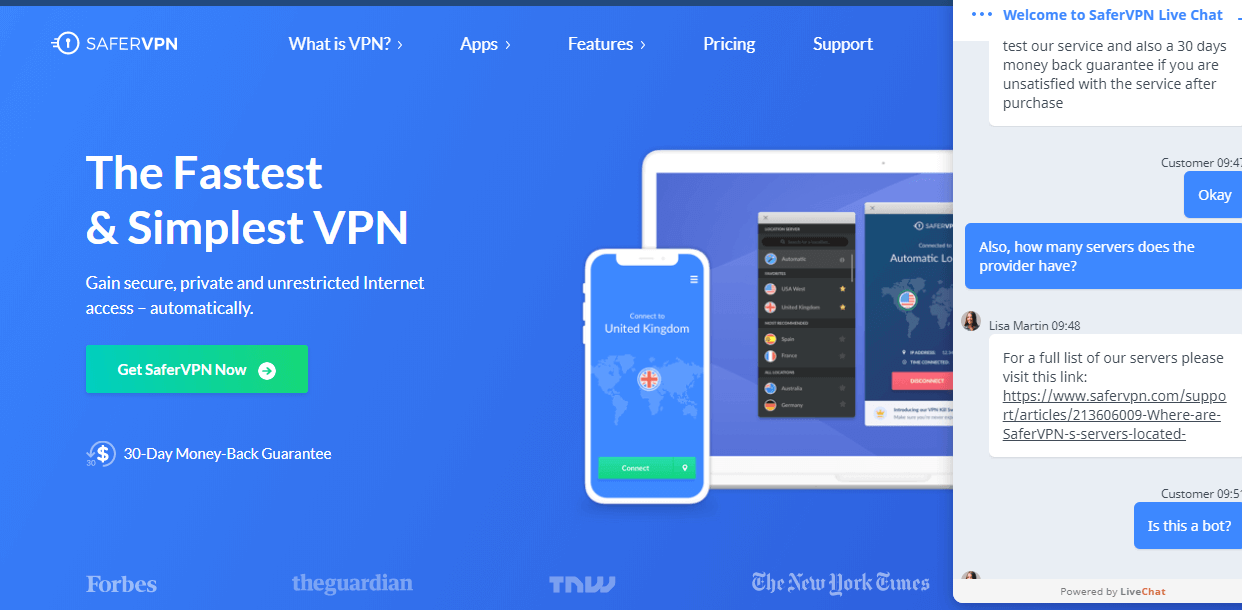 To their credit, the provider is quite impressive when it comes to client support. They offer two primary support channels – the ticketing system and the live chat option. While the ticketing option may take a day or two for you to get a response, the live chat option is available 24/7.
In other words, you can always chat them up whenever you have a problem or a question and they will instantly reply to you.
This option will be particularly helpful if you are a beginner who's just using a Virtual Private Network for the first time. Normally, you will have a lot of questions, so you can always get in touch with their support whenever you want.
Is it good?
The client support of SaferVPN is good, to say the least. Not only were the agents responsive and fast during our test, but they were also friendly. All our questions were answered to our satisfaction and the answers were detailed.
However, we didn't get a response via the ticketing system until about 24 hours, so we don't think it's as efficient as the live chat. While the email ticketing system isn't as efficient as the live chat channel, you might not even need it.
FAQ/tutorials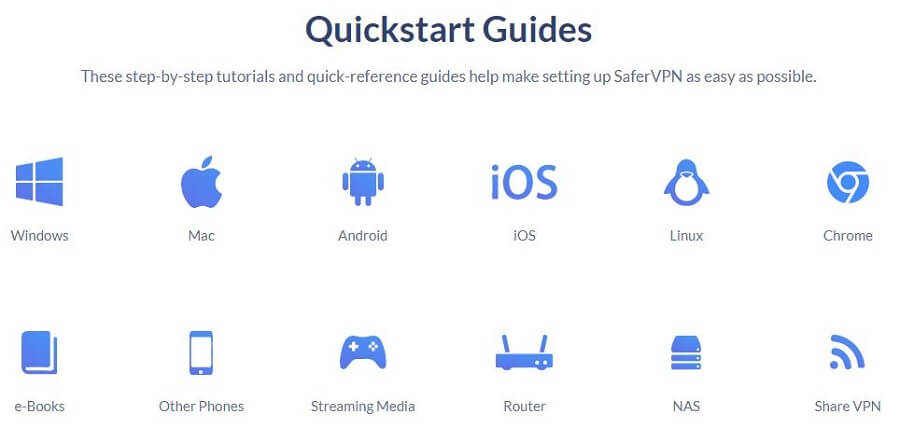 The support page of the company also has comprehensive installation guides for different kinds of devices and platforms. These guides are explained nicely with attached screenshots, which makes the process very painless.
We also consulted several guides during our review.
In addition, there is a series of FAQs covering troubleshooting topics, billing topics, and more. In the event that you have a general question about the service, you might easily find help without even needing to dig at all.
Value for money
In your search for the right provider for your needs, don't just look at functionality and features. Check if the provider you're looking at offers enough value for the money you're paying.
For SaferVPN, we have done the digging for you and we have dedicated this part of the review to address the value for money of this service.
Price comparison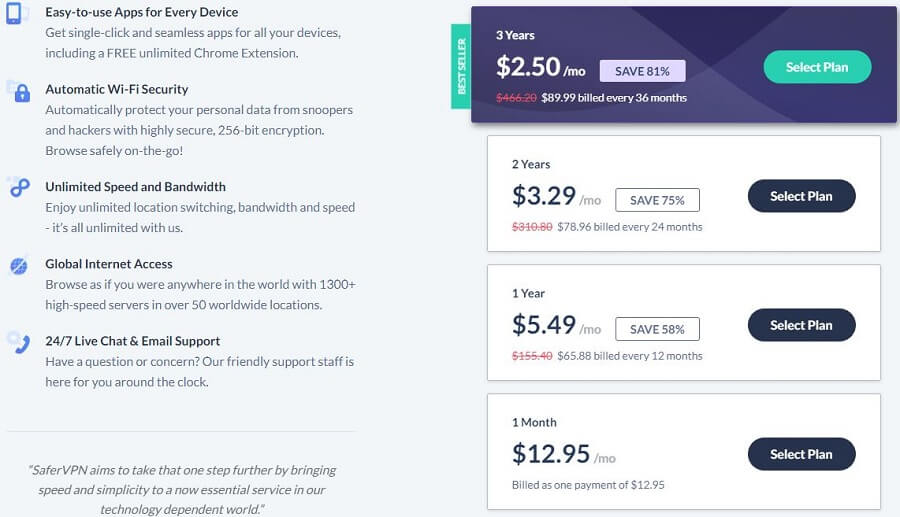 It offers a range of plans, so you easily can find the one that fits your budget. As usual, you can save the most by choosing "lengthier" plans. Below is the full analysis of the pricing scheme of this provider.
One-month plan – $12.95
One-year plan – $5.49 (billed at $65.88 at once)
Two-year plan – $3.29 (billed $78.96 at once)
Three-year plan – $2.50 (billed at $89.99 at once)
While it's not as cheap as VeePN, we must admit that this provider offers competitive pricing.
Although it's one-month plan is a little more expensive than what you'd expect from a provider of its class, it's steep discounts lie in the long-term plans. For instance, you can subscribe to the one-year plan, which saves you 55 percent automatically.
Of course, the price goes even lower when you invest in an even longer plan.
Means of payment

For optimum convenience, this company accepts the following payment options, which include:
VISA
MasterCard
American Express
Discover
JCB
PayPal
They currently accept no international payment options, which means there is no UnionPay or Alipay.
Money-back guarantee
SaferVPN provides both a 24-hour free trial and a 30-day money-back guarantee.
Remarkably, the money-back guarantee is risk-free and no questions asked, with no restrictions, data caps, or hidden conditions. While they will charge your card when you sign up, they will process all refunds in ten working days approximately.
This makes it a fairly risk-free process.
The free trial offers you complete access to the full-featured service for 24 hours. The only info that the provider will request is your email address, making it an excellent way to test out the software without needing to worry about applying for a refund if you are not satisfied.
Final Thoughts
SaferVPN is a newcomer to the competitive world of VPNs and we don't think it's equipped enough to rise to the very top. On the evidence of our review and test, it doesn't offer enough for us to consider it as a world-beater.
Of course, it's not entirely bad, providing good speeds,  torrenting support, and unblocking streaming sites like Netflix.
However, we can't ignore the fact that it's based in Israel, which is a friendly country to the 5 Eyes. This means that, if push comes to shove, the country will force the company into divulging its users' data.
Apart from that, the service is only available in 50 countries around the world, which puts it a thousand miles behind a provider like ExpressVPN.
In simple words, we don't recommend buying SaferVPN.
SaferVPN Review and Test
During our test, we were not convinced by the performance and possibilities offered by SaferVPN. That's why we do not recommend it immediately. It is better to turn to another provider ... pending significant changes!
Add your review
|
Read reviews and comments

Michael is a talented writer who has dedicated a lot of time into making sure that everyone around the world can use the internet securely. Being an avid traveler, he has acquired a lot of experience while using different VPNs on his travels. When it comes to doing comprehensive "how to tutorials" or testing some VPN functionalities, he's always the best pick ! He's here to help you solve your VPN-related issues.