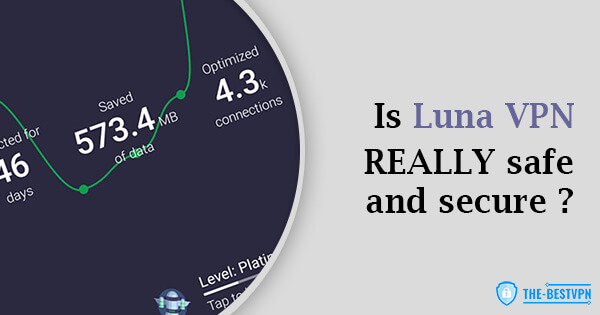 Luna VPN is a provider that will probably confuse you at first glance. Its website screams "ad-blocker!", while the provider offers both Virtual Private Network and the aforementioned service. Since our domain isn't ad-blockers but VPNs, our mission today is to examine it closely and see if it's safe to use. We implore you to read this article carefully before using it, as free solutions like Luna VPN usually aren't the safest out there.
Security: What Are the Security Tools in the Apps?
To kick off our examination, we first need to glance over to the app and see what functionalities it offers. Sure, every app of this kind offers plenty of options, but we're interested in security features. These will make the provider more secure, allowing you to browse the web seamlessly.
Without further ado, let's see if Luna VPN has something worth mentioning:
Kill Switch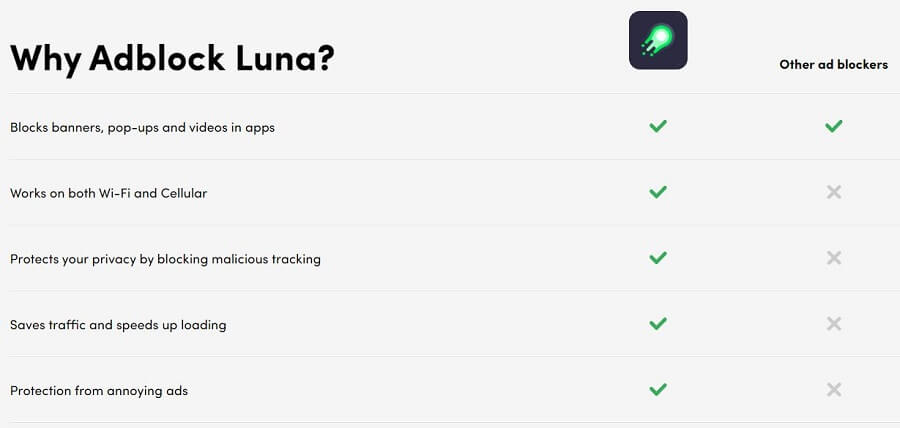 Just when you think that an automatic kill switch is an industry-standard for VPNs, you become disappointed. While the majority of the providers have it, we're always baffled when this simple feature isn't available. Thankfully, that's not the case here.
Although it's available only for iOS and Android, Luna VPN gives you a full-fledged kill switch. If you don't know what it is, let us explain. When you connect to a Virtual Private Network server, you get a new IP address.
It makes your old IP obfuscated, thus no one can see your true identity.
If the connection suddenly drops, you get exposed, but only if you don't have a kill switch. A kill switch shuts down your internet connection as soon as the sever connection drops, making it impossible to leak your IP or DNS.
256-bit encryption
Luna VPN charges you $0.00 for its services, yet it brings 256-bit AES encryption to the table. You know how they say – when the product is free, you are the product. And it's no different here, which you're going to see later.
For now, having military-grade encryption surely makes you feel good and safe. You know that no one will be able to trace your online activity, leaving you hidden from the prying eyes of hackers and other harmful persons.
IKEv2 Protocol
Before you ask about OpenVPN, let us tell you something. IKEv2 might not be the same, but it's a still decent security protocol that is closely compared to OpenVPN. We won't lie – we'd like the app to use OpenVPN, as it's the best one, but IKEv2 is a perfect alternative.
In terms of speeds, you won't notice a big difference, and when it comes to security, it's about the same as OpenVPN. Plus, it can sometimes be used to bypass geo-restrictions.
Real-Time Threat Monitoring
Luna VPN has one unique feature called real-time threat monitoring. Normal users can't use it, though. You have to climb the ranks by using the service, and once you get to the Diamond rank, you get to use it properly.
Basically, it informs you when you or any other app on your phone tries to access a malicious site. In return, you get to browse the internet more safely and avoid malware and other unwanted software.
Luna VPN Privacy Policy: The Most Important Security Criterion
For this service, there's not a more important thing than the privacy policy. In this section, providers mention every bit of data they store, what they do with it, and so forth. Keep in mind that Luna VPN is a free provider, so don't expect it to be as secure and safe as ExpressVPN.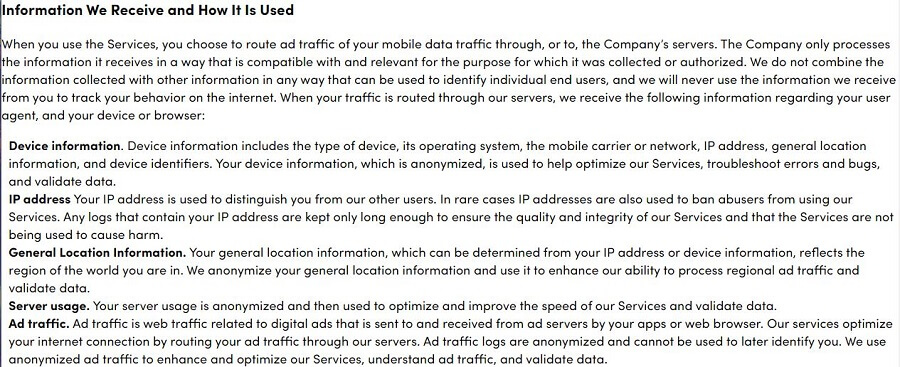 From the get-go, Luna VPN is pretty direct. They tell us what information they collect and how they use it. The first info is device information, which we already don't like. Just look at how much info they log – your OS, mobile carrier, IP address, device identifiers, general location information, and so forth.
When they mention server usage, they also mention that it's anonymized. This also applies to ad traffic. Whenever we see something related to ads, we can always guess that it's about sharing your data with third parties. How else would they optimize ads?

The second part explains it well. They share your "anonymized" information with third-party service providers to improve the effectiveness of their advertising. Despite claiming that this service provider can't sell or distribute this info, it's still not good enough.
And who knows with how many third-party companies Luna VPN works? That's right – we don't know that! The moral of the story is that the provider stores compromising data and is sharing it with third parties, which is an instant red flag.
External Audit: Is Luna VPN Safe?
External audits are great for making a certain provider much more trustworthy and reliable. ExpressVPN, for example, has an external audit from PwC, while VyprVPN has one from Leviathan Security.
We also noticed that users on Reddit praise these providers, as they are reliable and safe to use. Luna VPN is a minor player in the game, hence it doesn't enjoy such treatment. In other words, it doesn't have any external audits.
This is of course not good news in terms of safety and transparency.

Issue(s) and Scandal the Company Has Faced in the Past
Thankfully, Luna VPN wasn't a part of any scandals that would ruin the company's reputation. In fact, it's still a popular and "trustworthy" provider for Android. However, it's from the USA, which can be a big problem.
The USA is a part of the 5 Eyes. Countries from the 5 Eyes are known for extensive government surveillance that puts privacy into jeopardy. If the government requests some info from the provider, rest assured that it will easily hand it over.
Given how much info the provider collects, we can all agree about its safety and security.
Conclusion: Luna VPN Can't Be Trusted
Have you read the whole article up to this point? If so, you already know that Luna VPN can't be trusted. A free solution is never better than a premium one, so we can't recommend it to anyone.
If you want the best and safest VPN for smartphones, our suggestion is ExpressVPN.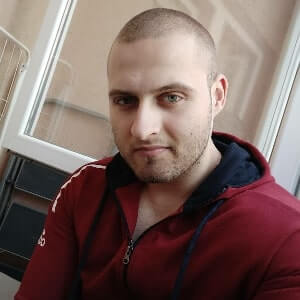 A professional writer with a Master's degree in Mechanical Engineering. Since his youngest age, he loves everything related to internet, technology, fitness, games, and dogs! He joined our team in order to bring his deep knowledge in security services, among which VPN is of course a key component.