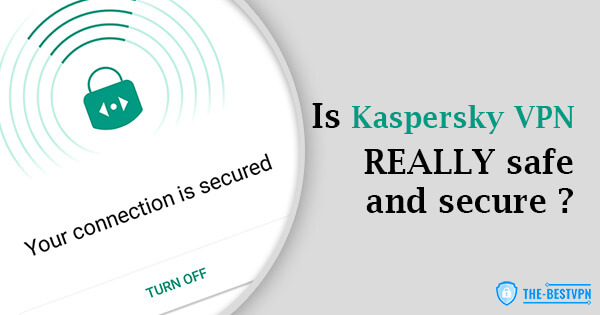 Kaspersky Secure Connection is simple to use and cheap, offering users many of the basic VPN features. But can it be trusted and is it safe to use? We will try to answer clearly these questions below.

Security: What Are the Security Tools in Kaspersky VPN?
Security of information is one of the main reasons people use VPNs. It makes sense then, that the security features offered are some of the most important things to consider when trying to determine whether or not a VPN is safe to use.
If you are on a PC, you may want to check out these VPNs that are available on Windows.
While Kaspersky offers some of the basic security features that we have come to expect from even low-tier VPN services, are these enough to earn your trust, though? Let us break it down.
Kill Switch
A kill switch should almost be a requirement for a VPN service to provide at this point. Kill switches help to further ensure your information – such as your IP address and location – is adequately protected at all times.
When your connection to your VPN is lost, a kill switch – if enabled – will restrict your device's Internet connection until a secure connection to the VPN can be reestablished. Without a kill switch, your IP address becomes public once more, as does your location and other bits of important information.
Since a kill switch is such an important and simple feature for even the most basic VPNs to have, it is a wonder why Kaspersky does not include it among its list of security features. For a VPN to function, a kill switch is not technically required.
But it may as well be. It is a shame that Kaspersky does not offer this additional feature.
Encryption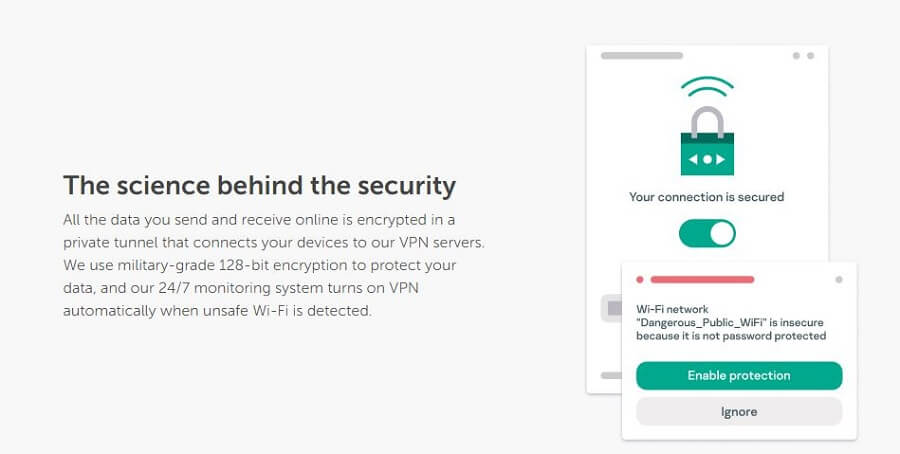 Encryption is very important. We looked at how and if your information is suitably encrypted. As with most other aspects of a VPN service, this is important for making sure all your information and data is safe and secure.
Thankfully, Kaspersky Secure Connection uses military-grade 128-bit encryption. This means that all your information will be coded into unreadable strings of data that are safe from the dangers of the Web.
Albeit, don't expect it to be safer than 256-bit AES encryption.
Leak Protection
In the case of a DNS leak, any DNS request can be accidentally leaked by your ISP. This will compromise the security of your information. Luckily, Kaspersky provides DNS leak protection to prevent this from happening.
Kaspersky Secure Connection also tells you when public Wi-Fi is not safe. This means you can access the web through a secure VPN tunnel, reducing the risk of leaks or hacks.
Kaspersky's Privacy Policy: The Most Important Security Criterion
The security features a VPN can offer are very important, but the root of all information security lies in a VPN's privacy policy. This details if and how your information is collected and stored (hopefully, it is not), as well as any other forms of data collection that may be important to know.
With that in mind, let us take a look at everything you need to know from Kaspersky's privacy policy.
Collected Information
As a general rule, Kaspersky does not collect any personal information when simply browsing their site. When accessing their services, they do, however, collect certain bits of general information.
Your browser type and platform, for example, are recorded and stored for the purposes of statistical analysis and service delivery. This is nothing to worry about, as most VPNs – and indeed, most websites – do this, as well.
All of this information is pseudonymized and cannot actually be linked to your real identity. Of course, when signing up for their service, you will need to provide at least an active email address and password. Again, this is standard fare for every VPN service.
This information is not linked to your online activity and is purely collected in order to provide you with the service.
Still, we have some concerns about this part of their privacy policy:
Pretty scary isn't it? It means that they can potentially trace some actions back to you in some way. For a provider that claims a "no-log" policy, that's pretty strange.
Cookies
Cookies are small text files stored on your device in order to speed up certain processes. They store several small bits of information. This may raise alarms for some, but Kaspersky lists all of its uses for cookies.
These uses include storing your preferences, storing user inputs, and improving user-interaction.
Kaspersky allows you to block cookies. But it warns that some features of their site may not be able to be accessed unless cookies are enabled. This raises our collective eyebrows, especially since data and informational integrity are important things when it comes to VPNs.
External Audit: Is Kaspersky Safe?
Having a third party examine a VPN service is important in order to ensure that the service is safe to use from an objective point of view. Kaspersky has passed the SOC 2 audit, which reports on cybersecurity risk management systems.
With positive results, Kaspersky can at least be trusted from a legal point of view. But only from a legal standpoint.
Issue(s) and Scandal the Company Has Faced in the Past
While Kaspersky's VPN service has not been subject to controversy as of yet, the company itself has. In 2017, the company was accused of using its security solutions in order to steal secret NSA files.
However, these accusations were based on anonymous sources and rumors and were heavily sensationalized by western media outlets.
Still, this gives Kaspersky an unfortunate reputation, to begin with. While Kaspersky Secure Connection has not suffered any scandal, its company, unfortunately, has some bad baggage.
Conclusion: Kaspersky VPN Cannot Be Trusted
We have to conclude that Kaspersky cannot be trusted as a VPN.
Simply put, while it provides several of the basic security features, it strangely omits others, such as a kill switch. Unfortunately, hiding your IP is one thing, just a small part of the larger service.
Beyond that, its insistence on the use of cookies for several basic functionality features, as well as a hard-to-ignore scandal surrounding the company, make this VPN hard to trust. We cannot, in good conscience, recommend this as a reliable service.
Instead, we highly suggest subscribing to our favorite provider, ExpressVPN. They offer everything you need in a VPN service. Find out more by clicking here: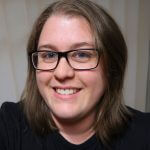 Thalia has been working in the online tech industry for over two years, after studying computer sciences at University. Her focus is primarily on VPNs, privacy, and online security.