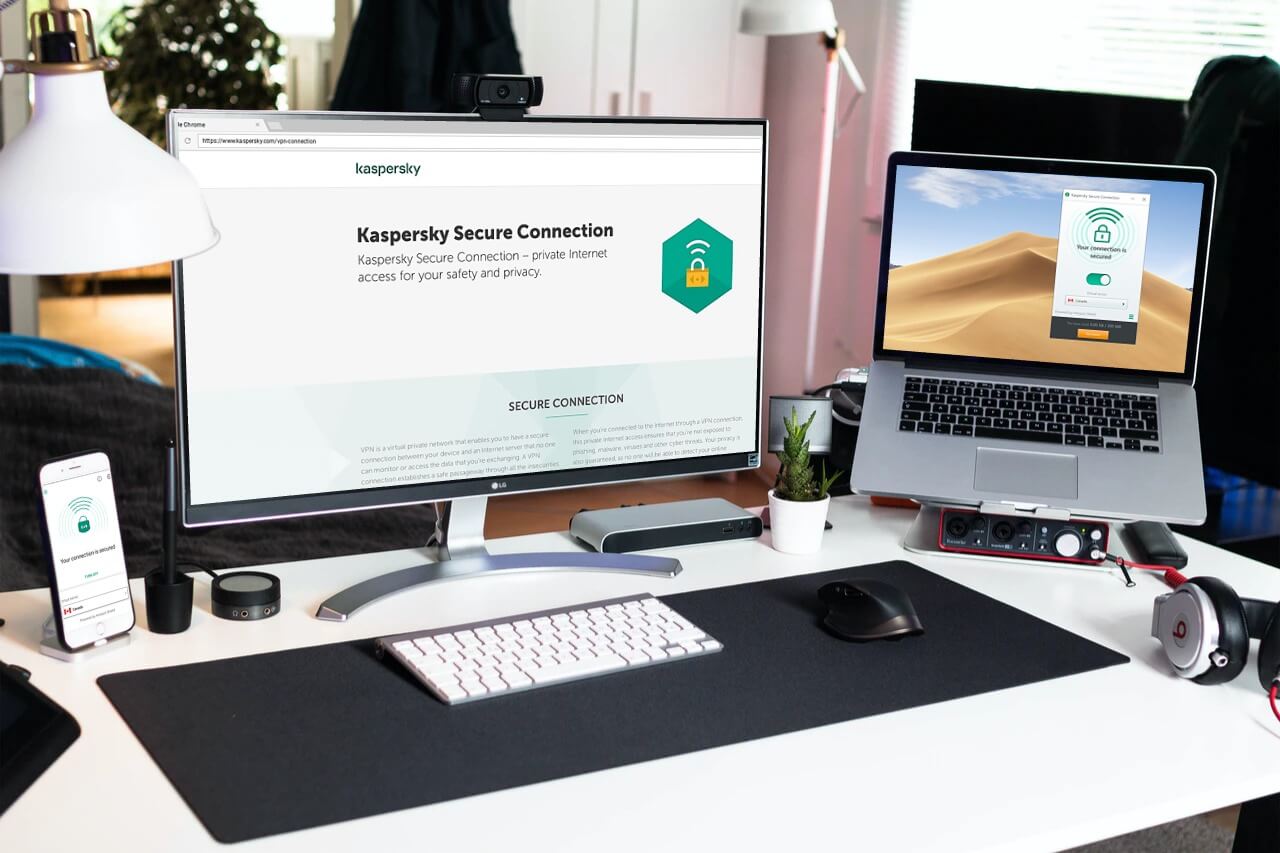 Whenever you hear Kaspersky, you don't need a soothsayer to tell you that the next topic of discussion will be centered around security. The company was initially popular for its prominent security products like Kaspersky anti-virus and Internet Security. However, it has now extended its reach into the world of VPNs, which explains why we've created this Kaspersky VPN review and test.
Naturally, most people tend to opt for the more recognizable brands when choosing from different providers. While it is also a recognizable brand, most people recognize it for its anti-virus.
But since the company already has a good reputation in the world of online security, it's safe to assume that the company's VPN can't be anything short of sensational, right?
Well, we wish we could say you're right, but based on our test and review for Kaspersky Secure Connection, the reverse is the case. With its poor streaming performance, lack of support for torrenting, and terrible platform support, this service is nothing remarkable.
If you're hesitating between a VPN or an Antivirus, this provider may just put you into a state of confusion.
In fact, there are people who're of the opinion that the company should've just limited their reach to the anti-virus business.
Apparently, that's because they are exactly like a fish out of water in the VPN sphere, which is really disappointing. Without mincing words, we'd like to take a plunge into our hands-on 2023 Kaspersky VPN review and test.
STRENGTHS:
Fast speeds
Offers a free version
Solid encryption
WEAKNESSES:
Keeps logs
Poor customer support
Limited server network
Doesn't have a Kill Switch
Limited platform support
Doesn't work in high-censorship countries
Poor streaming performance
Kaspersky VPN ranks #29 out of 104 VPNs tested. Here are the best alternatives :
---
Is it a paid or a free VPN ?
Kaspersky VPN offers both a paid and a free plan. The free package is a great start as it allows you to test the operational efficiency of the VPN out.
It is available in both the Kaspersky Total Security mega-suite and the Kaspersky Internet Security entry-level. Buying any of these suites, however, does not help you to get a discount for the premium plan or even more features for the freemium package.
It's important to note that the free plan is heavily limited, restricting you to just 200 MB of bandwidth daily and 300 MB if you register. While that is quite low, it is still generous compared to other VPN clients.
This is only reasonable if you just need a service to do a few sensitive stuff on public Wi-Fi.
Besides, it doesn't allow you to select servers, as you'll be connected to a UK server automatically. While this may not be the best offer, you won't need to pay to test their service at least.
If you are looking for a better free service, here is our selection of the best free VPNs.
Performance
While there are many factors to use for the evaluation of a VPN's performance, it always starts from its speed and stability. So, will it excite you with its speed or bore you with its slowness? Will it impress you with its stability or annoy you with its instability?
We have answered all your questions in this Kaspersky Secure Connection review, so keep reading.
Speed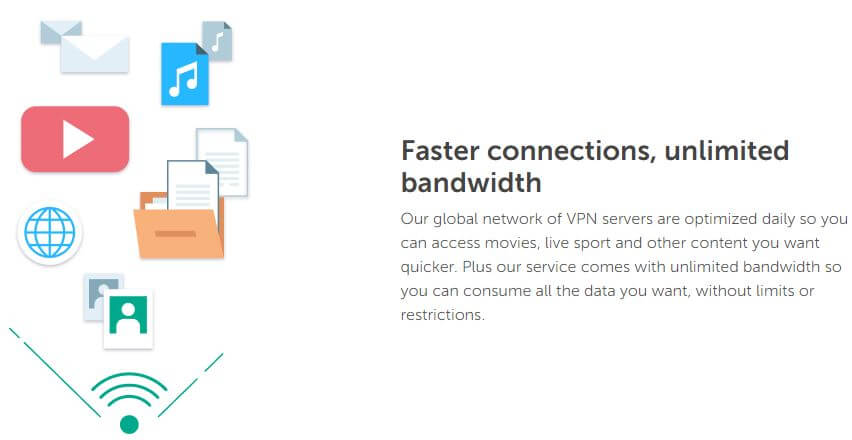 The extra layer that a VPN provides always takes its toll on the speed of the service. This is why it's virtually impossible to compare the speed of a normal connection with the speed of a VPN connection.
However, some providers have figured out a way to minimize the speed loss, so we're wondering how Kaspersky VPN performs.
To be honest, Kaspersky VPN performs decently when it comes to speed, based on our test for this review. This may be due to the Hydra VPN protocol it uses, which is a protocol known for its lightning-fast speed.
While it's still a lot behind providers like ExpressVPN in terms of speed, it offers above-average speeds. You should be able to stream HD videos without buffering.
Without VPN (we were located in London) :

EU Server (France) :


US Server :

Asia Server :


Stability
Stability is something a lot of providers around the world don't offer, but Kaspersky VPN offers stable connections. There are many parts where this provider doesn't impress at all, but stability is not one of them.
In fact, it promises an uptime of 99.99 percent, which is nothing short of impressive. No VPN provider in the world can guarantee an uptime of 100 percent, so this one can be forgiven. At no point was it unavailable during our test.
Streaming
We are certain that most of you need a VPN that you can rely on for media streaming. Obviously, everybody wants to unblock media streaming sites while enjoying the advantages of a protected connection. While this sounds cool in theory, not every provider can do the job.
Based on our test and review, here is how Kaspersky VPN ranks.
Netflix
This provider does not claim that their service unblocks Netflix, which is probably to stick to the regulations of their own government which prioritizes internet censorship. We have, for the sake of this test and review, tried out their Netherlands, US, and UK servers.
As we expected, each of our attempts was futile.
In each case, Netflix has flagged our IP address automatically as an unblocker/proxy. If you really want to unblock Netflix, don't waste your time with a provider like this.
Just opt for clearly better services like ExpressVPN or NordVPN.
BBC iPlayer
If you are a fan of BBC iPlayer, you might want to look elsewhere as, like Netflix, BBC iPlayer also didn't work. We tried out the UK server on numerous occasions and we failed each time, which was frustrating.
Netflix and BBC iPlayer are two of the biggest media streaming sites in the world, so it's really disappointing that Kaspersky VPN is ineffective against their blocks.
Others?
Unfortunately, there is no way in hell that Kaspersky Secure Connection can be your VPN of choice if streaming is important to you. Apart from being unable to unblock Netflix and BBC iPlayer, it also cannot unblock Hulu, YouTube, Amazon Prime Video, and HBO.
During our test, each of those sites almost instantly detected the use of a VPN. Obviously, it's needless to mention how really frustrated that left us. It left us fuming.
Security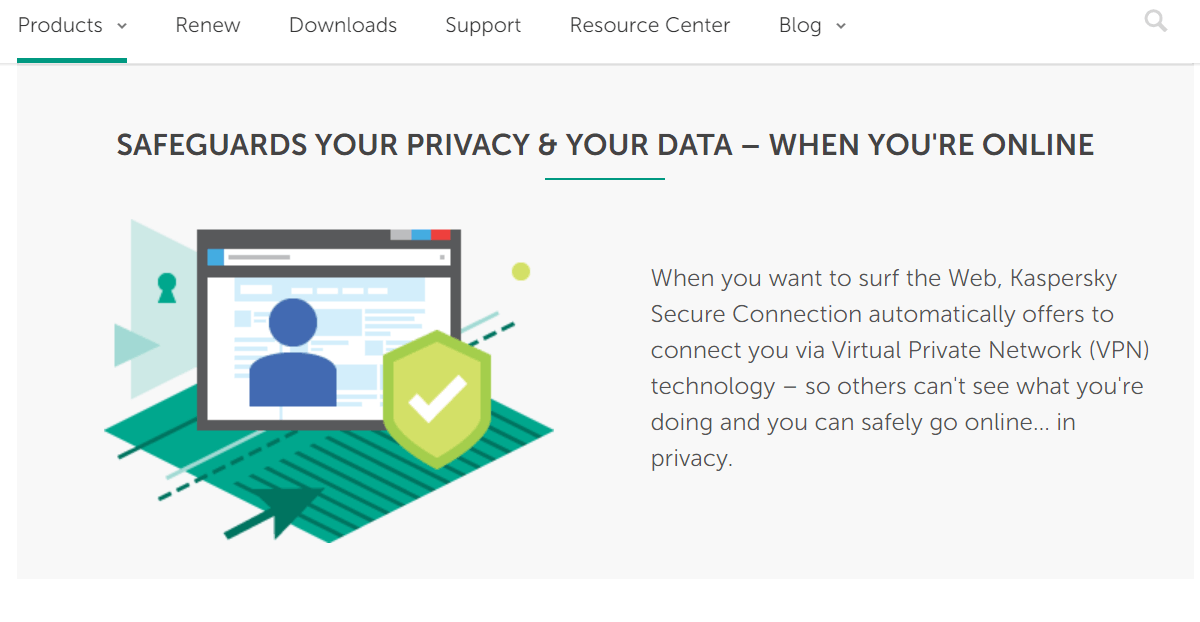 Security is the life and soul of any provider. In fact, it used to be the only purpose of these tools back in the days. Even though a VPN is used for many other things nowadays, security is still as important as ever.
So, if you're wondering what systems Kaspersky VPN has implemented for security, we'll discuss them in this part of the review.
Where is it based?
Kaspersky VPN is based in the capital of Russia, which is a huge deal-breaker for privacy-savvy individuals. While Russia is not a member of any alliance, the country still has a couple of privacy issues of its own.
First of all, Russia is a country that is known for its data retention measures and invasive surveillance laws.
Apart from that, however, the US government, in 2017, decided to remove every Kaspersky product from their systems.
This was because of the likely danger of the Russian government taking advantage of the access given by Kaspersky products to intercept federal information. Apparently, this speaks volumes about the level of distrust towards the Russian company.
Furthermore, there are concerns about potential connections between some officials of Kaspersky and different Russian government agencies. There is also the fear of the Russian law that allows government agencies to compel Kaspersky into handing over the data of its users.
This is a huge concern, especially when you consider the fact they collect pretty comprehensive connection logs.
It would mean that anything you do online can be traced back to you. Logically, this is a red flag for users seeking the highest privacy level.
Recently, there were revelations that Kaspersky is the only provider that has agreed to obey Russia's new VPN laws. This means that it'll be blocking customers from restricted sites and could be sharing their private data with the government.
Log policy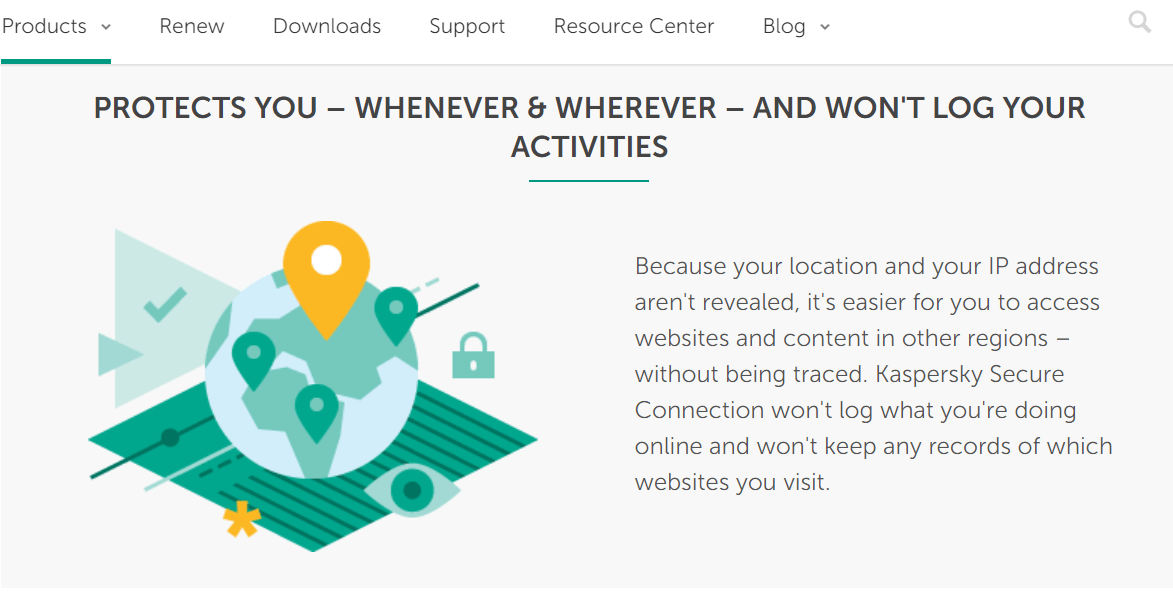 It was very hard to find the logging policy that applies specifically to Kaspersky VPN during the redaction of this review. Even when we found it eventually, it was more complex and longer than necessary.
When you use the service, they collect a rather comprehensive amount of data, which include:
The geographical location of the server you've selected
The ID of VPN session start and end
Total session length (in seconds)
The volume of outbound and inbound traffic
While we didn't get a clear definition of what VPN 'ID' means, we're guessing that it's something about your original IP address. Obviously, this is far from ideal because it can be personally traced back to you.
This info is stored on the company's servers for up to 3 months before it is deleted, which adds insult to injury. This is longer than most users would like and just looks unnecessary for the purpose of troubleshooting.
Protocols
To be honest, Kaspersky doesn't seem like a company that cares much about privacy. On the official website of Kaspersky VPN, you need to be really determined if you want to find any information about VPN protocols and encryption.
This is probably why there is polarizing information flying around about this provider online.
Since this provider utilizes Hotspot Shield's infrastructure, it uses AES 256-bit encryption. As luck would have it, this is the strongest level of encryption that is available commercially.
It means even if your data is stolen, it would take at least a decade before the data could be read.
In terms of protocols, the provider uses Hydra VPN protocol. Apparently, this protocol is very rare, which is probably why some users don't trust it. The VPN protocol that most users trust is OpenVPN, but this service doesn't have it, unfortunately.
Protection against leaks

When it comes to protecting against leaks, top-tier VPNs like ExpressVPN and CyberGhost use both DNS and IPv6 leak protection.
Kaspersky VPN has, however, chosen to provide DNS leak protection alongside IPv4 leak protection. As usual with this provider, we needed to dig really deep to find whether it supports IPv6 or IPV4 leak protection.
There seems to be general confusion among users of Kaspersky VPN regarding this, as users are led to think they are getting IPv6. Sadly, it doesn't work as it instead degrades to IPv4, as we witnessed during our test for this review.
Torrenting
Even though torrenting is considered illegal in some quarters, there are people who can't live without it. We have included this section in this test and review for Kaspersky VPN to answer all the possible questions that such people may have.
Is torrenting allowed?
For users who're interested in torrenting, we are glad to inform you that the provider allows peer-to-peer sharing. The company, however, keeps noting in its legal documents that users must respect the laws and regulations of their countries.
Since infringing on a copyright is a very serious crime around the world, this extra emphasis means that users must stick to only legal torrents. Otherwise, bear in mind that Kaspersky VPN is ready to cooperate with law enforcement agencies worldwide.
Therefore, pay attention to the types of files you download while torrenting.
That apart, we don't recommend to use this service for torrenting due to its lack of a Kill Switch, which is a feature that's really important for safe torrenting. We didn't enjoy torrenting with this provider during our test.
Is there a Kill switch?
After everything we had during our test for this review, we didn't know there was anything left about Kaspersky VPN that could still surprise us. Turned out that was wrong as we were left completely surprised and even shocked when we learned that the service doesn't come with a Kill Switch.
Even though a Kill Switch has become a "norm" for most VPN services nowadays, this provider didn't feel the need to include it.
For starters, a Kill Switch is a feature popular known as the last line of defense. It helps shut your internet connection down when it senses a drop in your VPN connection. You can see why we were disappointed that this feature was missing, right?
Bypassing Censorship
Whether you're an avid traveler or you live in a country with aggressive internet laws, you know how frustrating it can be to live in such regions. With that in mind, we've accounted for this during our test for this review, and here is what we found.
In censored countries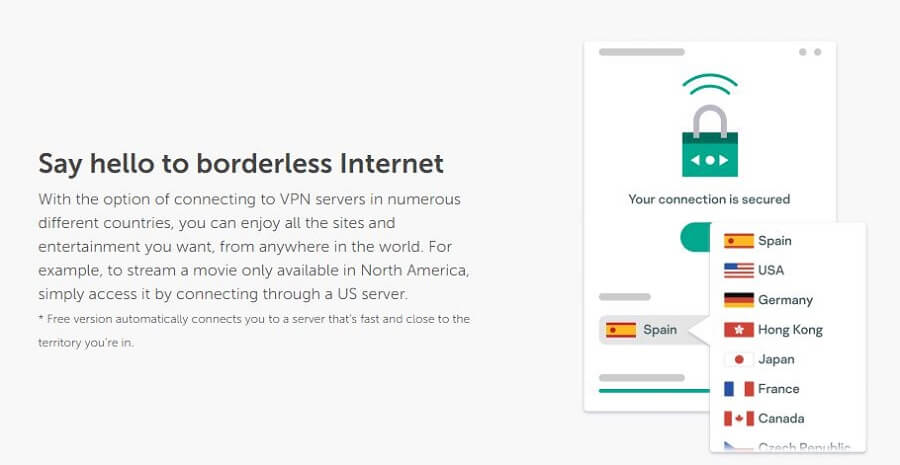 People who are traveling to or residing in high-censorship regions should avoid Kaspersky VPN at all costs. In fact, they state on their official website that the service "is not available for downloading and activation in the following countries: Belarus, China, Iran, Oman, Pakistan, Qatar, Hong Kong, Saudi Arabia, and UAE".
Most likely, this is due to the fact that the regulations regarding the usage of VPNs in some of these countries are quite restrictive. Kaspersky VPN doesn't want its users to be put in a potentially dangerous position.
If you are going on a vacation to one of the places and you need unrestricted internet access, you need to choose a provider that provides some kind of 'stealth' protocol to make your VPN connection like regular web traffic.
With this, it becomes harder for the censors implemented by the government to sense you and will enable you to access censored content.
In restricted networks
Either you work or study in a place where there is a restriction on the Wi-Fi network, you don't need to get yourself worked up over it at all. Even though Kaspersky VPN isn't capable of unblocking censorship policies, it works for things like this.
It can effortlessly unblock restricted networks, either at your school, workplace, your hotel, or at the airport. Bear in mind that we reached this conclusion based on the test we carried out for this review.
Countries and servers
While information about servers is always important when buying a Virtual Private Network, it's disappointing that Kaspersky Secure Connection makes it hard to find this information.
In fact, it's almost like a secret as we had to scour the internet before we could find this information.
Countries covered
Kaspersky VPN has one of the smallest server networks we have seen among the providers we have ever had to review, covering just 18 countries across the world.
This is in contrast to what is offered by a top-tier provider like ExpressVPN, which covers 94 countries around the world.
Of course, this may not even be a problem if you just need to connect to the most prominent locations. However, people who are looking for in-depth coverage on continents other than North America and Europe may need to review their options.
Besides, there is no server list on their official site, which was really frustrating during our test.
Furthermore, there is no option to choose city-level servers, which may not mean anything to users living in smaller countries. However, it could be a huge red flag for people in places like Canada and the US.
This is because it makes it impossible to drill things down to the nearest server to your real physical location.
In addition to that, there is no indication of the number of IP addresses or individual servers that Kaspersky VPN maintains, which leads us to believe that it is likely to be a pretty low number.
Should that be the case, it could cause potential server overload and reduced server performance, especially at peak times.
As we already mentioned earlier in the review, Kaspersky VPN has the best coverage in Europe and North America. The only countries they cover outside of both continents are Japan, Mexico, Singapore, and Hong Kong.
It is very strange for a provider to overlook Australia, and even though Africa is not really a popular continent with VPN providers, we were disappointed by the lack of servers at all in the entire continent.
If you live in the US or Europe and will be mainly connecting locally, this provider has sufficient server choices. Users in other locations, however, need to consider going for a company with a more diverse server distribution such as ExpressVPN.
Servers
The Russian provider doesn't offer any specialized servers, but we don't think that should come as a surprise to anyone, considering everything we have revealed in this test and review for Kaspersky VPN.
This probably explains why this provider performs poorly when it comes to streaming, torrenting, and bypassing censorships.
Compatible devices and simultaneous connections
In an ideal world, you want a service that you can use across all your devices – at your office and at your home. Let's see if Kaspersky VPN is the right pick.

What device can I use with Kaspersky VPN?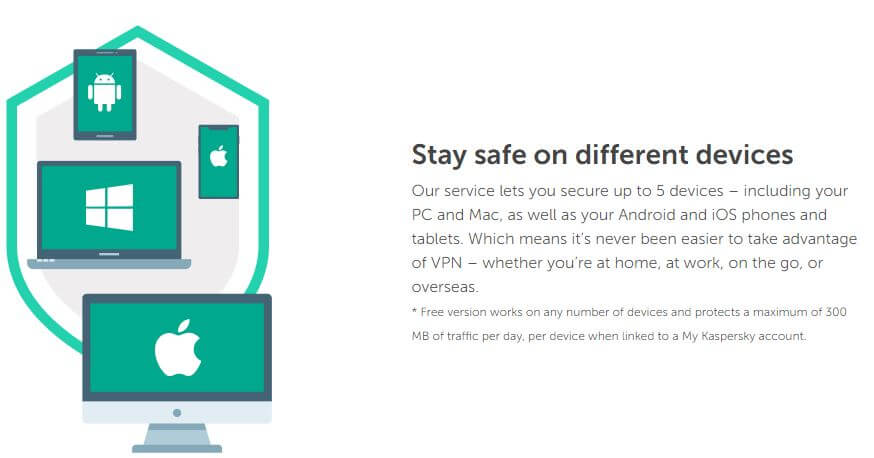 In terms of device compatibility, this provider doesn't offer much, providing native clients for only the following platforms :
As you can see, Kaspersky VPN supports only four platforms, which is really depressive. For desktop systems, it offers native clients for macOS and Windows. Apparently, it doesn't offer a native app for Linux and it's disappointing that there is even no option for manual configuration.
For mobile operating systems, this service supports iOS and Android and these fully-featured apps that you can natively install. Unfortunately, the provider's platform support ends there.
Not even through manual configuration can you install the service on any other platform.
You can't also install this service on a router, which is obviously disappointing. Besides, media streaming platforms like Amazon FireOS and Android TV are also left out. Having said that, it is clear that this company offers probably the most limited platform support, with its focus on only the most popular platforms.
How many simultaneous connections?
While Kaspersky VPN offers 5 simultaneous connections on a single account, we don't think the user will even be able to exhaust the slots. This is due to the unbelievably limited platform support of the provider, as we have seen up there.
There are many devices that connect to the internet nowadays, and nearly everyone requires VPN security. Therefore, thanks to Kaspersky's limited platform support, you may not be able to use all 5 slots.
Except if you allow your friends and family to connect their devices as well.
Client support
Only a foolish person relies on a friend that is never available during their times of troubles, right? Well, we'd also like you to apply the same logic for Virtual Private Networks as well. You don't want to depend on a company whose client support is either always unavailable or is difficult to contact.
Is Kaspersky VPN a good friend or a bad friend that is never available? We have included this section in this test and review to answer that question.
How to contact it?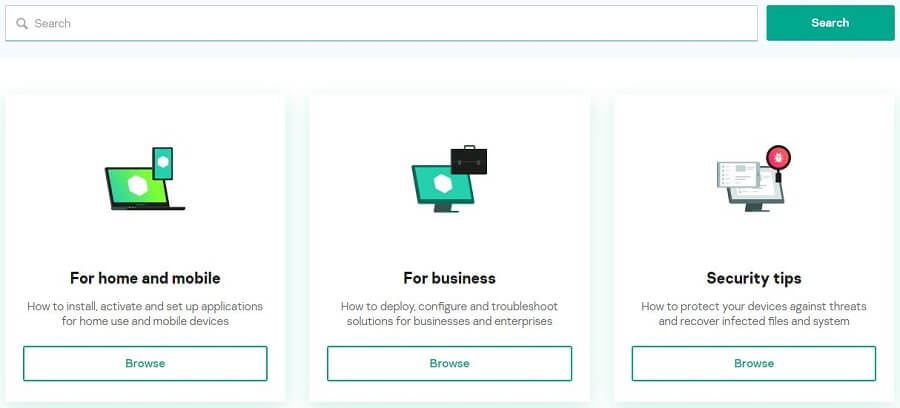 First of all, you will find a series of email addresses and phone numbers that allow you to contact the company's various branches. While their response can take up to 48 hours sometimes, we're sure that you will eventually get a response.
Secondly, you can open a client support ticket when you log into your account on their official site. Once again, this also can take up to 48 hours to get a response
There is no live chat option, which is quite disappointing considering almost every provider offers it nowadays. Besides, it's the most convenient channel to contact support and we were looking forward to seeing it prior to this test.
Is it good?
Getting in touch with the support team is an extreme sport. You can only do it if you have an account with the company, which means potential clients that need to ask some questions are out of luck.
In the event that you have an account, you can either give them a call or submit a ticket. However, bear in mind that they really deal with only queries related to subscriptions and orders over the phone.
During our test for this Kaspersky VPN review, we submitted a client support ticket and a response came in only over three hours. However, they informed us that the representative couldn't handle our request himself and would need to forward it to the technical team.
Of course, this isn't really a problem as our issue was resolved within 24 hours, but it just does not measure up to the live chat responses that most top-tier providers offer.
FAQ/tutorials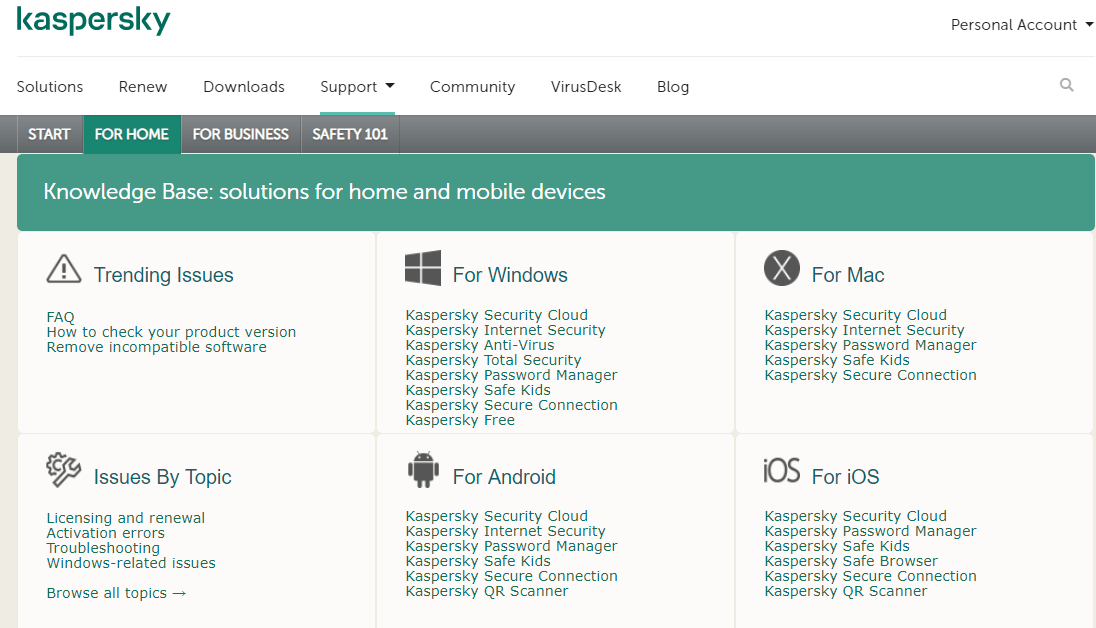 There are lots of frequently asked questions, troubleshooting guides, articles, blog posts, and everything in-between.
While it's a good thing that they have such a large library of self-help resources, it would have been nice if they organized them systematically. Basically, what we're saying is that it may be difficult to navigate through the mess, and finding the right guide may just be very difficult.
Value for money
Most providers offer value, but not many of them offer enough value for the money you've paid. To ensure that Kaspersky VPN offers you enough value, we have detailed their pricing and related subjects in this part of the review.
Price comparison
In terms of plans, Kaspersky VPN doesn't offer many. The two plans they offer include;
One-month plan – $3.99
One-year plan – $23.99 (billed annually)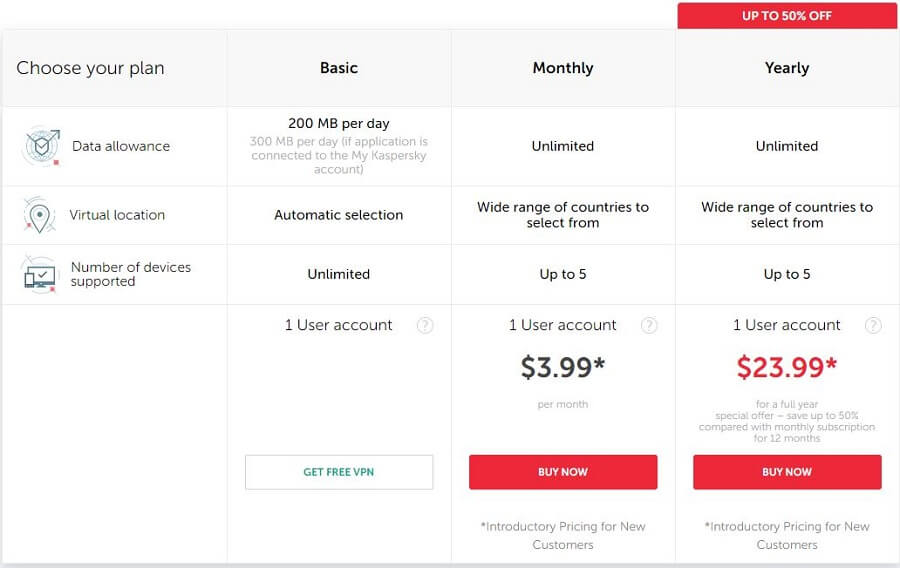 In terms of pricing, it's difficult to deny that Kaspersky VPN offers competitive prices. The annual plan offers the best value for money, costing only $2 per month.
The monthly plan is very affordable as well, costing just $3.99 per month. Even though PrivateVPN is also affordable, as we have noted in our PrivateVPN review, it is still not as affordable as this one, but it's MUCH better.
So, even if it's not as cheap as this VPN, at a slightly more expensive price, it's a much better value.
Means of payment
Yet again, this service is extremely limited in terms of payment methods, allowing you to use only PayPal or credit/debit card. You cannot pay with cryptocurrencies, gift cards, or international payment options, but we hope we will see these options in the future.
Money-back guarantee
Kaspersky VPN offers a 14-day money-back guarantee, which is not quite on the same generosity level as the 30 days offered by some providers. This period of time, however, should be sufficiently long to test out the service and decide if you like it.
The process of refund is quite straightforward and can be carried out via email. Your refund process will take between 5 to 7 business days, which makes the process quite risk-free.
Final Thoughts
Based on everything we saw during our test for this review, we're not sure Kaspersky Secure Connection is ready for the highly competitive market of VPNs. From its slow speed to its controversial location to its lack of advanced features, there is nothing remarkable about this service at all.
Of course, its super-attractive pricing may be too enticing to ignore. But there is no point paying a super-affordable price for something that simply won't work.
If you are a basic user who's only looking for basic functions, it may be right for you. However, we advise you to opt for a better provider like ExpressVPN, NordVPN, or CyberGhost if you're an expert who's looking for advanced features.
Opt for the best VPN of the moment: ExpressVPN
Kaspersky VPN Secure Connection Review and Test
We do not recommend you to use Kaspersky VPN. Apart from the fact that he has a free offer, he has far too many weak points ... Whether at the level of log retention, functionality, support.
Add your review
|
Read reviews and comments

Michael is a talented writer who has dedicated a lot of time into making sure that everyone around the world can use the internet securely. Being an avid traveler, he has acquired a lot of experience while using different VPNs on his travels. When it comes to doing comprehensive "how to tutorials" or testing some VPN functionalities, he's always the best pick ! He's here to help you solve your VPN-related issues.