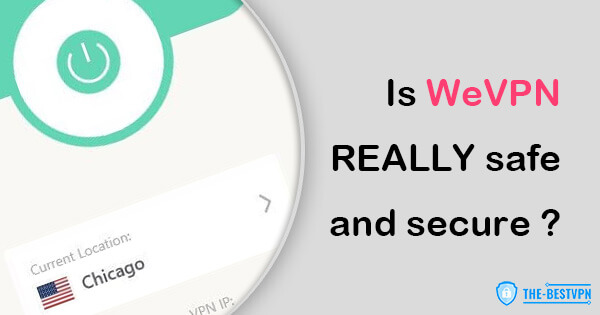 WeVPN is one of the most interesting providers in recent years. It combines affordable pricing and a decent array of features, making it an extremely attractive option. However, before buying it, you need to think about one thing – is it safe? Can I use it without compromising my privacy and security? That's what we intend to find out in this analysis. Stay with us to see if WeVPN is safe and trustworthy.
Security: What Are the Security Tools in the Apps?

For a Virtual Private Network to be secure, it must have plenty of security-oriented features. A bare-bones VPN experience isn't something you'll like and WeVPN is here to give you exactly the opposite. With a multitude of special features, the provider represents a decent bang for your buck.
Here's what it offers:
Kill Switch
An automatic kill switch is a MUST if you want to have a stable and secure VPN connection. Why? Let's explain. When you're connected to the server, a particular server or your connection might go down for some reason. In that case, your native IP address will leak, exposing your true identity and location online.
That's something you want to avoid at all costs.
But, with an automatic kill switch, that's not going to happen. As soon as your Virtual Private Network connection breaks, a kill switch shuts down your internet connection, preventing your IP from leaking.
Thankfully, the kill switch works great on every platform, so you don't have to worry about your safety and security online.
Split Tunneling
Split tunneling is a feature that most high-end VPNs share. Both ExpressVPN and NordVPN have it, which speaks volumes about it. Since we mentioned them, for alternative solutions, check out our comparison between ExpressVPN and NordVPN.
What exactly is split tunneling? Simply put, it's a feature that will let you use both your native and fake IP simultaneously. By choosing which app will use the VPN, you can use your VPN-given IP for streaming on Netflix and your native IP address for the local bank account, of course, at the same time.
WeBlock
WeBlock is a fancy name for an ad-blocker. Whatever name you're going to give it, we don't care, as long as it works. And here, it works flawlessly, especially since it doesn't block only ads, but also trackers and malware.
If you're visiting suspicious sites (you know which sites), this could be a great addition. WeVPN will successfully block incoming malware and trackers, letting you browse the internet safely and anonymously.
Military-Grade Encryption
An industry-standard these days is 256-bit AES encryption, which the majority of VPNs have. WeVPN is no exception. This encryption is so reliable, that even the governments and military are using it, hence the name military-grade encryption.
It protects your connection, making it impossible for hackers to intercept it. In return, you get to enjoy the internet freely and without worries.
WireGuard
Last but not least, WeVPN offers a security protocol called WireGuard, which is available for Windows, iOS, Android, macOS, and BSD. It promises much faster speeds and impenetrable security, all while retaining simplicity and ease of maintenance.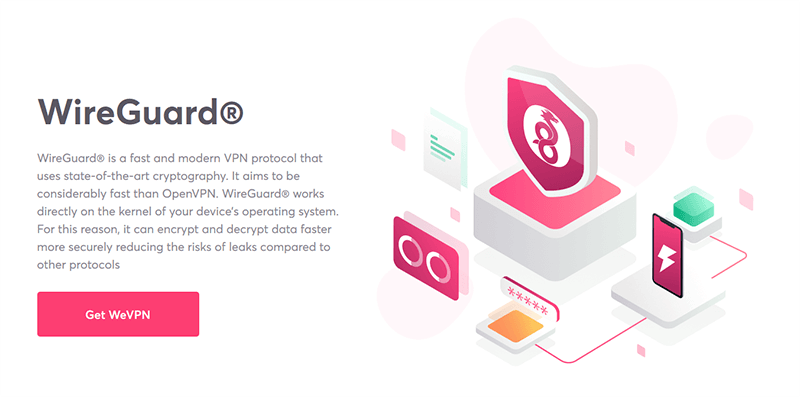 Apart from WireGuard, you also get OpenVPN and IKEv2 protocols. These two, alongside WireGuard, are the best security protocols you'll find in any provider.
WeVPN Privacy Policy: The Most Important Security Criterion
WeVPN's privacy policy is a straightforward one and immediately tells you if the provider is trustworthy or not. In our complete review of WeVPN, we examined it and concluded that it's very trustworthy because of several factors. Here's why: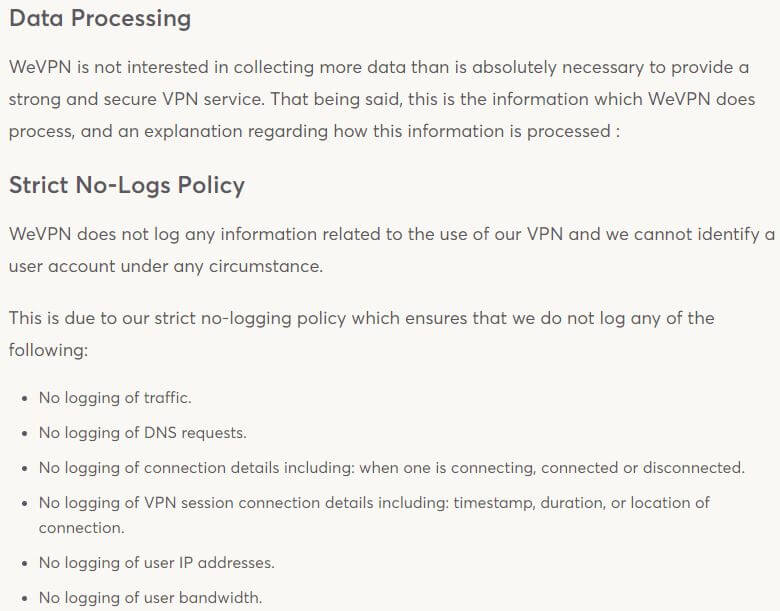 The provider doesn't store basically anything that could compromise your online identity. They don't store traffic, DNS requests, IP addresses, bandwidth, timestamps, and so forth. Needless to say, this is what we want to see when we read the privacy policy.
Furthermore, they won't share your data with third-party companies, which is yet another good thing about WeVPN. This means that your personal data remains known only to YOU.
Every provider must store at least some data to make the service working, and in this case, we're talking only about your email and preferred payment option. That's all.
Finally, WeVPN is based in the British Virgin Islands, the same place where ExpressVPN and Surfshark reside. This country is a rest haven for privacy lovers due to it being outside of the 5/9/14 Eyes jurisdictions.
External Audit: Is WeVPN Safe?
External audits are great for making the provider more credible. Now, WeVPN is still a new company, and asking for external audits would be pointless… almost. The provider is trustworthy on Reddit and other review sites, but that was the case even before the alleged external audit.

As we can see, WeVPN's website tells us that this VPN is actually audited by a "trusted auditor." Now, who this auditor is, we have no idea.
Still, when a provider has an audit from the outside company, that tells a LOT about the particular company. VyprVPN recently switched to a zero-log policy, which was later audited by Leviathan Security.
ExpressVPN is the same, having an audit from PwC for security and safety.
As we said, WeVPN does have an external audit but not much info is provided on this subject. We like that they included a Transparency Report page, where they prove that they don't store any logs.
Issue(s) and Scandals the Company Has Faced in the Past
When you're new on the market, people tend to give you benefit of the doubt. That's a huge advantage, given that the provider is still "clean". VPNs like PureVPN and HMA were in a few scandals relating to the violation of privacy policy, but WeVPN never had any issues in the past.
We hope that the situation won't change for the worse since we're talking about a provider with huge potential.
Conclusion: WeVPN Can Be Trusted
Of course that WeVPN can be trusted. Its privacy policy screams honesty, it has a wide array of security features and is overall a decent provider for the money. However, it's far from being the most trustworthy provider. The reason being is because it's not on the market for very long.
In the following years, who knows what can happen? For now, though, we can confidently say that the provider will not disappoint you.
Those who want an audited provider that is 100% trustworthy can go for ExpressVPN, the best option on the market. Get it now and it will give you a 49% discount and 3 months free for an annual plan.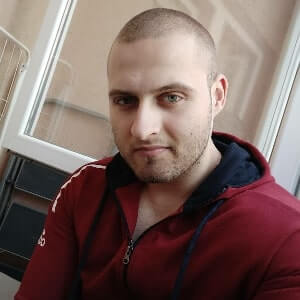 A professional writer with a Master's degree in Mechanical Engineering. Since his youngest age, he loves everything related to internet, technology, fitness, games, and dogs! He joined our team in order to bring his deep knowledge in security services, among which VPN is of course a key component.