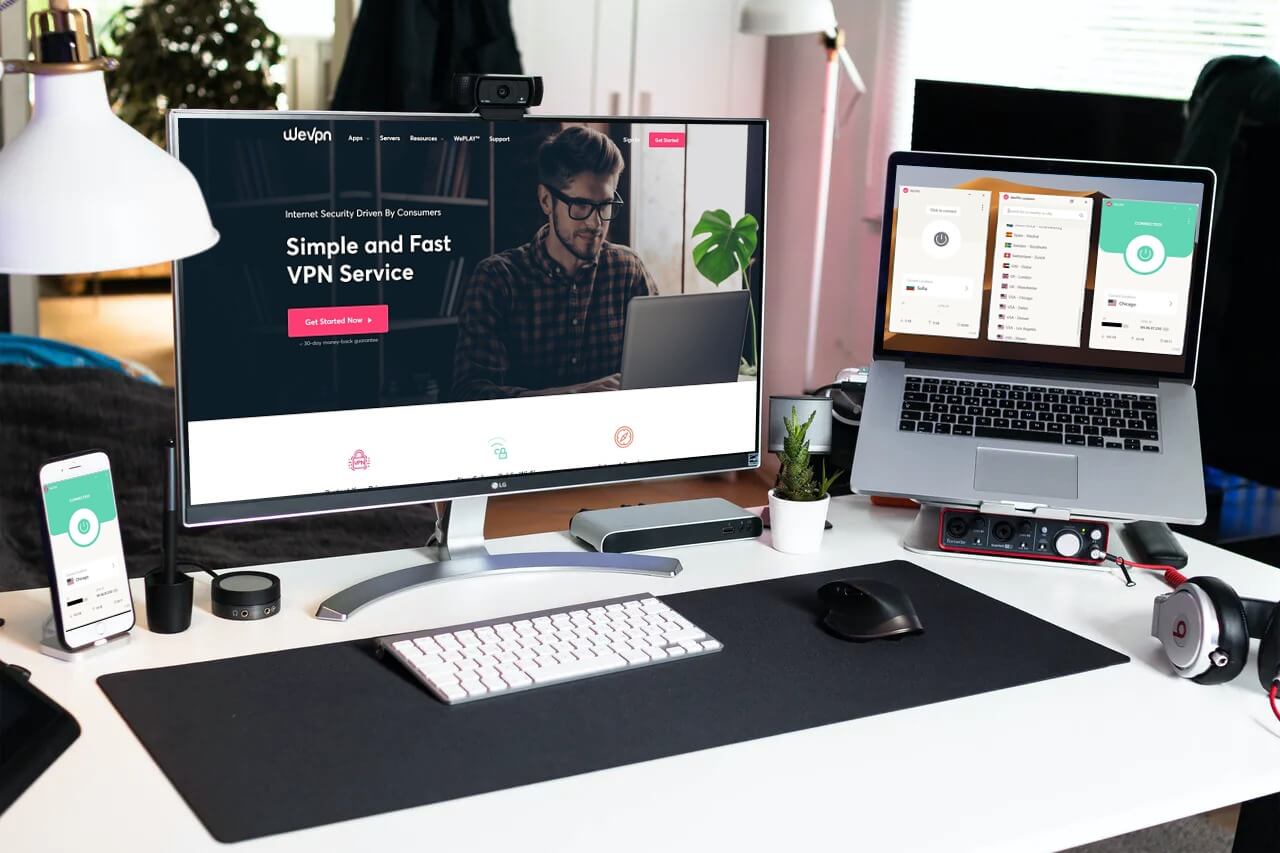 WeVPN is a provider that didn't spend a decade in the VPN industry. In fact, we're talking about a brand new name in the business, with a pretty big headstart. It delivers tons of special features, has decent customer support, and generally speaking, it left a pretty good impression on the users. Is this provider a new big thing for the industry? Is it any good? Well, we intend to find that out in our review of WeVPN below.
STRENGTHS:
Zero-logging policy
24/7 support
Split tunneling
WireGuard
Affordable prices
WEAKNESSES:
Disappointing speeds
Small server network
Doesn't work in China
---
WeVPN ranks #24 out of 104 VPNs tested. Here are the best alternatives :
Is it a free or paid VPN?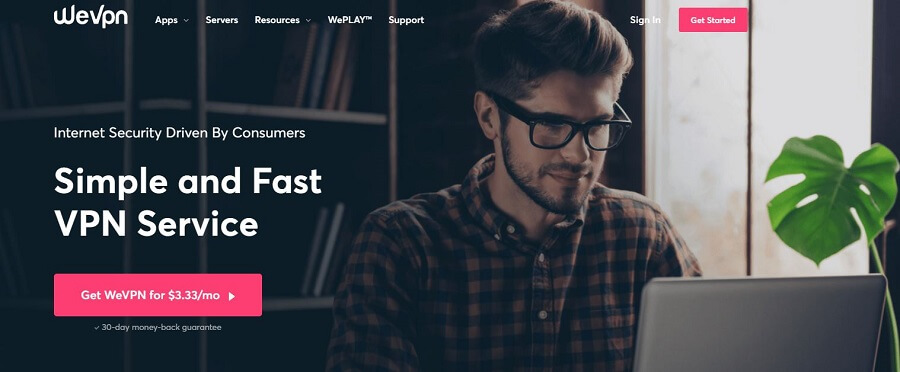 Being a new Virtual Private Network brand, WeVPN has a lot of ways to prove its value. It can, for example, be free for the start, and let the potential users test it first. However, the provider isn't free.
It opted for a more approachable option, giving its services for a more affordable price that's arguably one of the lowest in the industry.
For now, we'll just say that WeVPN is NOT free and that it's a premium provider. On the brighter side, it offers a 7-day free trial on smartphones, letting you use its premium version in that period.
More about its pricing later in this 2023 review.
Performance
The performance is perhaps one of the most important things about this service. After all, how many of you love sitting and waiting for the page to load? Or perhaps, experiencing unreliable connections and low-quality servers?
If you're already anxious, you know what we're talking about. Let's see how fast WeVPN is and how good its performances are overall.
Speed
Speeds are of the utmost importance for a VPN. You've probably noticed one trend and that is that ALL the best providers on the market are very fast. We can take ExpressVPN as an example, as well as NordVPN and CyberGhost.
These three are the fastest options in 2023, with ExpressVPN leading the pack.
WeVPN isn't the same caliber as the aforementioned names, and unfortunately, it didn't impress us with its speeds during our review and tests. Here are the test results:
Without VPN (we were located in London) :

EU Server (London) :


US Server :

Asia Server (Japan) :


As you can see, our native internet speeds in London are pretty high. With both upload and download speeds over 200 Mb/s, we can enjoy Netflix or browse the Darknet safely with a fast VPN. We mentioned that WeVPN wasn't impressive speed-wise and if you glance over to the results, you'll see why.
Even when using a server in our country, the speed reduction was quite big. Sure, ping was under control, but download and upload speeds were reduced almost in half. The same trend continues when using the US and Japanese servers.
While ping remained, more or less, "okay", speeds were drastically decreased. When using the Japanese server, for instance, we couldn't properly enjoy streaming or playing games online.
With ExpressVPN, though, that's entirely possible, as it is the fastest provider on the market.
Stability
Some of you want emotional stability, some want financial stability, but we want stability in terms of VPN connections. When we talk about stability, usually, we're talking about the quality of connection.
If the connection breaks often and you're disconnecting and connecting repeatedly, that's already a bright red flag.
WeVPN promises 99.99% uptime, meaning that servers are practically "never" down. Or better said, they're working properly in 99.99% of the time. We tested the provider thoroughly in a one-week period and never had an issue connecting to the server we wanted.
The provider didn't exactly pass our performance test with flying colors. Its speeds were very slow, miles behind ExpressVPN or NordVPN, but stability is top-notch, which kinda makes up for it.
Streaming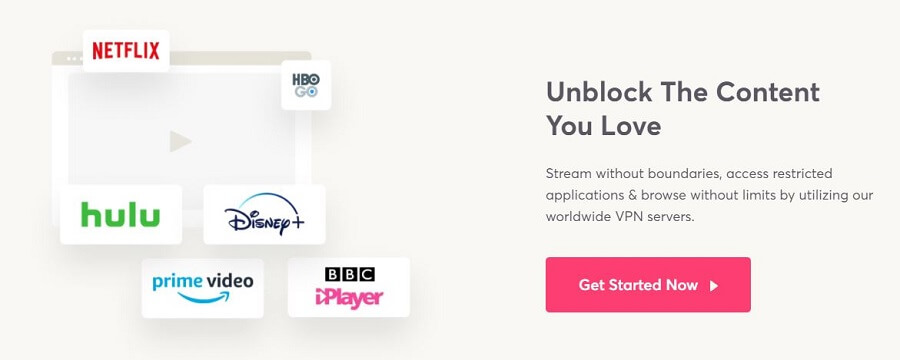 If you enjoy watching shows on Netflix, HBO GO, or BBC iPlayer, your question will be – is it a good VPN for streaming?
For a provider to be good for streaming, it must fulfill two main conditions. It must have fast speeds and the ability to unblock the streaming platform you want to watch. The second criterion is subjective, while the first one is objective.
We saw that WeVPN has slow speeds, that might interfere with your streaming sessions. Stuttery and laggy videos are probably something you'll encounter if you're using distant servers, so be ready for that.
Now that we warned you, let's see if WeVPN can actually unblock some of the popular services.
Netflix
Did you know that people from outside the US enjoy only about 40% of the entire Netflix catalog?
No?
Well, this is a moment of epiphany for you, although the news isn't exactly the greatest. Nevertheless, we're about to test Netflix US for you and see if WeVPN can unblock it. One of the US-exclusive shows on this platform is called Parks and Recreation.
We search for that, and if we find it and it's working, we say that a particular provider unblocks US Netflix.

From the screenshot above, we can see that WeVPN does just that – we managed to access and enjoy Netflix US. For a provider that's just a few months old, that's absolutely impressive!
Other streaming services
We get it. Netflix may not be your favorite streaming service, right? There are tons of popular streaming platforms, including HBO GO, Hulu, Amazon Prime Video, Hotstar, Disney+, DAZN, and so forth.
If you're enjoying some of these, you might be interested to know if WeVPN can unblock some of them. Fortunately, the answer is YES.
In our tests for this in-depth review, WeVPN unblocked the following platforms:
Hulu
Disney+
HBO GO
Hotstar
BBC iPlayer
We couldn't unblock DAZN and Amazon Prime Video with it, which is expected. Amazon Prime Video is a platform that won't work with just any Virtual Private Network. So far, only ExpressVPN and CyberGhost managed to unblock it successfully.
Now, back to the question from above – is it good for streaming? Well, it's not the best option, that's for sure. But for the price, it's serviceable. Many expensive VPNs can't achieve what WeVPN can, so we can't complain and bash them.
The security offered by WeVPN
There's a good reason why this service has the word 'Private' in it. It means that something is private – in this case, the virtual network you're using. Logically, security is yet another important factor, especially for users who live in censored countries with government surveillance.
Before buying any provider, we recommend reading this section thoroughly if you care about your privacy online.
Where is WeVPN based?
First of all, we ought to discuss the provider's location and jurisdiction. This is a crucial factor in determining if the provider is safe. WeVPN is based in the British Virgin Islands, the same place where ExpressVPN and Surfshark are located. As some of you know, these two providers are some of the best on the market.
And its younger WeVPN might be the same in a few years or a decade – who knows!
Why is the British Virgin Islands a good location? Actually, why are all these islands and off-shore locations good for a VPN service? Because they're outside the 5/9/14 Eyes jurisdictions.
Countries inside the 5/9/14 Eyes are known for excessive government surveillance and data-retention laws, which will compromise your privacy.
In the British Virgin Islands, things aren't like that. WeVPN, with the other providers, is allowed to operate freely and doesn't need to collect data of its users, laying a great foundation for privacy lovers.
Log policy
Speaking of collecting data, the logging policy is a document we always check. Here, the provider explains what data it collects, why, and if it shares it with third parties. Simply put, it's a document regarding your privacy that you MUST read before signing up not only for a VPN but other similar software as well.
We examined the policy closely but for review purposes, we'll show you a glimpse of it, to prove that WeVPN is indeed a zero-log provider.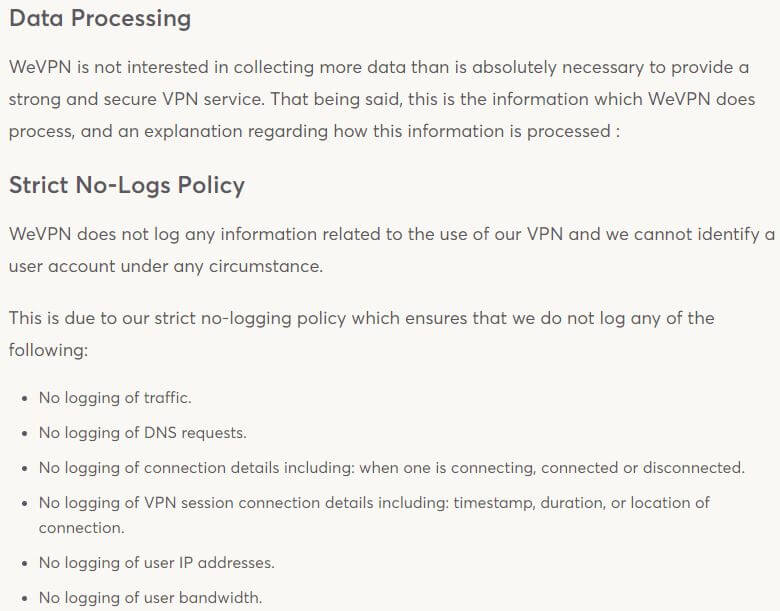 WeVPN claims to collect just enough data to make the service run smoothly and without problems. This amount of data is minimal and encapsulates only your email address, payment data, and crash reports.
Some cookies from WeVPN's website are there, but they're minor and won't compromise your privacy.
Every other thing is NOT collected and kept by the provider. It doesn't log your traffic, DNS requests, timestamps, IP addresses, bandwidth, and so forth.
Protocols
Whoever came up with the business plan of this company should be given a raise. The company isn't afraid of trying new stuff and adding new features right from the get-go. While many new VPNs stand in one place for years, WeVPN tries to evolve and make the experience better.
The reason we're saying this is because they have a bonus protocol, aside from the "normal" ones. Here are the available security protocols: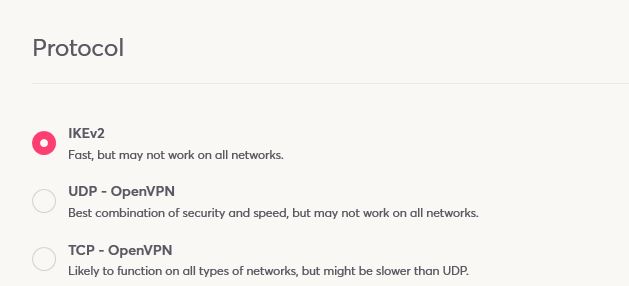 OpenVPN (UDP, TCP) and IKEv2 are there and they're very good if you're a Windows user. However, if you're an Android user, you'll be greeted by another future-proof protocol called WireGuard.
As of recently, this protocol is available on Windows and iOS as well.
WireGuard promises better security and faster speeds, all while keeping things minimalistic, with much fewer lines of code. This allows the provider to maintain it easier and fix the potential problems if they arise.
Leak protection
A Virtual Private Network always tries its best to keep your connection encrypted and kept from the outside internet world. It does so by implementing encryption and IP + DNS leak protection.
WeVPN comes guns-blazing, packing 256-bit AES encryption and an automatic kill switch.
A kill switch is a perfect leak prevention tool. If your VPN connection breaks, the kill switch reacts by shutting down your internet connection, preventing your native IP address to leak. This way, other users online won't find out your true IP address, so they can't detect your true identity and location.
Torrenting
Even if you buy all the entertainment material and you're going the "legal" way, you've probably tried torrenting at one part of your life. Torrenting doesn't need to be illegal, but let's admit it – we all downloaded a copyrighted movie, music album, or a game at least once.
If you're from the USA, Germany, Italy, or France, that's very dangerous. These countries are strong opponents of torrenting, and in some cases, they can punish you even if you download royalty-free stuff.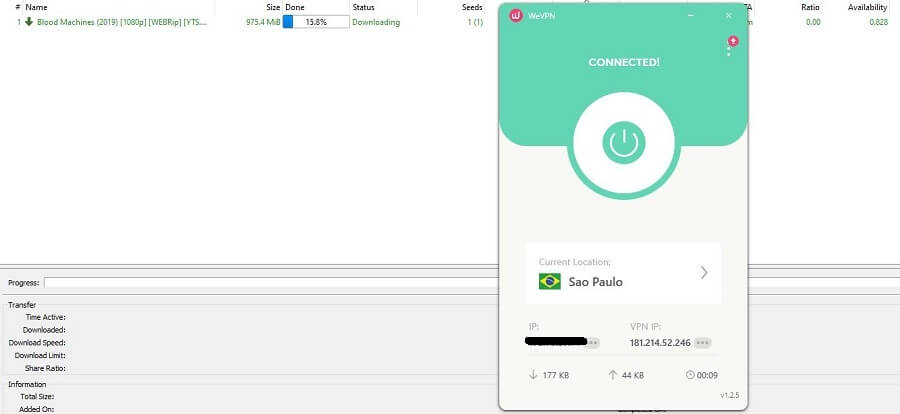 For that reason, using this service is a smart move for this purpose. WeVPN has all the green flags for torrenting – it's safe, secure, and doesn't store logs. Sure, it's not very fast, but it's serviceable for torrenting.
Just connect to the server you want, get a new IP address, and your ISP won't be able to detect your online activities!
Bypassing censorship
These days, bypassing censorship is a devil's business, especially in countries like the UAE and China. Censorship is an integral part of the internet and media and we can't avoid it. But, when using a VPN, you can at least try to bypass it somehow.
WeVPN, despite having a lot to offer, isn't the best option for bypassing censorship or censorship measures such as the Great Firewall of China.
We have testers in China and the UAE, so they tested it for us, and the provider didn't work in any of the countries. In China, it's immediately detected by the firewall, making it useless. We also tried different protocols and even WireGuard on Android but to no avail.
If you're looking to bypass censorship successfully, ExpressVPN is your best bet. Alternatively, NordVPN is also great with its obfuscated servers.
Countries and servers covered by WeVPN
You see, smaller providers such as this aren't always genuine when it comes to their size. It's not shameful to have a small server network but to have potato servers with slow speeds and unstable connections.
We like it when we see all the servers and countries clearly displayed, such as on WeVPN's website. The provider has 100 servers in 31 countries worldwide, which isn't an impressive number by all means.
But once again, we must take into account that the provider is very young, so it still has a long way to go in terms of improvements. Furthermore, we like the addition of the search bar, which lets you search for the country you need.
If you find the country you want, you can buy it, and if not, other options are still waiting on the market.
Compatible devices and connections
Whether you want a VPN app for iPhone, Android, or any other device, it's important that the provider supports as many of them, accompanied by simultaneous connections.
In the next sub-sections of this complete review, we'll see if WeVPN's offerings in this regard are sublime.
Devices supported by WeVPN

For a provider of this magnitude, the device support is impressive. We have basic platforms here, such as Windows, macOS, iOS, and Android. The most impressive part is that devices such as Android TV, Amazon Fire, Apple TV, Xbox, and Playstation are on the list, as well!
Oh, and the provider promised two browser extensions, which it delivered recently, for Chrome and Firefox. Linux is also in the 'coming soon' stage and we're patiently awaiting the app.
The main flaw in device support is the lack of routers. That's right – the provider does NOT support routers. How does it support all of these devices then?
Well, for Amazon Fire and Fire TV, it has a dedicated app that you can download from Amazon, and gaming consoles are supported through Smart DNS. Smart DNS doesn't work as a VPN, but it's okay for bypassing geo-restrictions and unblocking sites.
Simultaneous connections
The modest price doesn't always mean modest results and performance. We found out during our review that WeVPN offers up to 10 simultaneous connections on a single account, which is one of the largest numbers on the market.
For comparison, ExpressVPN offers 5, CyberGhost 7, and NordVPN 6. Surfshark, on the other hand, offers unlimited simultaneous connections.
Support
In this section, let's review the customer support team of WeVPN. Other reviews online seem to praise it a lot for its helpfulness and fast responses. We can confirm every good review, as we had an amazing experience with the members of the WeVPN support team. There are two ways you can contact WeVPN: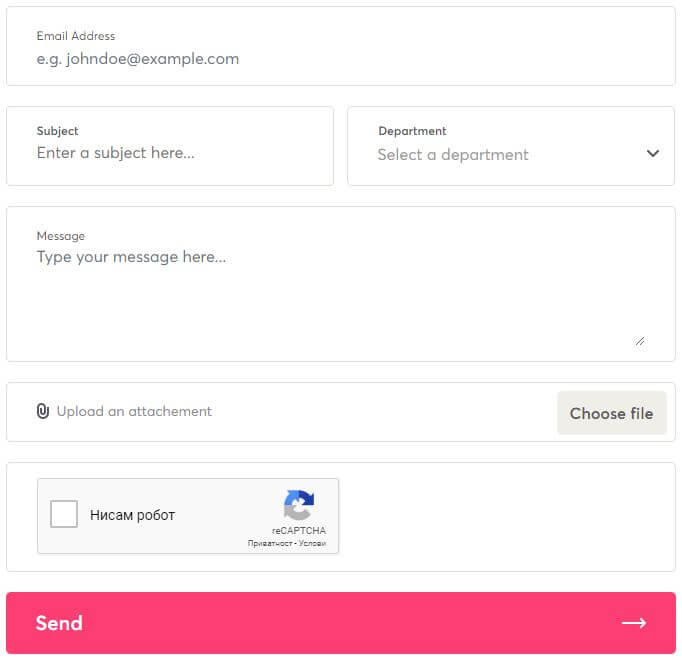 You can go for email support, which takes longer to respond. Here, you'll get a response in about one hour, depending on how busy the support team is. This is a pretty good result, considering that many VPNs take hours to respond. With support being available 24/7, you'll highly unlikely to encounter unresponsive support.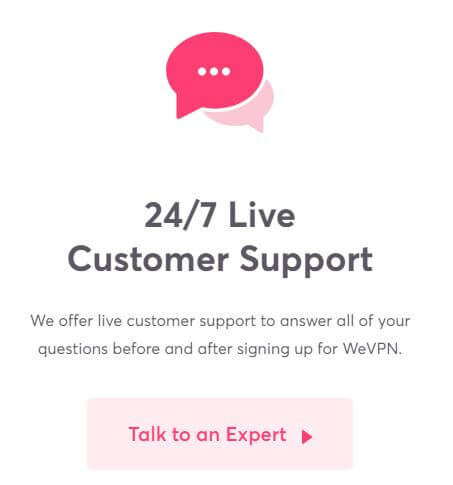 If you're up for a quick fix, you can always use live chat. In that case, you'll get a response in 10 to 15 seconds, which is extremely fast. The customer support team is knowledgeable and will remedy every issue that you might encounter easily.
Value for money
To determine if a provider is cheap, we need to take two factors into account – its price and its performance. In other words, we need to see if the provider's offerings are enough to justify the price it comes at. Below is the breakdown of every WeVPN's plan and its price, so let's review it carefully.
Price comparison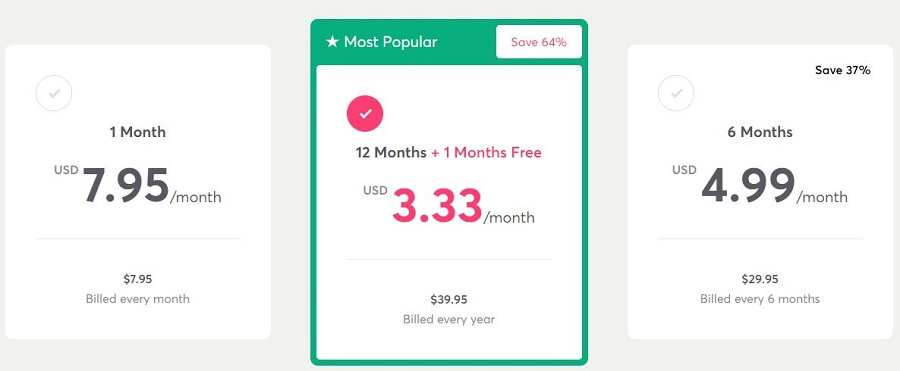 Starting from the left side, we have a monthly plan at $7.95, an annual plan at $3.33 a month, and a 6-month plan at $4.99 a month. Honestly, it can't get cheaper than this, having in mind what the provider offers for the price.
A monthly plan will usually cost from $8 to $15, while the annual plan will cost from $4 to $10 a month. WeVPN is way below that threshold, pricing its annual plan at just $39.95 a year, which is VERY affordable.
Payment methods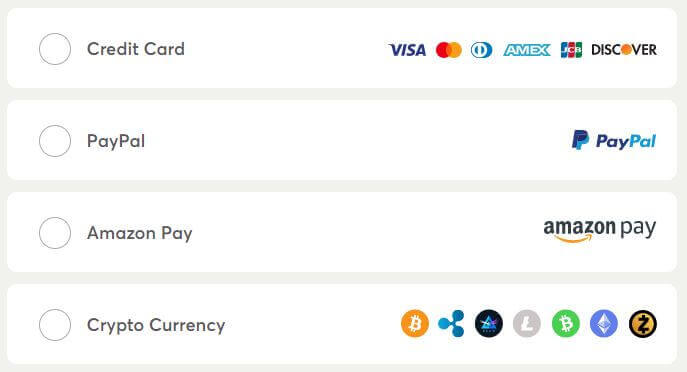 If you're hell-bent on buying WeVPN before finishing with our review, that's okay. Here are the payment methods you can use. Credit cards are here, as well as PayPal, Amazon Pay, and Cryptocurrencies.
The last option is very welcome, given that you can use Bitcoin or Litecoin to pay for the service anonymously.
WeVPN Money-back guarantee
Lastly, the provider offers a 30-day money-back guarantee if you're not satisfied with what the provider has to offer.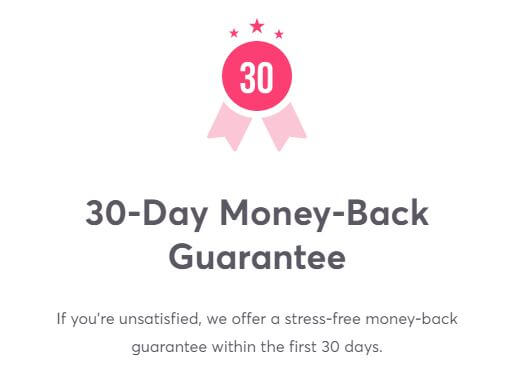 We checked the refund policy and there are no special and hidden conditions. All you have to do is to contact the support team, ask for a refund, and they'll give it to you.
Extras
After reviewing tons of low-quality VPNs, we got used to skipping this part in our review. However, that's not possible with WeVPN. Despite its low prices, the provider managed to cram in a few special features that we're going to talk about.
Split Tunneling
Like ExpressVPN and NordVPN, this provider offers a split tunneling feature.

Split tunneling allows you to use both VPN-given IP and your native IP simultaneously. You can choose which apps will use a VPN, and as such, these apps' bandwidth will go strictly through the provider's servers.
The apps that don't use a fake IP will use your native IP, allowing you to access your local bank account, while watching US Netflix from abroad, for example.
WeBlock
WeBlock is a neat feature for blocking out the annoying stuff on the internet. We all know what stuff we're talking about, right? 😉

Of course – ads, malware, and trackers! This will make your browsing experience faster and safer, reducing the risk of catching unwanted software from malicious sites and people online.
WireGuard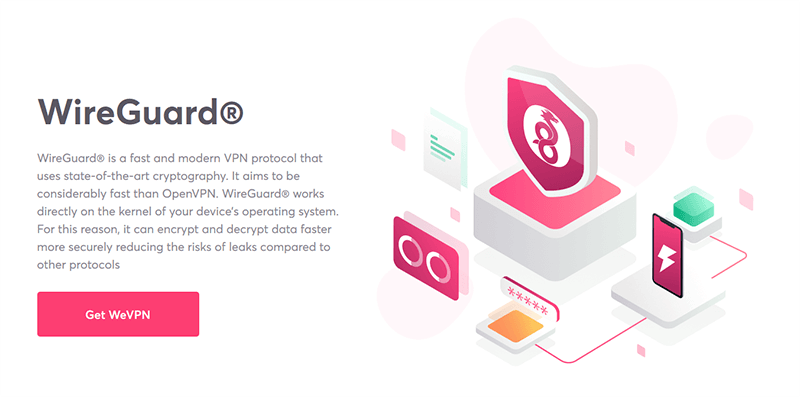 We already mentioned WireGuard before in this review of WeVPN, but at this point, it's still a special feature. WireGuard is here to enhance speeds and security and is a relatively new thing in the VPN world.
Mullvad uses it for quite some time, and recently, both ExpressVPN and NordVPN made new protocols based on it. In the future, it will be even better, promising a bright future for WeVPN.
Final thoughts about WeVPN
With all said in the review of WeVPN, it's time to come up with a conclusion.
WeVPN offers a lot for the price, as we said in our review and test. It has impenetrable security, a helpful support team, split tunneling, ad-blocker, and it works with Netflix and other streaming platforms.
The main drawback of the provider is its slow speeds, accompanied by a small server network.
For the price, however, it's definitely worth buying. But globally, it isn't on the level of the best VPNs on the market.
Our recommendation, instead of WeVPN, is ExpressVPN. The best provider your money can buy, that fixes all the flaws of this provider. It has very fast speeds, 3,000+ servers worldwide, and is overall a better option.
With its 49% discount and 3 months free for a 12-month plan, it's more affordable than ever!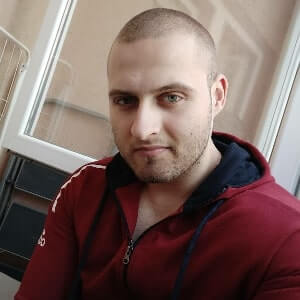 A professional writer with a Master's degree in Mechanical Engineering. Since his youngest age, he loves everything related to internet, technology, fitness, games, and dogs! He joined our team in order to bring his deep knowledge in security services, among which VPN is of course a key component.