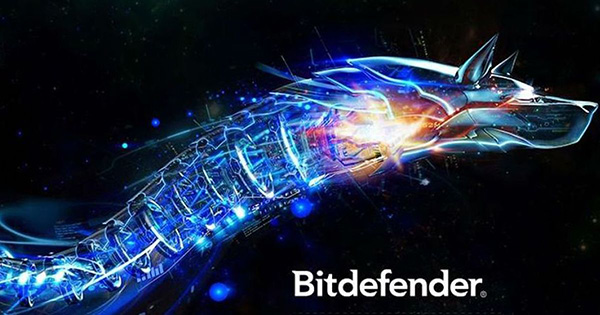 Bitdefender is a well-known company in the cybersecurity world. It made its name relevant thanks to reliable antivirus software and different measures of PC and mobile protection. Recently, however, the company came up with another form of web protection – a VPN. The question is – is Bitdefender VPN safe and secure? If you use it, do you expose yourself to certain privacy risks? Well, we intend to answer these questions below, so let's delve into it!
Security: What are the Security Tools in the Apps?

A VPN without any special security features is useless. Sure, it can protect you against online threats but to back this protection up, some features must be included. Bitdefender VPN is far from being the best solution out there, yet, it still has some functionalities that make it a tad more secure.
OpenVPN and HydraVPN Protocols
The great thing about Bitdefender VPN is that it offers two security protocols. You'll notice the HydraVPN protocol, and if it sounds familiar, that's because Hotspot Shield patented it.
HydraVPN is essentially aimed at increasing performance, bringing better speeds and reliable connections. In theory, it should be much better than OpenVPN, as many other proprietary protocols promise.
OpenVPN is also here, and for us, it's still the best security protocol alongside WireGuard. This protocol combines supreme security with decent speeds, giving you a perfect balance of performance and safety.
The main trick, though, is that both of these protocols are available on different platforms. While OpenVPN is available for Windows and Android, HydraVPN is here for iOS and Mac. And the worst thing is that you can't switch them. It's either one or another, depending on your platform.
IP/DNS Leak Protection
Bitdefender VPN claims to have IP and DNS leak protection, which is excellent news. Should the VPN connections weakens or drops, the provider will obfuscate your IP address, preventing you from exposing yourself to the prying eyes.
It's interesting that this claim exists, despite the fact that they don't offer a kill switch for every device. From a security standpoint, not having a kill switch is a fatal flaw. Thankfully, while using this VPN, we had no IP and DNS leaks.
Kill Switch for Windows and Mac
The features of this provider are all over the place and so is its kill switch. We said that not every device has a kill switch, and we weren't lying. You can use it only on Windows and macOS if that means something to you.
It works fine here and successfully blocks internet access then the VPN connection breaks. Of course, that's some great news but not for every device. Therefore, this isn't an ideal VPN to use on Popcorn Time or any other site that requires constant protection.
Bitdefender Privacy Policy: The Most Important Security Criterion
Every Virtual Private Network should have a transparent privacy policy that can be grasped and understood easily. In the privacy policy, you can see how the provider deals with your privacy, what kind of info it collects, and so forth.
Let's take a look at Bitdefender VPN's policy and see if you should have any concerns.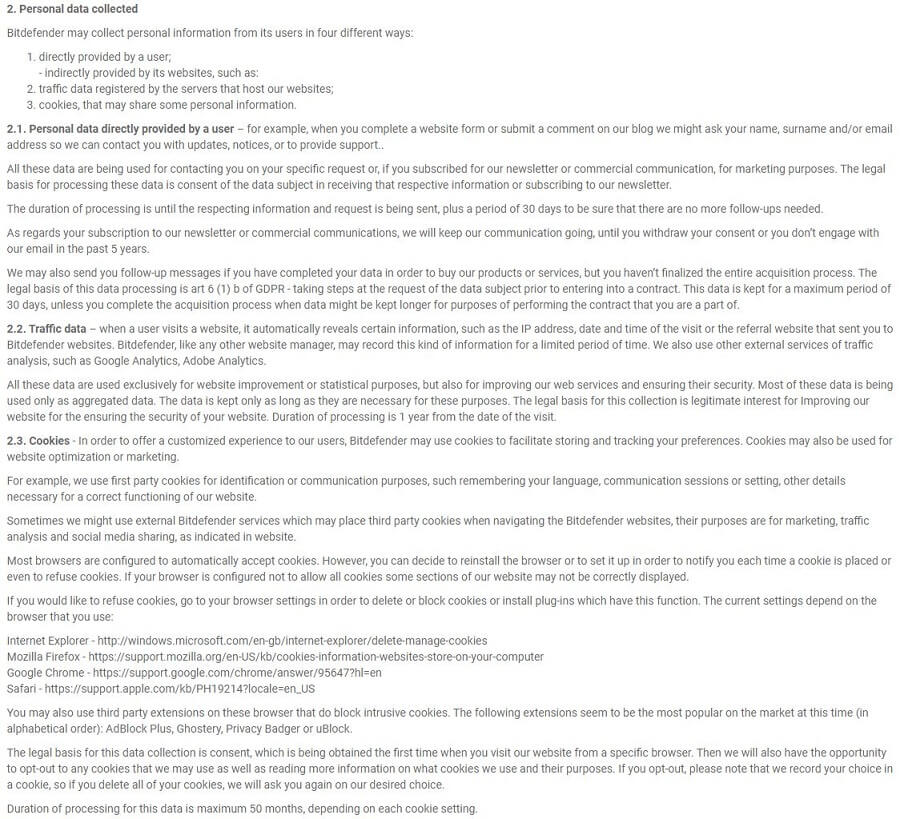 In the "Personal data collected" paragraph, we can find out everything we need for this analysis. Is the provider safe to use and trustworthy? Not exactly. For the start, it collects some personal data, which is normal for the service to run properly and provide reliable performance.
But there are some traffic data logs we don't like. The provider collects IP addresses, timestamps, cookies, and referral websites that sent you to the provider's site. Logically, the privacy policy doesn't scream privacy, despite the provider claiming that it's for statistical purposes.
The silver lining is that Bitdefender is based in Romania, which is the best jurisdiction for a VPN. It's far from the 14 Eyes, hence it's not a victim of excessive government surveillance. This means that all of the info it collects might not end up in the government's hands.
Or perhaps, it would, given the close relationship with Hotspot Shield from the USA. All in all, trusting Bitdefender VPN blindly isn't our advice. It may be secure enough but not as safe, which many users on Reddit can confirm.
External Audit: Is Bitdefender Safe?
The external audit isn't when someone on Facebook, Reddit, or Instagram praises your product. It's when a verified, professional regulatory body verifies your product as being reliable and trustworthy.
So far, a few VPNs managed to achieve this status and some of them are NordVPN, ExpressVPN, Surfshark, and VyprVPN. They all have their policies verified, making them completely trustworthy and safe to use.
Bitdefender VPN isn't a part of this elite group and you've probably seen that coming. It's a new provider on the market, plus, it's not as good as any of the companies we mentioned above.
For that reason, don't expect any audits that will prove this VPN's safety.
Issue(s) and Scandals the Company has Faced in the Past
Unlike HMA and IPVanish, Bitdefender VPN wasn't a part of any fiascos and scandals in the past. With its few years of existence, it had no big issues that would shake its position on the market.
Have in mind that it works closely with the American provider Hotspot Shield, so don't expect it to be unsusceptible to potential privacy problems. For now, everything's in check.
Conclusion: Bitdefender Can't be Trusted
The conclusion to this analysis wasn't very hard to predict. Given its Romanian jurisdiction, Bitdefender VPN should be safe and secure. Yet, the provider is involved with Hotspot Shield, another company known for collecting users' data and being untrustworthy.
Not only will the provider collect personal info but it may distribute and share it with its American partner. Furthermore, it doesn't have as many security features that would further strengthen the level of encryption and an overall feeling of security.
With everything in mind, we can conclude that Bitdefender VPN isn't trustworthy, according to its policy, Reddit users, and our experience.
Make sure that you check our Bitdefender in-depth review to see why we deem it a subpar VPN.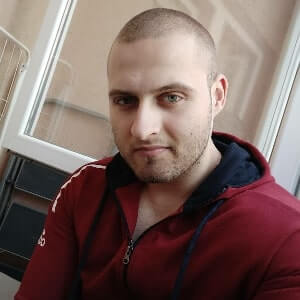 A professional writer with a Master's degree in Mechanical Engineering. Since his youngest age, he loves everything related to internet, technology, fitness, games, and dogs! He joined our team in order to bring his deep knowledge in security services, among which VPN is of course a key component.