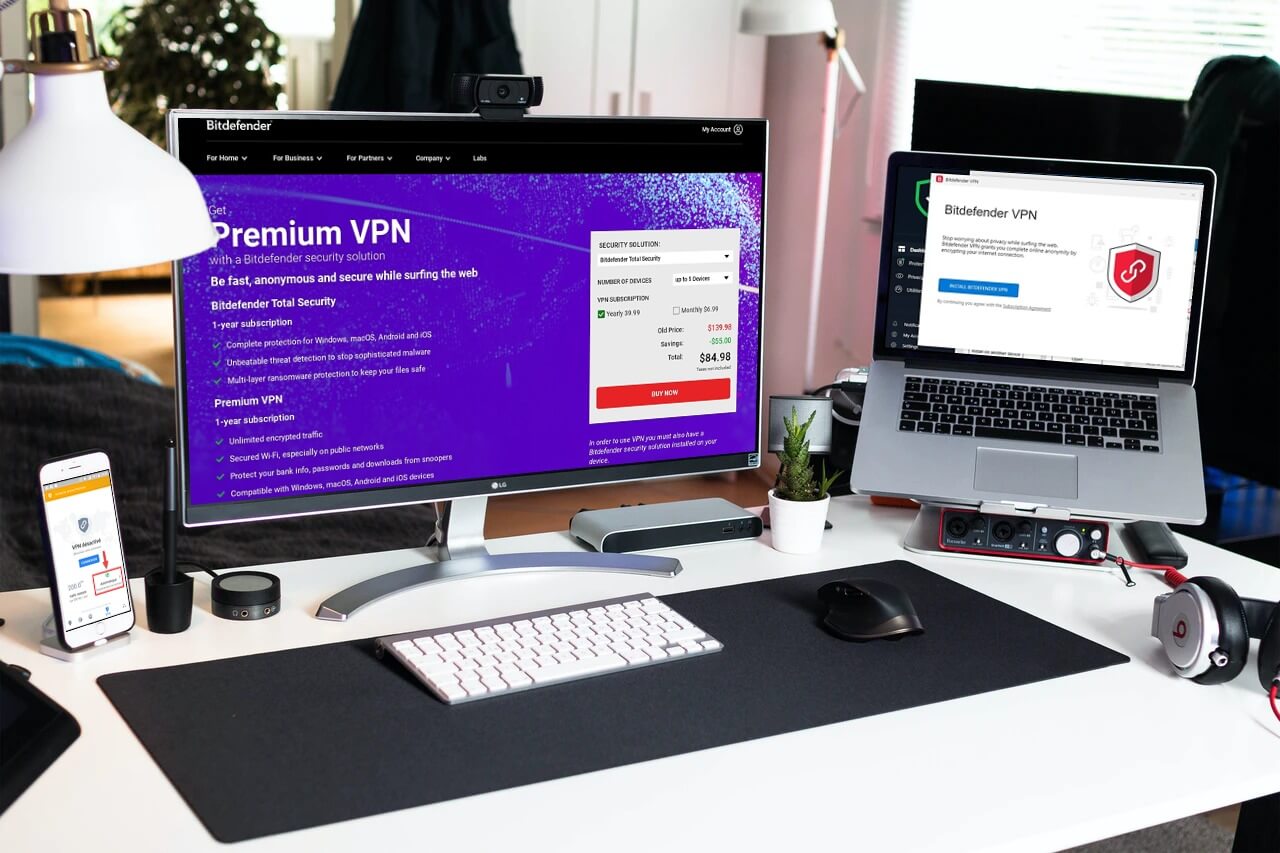 While Bitdefender probably sounds familiar to you, there're odds that you came across the name in your search for an antivirus. The company is one of the world's most popular cybersecurity companies, but it's known mostly for its antivirus. However, the company also offers a VPN, which you'll learn everything about in this Bitdefender VPN premium review and test.
Having said that, it's important to note that the VPN is an add-on. This means you can't use it without having one of the company's other products like Bitdefender Antivirus or Total Security.
Although the service is easy to use, its ease of use is at the expense of nice features. That's not to say it doesn't get anything right at all, but there're many things that could be better.
Without revealing too much from the beginning, we will take a dive into the comprehensive 2023 review now. Like every other provider you will come across, this one also has big claims.
We didn't want to take their words for it, so we had to put the service to an extensive test.
STRENGTHS:
VPN-friendly location
Free version available
WEAKNESSES:
Poor streaming performance
Doesn't support torrenting
Can't bypass censorship
Limited server network
Terrible client support
No Kill Switch
Bitdefender VPN ranks #28 out of 104 VPNs tested. Here are the best alternatives :
---
Is it a paid or a free VPN?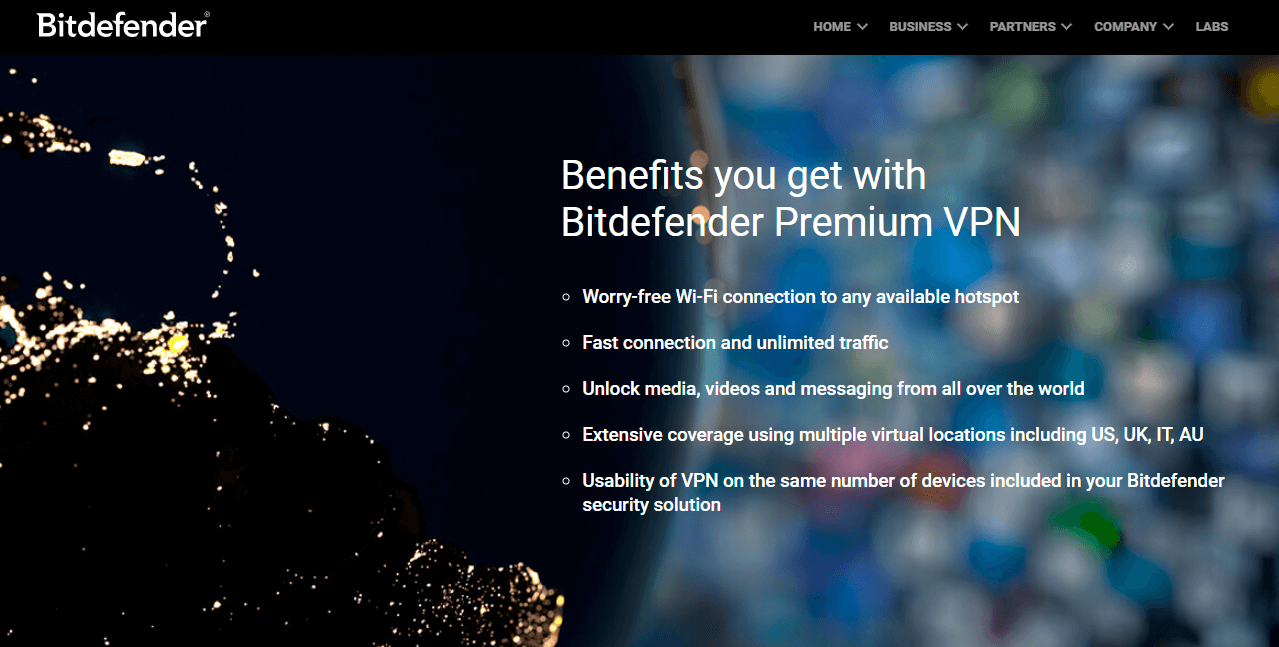 Bitdefender VPN can be either a paid or a free service, depending on your readiness to deal with limitations. Without trying to complicate this answer for you, the company offers a premium version.
However, you can't buy it as a standalone service. In other words, you need to have one of the other products of the company before buying the service.
Meanwhile, the free version comes with every product you buy from the company on macOS, Windows, Android, or iOS. So, if you can't deal with the hugely limited free version, you'd just need to upgrade to a paid plan.
Performance
Performance is the core factor we always look for when assessing any Virtual Private Network. When it comes to performance, the two primary elements that aid evaluation and review are speed and stability.
Speed
Since Bitdefender VPN is a new service, it's quite limited when it comes to the number of servers. The consequence of this is that you may experience a slow connection speed when you connect to a certain server. Of course, it depends on where you're based.
Apart from that, you may also experience speed drops due to the fact that a lot of people are connected to the same server simultaneously. During our test for this review, we connected to many servers and we've got average results each time.
In terms of speed, this provider is nothing but average and clearly can't break any record. If you prefer a super-fast connection, it's better to opt for a better alternative like ExpressVPN.
Without VPN (we were located in London) :

EU Server (France) :


US Server :
Asia Server :


Stability
Stability is a major part of any Virtual Private Network. Thus, it's important for you to ensure that the provider you want to choose is very stable. Fortunately, Bitdefender VPN is a stable service, which isn't surprising since Bitdefender itself is a company with a good reputation.
With an uptime of 99.9%, the service is certain to always come to your rescue when you're in dire needs. We didn't experience any downtime during our test and we're confident that you're not likely to experience any downtime as well.
Streaming

If you are looking to buy a good Virtual Private Network, there is a good chance that you are interested in streaming and unblocking geo-restricted content on various streaming services.
With that in said, we've taken the streaming capabilities of this provider in our test, and below is our review.
Netflix
There are lots of people living in countries where their access to streaming sites like Netflix is limited. Therefore, it has become more and more common for people to use a VPN to unblock geo-restricted content.
Unfortunately, not all providers are capable of getting around the geo-blocking systems of Netflix. In our test and review, there is no exception with the Bitdefender VPN premium. All our attempts to unblock the blocks were unsuccessful, much to our frustration.
If streaming or unblocking geo-restricted content on Netflix is your top priority, we don't recommend this service at all.
Unblock any kind of content with the best VPN : ExpressVPN
BBC iPlayer
Just like Netflix, the VPN-blocking systems of BBC iPlayer also proved to be too strong for Bitdefender VPN. We connected to multiple servers, including one in London and one in Manchester, but we were unsuccessful each time.
Others?
Even though this service is incapable of unblocking Netflix and BBC iPlayer, it works with other big streaming sites. We're talking about big sites like Hulu, HBO, and YouTube.
In fact, it's also possible to watch Sky Atlantic abroad with this VPN. You just have to keep in mind that streaming is not one of the core strengths of this service.
Security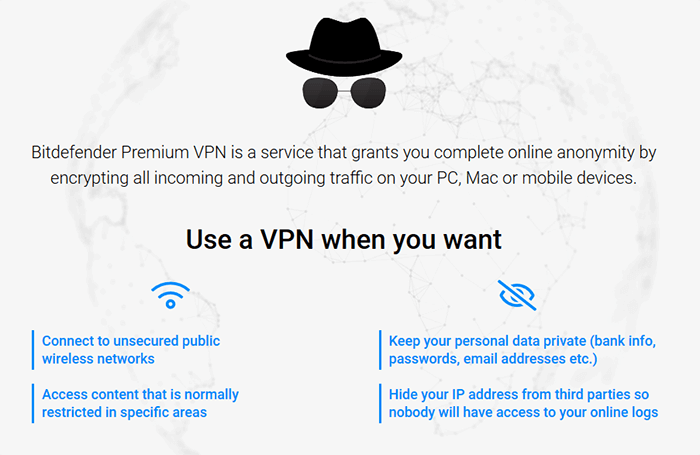 A VPN's security system is made up of many factors, some of which include privacy policy and protocols. Since security is probably your biggest motivation for buying a VPN, trust us that we've extensively put the security system of the provider to test.
Where is it based?
Bitdefender VPN was founded in Romania in 2001, and it is still headquartered in Bucharest. This means that the provider is beyond the reach of any compulsory data retention laws.
Besides, you can rest assured that your personal information won't be shared with third parties. Well, except there is a valid request from a government agency.
Furthermore, Romania isn't a member of the 14 Eyes, making it a great location to base a Virtual Private Network. For starters, the 14 Eyes is a group of powerful countries that have agreed to share intelligence.
As for this provider, there is no obligation to divulge any kind of information. Their data protection system is secured tightly. However, know that even the company may one day be forced to hand over some information for an investigation.
This kind of thing can happen to any provider no matter where it is based.
Nevertheless, only those providers that keep personal data of users will have something to give in such a situation. You will find out later in this Bitdefender VPN review and test if it keeps users' personal data or not.
Log policy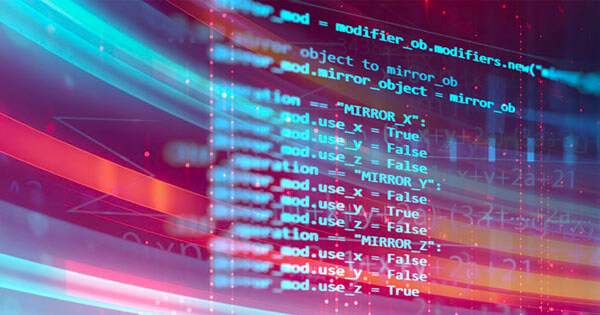 While the security of Bitdefender VPN is good, you might have to keep your eye on the provider itself. One of the most essential things for any company that deals with cybersecurity is to establish transparency.
A key cog of that is having a concise privacy policy that is extremely easy to interpret.
Although it is one of the biggest companies in the world for online security, its privacy policies and license agreements are unnecessarily complicated and hard to navigate.
The website has different privacy policies, terms and conditions, and subscription agreements. It is very easy for a visitor to get confused in the river of useless information.
Sadly, the client support directed us to a FAQ page when we directly asked during our test for this review. On the FAQ page, it's stated that nobody will have access to your online logs.
That may sound like a good piece of news at first. On second thought, however, it means that they actually keep logs but won't share them with third-parties, which spells danger.
If you review the privacy policy more thoroughly, you will realize that it collects only hashed or randomized device and user IDs, tokens generated randomly to create the VPN connection and IP addresses.
That said, it shares that data with Anchorfree, which is a third-party company that helps Bitdefender VPN to process data.
Note that it's also the company that owns Hotspot Shield.
It looks like the data being kept in regards to the service is mostly anonymized and isn't identifying. However, some information that the website collects is identifying, which includes the home address of the users.
If you are in the search for a provider that provides a top-notch no-logging policy, you could turn to ExpressVPN.
Protocols
Unfortunately, Bitdefender VPN is limited when it comes to protocols and encryptions, as we found in our test and review. Simply put, you don't have plenty of options to choose from in terms of protocols and encryption, which can be scary.
Having said that, the default protocol and encryption are the best in the market, anyway.
The service utilizes the OpenVPN protocol, which is a powerful and secure open-source protocol.  This is also the protocol used by a top provider like Shurfshark, but this Bitdefender VPN is nothing compared to Surfshark as you can see in our review.
Apart from that, the protocol is extremely reliable and reasonably fast. While there are other good protocols in the market, this one tops all of them.
To bolster the security further, the provider encrypts your data using AES 256-bit encryption, which is military grade. In fact, it is the encryption of choice for anyone that's looking for a fast and secure connection.
It is virtually impossible to crack AES 256-bit encryption, no matter where you got your hacking skills from.
Protection against leaks
While Bitdefender VPN does not allow you to turn on or off DNS leak protection like a lot of VPN providers, it passed our test against leaks. Obviously, the provider has implemented effective systems against any kind of leak.
This was one of the few things that impressed us while writing this review.
Torrenting
Torrenting is an activity that cannot go away. Several government authorities and copyright owners have taken many measures against it, but their efforts have been mostly futile.
In that case, it is important for any service that wants to be taken seriously to support torrenting. Does Bitdefender VPN support it? Let's find out below.
Is torrenting allowed?
As a family-friendly company that manufactures anti-virus solutions primarily, Bitdefender VPN doesn't support torrenting over their service. While the provider piggybacks on the engine of Hotspot Shield, the two providers have many dissimilarities.
Apparently, their stance on P2P activity is one of those dissimilarities. It suffices to say, you need to review your options if torrenting is your top priority.
Is there a Kill switch?
Sadly, the Bitdefender VPN premium does not come with a Kill Switch. It's often said that non-dedicated VPN providers rarely provide a full product, and this may be proof.
Since a Kill Switch is a feature that automatically kills your internet connection when you lose your VPN connection, this means there is nothing to carry out such a vital function here.
Enjoy dedicated torrenting servers by opting for CyberGhost
If you find yourself in this situation, it would expose your data and IP address. It was really disappointing to be missing this feature during our test for this review.
Bypassing Censorship
If a VPN doesn't take users' past censorship policies, most people won't take it seriously. This is even truer for those living in countries like China, Iran, and UAE.
In censored countries
The company says that you can have access to any content without restrictions even if you are in a region that has a stern censorship policy. However, they have chosen to make the service unavailable in some countries.
Because of regional restrictions, this provider has blocked its service in the following countries:
Iraq
United Arab Emirates (UAE)
Turkey
Belarus
Oman
Iran
Russia
If you're looking for a service that offers dependable access in high-censorship regions, this isn't the right one for you. We'd recommend you to go for either ExpressVPN or NordVPN.
In restricted networks
While Bitdefender VPN isn't really capable when put against solid firewalls like the one used in China, Iran, Russia, and other high-censorship countries, it does unblock restricted networks.
In a way to maximize productivity, most schools and organizations often place restrictions on their networks.
In that case, you can turn to a service like this to get you around those restrictions. Your organization or school may decide to judge you, but the VPN provider won't.
Countries and servers
Any provider that wants to be rated alongside top-tier providers has to offer a high number of servers. Not only that, but the servers also have to be dispersed excellently across the world.
Countries covered
The idea of an all-inclusive security suite surely sounds good. However, you can surely tell that most of the developer's focus wasn't on the VPN part of the product.
With their servers dispersed across 27 countries only, the provider's server network is very small compared to other providers. European customers enjoy the most focus, with European countries taking 16 of the total servers of the company.
Speaking of the total number of servers the company has, there is no way to tell. We couldn't find the information on their website or anywhere else we checked in our test for this review. That makes it very difficult to tell how reliable and redundant the servers are.
Besides, based on what we saw during our speed test, there are indications that the servers are heavily loaded.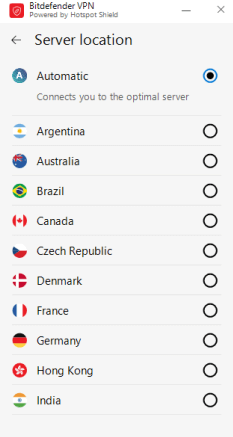 Bitdefender VPN has a handful of server options in Asia and South America… but there's currently none in Africa. Also, there is no way to connect to a server in a particular city. Bear in mind that this could be a big issue when you're in larger countries.
Moreover, there is no sign of the number of IP addresses and individual servers the provider provides either, which shows that the number is probably on the low side. Of course, this could cause server congestion at peak times, like weekends and evenings.
Servers
Bitdefender VPN doesn't have specialized servers, which shouldn't be surprising if you've been following this review since the beginning. Obviously, the company doesn't place much focus on their VPN.
Thus, it didn't even surprise us at all to find out they offer no specialized servers in our test.
The service doesn't support torrenting, doesn't work in China, and has poor streaming performance, so now, we know why.
Compatible devices and simultaneous connections
What will happen if you end up buying this VPN and it fails to work with your phone? You definitely don't even want to imagine that scenario. To help you prevent such an unfortunate situation, we have included this part in this review to discuss the types of devices that this service supports.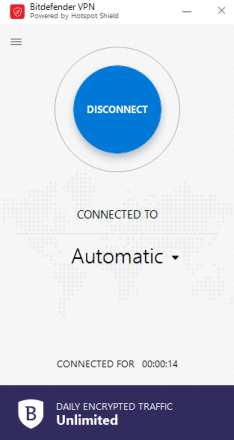 What device can I use with Bitdefender VPN?

In terms of compatible devices, Bitdefender VPN offers compatible clients for a wide range of platforms, which include:
While Bitdefender VPN supports the major platforms, you can't install it on secondary platforms like a router. This is despite the fact that it uses OpenVPN. The consequence of this is that you'll need to separately install it on all of your devices. Apart from being stressful, it may not even be suitable for some.
Choose ExpressVPN to benefit from the best apps in the market
However, once you're able to install it, every client is easy to navigate and read, thanks to their modern theme. You can also easily install it either separately or added automatically with your package.
Thus, if you buy the Total Security Suite, you'll get the free version of the Bitdefender VPN as an add-on.
As an alternative, there is an option to upgrade to the paid version which you can also access through your security package.
How many simultaneous connections?
Depending on your subscription, you can get up to 10 simultaneous connections. Obviously, the Bitdefender Total Security package is the one with the highest number of simultaneous connections, and that's understandable.
It is the most expensive, so we can't really fault the company here.
With 10 simultaneous connections, you can have your entire family and friends on a single subscription, which is super-impressive.
Client support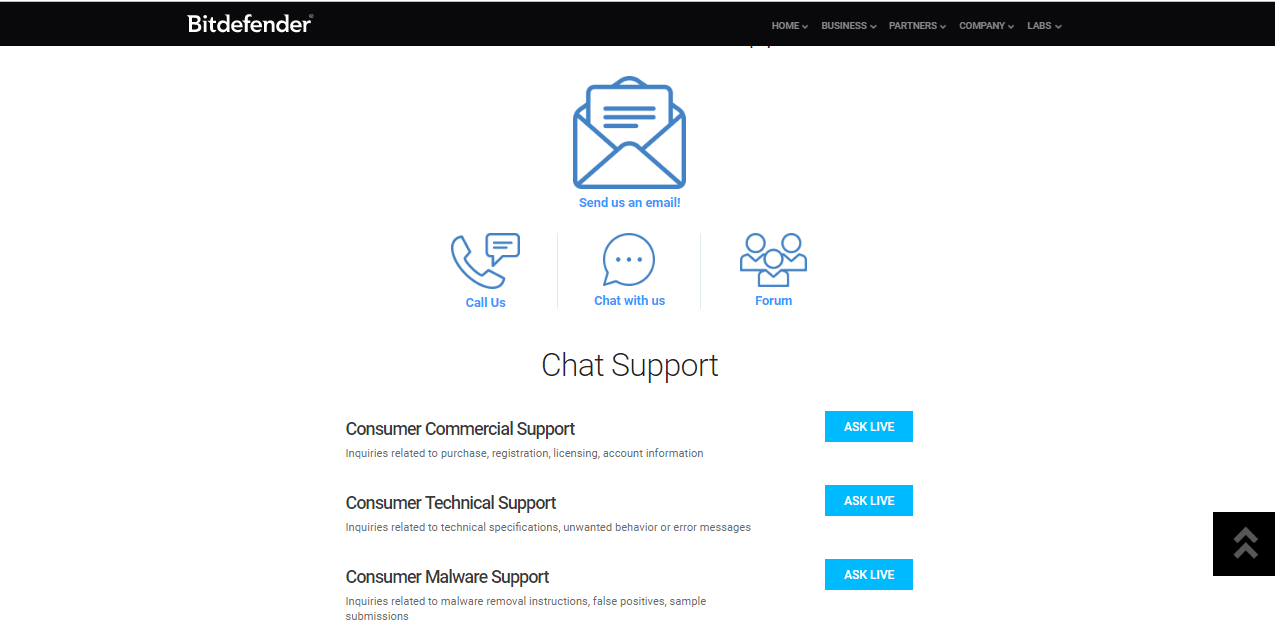 Choosing a VPN that has poor client support is a decision that is most likely to backfire. What can a provider probably offer if it's client support is poor? We don't really know.
Thus, we'd lay bare the client support of Bitdefender VPN premium in this segment of the review, based on our test.
How to contact it?
For starters, there is a long list of telephone lines via which you can contact them in different countries. While the hours of the lines vary, some of them are always open.
Also, there is live chat support on the site and email support. Unfortunately, we tried to contact them through live chat support, but we got a message that their agents were unavailable.
This is against their claim about boasting a 24/7 support.
Is it good?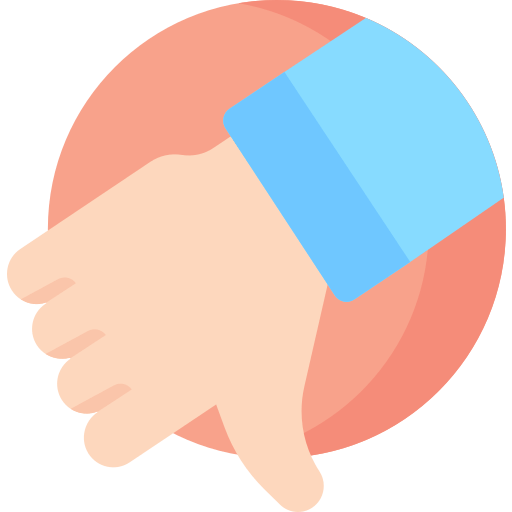 The provider has very poor client support, which we quickly found out in our test. Being only one of the company's many products, we also saw this coming before even writing the review.
You can't just expect them to provide quality client support for all of the products.
In fact, it was difficult to find the "contact us" section on the site, which shouldn't be so. The less we talk about the quality of support we got while writing this Bitdefender VPN review and test, the better we feel about it.
FAQ/tutorials
Apart from the previous channels we already mentioned, there is also a massive knowledge base and a user forum. However, searching through the knowledgebase is like an extreme sport – very difficult. This is because the company offers many products apart from the VPN.
But it will still offer you helpful information if you can look very well.
Value for money
The value a good VPN offer has to be equal or more than the money it costs. Since this VPN comes with another product, don't be surprised if it's priced differently from what you're used to.
Price comparison
As we mentioned previously in this review, you're required to install a Bitdefender security product to use Bitdefender VPN. Therefore, the VPN's cost depends on which of their security packages you choose, and also the number of devices you want to protect.
Yearly: $39.99, or $3.33 a month
Monthly: $6.99 a month.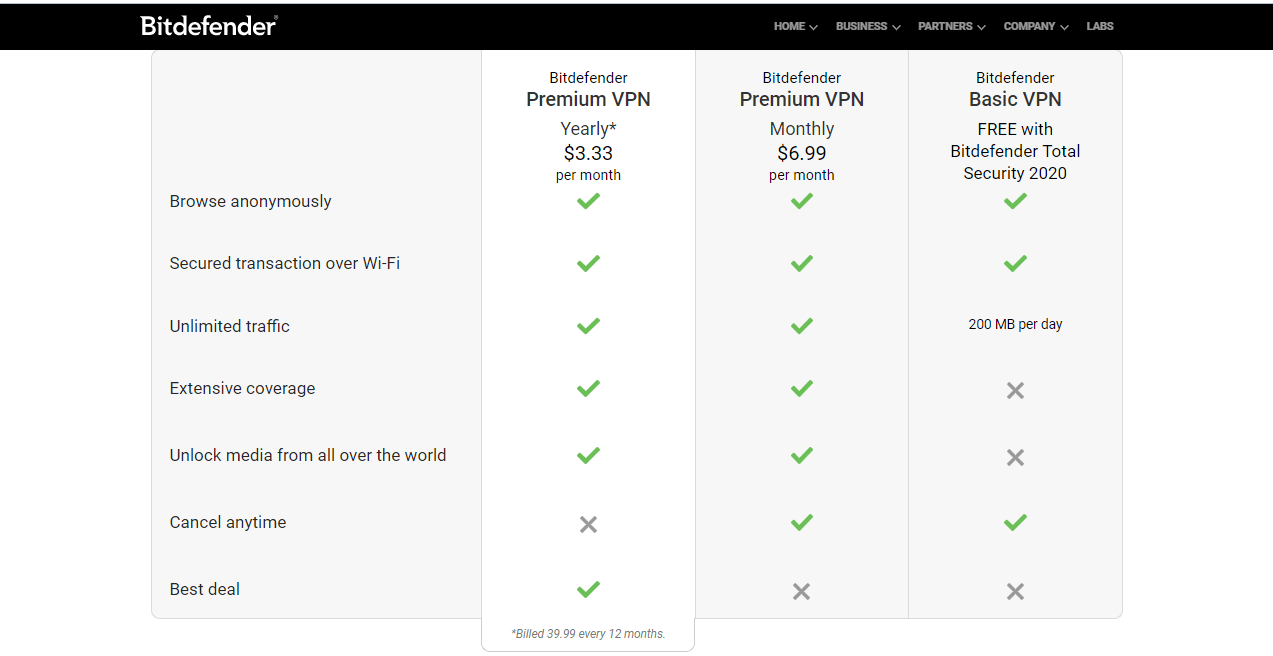 The service isn't expensive, but the fact that you need to buy a security product can be a drawback. This is extremely disappointing considering that there are many better alternatives you can choose from.
For basic customers, you'll find that there's a free version, which comes as standard with the main package. However, there are limitations designed to prompt you to upgrade to the premium version, as with most other free services.
The limitations include a 200 MB daily cap and the inability to choose a variety of servers.
Means of payment

Again, the Bitdefender VPN premium is limited in terms of payment methods. It offers different payment methods, which include:
Credit Card
PayPal
Wire Transfer
There are no alternative payment means, which again shows why we think this service is not a priority of the company.
Besides, Bitdefender VPN is not privacy-friendly when it comes to payment, lacking an option to pay via cryptocurrency. Users who are keen on full anonymity often prefer to pay via Bitcoin to remain under the radar, but there is no such option here.
Money-back guarantee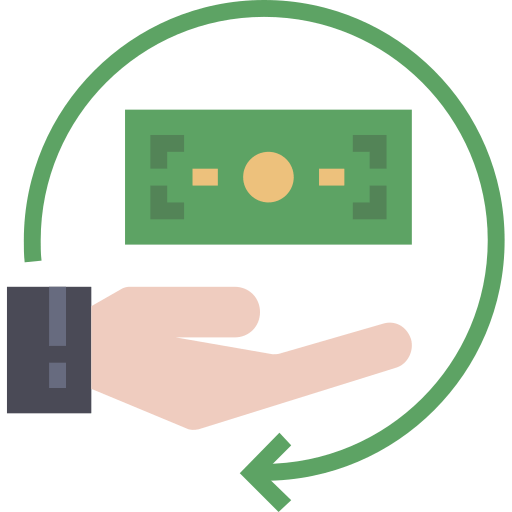 The company provides both a free service and a risk-free 30-day money-back guarantee to test the service out. The money-back-guarantee is no questions asked. Just contact the company within the first 30 days of your purchase and they will start processing your refund immediately.
The free service usually comes along with any product on macOS, Windows, Android, or iOS. However, there are some limitations, as we previously mentioned up there in the review and test – there is a 200MB daily data limit and you will be connected automatically to the "optimal" server for your region without giving you an option.
Final Thoughts
To be honest, we'd be shocked to see anyone that knows anything about VPNs intentionally choose Bitdefender VPN. While it's already almost a crime for a VPN to have poor streaming performance, then it becomes almost a sin when that's accompanied by a lack of support for torrenting.
Unfortunately, Bitdefender VPN combines both, topping it with poor client support and terrible server distribution. Of course, it does come with some upsides, some of which include VPN-friendly jurisdiction, good encryption, and the fact that it will keep you anonymous online.
Nonetheless, we don't recommend this service in 2023, based on its general performance in our test. Even though it is one of the largest providers of antivirus solutions in the world, they aren't as half as good when it comes to VPNs.
That's why we advise you to look for solutions such as ExpressVPN, CyberGhost, NordVPN, or even Surfshark.
How much does Bitdefender VPN cost?
According to the offer you'll take, prices will range between Free to 6.99$ per month. The longer the subscription, the cheaper it will be each month.
Can I watch US Netflix using Bitdefender?
Unfortunately, this VPN provider is not able to unblock Netflix at the moment. You'll need to pick an other service if you want to watch Netflix everywhere in the world.
Does it work in China?
Only a few VPN providers manage to work in China and bypass the Great Firewall. Bitdefender does not manage to work there at the moment so you'll need to pick an other provider.
On how many devices can I use it at the same time?
If you choose the best plan they offer, you'll be able to use up to 10 devices at the same time. This is really useful if you have many family members who need it.
Bitdefender VPN Review and Test
Bitdefender's service is far too limited to look good. Its lack of servers, its inability to unlock some streaming platforms make it, among other things, a choice more than questionable!
Add your review
|
Read reviews and comments

Michael is a talented writer who has dedicated a lot of time into making sure that everyone around the world can use the internet securely. Being an avid traveler, he has acquired a lot of experience while using different VPNs on his travels. When it comes to doing comprehensive "how to tutorials" or testing some VPN functionalities, he's always the best pick ! He's here to help you solve your VPN-related issues.