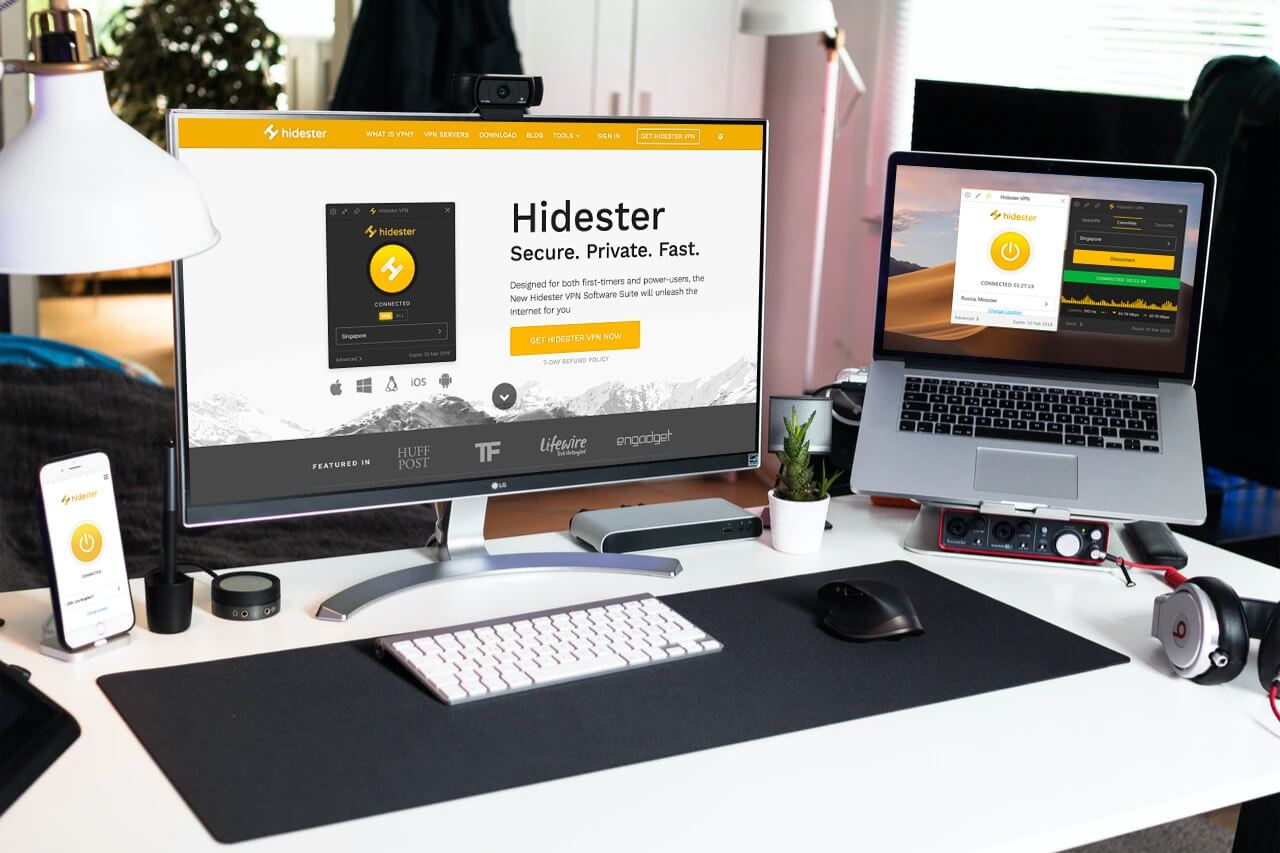 The VPN market features hundreds of different companies all claiming to provide optimal security and content unblocking. Unfortunately, not many stand up to the expectations. The fact that Hidester entered the competition just a couple of years ago makes it pretty young. It is quite clear that, in order to succeed, you need to be able to provide something that your competitors can't. That is why we have decided to do a thorough review of Hidester VPN.
We will see if they can compete with some of the leading names like ExpressVPN and CyberGhost.
For this Hidester review, we performed a series of tests that were related to speed and stability, as well as the privacy policy. Read on so you can find out more and make an educated decision!
STRENGTHS:
Good encryption
No-log policy
Customizable
WEAKNESSES:
7-day money-back guarantee
No Smart DNS
Slow
No Netflix
Not as affordable
Connection issues
---
Hidester VPN ranks #47 out of 104 VPNs tested. Here are the best alternatives :
Is It a Paid or Free VPN?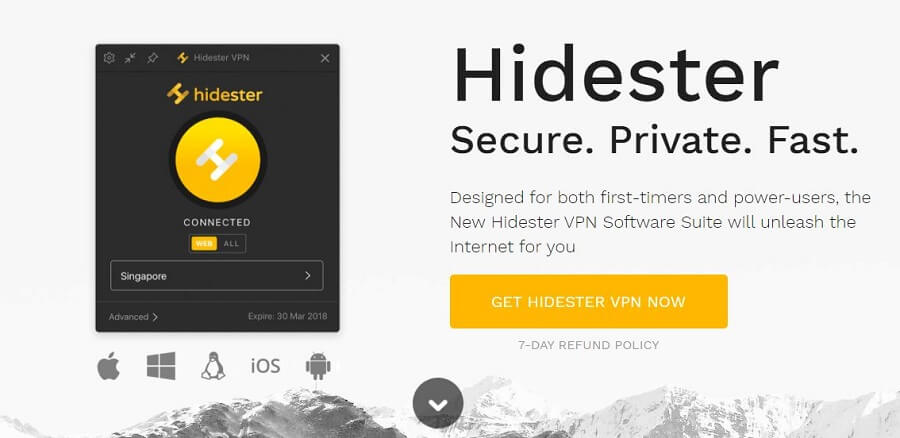 For this Hidester review, we will be mostly focused on speed, stability, and privacy features. We are going to start off with whether this service is free of charge or not. The short answer is that this provider only offers paid subscription options with no free trial available.
There is a 1-month, 6-month, and 12-month package, but that is something we will discuss a bit later. Frankly, having the option to try out a provider free of charge is always a good thing.
That is why we love CyberGhost. Not only does it offer a reliable and secure connection, but it also has thousands of different servers that you can test for free during the course of one day!
Performance
As we mentioned in the review above, Hidester VPN is fairly new, so expecting miraculous speed and stability during our review was not realistic.
It takes time for a young provider to establish reliable connectivity across the globe. Still, the fact that they decided to enter the competitive market means they offer a number of reliable servers, right? We will discuss that in a moment.
Speed
We spent significant time testing out more than a few of the 45 servers that Hidester offers for this review. During this time, we didn't focus solely on OpenVPN. We also used CamoVPN, as well, just for the sake of a realistic evaluation.
Starting off with a download benchmark of 235 Mbps and an upload benchmark of 211 Mbps, we experienced significant drops during testing.
We first tested the server in New Jersey, USA. It is unfortunate to say that the results were hideous. The ping was set at 270 ms. Furthermore, the download speed went down by 90%, and the upload speed went down by 95%.
You couldn't even perform regular browsing activity with this speed, much less something more complex like streaming HD.
Our second test was the London server. While it did perform a bit better and had a ping of 83 ms, it was still not good enough. The download speed came to do 36 Mbps, while the upload speed dropped to 23 Mbps.
Last but not least, we connected to the Singapore server, which looked the most attractive. Unfortunately, we had issues with it, as well. The ping was almost 500 ms, and the speed drop was higher than 90% for both download and upload.
Without VPN (we were located in London) :

London Server :


US Server :

Asia Server :


Thus, it is safe to conclude that part of the review by saying that, if you are looking for a provider that offers reliable and fast service, it is not Hidester VPN. On the other hand, we do suggest that you try out ExpressVPN, which we consider to be the fastest on the VPN market.
Stability
Looking at the results above, it would be wrong to expect that Hidester VPN offers stable servers. We can say that the best performing ones seem to be set in Europe.
Apart from that, we experienced significant disconnection issues with both the server in New Jersey and Singapore. Additionally, we didn't like the fact that once we lost connection, we were redirected to another server without our approval.
Streaming
Many people in the United States use a VPN mostly for streaming and torrenting purposes. Given this fact, it is quite clear that a provider that is reliable in this aspect is of great value.
Many users want to use their VPN to unblock Netflix.
However, Netflix has set many restrictions in the past few years. Now, only a few are able to bypass and unblock different Netflix catalogs across the world. When Hidester started their business, they were able to do so, but does this stand true today? Let's see.
Netflix
Unfortunately, this VPN has proven to be beaten by the Netflix algorithm. Believe us, it is not like we didn't try to get past it. In fact, we decided to test on multiple servers across the globe using CamoWeb, CamoVPN, and OpenVPN protocols.
After a thorough analysis, we concluded that not even one was able to provide us with positive results. Frankly, we got the same results as when testing StrongVPN. If you are planning to subscribe to a provider for the purpose of unblocking Netflix, we suggest doing so with NordVPN or CyberGhost.
Other streaming services
Considering the fact that Hidester VPN did pretty bad in terms of unblocking Netflix, we didn't have high expectations.
Still, this provider did quite a fair job in terms of streaming on BBC iPlayer, Comedy Central, and FOX. On the other hand, Disney+ is not among the streaming services that you can access with this VPN.
Security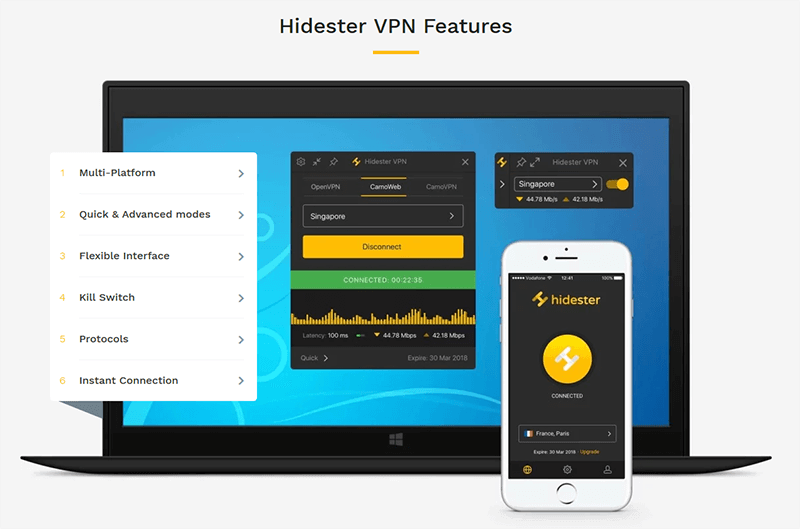 No one wants a provider that can't ensure an anonymous connection and protect your privacy from being tracked. Honestly, we had high expectations when it comes to Hidester VPN due to the location that it is set in.
Where is it based?
Before we can talk about the logging policy, we need to address what jurisdiction the provider adheres to. Luckily, this provider is based in Hong Kong, which is one of the best locations when it comes to regulations on private info.
The fact that this country doesn't belong to the 5/9/14 Eyes alliance is a great thing. This means that the provider will not give out info to foreign governments. Additionally, the privacy policy of this provider tells us that it doesn't track you in the first place, which is good.
Logging policy
To answer the question of whether Hidester is a service that you can trust or not, we will give you a positive answer after a complete review on our side.
They also have a strict no-log policy. This is quite good considering that even your email address and payment info are not going to be stored in their database. Thus, you can be completely confident that any browsing activity is going to be safe from third-party websites.
Protocols
We mentioned earlier that Hidester has a good set of industry-standard protocols that you can switch between. OpenVPN is ideal for Windows, Android, and macOS.
However, you might have a better time with CamoVPN when it comes to iOS and Linux. Along with reliable tunneling protocols, you are also looking at bank-grade encryption that will keep you protected.
Leak protection
The last thing that is relevant to a privacy policy is whether your IP and DNS are at risk when the connection fails. Luckily, this is not the case, as Hidester VPN includes one of the best kill switches on the market.
On the other hand, they didn't have a Smart DNS, which is a shame, but the overall leak protection is still good. What this means is that your IP address has almost zero risks of getting revealed even when the connection times out.
Torrenting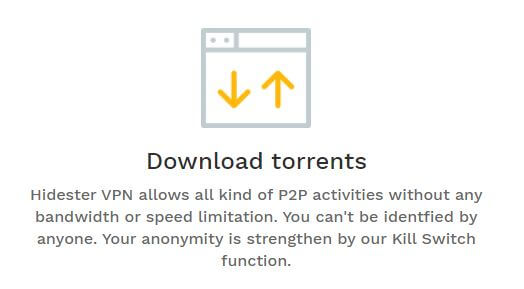 This is quite a tricky question. The thing is, while Hidester doesn't necessarily forbid torrenting, it is not the most reliable provider for it, either. As we have mentioned above, this provider offers reliable leak protection, including a kill-switch that can save you from a lot of trouble.
You can try and torrent with more than half of the 45 total servers.
However, if the location you are connecting to is quite far away, chances are you will not be able to do it. Our personal recommendation would be to use NordVPN, which does a much better job when it comes to speed and P2P transfers.
Bypass Censorship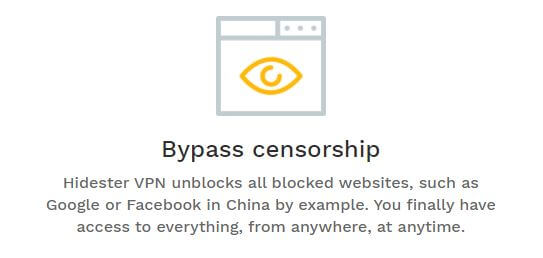 It is not a secret that many countries have imposed restrictions on certain web content. The best example of this is China, which is protected by the so-called Great Firewall. Not many providers are able to efficiently bypass these restrictions and allow you unlimited access to available content.
To be honest, there is a huge risk for your private info if you try to do it and not succeed. Considering the fact that Hidester is located in Hong Kong, we did have certain expectations.
After performing a few tests, we concluded that you might have some luck with the CamoVPN protocol. However, it is still not as safe and reliable as ExpressVPN.
Countries and Servers
It is safe to say that Hidester VPN can't really be considered to be a global provider. The reason for this is that it offers only 45 servers in a total number of 40 countries. If you look at top providers like ExpressVPN and CyberGhost, you will find they offer thousands of servers located all around the world.
Apart from the Hong Kong and Singapore servers, they don't have any other Asian servers that you could try and connect to. Most are set in Europe and the US, with the most reliable one being in London.
This wouldn't usually be a problem, but the servers that are offered are quite slow, making it a usability issue.
Compatible devices and simultaneous connections
Frankly, this is one of the strong points of Hidester VPN in this review and test. It is good because of the compatibility, of course. However, you can also be confident that, whether you have a device connected in-home or at the office, you will be protected.
Supported devices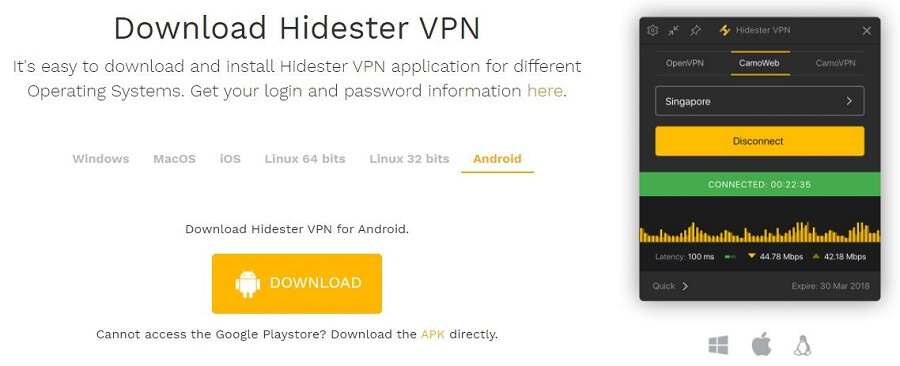 The list of compatible devices for this provider is quite big. So you can be confident that it will work with your iPhone, Android, Windows, macOS, and Linux. Additionally, we have performed a series of tests and found it to be quite relevant when it comes to routers, smart TVs, and consoles, as well.
Simultaneous connections
Hidester is pretty good when it comes to the number of devices you can connect at the same time. While the average is 3, this provider gives you the option to connect 5 different devices simultaneously.
It is not as much as with CyberGhost (7 simultaneous connections), but it's more than most of its competitors.
Customer support
It's important for a customer service team to review your query and answer you quickly and give a solution to your issue. Looking at the "support" that Hidester VPN offers, we are not satisfied.
The fact that they don't allow a live chat option could be something we would be fine with if the email response was effective and polite.
We tested it and found that the team takes a couple of business days to give you an answer. Even when they do, it is not concise or helpful, which is the main issue we have with this provider.
So our review of Hidester VPN regarding client support is not very good looking at this experience.
Value for Money
Before we can come to a final conclusion, we need to determine whether the performance is worthy of the subscription price.
Price comparison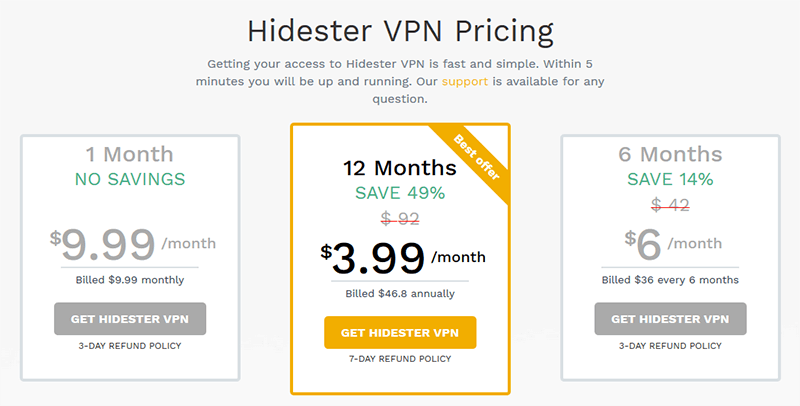 As we mentioned above, this provider offers a couple of different options.
The first one is a single month subscription, in which case you would pay $9.99.
The second one is for 6 months, in which case you would pay a discounted price of $6 per month.
The third one is probably the best and comes in the form of a 12-month plan for which you would pay $46.8 in total.
Payment types

The good thing is that they don't only accept credit and debit cards. Hidester also accepts Paypal, as well as anonymous payment types such as Bitcoin and Litecoin.
Money-back guarantee
Last but not least, they have a 7-day refund policy during which you can "test" their service. Even though the VPN states you get your money back, we would not recommend it, especially because of their slow and unattentive customer service.

Extras
Honestly, there is not really anything that we can review in terms of the extra features that Hidester VPN offers. This is not the most surprising thing, though. This follows the more than the poor level of service offered
Final Thoughts
Taking everything into consideration, we rate Hidester VPN to be #47 out of 104 providers that we have reviewed. While it does have great potential and ensures anonymous browsing, it is not reliable in terms of server speeds.
Additionally, it is not the best when it comes to unblocking censored streaming services, either.
Thus, if you are looking for a provider that you will not be stressed out by, we suggest NordVPN, ExpressVPN, or CyberGhost! If you liked this article, you will also enjoy our review of Trust Zone.
Our final remark for this review about Hidester is that it is not a VPN provider that we would recommend, not for now that's for sure.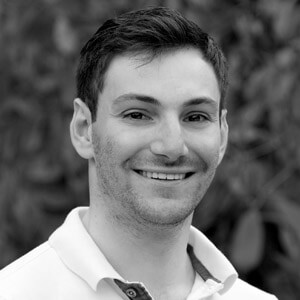 Flo is the founder of the-bestvpn.com. Really concerned about security on internet, he decided to create this website in order to help everyone find the best VPN. He's got a Business School background and now is 100% dedicated to keeping his website alive.