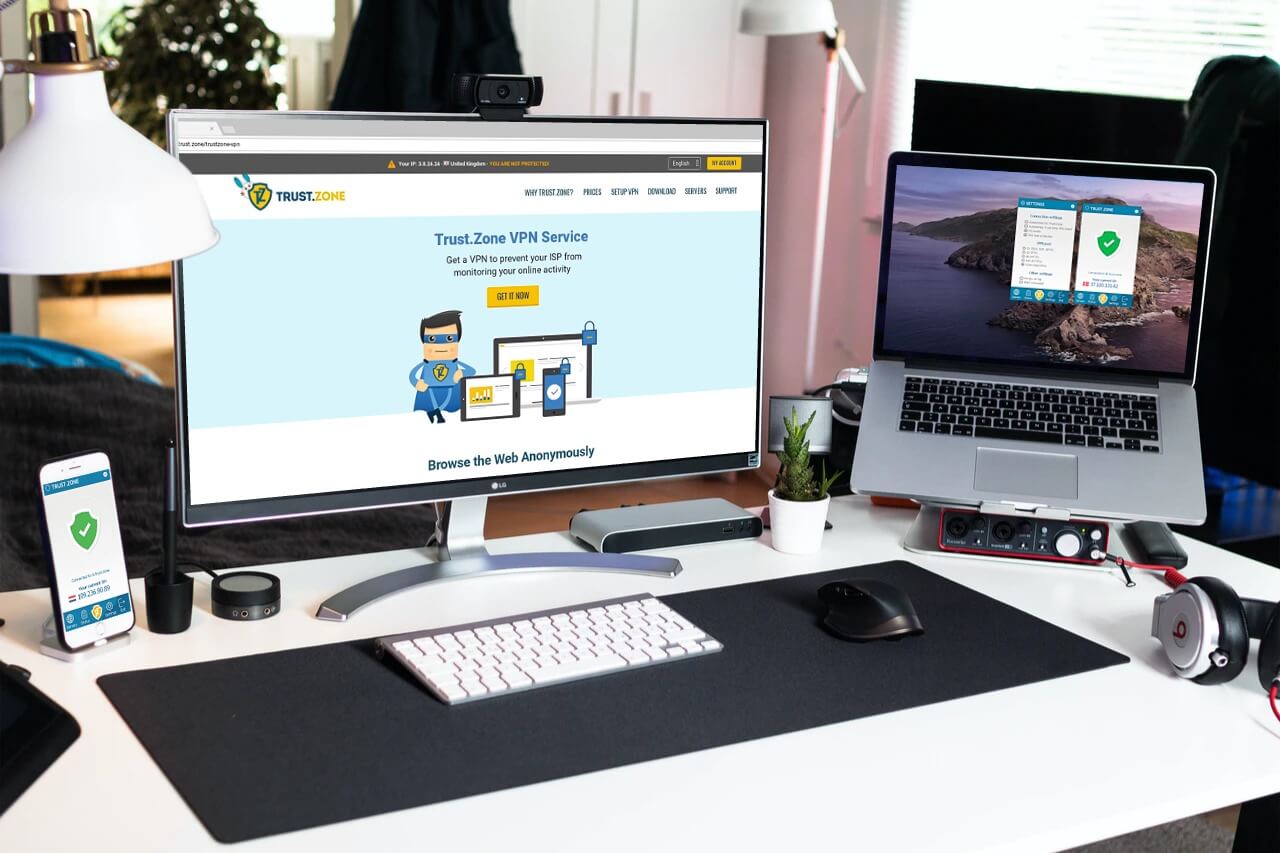 VPNs have risen enormously in popularity recently, forcing VPN providers to unrelentingly improve their products. However, Trust.Zone is a provider that doesn't seem to be moved by the stern competition. Even though the service was only created in 2014, many people feel it hasn't maximized its potentials. Whether that's true or not, you'll find out in this 2023 review and test of Trust.Zone.
While it provides affordable pricing and delivers decent speeds in our speed test, its downsides outweigh its upsides. For instance, they refer to their service as "The One You Can Count On" but they provide standalone apps for Android and Windows only.
Of course, we know the service has a lot of room for improvement, we just don't think the company really cares about improving anything.
Without saying too much yet and letting the cat out of the bag, we will take a plunge into the detailed review of Trust.Zone. Do they keep you fully anonymous? Can you rely on them?
Well, we have carried out an intensive test and we have backed it up with a comprehensive review. At the end of this article, you will find out if this service is really worth your money or not.
PROS:
Located in a VPN-friendly country
Doesn't keep logs
Affordable pricing
Offers a free package
CONS:
Average speeds
Poor streaming performance
Poor client support
Doesn't have specialized servers
Not ideal for censorship policies
Limited network coverage
Doesn't have any unique feature
Custom apps for only Android and Windows
Trust Zone ranks #43 out of 104 VPNs tested. Here are the best alternatives :
---
Is it a paid or a free VPN?
Fortunately, Trust.Zone is one of the VPNs that offer a free version along with a paid version. Unfortunately, however, the difference between the freemium version and the premium version is very insignificant.
You will find out why we have said this later on in this review and test.
Performance
Regardless of the number of factors you hinge your evaluation on, everything always boils down to performance. So, if you are wondering how this provider performed during our test, we have detailed everything in this part of the review.
Speed
Let's face it, speed loss is inevitable when you use a VPN. However, while the elite providers always manage to reduce the speed loss to the bare minimum in 2023, the low-tier providers will frustrate you with a speed that's as slow as a snail.
Then, the mid-range providers will always manage to provide average speeds – not too fast but not too slow either. Bear in mind that nothing is necessarily wrong with these services.
Without VPN (we were located in London) :

EU Server (France) :


US Server :

Asia Server (Hong Kong) :


Although there was nothing impressive about Trust Zone's speed test result, they're also not the most disappointing. Nonetheless, there are many providers out there that are much faster, such as ExpressVPN or NordVPN.
Stability
In terms of stability, it's a mixed bag for this VPN. While it is certain to always be available whenever you need it, its client support may be unavailable if you encounter some glitches at some points.
However, we rarely experienced any technical issues during our test and review.
Thus, we can say the service is stable overall. You just have to keep in mind that you can't rely on its customer support. We will talk more about this later in this review.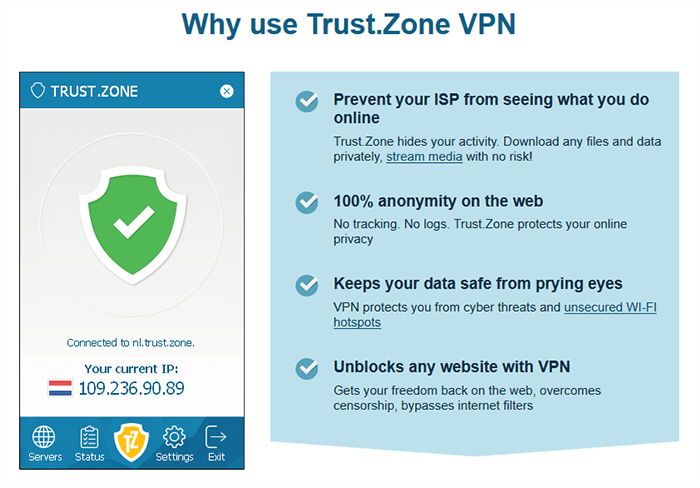 Streaming
Streaming is a popular practice amongst internet users, especially those who love watching movies on sites like Netflix. In that case, it made sense that we assessed the streaming capabilities of Trust.Zone then.
We've dedicated this part of the review to discuss the results of our streaming-related test.
Netflix
While you will get the dreaded error message for some regions, this provider works with US Netflix, thankfully. Well, we ought to make some clarifications here – it only works on some servers, not all.
If the server you select doesn't work, you can choose easily from other options.
So, Netflix should work with this VPN, based on our test. Just make sure you find a server that is working. Due to this unreliability though, we will advise you to review and weigh your options if streaming Netflix is important to you.
Besides, even though you can unblock US Netflix, you can't unblock Netflix in other regions, so that's a big con as well.
BBC iPlayer
Unfortunately, we were unable to unblock BBC iPlayer in our test. Like Netflix, BBC iPlayer is also one of the biggest streaming services in the world. They have implemented solid anti-VPN systems to prevent users from restricted regions from accessing their content.
But, while we were unable to unlock some Netflix regions, it's a different story with BBC iPlayer. We connected to several servers in London and Manchester, and we got an error message each time.
Others?
At last, we had reasons to smile about the streaming performance of Trust Zone. This was when we tested other big streaming sites like Hulu, HBO, Amazon Prime Video, and Youtube.
While we weren't able to unblock both Netflix UK/CA and BBC iPlayer, we eventually breathed a sigh of relief when we accessed other big streaming sites.
However, that doesn't take away the fact that this provider may not be the best choice for streaming enthusiasts.
Security
The level of security a VPN provides is always a big question when evaluating a service. With that in mind, we have put the security systems of this service to test, and below is our review of it.
Where is it based?
The jurisdiction where a VPN is based is becoming increasingly important when talking about the advantages and disadvantages of VPNs. This is due to the fact that some locations have strict anti-privacy regulations while others have privacy-friendly laws.
An anti-privacy regulation is a law that forces the provider to store the data of its users.
Of course, everyone knows your security could be under threat when your data is exposed, so you wouldn't want your provider to store your data. Moreover, you would be cautious of using a VPN that's based in a place with such regulations.
Trust.Zone is based in Seychelles, which is a country with no compulsory data retention laws. Besides, the country doesn't have any affiliation with any intelligence-sharing alliance like the Five Eyes or the Fourteen Eyes.
Furthermore, it's worth mentioning that even if Trust.Zone is legally forced to hand over the data of its users by a government agency, they wouldn't be able to hand over any personally-identifiable data, as they don't keep any.
Another thing we love about this service is how it publishes the latest warranty canaries on its website, which states that there have never been any seizures or searches of its servers.
Log policy

According to Trust Zone, the provider doesn't keep users' data and doesn't operate with any leak in 2023. Their privacy policy also corroborates this claim. The company doesn't collect any personal data like names, phone numbers, and locations, even though the payment process is likely to.
Therefore, we recommend you to use Bitcoin when making your payments for full anonymity.
They only collect email addresses, which they use for the purpose of communication. While the policy states they don't keep log files, it hints that they store usage data, which is anonymously retained.
Like we already noted previously in the review, there is also a warranty canary where the provider further proves that they value the privacy of users. Even more impressively, the warrant canary gets updated on a daily basis.
To be honest, it is quite lovely to see a fairly new player provide such user trust and transparency. It is easy to see that they care seriously about the privacy and protection of their users. Throughout our experience during our test, everything we saw points at this.
However, it would make even more sense if they could also allow independent, third-party security companies to audit their service.
Protocols
Encryptions and protocols are two of the most vital features of any VPN in 2023. While a protocol aids your information to travel through a secure channel, encryption makes it difficult to decipher.
Although Trust Zone isn't packed with many encryption options and protocols, that is not necessarily a terrible thing. The provider boasts the OpenVPN protocol with an AES 256-bit encryption, which is military-grade.
Keep in mind that OpenVPN is the most popular VPN protocol in the world. It's open-source, so it is always undergoing updates. Meanwhile, AES 256-bit encryption has proven to be impermeable so far.
While this provider also offers L2TP, the protocol is believed to be very problematic. Therefore, we recommend you in this review to stick to OpenVPN for maximum security.
Protection against leaks
Another area where Trust Zone works well is leak protection. There was a time they had problems with DNS leaks, which prompted users to bombard them with complaints. Impressively, the provider swiftly sprang to action and addressed the problem.
In our opinion, they are totally committed to guaranteeing the privacy of their users.
Nevertheless, they come up short in terms of IPv6 leak protection. The app doesn't have any button to activate IPv6 leak protection. Besides, they have openly declared that they don't support IPv6.
The provider can do better in terms of this, particularly since their rivals are offering support for IPv6. For example, it's the case with ExpressVPN.
Torrenting
While torrenting isn't necessarily a bad thing, some practices its users engage in turn it into an illegal act. To be on the safe side of the law, we don't encourage you to engage in torrenting without protecting yourself with a capable VPN.
So, below is our test findings on Trust Zone's torrenting capabilities.
Is torrenting allowed?

P2P is one of the most popular information-sharing methods in the world in 2023, allowing users to download small bits of data from many other users. However, some VPN providers are more suitable for this activity than others.
Some VPNs either curtain or ban your torrenting abilities. Therefore, make sure you choose a service that is completely compatible with torrenting.
Fortunately, this provider offers full support for torrenting, which we even put to test to ensure 100 percent accuracy for this review. If you are interested in P2P file-sharing on this service, we're glad to inform you that the provider properly seeds and leeches torrent files, although with the normal slower download speeds.
Nevertheless, you should be careful if you reside in a location that forbids torrenting.
Since torrenting is susceptible to threats, VPNs offer an extra protection layer that helps protect your information from potential hackers. Besides, Trust.Zone claims openly that their service doesn't throttle or block any type of Internet traffic.
This makes it unique to other providers that put some limitations on torrenting activities on some or all of their servers.
Is there a Kill Switch?
Another major feature that this provider provides is the Kill Switch. The function of this feature is to halt the Internet traffic in the event of a failure in a VPN connection whilst you're using the Internet.
If there is no Kill Switch, if you're visiting any restricted site and the VPN connection suddenly cuts, it will notify your Internet Service Provider.
Due to this, it is important for every VPN to implement the Kill Switch just as Trust Zone has done.
Bypassing Censorship
Strict censorship policies are one of the biggest problems that are facing internet users nowadays. Therefore, most VPN buyers are always looking for a VPN that helps them bypass the censorship policies of their respective countries.
With that in mind, we took this into consideration during our test, and below is our review.
In censored countries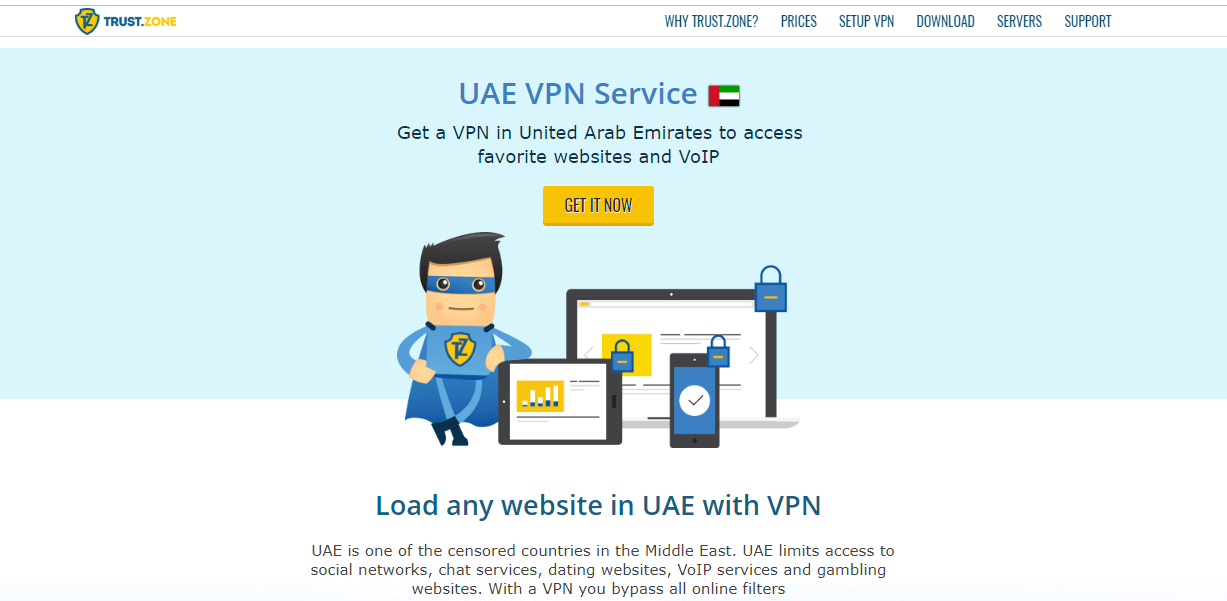 While many countries in the world, including China, have banned most VPNs, Trust.Zone manages to bypass some of them, even with no stealth protocol. According to their official site, a lot of their customers in China haven't had many problems with the provider.
But that's not quite right in fact.
However, make sure you use OpenVPN port 442 if you want to have any chance, as it masks VPN traffic as TLS traffic. In addition, customers in other highly-restricted countries have been able to utilize this service.
Having said that, this is not the most reliable provider for extremely censorious countries at all.
In fact, we must not forget to mention that the service can be unreliable if you are living in a country with strict censorship regulations like China, Iran, and the UAE. While it works sometimes, we don't advise you to rely on it.
Instead, choose providers like ExpressVPN or NordVPN that are almost always available in such countries.

In restricted networks
While Trust.Zone doesn't reliably bypass the Great Firewall of China, it reliably bypasses restricted networks. There are many organizations and schools that place restrictions on websites like Facebook, Instagram, and Twitter.
This action is usually taken to make their employees or students more productive.
However, we advise you to be very careful as you may be penalized or sanctioned if you are caught in the act.
Countries and servers
The number of servers a VPN operates and their locations are important factors you must also take into account. To make this Trust Zone review as comprehensive as possible, we remembered to assess this during our test.
Countries covered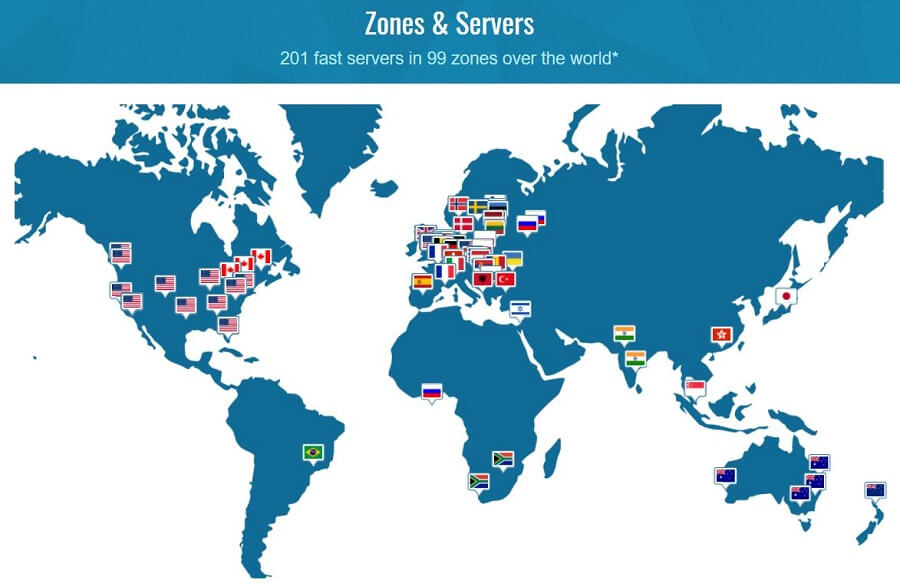 Like we already noted, this is one of the essential metrics to take into consideration when you are selecting a VPN. The higher the number of servers a VPN has, the better the service will be.
When a VPN has plenty of servers, users will get a lot of bandwidth. Rather than being crowded onto a single server with several other users, you will have a lot of bandwidth. This means your data transfer will be faster.
Discover all available server locations >
In addition, the more robust the network of a provider, the higher your chances of finding a server that is near your genuine location. An extra bonus is that you are more likely to find a local server that is available when you are on the road.
At the time we're writing this review and test, this provider offers 201 servers in about 30 countries. When compared to more popular providers like ExpressVPN and NordVPN, you will quickly realize that this network is extremely tiny.
In fact, VPN like NordVPN and ExpressVPN have thousands of servers spread across every continent in the world. Therefore, regardless of where you go, you will find a lot of bandwidth.
Nevertheless, Trust.Zone server network is dispersed really well across the world. While they don't cover the entirety of the world, they cover the most important places. They extensively cover Europe and North America.
Although their presence isn't as noticeable in Asia and South America, they are there anyway. They have servers in Hong Kong, India, China, and South Africa.
Servers
Another downside we found is Trust Zone's lack of specialized servers. Since it doesn't have designated servers for activities like streaming, torrenting, and bypassing censorships, you can't consider it as the best bet for these activities.
In fact, the service has a poor streaming performance, which wouldn't have been so having it been there were specialized servers. If you want to benefit from specialized servers, we advise you to have a look at CyberGhost.
Compatible devices and simultaneous connections
What's the essence of paying for a VPN and eventually finding out that it can work with your device? Very pointless.
Thus, to help you avoid ending up in such a situation, we have dedicated this part of the review to talk about the devices this service is compatible with and the number of simultaneous connections it allows.
What device can I use with Trust.Zone?

While the custom applications are only for Android and Windows, Trust Zone can be installed on many other platforms as well. You only need to download the free OpenVPN software, as we did during our test.
Although this is not too tricky, it is nowhere near as straightforward as utilizing a dedicated application.
Moreover, you can manually install the VPN on routers that operate on DD-WRT firmware. This means that you don't need to configure each device individually before protecting all of them.
While we would expect to see a proxy extension at this level normally, Trust.Zone does not offer any kind of browser extension. In the event that you find this as a dealbreaker, you could opt for better alternatives like ExpressVPN or Cyberghost.
Their website also has setup guides to use the VPN with devices such as Sony PlayStation, Amazon Fire TV Stick, and Microsoft Xbox. The guides are extremely easy to understand and they even include full screenshots that guide you along the way.
Also, you can connect these devices to a manually configured router operating on the VPN service.
However, it still must be said that it's disappointing that this provider only provides custom apps for Android and Windows, with no offering for Mac OS X and iOS.
How many simultaneous connections?
In terms of simultaneous connections, this VPN offers only three simultaneous connections with its basic subscription. Therefore, while you are likely to be paying a cheap price for this service, you will also get less.
Since the industry average is actually five, this service is in some way behind the competition. While you can upgrade your Trust.Zone account to allow for five simultaneous connections, it is likely to cost you more money per month.
Client support
A sure-fire way to determine a serious VPN provider is by evaluating the performance of its client support. With that in mind, we have decided to review the performance of the client support of this provider based on our test.
How to contact it?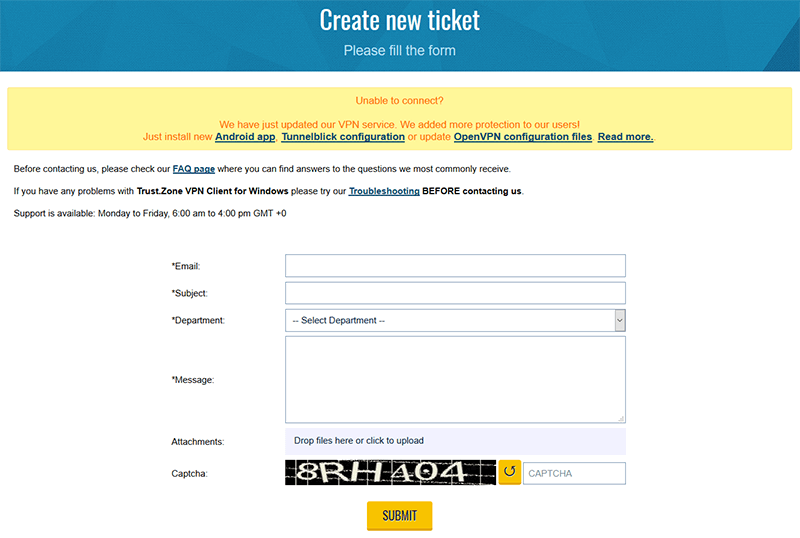 While most VPNs would claim that they offer 24/7 support and later leave you hanging in your times of need, Trust Zone is quite different. Although their support is not 24/7, they are completely transparent with it, as we found out during our test.
Their support is available from 6:00 AM to 4:00 PM GMT+0 Monday to Friday.
The transparency actually impressed us while writing this review, but we would like to see the provider improve its customer support to be 24/7.
In terms of timeliness, you are likely to get a response to your questions within two hours. This is a huge improvement on some services that keep their customers waiting for up to 48 hours.
Furthermore, Trust.Zone has a solid presence on social media with Twitter and Facebook accounts which you can get some help through. Besides, they have their own blog which they use to update their many users.
However, Trust.Zone's client support greatly misses a live chat feature. With the effectiveness and timeliness of the email ticketing system, adding a high-quality live chat feature to the service will considerably improve their customer support.
Is it good?
The provider lacks live chat support, and even email support isn't always available. As we previously noted in the review, the support is available only from 6:00 am to 4:00 pm GMT +0 from Monday to Friday.
Thanks to this, don't expect them to respond to you immediately. Therefore, Trust.Zone might not be an ideal option if you are someone who depends highly on the client's support for every problem.
If you're in this case, we advise you to go to the side of ExpressVPN, CyberGhost, or NordVPN.
FAQ/tutorials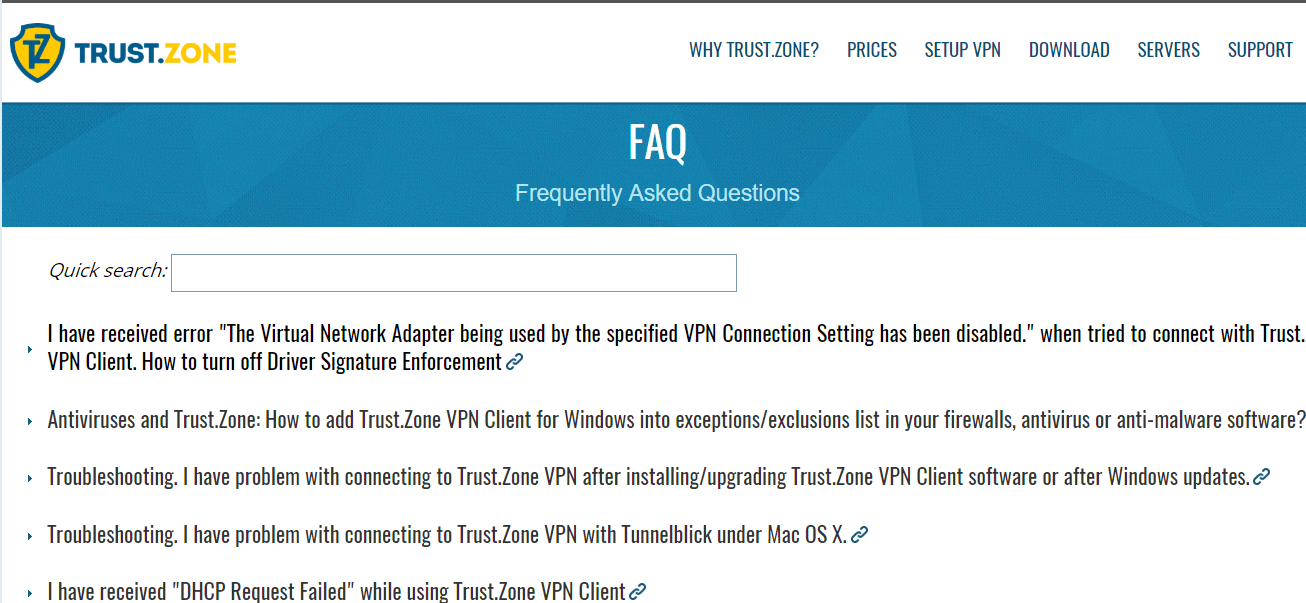 While they don't offer live chat support, they offer a complete set of FAQs. This FAQ section solves nearly all the problems that a client could possibly face whilst using the application.
This section covers every part where a client could possibly need help. Besides, they also offer a complete Troubleshooting process, which can help the clients sort the connection without anybody's help.
Value for money
Another thing you have to ensure is that your VPN delivers enough value for the money you are spending on it. On that note, we'd like to review how much value Trust.Zone delivers in this segment.
Price comparison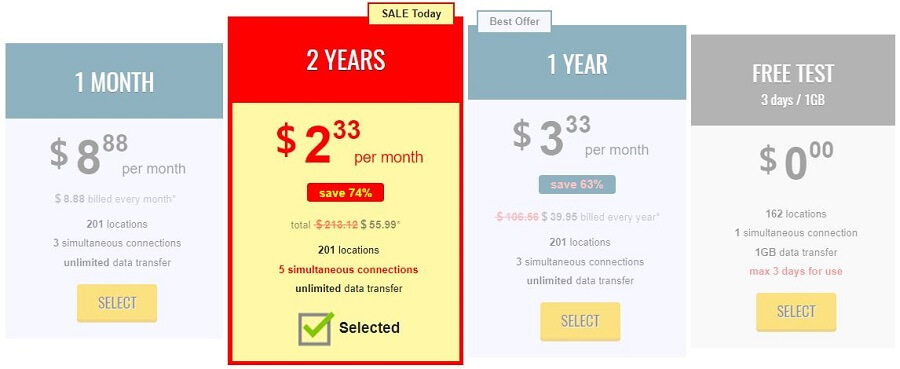 To be honest, this is one of the cheapest VPNs we have come across. In fact, it's affordable pricing is one of the reasons we deem it suitable for first-time users.
Customers have four different options to choose from when they register for the service.
Free test: 142 out of 169 locations, 1GB of data for a three-day free trial, one simultaneous connection
1-month for 3 devices: $8.88
1-year for 3 devices: $39.95 ($3.33/month)
2-year for 5 devices: $55.99 ($233/month)
If we are being honest, Trust.Zone is one of the cheapest VPNs you can find around. While most users won't like the fact that all its plans don't come with the same number of simultaneous connections, it's obviously one of the compromises you have to make for using a service that is as affordable as this.
Apart from the paid plan, there is also an excellent free plan, which isn't really limited. We used the free plan for our test and we didn't have to deal with any significant limitation apart from the data consumption.
Means of payment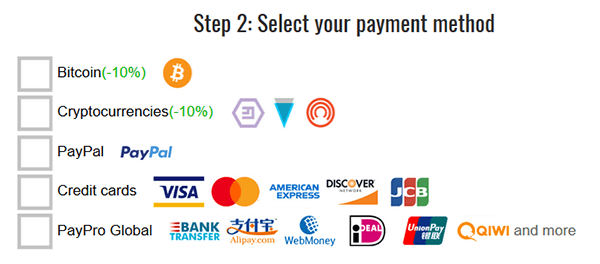 When it comes to payment methods, they accept a wide range of payment means:
Cryptocurrencies
PayPal
Credit cards
Paymentwall (Alipay, WebMoney, Qiwi, and more)
At the time of writing this Trust.Zone review, they are offering a 10 percent discount to customers who pay with Crypto. Of course, you can purchase this service under complete anonymity, which is a substantial plus.
Money-back guarantee
First of all, Trust Zone comes with a 3-day free trial, which comes with limitations. The limitations are that the free trial has a 1 GB limit and doesn't connect to all of the provider's servers.
Nonetheless, it's a great way to test the service out before making any long-term commitments.
However, there is a 10-day money-back guarantee, which you can activate if you are not satisfied after signing up for a paid plan. Sadly, the money-back guarantee also comes with a catch.
The condition is that you are only qualified for a refund if you haven't used more than 1 GB of bandwidth. This is not the case for the money-back guarantees offered by providers such as ExpressVPN or CyberGhost.
Final Thoughts
Generally, most people believe that "cheap" means "low-quality." Thanks to our Trust Zone review and test, we don't have a choice but to agree, unfortunately. While this VPN is one of the most affordable providers we've come across, it's largely limited in terms of performance.
First of all, it has a poor streaming performance, which is further compounded by its inability to reliably bypass the Great Firewall of China. On top of that, it has very limited network coverage and poor client support.
While we must not forget to mention that it's ideal for privacy-seeking individuals as it's based in a VPN friendly jurisdiction, that's the only significant thing it's good for.
In fact, it doesn't come with any unique feature, which indicates that it's as basic as the word itself. A perfect alternative to Trust.Zone would be ExpressVPN, which is, by the way, our recommended choice.
Trust Zone Review and Test
Despite its very good price, we have not been convinced by the services offered by Trust Zone. If you are looking for a VPN for streaming or bypassing censorship, it is definitely not the best choice.
Add your review
|
Read reviews and comments

Michael is a talented writer who has dedicated a lot of time into making sure that everyone around the world can use the internet securely. Being an avid traveler, he has acquired a lot of experience while using different VPNs on his travels. When it comes to doing comprehensive "how to tutorials" or testing some VPN functionalities, he's always the best pick ! He's here to help you solve your VPN-related issues.