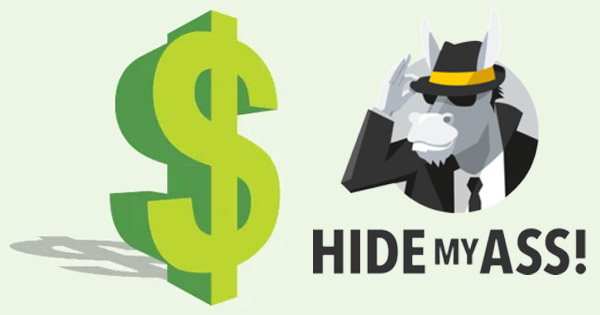 HideMyAss VPN or HMA is a product of Avast Company and one of the most used VPNs in the world today. It is also one of the best VPNs out there with a lot of amazing features that rates it well above other VPNs. Being a paid VPN is one of its key features as it has different pricing plans tailored to meet the demands of the user.
HideMyAss offers :
Total privacy protection for users with OpenVPN encryption program
Has good speedy servers, though different from country to country and continent to continent
Unblocks numerous sites by hiding your identity including allowing you stream Netflix
Uncountable servers in over 190 countries
Compatibility features with OS like IOS, Android, Mac, Windows, Linus.
Easy to Use amongst others.
HideMyAss Pricing Plans
HMA VPN is a paid VPN. It comes with a free 7-day plan after installing and registering for you to test the VPN before further purchasing. During the free 7-days, you will need to enter a valid PayPal or credit card details. These 7 free-day can't help it be considered as a Free VPN.
However, in the first 30 days only, if you find the VPN unsatisfactory, a refund would be made to you and you can cancel out.
This cool VPN has three different price plans. Each of these plans offers the exact same feature as the other with the only difference been the duration of the pricing plan and cost. Reasons for choosing each plan differ from one user to the other.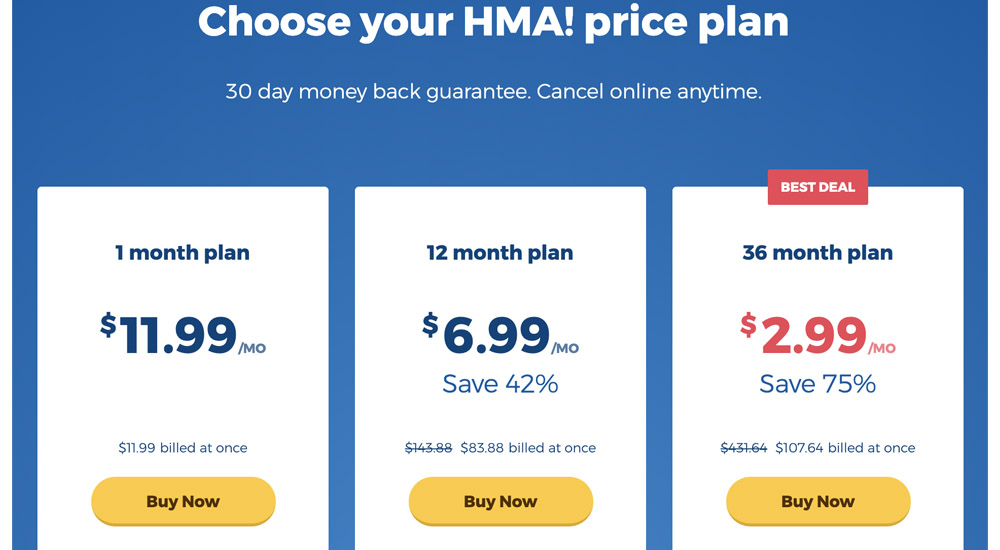 The cost of buying a monthly HMA plan is $11.99. It is slightly costlier when you compare it to other good paid VPNs like Nord VPN, Express VPN, Cyberghost and others that cost lesser at about $9 to $10.99 per month.
HideMyAss VPN is definitely pricey and may force users to pay for cheaper VPN plans.
The cost of purchasing a HideMyAss plan cost $83.88 every 12 months or yearly.
Based on calculations, the cost of this plan every month is about $6.99. Comparing it to the monthly pricing plan, you save about $5 monthly and $60 every year when you go with the yearly plan.
This attest to the facts that the duration of the yearly plan tends to save more than that of the monthly, making it a good plan for users to indulge in.
The biennial plan seems to be the best and most beneficial to users of HideMyAss VPN.
The cost of buying a two-year plan is $107,64. With this plan, you are literally paying $2.99 every month and $37.50 every year. This is s a super good deal for people who want to unblock geo-restricted TV, like Five (MY5) for instance.
You save $7 every month and $168 every two years when compared to the monthly plan. You equally save $2 and $48 every month and every two-years respectively when compared to the yearly pricing plan.
What Offer Should I Choose?
Without an iota of any doubt and based on the aforementioned calculations, the biennial or the two-year pricing plan tends to be the cheapest plan and very cost effective on the long run that every user should opt for.
The longer the duration of the plan, the cheaper it becomes. So the best plan to go for is the biennial/ two-year pricing plan because you save quite a lot more than other plans. Purchase a biennial plan and enjoy the amazing features offered by HideMyAss VPN.