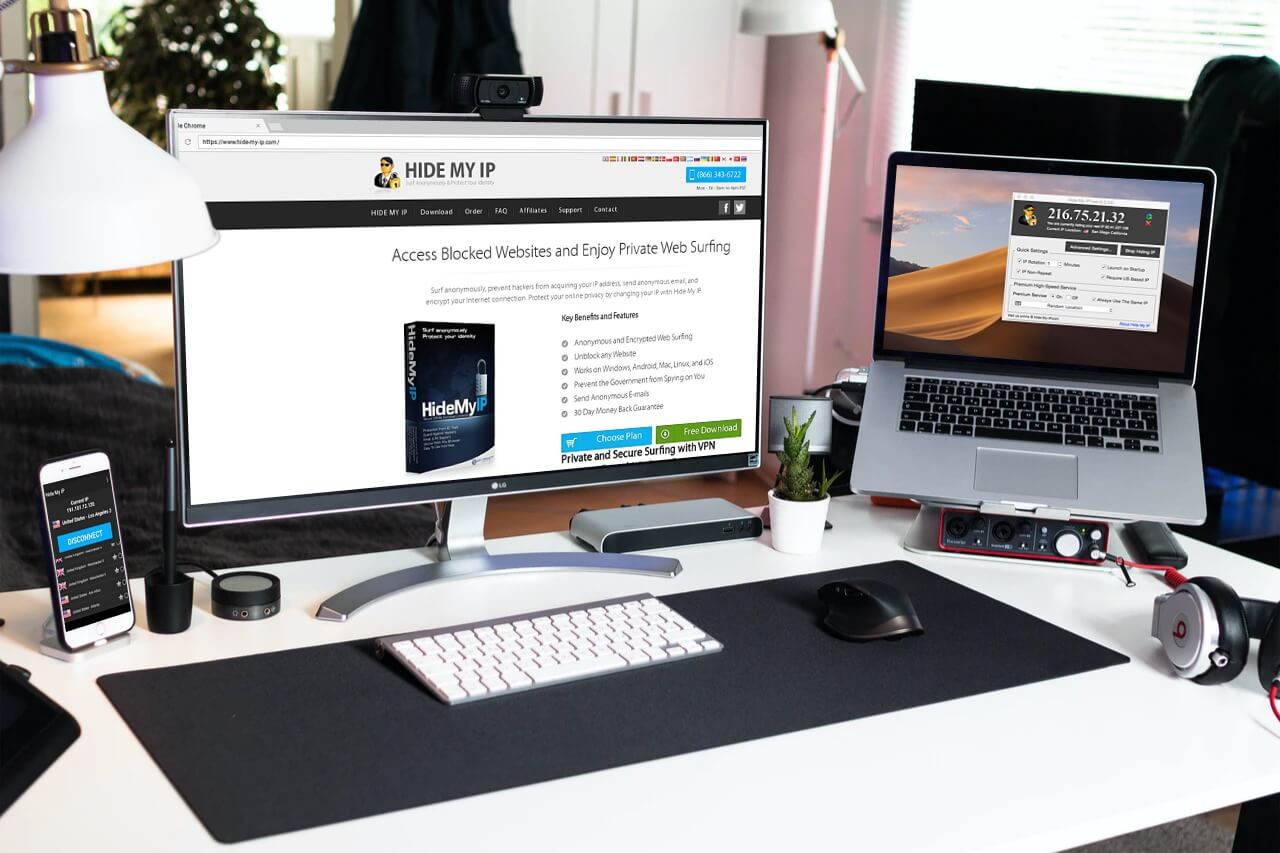 Hide My IP proclaims itself as the fastest and most reliable VPN provider. Then again, most companies do. It is hard to imagine that, with the on-going competition being huge, you can't trust any given provider. There is a variety of factors that affect the overall value of such a service. These factors include speed, stability, and connectivity, as well as the ability to flawlessly unblock certain websites. We will see every aspect of the provider in this Hide My IP review for 2023.

Hide My IP offers a decent service that covers more than 100 different locations across the globe, but that might not be enough. For this Hide My IP review, we have decided to go through a couple of different performance tests in order to find out more about whether it is worth it or not.
Without further ado, let's get right to it!
STRENGTHS:
No leaks
OK speeds
Torrenting allowed
WEAKNESSES:
Logging issues
Interface
Limited customer support
Can't unblock Netflix
US Jurisdiction
No kill-switch
---
Hide My IP ranks #83 out of 104 VPNs tested. Here are the best alternatives :
Is It a Paid or Free VPN?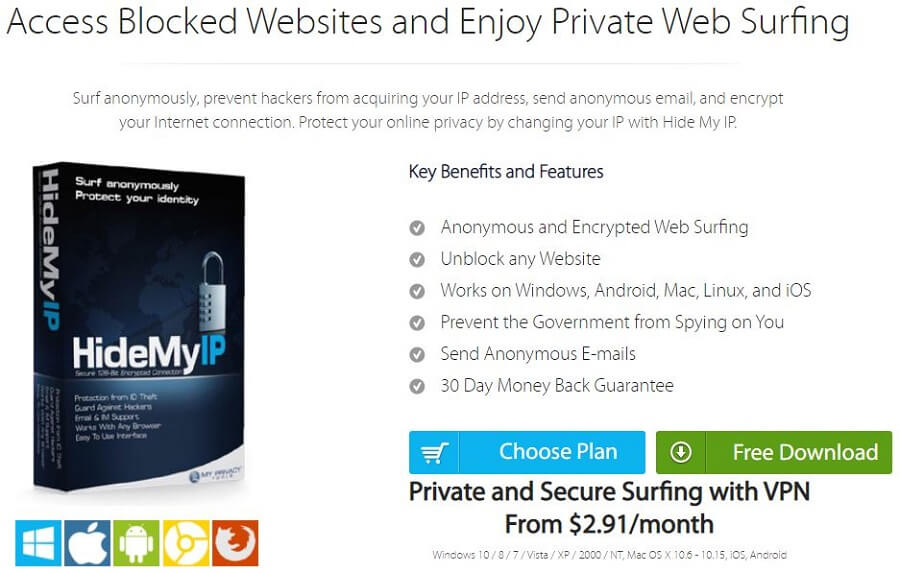 One of the most important questions is whether a provider offers only a paid service or one that is free of charge, as well. In the case of Hide My IP, we found out in our review that you can't get anything unless you are willing to pay for it.
The company justifies this with the fact that their prices are quite reasonable.
Also, you should be getting over 100 fast servers for just a few dollars every month. On the other hand, while there may not be a free package offered, there is a 30-day window for full reimbursement.
If you are looking to find a provider that offers a truly free service, we suggest you give CyberGhost a chance! The provider offers a 1-day trial.
Performance
One of the most important factors in determining the overall value of a VPN provider is to review the performance.
Most users are subscribing to this kind of service in order to bypass censorship and access sites without their IP address getting revealed. The speed, as well as the stability of the servers, plays a huge role in a smooth and successful operation.
Speed
One of the things that Hide My IP is globally known for is the good speeds offered throughout most of its 100 servers. Being quite skeptical about this fact, we decided to connect to a few in the EU and US and see what results we would come up with.
Our internet connection benchmark was 235 Mbps of download speed and 211 Mbps of upload speed. The average drop using an EU server was quite impressive in terms of download speed. It went from 235 Mbps to 170 Mbps, which is just above 15%.
On the other hand, much like many other providers, the upload drop was somewhat higher, as it went from 211 Mbps to 98 Mbps. Still, this was not as bad as with some of the previous providers that we have reviewed. The ping was set at 47 ms, which is quite surprising to us.
Believe it or not, our results with the US servers were barely worse. Now, the ping was somewhat higher and set at 132 ms which is not too bad. However, the download and upload drop was 75% and 80%.
This type of VPN can be used to improve your gaming experience, given the speeds offered. Even if they're not the best ones.
Without VPN (we were located in London) :

EU Server :

US Server :

Asia Server :


Stability
Performing quite well when reviewing the speed tests, we decided to move on and find out more about Hide My IP's overall reliability. To be honest, the stability is fair. While we did have several disconnections, most of the servers didn't lead to our connection timing out.
This is immensely important if you are planning to use a VPN for things such as torrenting and other P2P transfers. So, this is definitely not a bad point in our Hide My IP review.
Streaming
Our review of Hide My IP is not only focused on determining reliability, but also the usability of the service. One of the things that we care about is whether a VPN provider can unblock Netflix and content on other streaming services.
To be honest, most people subscribe to a VPN service for this reason in the first place 😉
Netflix
A couple of years ago, most providers were able to unblock Netflix. Today, things are a bit different. As Netflix figured out what was going on, the algorithm was made much stronger. Thus, unblocking different catalogs is close to impossible.
As for how Hide My IP performs, we can say that the results were not uniform.
We were not able to unblock any Netflix catalog with a regular Windows or macOS client. However, we managed to do it with Google Chrome and Firefox extensions. Once these were installed, 5 out of 10 servers gave us an immediate connection to the relevant Netflix catalog.
Thus, while not ideal, Hide My IP can still help you with Netflix, as long as you are willing to invest extra effort.
Other streaming services
Considering the aforementioned fact, you might assume that Hide My IP does a good job with most other services. Unfortunately, that is not the case with Hulu and BBC iPlayer. However, you shouldn't have much trouble with Fox, CBS, ESPN, and other US-based platforms.
If you're looking for a provider able to unblock every one of the platforms listed, you should try ExpressVPN. It is THE best solution regarding streaming!
Security
Whether a VPN provider can ensure an anonymous and secure browsing activity or not may make or break your deal. There are a couple of factors, including logging policy, the location of the company, and leak protection that affect the overall reliability.
Let's go through all of those aspects in this Hide My IP review!
Where is it based?

Before we can even discuss whether your data is kept or not, we need to determine the main location of the provider. Led by My Privacy Tools, Incorporated, Hide My IP is based in the United States. This means it adheres to the data clauses of the five-eyes alliance.
Therefore, if Canada, New Zealand, the UK, or Australia asks for the history of your browsing activity, this provider will have to give it up. Still, this depends on whether they store and keep logs in the first place.
Log policy
The main idea of using a VPN service is that your browsing activity is hidden from third-parties. Furthermore, it should be hidden from the provider, as well. The first thing that we noticed is that Hide My IP claims a no-log policy in their ToS.
However, when researching for this review, we looked up their Privacy Policy, and we found out that they do keep data. This data includes the services you have used, your name and address, credit card info, etc.
All this seriously affects the overall security and the anonymous browsing that you would expect out of this service.
Protocols
We are quite satisfied with the offered protocols. If you use macOS, iOS, or an Android device, then you will get to enjoy all the benefits of an OpenVPN tunneling protocol. On the other hand, for a Windows user, it is going to be the Level Two Tunneling Protocol.
Not only this, but you can also opt for an alternative of the SmartDNS that should ensure adequate leaking protection. This will prevent your IP address from being revealed.
Leak protection
This provider doesn't offer a kill-switch, which is an efficient weapon in preventing DNS or IP leaks. Fortunately, it does come with reliable encryption. The 256-bit AES, as well as the aforementioned Smart DNS protocol, should give you peace of mind that your true location will not be exposed.
If you would like a kill switch (which we highly advise), we recommend checking out CyberGhost and ExpressVPN, both of which offer top-quality services for an excellent price.
Anyway, for its lack of a kill switch, we give the provider a bad point in this Hide My IP review. You will not be guaranteed completely secure service.
Torrenting
Considering the lack of kill-switch, torrenting seems like something you can't count on with Hide My IP. Even if drops in download speed will allow you to get everything done without staying logged in for hours…
If you don't want to run into trouble when torrenting, we suggest installing an additional DNS protection.
Bypassing Censorship
As you will now know from our Hide My IP review, a VPN is a safe way to access the dark web. Whether you can bypass censored websites or not plays an important factor for most people looking to find a reliable VPN service.
With Hide My IP, the results are as follows.
We managed to unblock most YouTube content, as well as restricted websites for US and UK audiences. On the other hand, while this provider has a server in Hong Kong, we didn't have luck passing through the Great Chinese Firewall.
Thus, if you are interested in accessing Facebook or Netflix from this location, you might want to look into ExpressVPN.
Countries and Servers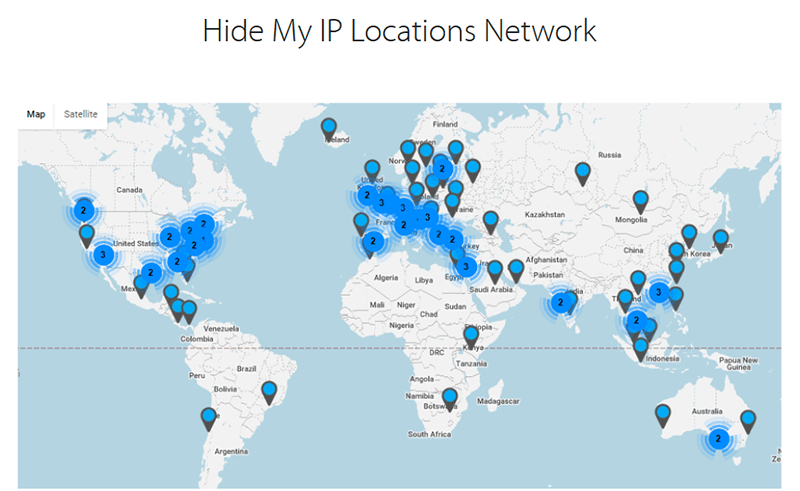 We mentioned that Hide My IP is a global provider that offers reliable service for people around the world. This is due to the fact that they cover more than 66 countries and 110 servers.
While most relevant locations are set in Europe and the USA, they also offer a couple of servers in Asia and the Middle East.
The most prominent are the ones in Tokyo, Hong Kong, and Istanbul. As for the overall performance of the aforementioned servers, we were quite satisfied. The download and upload drop in the European servers was not so dramatic.
On the other hand, we did have a couple of issues with huge drops in the US and huge pings on the Asian servers. Still, considering the overall number of locations that Hide My IP has, their service is quite versatile.
Compatible Devices and Connections
The next thing we need to review is the compatibility and connectivity of this VPN. Frankly, this might be the best thing about the overall performance of Hide My IP. This provider is able to allow compatibility with most devices on the market. You can also have a good number of simultaneous connections.
Devices supported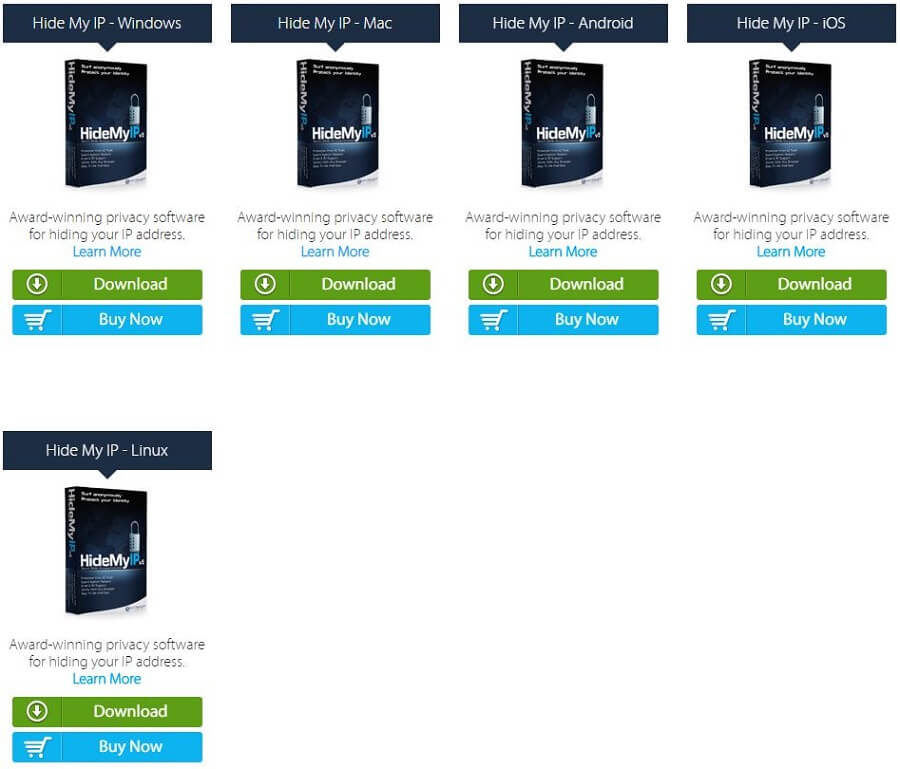 Hide My IP supports Windows, Android, macOS, iOS, and Linux users. Plus, if you were thinking of connecting via a router or a Smart TV, that is possible, as well. Additionally, consoles such as Xbox One and PlayStation 4 can efficiently work with this VPN provider.
Thus, it is perfect for a family using different types of devices.
Simultaneous connections
Talking about the versatility of their service, we are happy to give the feedback that this service allows up to 5 devices at the same time. That is more than the average of 3 and is almost similar to what NordVPN (6) and CyberGhost (7) offer (we would suggest the latter two providers over Hide My IP, though).
Support
During our review and test of Hide My IP, we had a serious issue with their customer support, though. Yes, they do offer a number of options, including live chat, request by email, or a phone call.
However, this doesn't matter considering the limited working hours. Customer support is closed outside of Monday – Friday, 9 am – 4 pm.
Additionally, it took them 5 business days to respond to our email request, and the live chat was completely off.
You will not encounter this type of issue with ExpressVPN and CyberGhost that offer around the clock customer support. What should be the case for any self-respecting provider, to be honest. 😉

Value for Money
Considering the pricing and payment types seriously affects the overall value of a VPN provider. So the next stop in this Hide My IP review is the value for money rating.
Price comparison
Looking at the price for their premium service, we found a few different subscription options. If you decide to go for a single month, you will be paying $4.95. This is quite low, but considering the number of servers you are getting, it is not very appealing compared to NordVPN, ExpressVPN, or CyberGhost.
If you subscribe for 3 months, then the price will be just below $3 per month. This is the case with an annual subscription, as well, with the price set at $2.91 per month.

Payment types
It is good to see that Hide My IP offers a huge variety of choices in terms of payment. It offers major credit and debit cards, PayPal, eCheques, as well as Bitcoin and Litecoin. This is perfect for users who want to stay anonymous.

Money-back guarantee
Last but not least in this review is their refund policy. While their customer service is extremely ineffective, they do offer a 30-day window during which you can ask for full reimbursement.
Extras
While there are no extras that we would mention, there is one thing left to say. The interface of Hide My IP is quite outdated. Not only is it not very reliable for beginners, but it also might be quite buggy on a Windows client.
Final Thoughts
As you can see from this Hide My IP review, the provider started off really well with fast and reliable servers. But the overall performance is not ideal. The main issue that we have is the privacy and logging policy that doesn't allow 100% anonymous browsing.
Additionally, in case you have any trouble with their service, the ineffective customer service is not something you can rely on.
Thus, if you are looking to subscribe to an affordable, reliable, and user-friendly VPN, then NordVPN, CyberGhost, and ExpressVPN (which is a little bit more expensive) are all great alternatives.
In the end, this is not a VPN provider that we would recommend to our readers!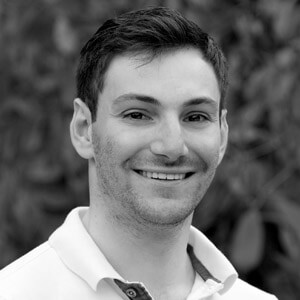 Flo is the founder of the-bestvpn.com. Really concerned about security on internet, he decided to create this website in order to help everyone find the best VPN. He's got a Business School background and now is 100% dedicated to keeping his website alive.