Getting a discount on a VPN of your choice is easier than ever nowadays. Almost all of the providers offer some sort of discount, so you can easily hitch your ride on the bandwagon. Hide.me is yet another not very cheap provider that offers its service for a drastically discounted price. If you follow our steps below, you can get it for a 61% discount. Sounds good? Let's see how to do it!
How to Get a Hide.me Coupon?
Hide.me is one of those providers that take care of you privacy and anonymity in an exceptional way. As we said, it's not really a cheap VPN, but it has the good sides that may make you decide to buy it in the sea of other providers on the market. Before we talk more about it, let's see how to apply the promo code and get a 61% discount:
Now, click on the yellow button that says Get Hide.me. A new page with the pricing will now appear.
The cheapest plan with a 61% discount is a 2-year one, and it offers 2 months FREE. Click on the "Get 24-Month Plan" button.
Your promo code is automatically applied, so just proceed to checkout and buy it.
Congrats – welcome to the world of anonymous web browsing!
If you buy Hide.me directly, by not using our link, it would cost $12.95 a month. But, with our coupon (which is applied directly), you reduce a monthly price to just $4.99 a month, making it extremely cheap.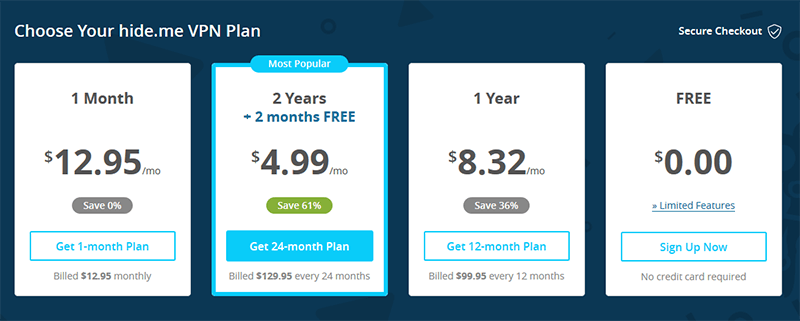 Can I get More Discounts on Hide.me?
At the moment, the provider offers the aforementioned discount. It's not very generous when it comes to pricing, so don't expect it to have discounts on Black Friday or Summer Deals. The bad thing is that the provider didn't specify when will the promotional offer expire, so if you're thinking of buying it, it's better to do so very soon.
And if you think that you can find a better Hide.me deal than this, you're wrong. We want to save your time and not allow you to waste it on searching for a discount that doesn't exist. This is the cheapest price for the provider at the moment and it's worth paying for a provider of this caliber.
More About Hide.me

One thing you'll notice is that Hide.me isn't on our top-ten list. That, of course, doesn't mean that we're talking about a bad provider. This company from Malaysia has all it takes to give you a proper VPN experience. It's outside the 14 Eyes, so it doesn't adhere to data-retention laws. Moreover, it has 256-bit AES encryption and an automatic kill switch, making your connection stable and secure.
Unfortunately, it can't unblock Netflix but you can still enjoy other streaming platforms, such as BBC iPlayer and HBO GO. The provider offers 24/7 support and packs 1,700+ servers worldwide, accompanied by 10 simultaneous connections on a single account.
All in all, you'll probably like it a lot. If not, the provider offers a 30-day money-back guarantee, so you have nothing to lose if you buy it. Be sure to read our Hide.me review before you do so, though.
How Can I Find Out More About VPN Discounts in the Future?
Our website is a shrine of many VPN discounts on the market. You don't have to dig deep to find them. Just visit our website and search for the provider you're interested in. We'll show you an in-depth review of every provider, as well as a way to let you apply the coupon code automatically if you buy the provider from our site.
This way, you can save a lot of money and enjoy private internet browsing, which is a win-win combination 😉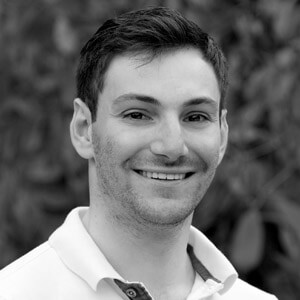 Flo is the founder of the-bestvpn.com. Really concerned about security on internet, he decided to create this website in order to help everyone find the best VPN. He's got a Business School background and now is 100% dedicated to keeping his website alive.