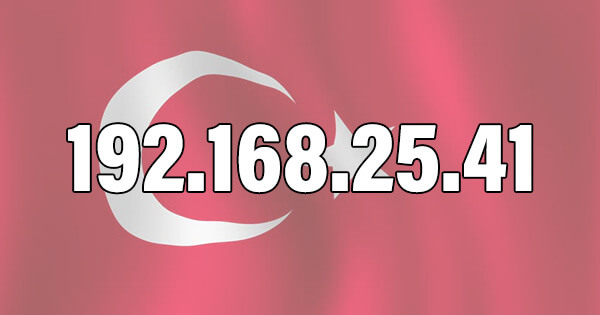 Having a Turkish IP yields lots of benefits for the residents of Turkey living abroad. Apart from browsing the internet freely, you can catch up with your favorite Turkish shows home or access your bank account in a snap of a finger. There are a lot of things you can do when obtaining this IP address, and today, we're going to show you how to do so. Our in-depth guide is below, so let's see how to get this IP easily.
How to Use a VPN to Get a Turkish IP Address?
Newcomers to the world of cybersecurity aren't properly acquainted with certain terms and tools. One of them is a VPN, which is generally a popular term, yet not many people know its real purpose. VPN stands for Virtual Private Network and it's a software that lets you browse the internet anonymously.
You do so by altering your IP address, and in return, you get to unblock foreign sites and enjoy the encrypted connection. A country like this is where VPN plays a huge role due to the censorship that we're going to talk about later.
Another reason why using this service is a good idea is preserving privacy. When you're online, everyone can see what you're doing and searching on Google and other search engines. This service obfuscates your IP address, making you completely anonymous.
Because of that, your ISP can't see what you're doing, leaving you to do whatever you want without anyone breathing behind your neck.
Easy Steps to Use a VPN App to Change Your IP Address
Obtaining a Turkish IP address is easier done than said – and no, that's not a typo error. It took us longer to write this guide than to get the IP address we need. Without further ado, here are a few steps that you need to follow to get a Turkish IP:
Subscribe to a Virtual Private Network. We recommend ExpressVPN, as it offers a 49% discount and 3 months free for a 12-month subscription plan.
Download and install the respective apps.
Open the app and sign in with your credentials.
Underneath the connection button, click on the country that appears, to open the server list.
Scroll down, find Turkey, and choose the server from that country.
Use the connection button to connect.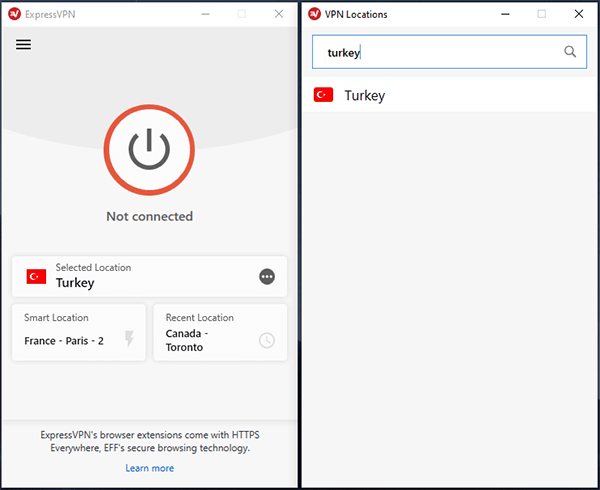 That's literally everything you have to do for the first time. Next time you want to connect, follow the last three steps and you'll be good to go.

Why Does It Help to Have a Turkish IP Address?
There are many reasons why you'd want to have a Turkish IP. It can be to watch sport streamings or withdraw money from your bank account. Here are a few reasons why using it will impact your online experience for the better:
Enjoy Turkish Local TV
Turkey is known for a multitude of interesting TV shows. These shows are popular almost anywhere in the world, as they offer fantastic acting and storytelling. If you're watching Gümüş or Vatanin Sensin, we don't blame you. When abroad, these shows will be unavailable for you. However, with a VPN, that's not the case.
You can connect to a Turkish server, access your local TV channel, and enjoy it. Needless to say, you can also access local news or get information about the market in that country, in case you're into stocks and investing.
All in all, you can stay in touch with your homeland even from abroad!
Use Your Local Bank Account
When you try to connect to your bank account from abroad, many banks will usually lock you out of it. This happens due to security measures that are intended to keep your money and account safe.
The last thing you want to do is travel abroad and try to access the account. What you want to do instead is get a VPN, connect to the Turkish server, and use your bank account freely.
Do not risk making this mistake. Otherwise, you'll have to go through the legal process to prove that you're the bank account's owner.
Enjoy Privacy & Security
A Turkish IP will simply give you privacy and security online. Whatever IP you get, it will ALWAYS be beneficial and provide this benefit. Being anonymous online is really priceless and it keeps the prying eyes of the ISP or the government away from you.
That way, no one spies on your online activities, letting you use the internet with freedom.
The Best VPN to Get a Turkish IP Address: ExpressVPN

On the market, there are more than 100 VPN providers. Of course, not all of them are capable of delivering the performance you want, especially when we talk about privacy, security, and speeds. Before we talk about the best VPN for Turkey, we want to mention proxies that many people try to use.
In short, we don't like them. They're pretty slow, offer NO security, and sell your browsing data to advertisers. Since there's no encryption, you can easily expose your IP address, making you vulnerable to hacking attacks.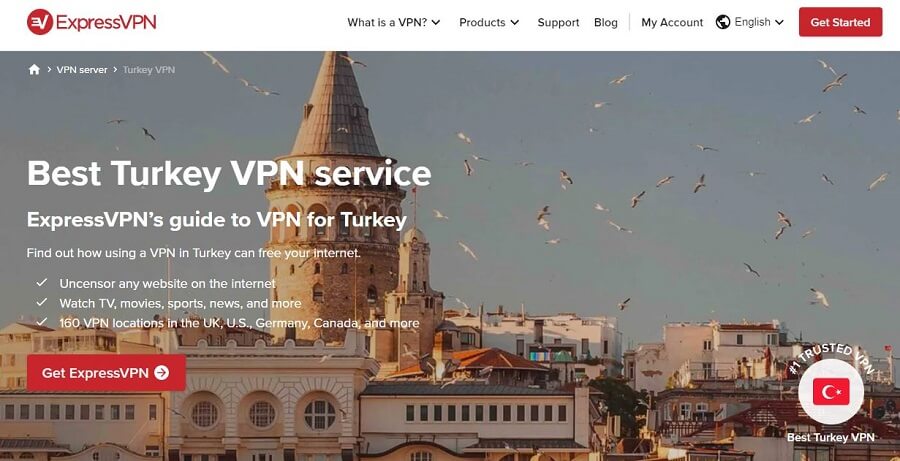 The best VPN you can get for Turkey is ExpressVPN, a provider that beats its competition fiercely. This provider has 3,000+ servers in 94 countries, with many servers in this country. These servers offer enormous speeds that will get you through 4K streaming, torrenting, or just casual browsing.
Furthermore, ExpressVPN is exceptional when it comes to unblocking sites such as Netflix and Hulu, but also Turkish channels like NTV, Kanal D, or Kral TV. In terms of security, the provider uses 256-bit AES encryption that works in conjunction with IP and DNS leak protection.
Get a Turkish IP Address With ExpressVPN >
We like that it offers up to 5 simultaneous connections. Plus, you can connect it to a router and protect up to 16 or 32 devices in your household simultaneously. As an icing on the cake, ExpressVPN offers 24/7 support that you can contact via live chat.
These guys and girls will fix your issues in no time!
Summary
To summarize, getting a Turkish IP address is very simple if you follow the steps above. Your choice of a VPN is what matters the most here, and if you get ExpressVPN, you won't be wrong.
Other providers like NordVPN and CyberGhost are great, too, but ExpressVPN is our go-to option. Remember – if you get it now, using the button above, you can get a 49% discount on an annual plan, plus 3 months for free.
A 30-day money-back guarantee is there if you need it, which probably isn't going to happen.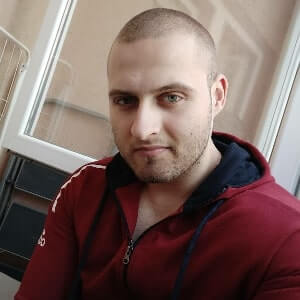 A professional writer with a Master's degree in Mechanical Engineering. Since his youngest age, he loves everything related to internet, technology, fitness, games, and dogs! He joined our team in order to bring his deep knowledge in security services, among which VPN is of course a key component.