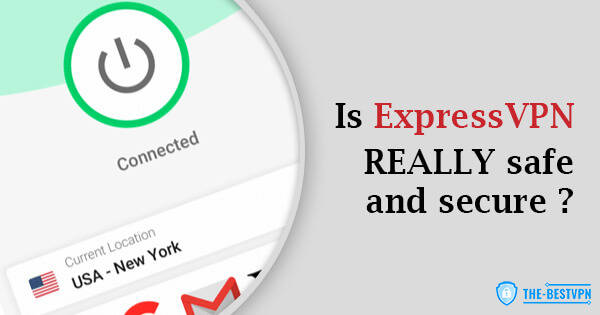 There is no doubt that this premium VPN is a great choice for any average user. The main question, though, is whether it is safe or not. To determine that ExpressVPN is not a scam when it comes to DNS/IP leak protection and encryption, we will need to discuss the security instruments it features. But, also about no-log policy and more. Let's get right to it.
Security: What Are the Security Tools in Apps?
ExpressVPN's trustworthiness depends on the instruments that it uses to ensure you stay protected from hijackers, third parties, and local authorities.
Encryption (Tunneling Protocols)
It is safe to say that ExpressVPN offers top-tier encryption. You will find the industry-standard 256-bit AES to be more than reliable when it comes to keeping your data safe and ensuring anonymous browsing.
With ExpressVPN, you can avoid DMCA easily without any stress.
Authentication is done through a 4,096-bit SHA512 key. This is considered to be one of the best when it comes to bypassing government censorship and ensuring you are safe. You can be sure that no one will figure out the key that is used.
This is especially because it is changed every 60 minutes. Also, with every new session, you will be working with a new one.
OpenVPN is the default tunneling protocol that ExpressVPN uses. However, you can easily switch it to SSTP, L2TP, IPSec, PPTP, or Lightway (ExpressVPN's version of WireGuard) depending on the device you are using.
If you are not sure which one is the best, opt for the automatic selection option.
Another great feature of this VPN is that anyone with a bit of tech knowledge can reduce the danger even more by editing config files.
DNS and IP Leak Protection
The internet is becoming more dangerous. Hijackers and third parties are lurking and hoping to get a hold of your browsing data and privacy info to turn a profit.
This is why an IPv4 protocol that ExpressVPN uses to ensure zero risks of DNS and IP leaks is incredibly important. It is another instrument that makes this VPN quite safe.
Kill Switch
As we have mentioned above, it is incredibly important that a virtual private network keeps your connection safe and secure. In this matter, the kill switch plays a crucial role. Why?
Because it prevents any of your browsing data or true IP address from being revealed.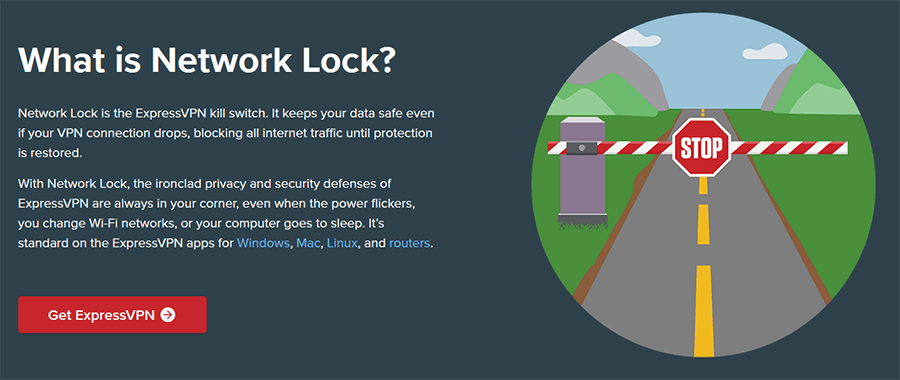 How is this done, though? If the server crashes, the kill switch (which ExpressVPN refers to as a 'network lock') will also turn your internet off, thus ensuring that your activity doesn't get revealed at that moment.
Get more info about Network Lock from ExpressVPN >
Run On Startup
What Reddit users really seem to love is the fact that you can set ExpressVPN to run as soon as your system is up. This means that you will be protected at all times. There is no chance of third parties getting a hold of your private info.
This doesn't go only for a specific browser. It includes all the devices and features that are connected with ExpressVPN.
Split Tunneling
If you are a business owner, you will want to keep your data confidential. This is why you want to set up a VPN with the split tunneling feature. It allows you to choose which data goes through Virtual Private Network tunneling and which data does not.
For example, if you wanted to connect to both uTorrent and Google Chrome, you could activate split tunneling. You can turn the VPN on for uTorrent and off for Google Chrome. This means that you will not slow down your internet browsing while also staying safe while torrenting.
Router Support
Another cool feature is the ability to install ExpressVPN on a router to keep all of your devices safe at the same time.
Virtual Servers and TOR Compatibility
Lastly, while most VPNs focus on providing physical servers, virtual servers prove to be safe for certain activities, such as torrenting. ExpressVPN offers many virtual servers.
This includes Algerian via the Netherlands, Argentinian via Brazil, Indonesian via Singapore, and Taiwanese via Hong Kong. There are also many other locations, all of which you can find on ExpressVPN's official website.
Also, it offers TOR compatibility, which Reddit users claim to be vital. This is especially true if you are looking to access the dark/deep web.
ExpressVPN Privacy Policy: The Most Important Security Criterion
When talking about a VPN and its offered safety, it is hard not to mention the logging policy. ExpressVPN does a great job in this matter. That's because it only collects some info that is not directly relevant to your privacy or browsing activity.
Luckily, ExpressVPN stays true to its no-log policy. Apart from the server you are connected to, data transfer, app version, and date of connection, ExpressVPN doesn't keep anything else.
The fact that this Virtual Private Network doesn't store any of the info about you contributes to the security aspect. Even if hijackers or third-parties somehow breach the privacy protocols, they will have nothing to find.
You won't have to worry about local authorities either, as ExpressVPN is headquartered in the British Virgin Islands. It doesn't fall under 5-9-14-Eyes jurisdiction, thus it does not conform to data retention laws. This allows them to fulfill their commitment to a strict no-logs policy.
While this provider does ensure a user-friendly privacy policy, we still want to mention what the red flags are related to logging that is present with most of ExpressVPN's competitors.
You are likely to find that a provider will keep your original IP address, as well as your payment info, and email address.
Some providers will either sell your data for a profit or compromise your privacy by handing it over to local authorities. Along with email address, IP address, and payment info, you should also stay away from VPNs that keep a record of your browsing history.
External Audit: Is ExpressVPN Safe?
While everything that ExpressVPN claims do seem to be trustworthy, it is always best to have that confirmed by an external audit firm. In this case, it was PricewaterhouseCoopers.
We found out that they were allowed to interview the employees, as well as review the source code, configuration files, and get to know more about the deployment process. Everything that PwC tested is listed in detail in their report.
The conclusion was that ExpressVPN is 100% safe and keeps true when it comes to protecting your privacy and ensuring a safe connection.
Conclusion: ExpressVPN Can Be Trusted
This is all to say that ExpressVPN has been among the leading names and Reddit favorites for a good reason. It offers a plethora of security instruments, including military-grade encryption, a kill switch, and split tunneling.
Also, this VPN ensures a strict-no log policy. And most importantly, it has faced no scandals since 2009 when it was created. This should put your mind at ease. Not to mention, this was all confirmed by PwC, which is considered to be one of the most reliable external audit firms out there.
Thus, it is safe to say that ExpressVPN is a safe and secure VPN that will allow you to enjoy stress-free anonymous browsing! You can learn even more about ExpressVPN by reading our full review and analysis.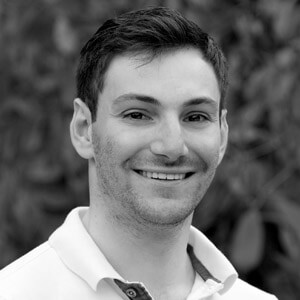 Flo is the founder of the-bestvpn.com. Really concerned about security on internet, he decided to create this website in order to help everyone find the best VPN. He's got a Business School background and now is 100% dedicated to keeping his website alive.