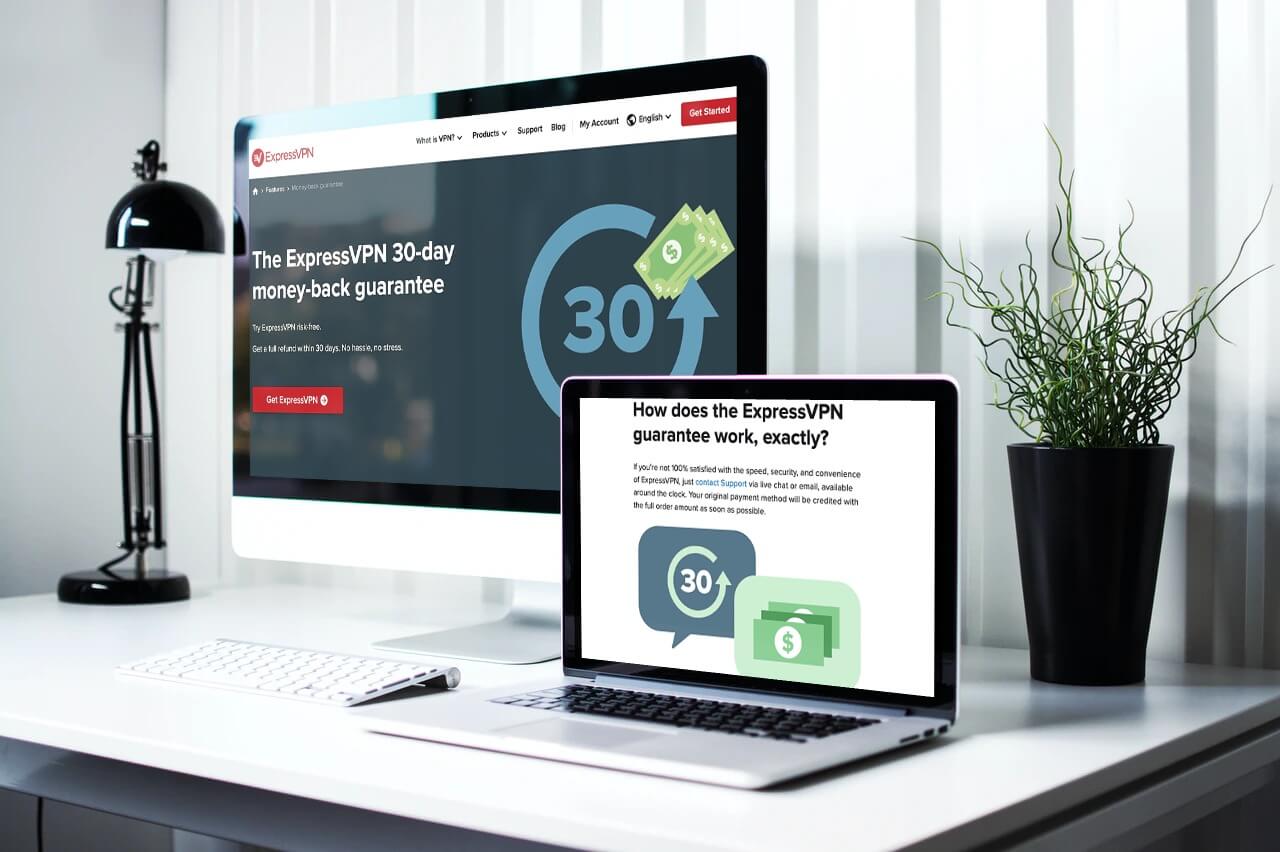 We have a confession to make: we are big fans of ExpressVPN! Few providers come close to being as serious about online privacy and security as this premium VPN is. That being said, ExpressVPN will never force you to stay or play tricks with you when you want out. With a no-questions-asked 30-day money-back guarantee, you can cancel your subscription and get a refund without a fuss. In this article, we will walk you through this simple process.
ExpressVPN Overview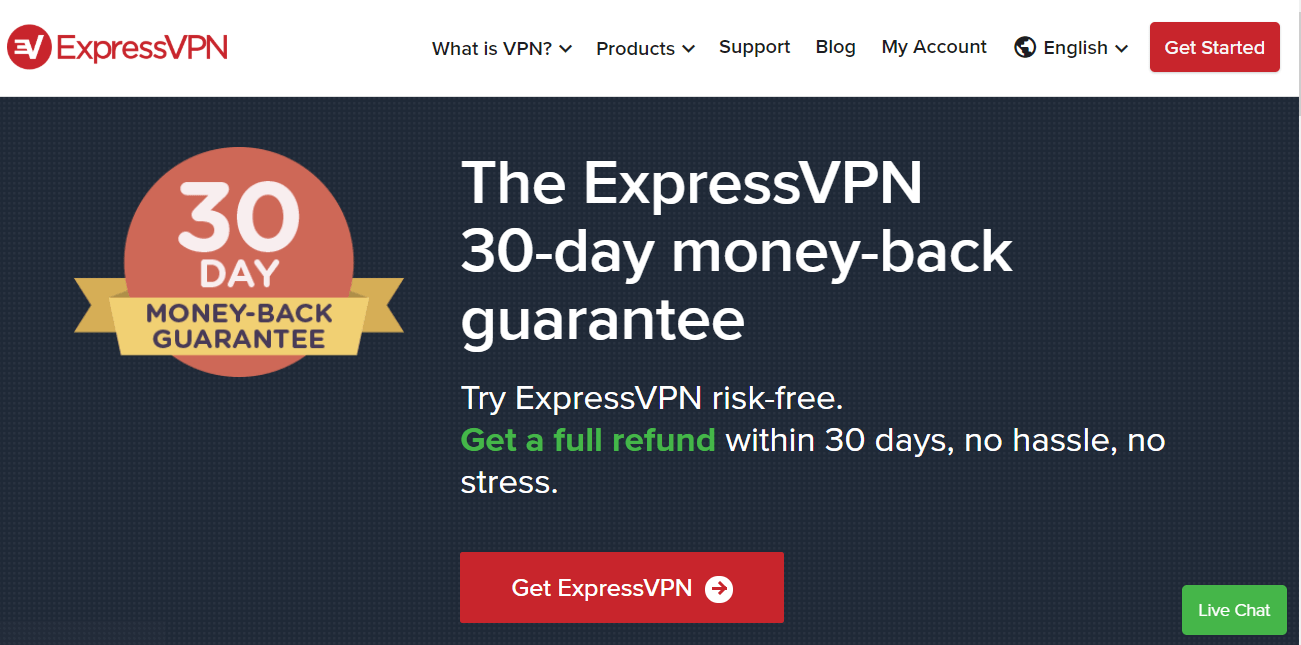 When it comes to ExpressVPN, the good outweighs the bad by far. For starters, this is one of the few providers whom you can trust to offer rock-solid encryption of your online traffic.
Additionally, the company has numerous servers in almost every country in the world and boasts impressively fast speeds. It is also a crowd favorite among privacy-conscious torrenters.
In fact, this VPN is super helpful to avoid DMCA's notices, allowing you to share P2P files privately and securely.
Remarkably, you can try all these features and more risk-free, thanks to the 30-day money-back guarantee. If for some reason, you do not like the VPN or no longer need the service, you can cancel your subscription and even ask for your money back.
However, you can only get a refund if you request one within 30 days from the initial purchase date.
ExpressVPN Cancellation Policy
As part of its commitment to a great customer experience, this company makes canceling your subscription as hassle-free as possible. You can unsubscribe and get a refund immediately as long as you do so no more than 30 days from the date you first paid for your subscription.
For example, if you paid for your subscription on October 1, you have up to October 30 to ask for a full refund. This guarantee applies to all the plans whether you signed up for the 1, 6, or 12 months plan.
A Step-by-Step Guide to Canceling Your ExpressVPN Subscription
By default, your ExpressVPN subscription is set to be renewed automatically each month. This means that after the expiry date, you will be billed unless you cancel your subscription before then.
Follow these simple steps to cancel your subscription:
Log into your ExpressVPN account.
Under the Subscription settings, locate and click the Manage Settings entry. This will direct you to the Automatic Renewal Settings page.
At the bottom of the Automatic Renewal Settings page, click the Turn off Automatic Renewal button.
On the next two pages, click the Turn Off Automatic Renewal button again to confirm that you want to cancel your subscription.
Automatic renewal is off. Once you confirm the cancellation, you will be directed to a page with a message at the top saying "Automatic Renewal is now off for…"
You should receive an email confirming that automatic payment for the VPN service has been halted. Please note that this process only cancels your subscription.
To get a refund, you will need to reach out to the support team and ask them to initiate one.
How to Request ExpressVPN for a Refund?
The support team is extremely professional and they make getting your money back a complete breeze. The fastest and easiest way to claim a refund is to reach out to support via live chat.
To get started, locate the bright green live chat icon at the bottom-right corner of the ExpressVPN website.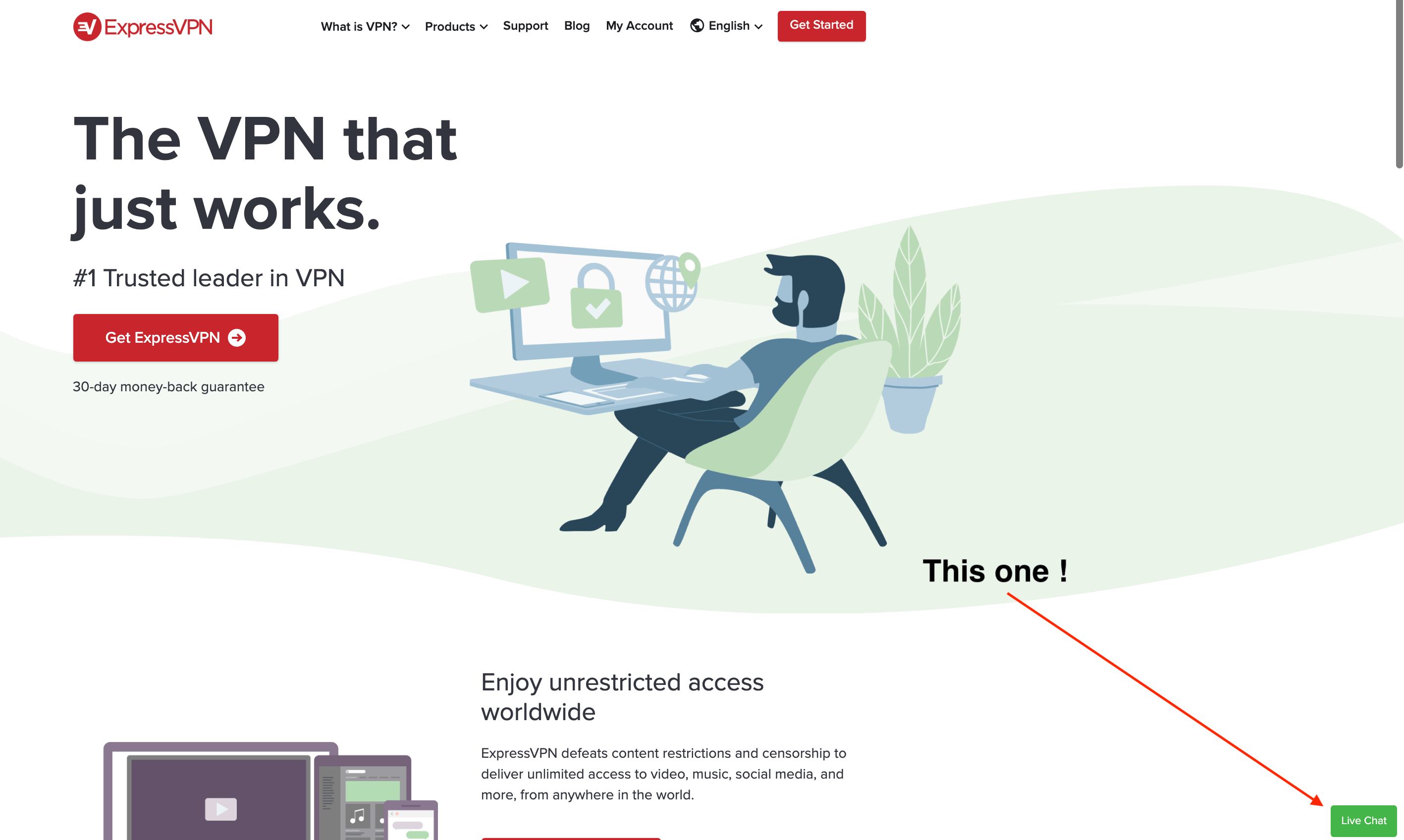 Once the chat dialogue box pops up, simply write that you would like to cancel and get a refund.
The live agent may or may not ask you follow up questions. If they do, these will likely be general questions about your subscription. Do not worry—they will not demand to know why you want a refund. The only reason they might ask you this is to try to improve their product.
They sometimes want to know what you didn't like, so they can fix it on the next update.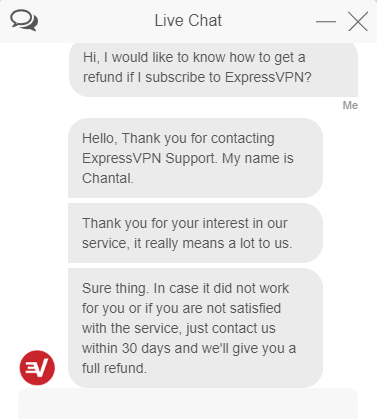 As soon as you claim a refund, the agent will let you know that they have initiated the process of reversing the funds to your account. You should be able to see these funds within 3-5 business days. Before the process is finalized, you can actually continue using your ExpressVPN account. 
Also, note that the delay for the refund depends on your payment method. The fastest one is using PayPal.
Please note that you can only get your money back if you ask for it within 30 days of purchasing your subscription. The guarantee does not apply if you go beyond the 30-day limit.
For example, if you purchased the 6 months plan and used it for 2 months, you will not be able to get a refund.
Need an Alternative VPN?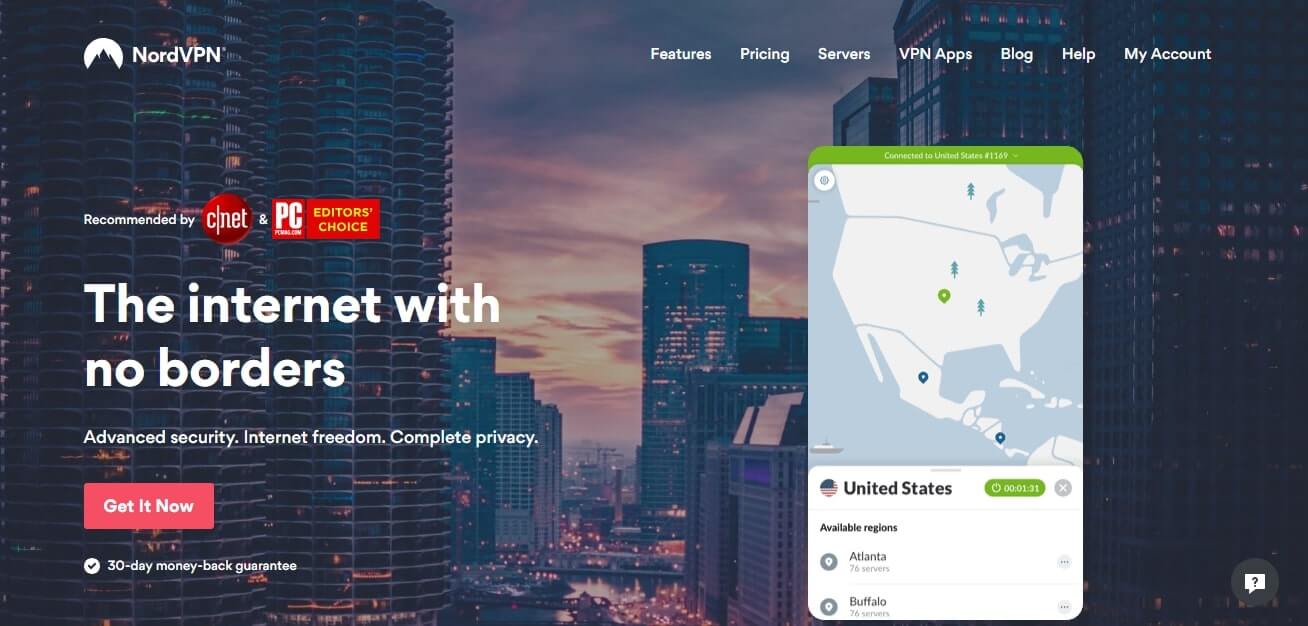 There are many good things to report about ExpressVPN. For one, its encryption technology guarantees consistent online privacy.
Additionally, with so many servers to choose from, it is easy to find one in your desired location. It is a top choice for bypassing the strictest geo-blocks and easily ranks as the best VPN for Netflix in 2023.
As you can tell, ExpressVPN is our favorite. However, it is entirely possible that it did not work out for you for one reason or another. If you are looking for an alternative, maybe you could try our second favorite, NordVPN.
This provider offers fortified features for maximum online privacy and security, has considerably wide server coverage, can bypass geo-restrictions, and supports safe P2P file sharing. Basically, it's a weaker version of ExpressVPN, but only in some departments.
NordVPN has a larger server network of 5,600 servers, compared to ExpressVPN's 3,000. All in all, NordVPN is a great alternative and is a bit cheaper, yet doesn't skimp on any features.
FAQ
? How long can I get a refund from ExpressVPN?
You have 30 days to request and obtain a full refund from ExpressVPN. The counter starts when you take out a subscription (whether for 1 month, 6 months, or 1 year).
⌛️ Can I get my cash back after 30 days?
It is very unlikely. Nothing obliges ExpressVPN to agree to reimburse you once the 30 days warranty has passed. You can always try but don't expect too much.
? How soon will I receive the money in my account?
The duration of obtaining the reimbursement will depend on the means of payment that you used when you subscribed. It will vary from 2 to 7 days!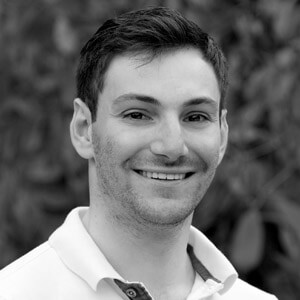 Flo is the founder of the-bestvpn.com. Really concerned about security on internet, he decided to create this website in order to help everyone find the best VPN. He's got a Business School background and now is 100% dedicated to keeping his website alive.